Unhappy with how your Fox Body performs? Maybe you're looking at picking up a Fox Body and what to know what you should do to it? Well, as an avid Foxbody enthusiast I knew this question needed answering. So, I have come up with a list of the top six mods to do to your Fox Body.
6. Intake Manifold
I can tell you from experience, a "cold air intake" isn't going to gain you any power without modifying the rest of your 5.0's intake system. The 302 that comes in the Fox Body is quite frankly pretty weak, especially at higher RPMs. An upper and lower intake manifold will yield very impressive gains, especially at the top end of the RPMs.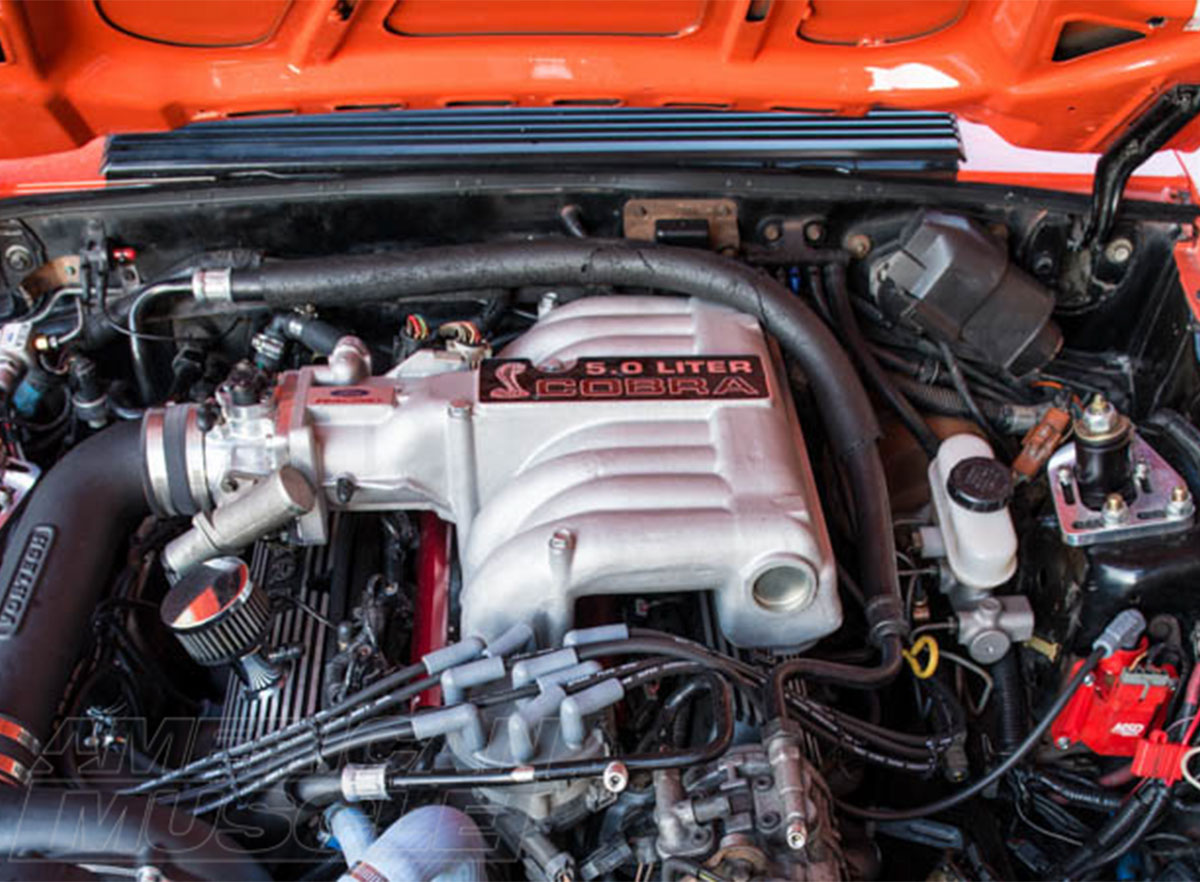 A common intake is the Cobra intake manifold, but these are getting hard to find and don't perform quite as well as modernly designed intakes. I prefer Trick Flow, their intake manifolds seems to yield the best power overall. However, to see the greatest gains you'll need an aftermarket camshaft and aftermarket heads.
Check latest intake manifold prices
Hp gain: 30+ rwhp
Install: Easy
5. Cylinder Heads
The key to making more power with any engine is in the heads. The stock heads on the 5.0 flow air very poorly, and are made of heavy cast-iron. Swapping your heads might seem like a daunting task, but it's actually pretty easy and will transform your Fox Body. Much like the intake manifold, the most common swap is Cobra (GT-40) heads. The GT40 heads flow better than stock, but are still made of heavy cast-iron.
An aftermarket head is most definitely the way to go, with modern technology companies like Edelbrock are able to blow the factory Fox Body heads out of the water. Edelbrock E-Street heads are made of lightweight aluminum and flow better than stock, I love these heads because they're pretty cheap.
Check latest cylinder head prices
Hp gain: 50+  rwhp
Install: Advanced
4. Camshaft
The cherry on the cake is an aftermarket camshaft. The intake manifold and the heads perform best when complimented with a new camshaft. The most popular 5.0 cam is the Ford Racing E303 cam, providing excellent low-end torque, decent top end power, and an incredible sound at idle.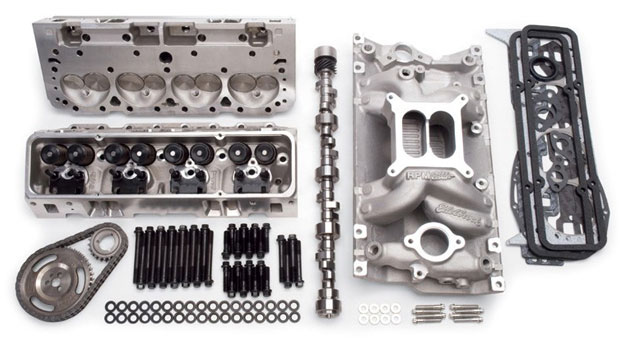 The E303 is a street cam and won't provide maximum power at the track. Other popular cams include Ford Racing B303, F303, and Anderson N41. I should mention that if you are really serious about your Fox Body, then stay away from the 303 camshafts. Ford designed the 303 cams 20+ years ago and they don't have the best quality control. The 303 cams also won't make as much power as a modern design camshaft. You can read more about this in our 303 Cams article.
Check latest camshaft prices
HP gain: 25+ rwhp
Install: Advanced
I should mention that the first three modifications should be done at the same time since all three of them heavily compliment each other. Seriously, just save up and do all three mods at the same time.
3. Coilovers
Unfortunately, the Fox Body chassis doesn't handle very well in stock form. Plus stock Fox Body suspension sits way to high. Most Fox Body owners swap the front suspension to coil-over and put lowering springs in the rear. This generally makes the fox chassis much more balanced, helping eliminate most of the understeer and the tail happy rear end.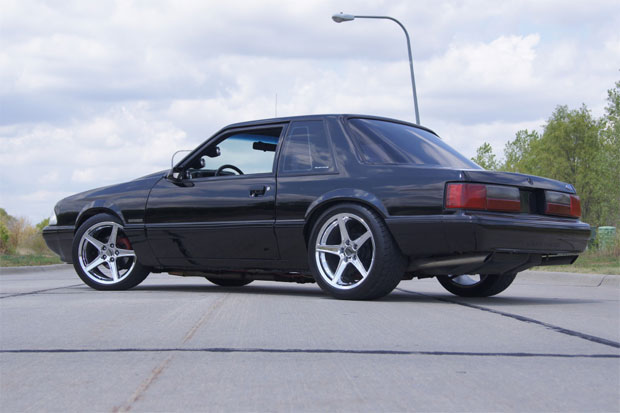 Eibach makes a nice set of coil overs that are very budget friendly, and really help your Fox Body handle less like a boat. An aftermarket K-member is also an excellent modification. It essentially changed your suspension geometry to a much more desirable setup.
If you plan on going to a coil-over setup I would strongly recommend also getting a tubular k-member. Not only will it improve your suspension geometry, it will also save you a ton of weight, and improve chassis rigidity a ton.
Check latest suspension prices
2. Exhaust
As much as we would love to feature more parts to improve handling we have to mention the exhaust. Flowmaster has been making exhausts for the Fox Body for decades and they have truly perfected that classic Mustang sound that we all love.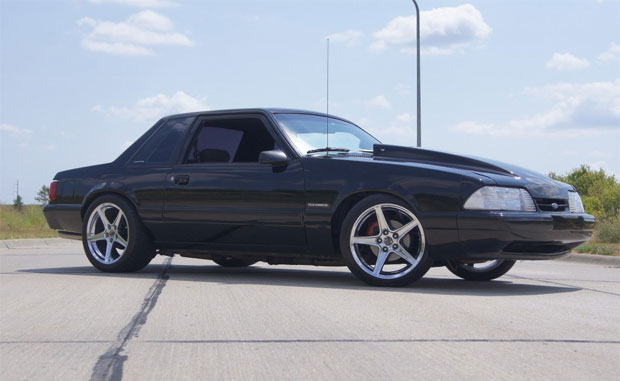 If you really want to go crazy you can also grab a set of long tube headers. Headers will really wake up your Fox Body since the stock ones are pretty restrictive. If you're on a budget I would definitely recommend the Flowmaster American Thunder cat back.
Check latest cat back prices
1. Chassis:
Of course, there are a few modifications I really wanted to mention but didn't fit into the list of five modifications. If you really want to get serious about your Fox Body, you need to stiffen the chassis. The weak Fox Body chassis can make proper suspension setups very hard to obtain.
Subframe connectors are a popular modification that really helps the chassis, as well as the ever popular strut tower brace. Do not cheap out of these parts. Cheap chassis parts will not help your chassis whatsoever and will be a waste of time/money.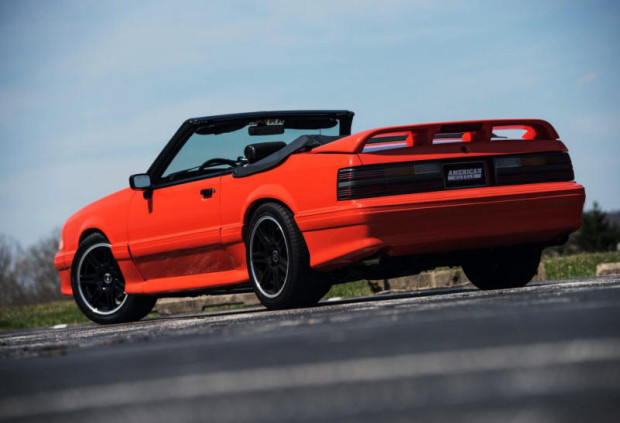 A roll cage is also a good idea. Let's be honest, you're reading this article because you want your Fox Body to go faster. Nobody is a perfect driver, even professionals crash. If you crash whilst racing without a roll cage you may be rolling the dice on your life. Even a simple bolt in half cage may save you and your occupant's lives, plus it's great for chassis stiffness.
Check latest chassis stiffener prices
Conclusion
Whether you own a Fox Body, or you are looking to buy one, we would definitely recommend doing these modifications. The head/cam/intake can gain you 100+ hp. The suspension and chassis modifications will add to the handling performance while giving it a mean, aggressive stance.