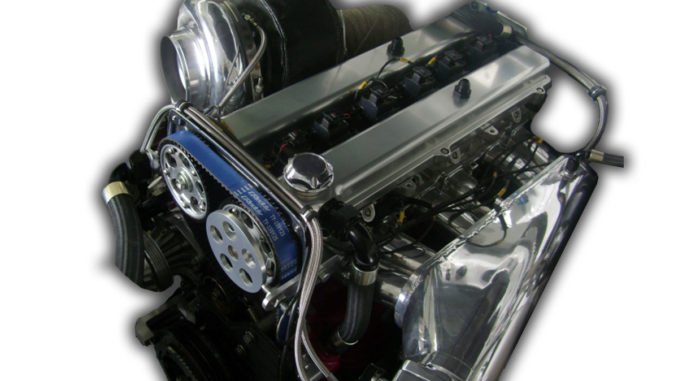 Toyota introduced the M engine family all the way back in 1965. It went over many changes over the years, but the most well-known version is the 7M-GTE. The 7M was the engine used in the Toyota Supra before they created the 1JZ, and the 1JZ borrowed much of it's designed from the 7M-GTE. In this short article, we will cover everything you need to know and specs.
7M-GTE: Engine Basics and Specs
The 7M-GTE is an inline six-cylinder engine that uses a cast-iron block with an aluminum cylinder head. The GTE version of the engine was turbocharged with a CT26 turbo that output around 6psi of boost. Early Toyota M engines used a single overhead camshaft design, but the 7M-GTE used a dual overhead camshaft design with a timing belt.
The 7M-GTE featured electronic fuel injection was just making its way into cars in the USA. We expect this feature on any car today, but back in the day, this was a very new technology.
Production Run: 1986 – 1992
Cylinder Block Material: Cast Iron
Cylinder Head Material: Cast Aluminum
Weight: 463 lbs
Valvetrain: Dual Over Head Cams – Four Valve per Cylinder
Stroke: 91mm
Bore: 83mm
Compression Ratio: 8.4:1
Horsepower: 232 horsepower @ 5,600 RPM
Torque: 240 lb-ft @ 4,000 RPM
Cars That Came With The 7M-GTE
Unlike other Toyota engines such as the 2AZ, 2GR, or 1MZ, the 7M-GTE wasn't used in a bunch of different vehicles. The M family was used in many vehicles overall, but the 7M was only used in a couple of vehicles. This engine was a performance-based engine and Toyota doesn't make nearly as many performance vehicles as it makes economy vehicles.
1986 – 1992: Toyota Supra MK3 (7M-GE)
1989 – 1992: Toyota Cressida MK2 (7M-GE)
1989 – 1992: Toyota Chaser MK4 (7M-GE)
1987 – 1991: Toyota Crown (7M-GE)
1986 – 1992: Toyota Supra MK3 (7M-GTE)
1986 – 1991: Toyota Soarer (7M-GTE)
As you can see the 7M-GTE was really only used in two vehicles. Once again this is because the 7M-GTE was a performance engine and Toyota doesn't make that many performance cars. Plus the 7M-GTE was pretty quickly replaced by the 1JZ.
7M-GTE: Known Problems
Quite a few Toyota engines of the past have been known for excessive oil consumption. This problem occurs from worn down piston rings is common on the 2AZ-FE and other Toyota engines. Luckily, the 7M-GTE doesn't have an oil consumption issue, but it does have an issue with blowing up.
During the assembly, Toyota failed to torque the head bolt as tight as they should have been. Once this issue was discovered Toyota changed their assembly process and raised the torque spec for the head bolts. Because of this issue, a massive majority of 7M-GTEs experience a blown head gasket at some point. If the engine is old, it can experience many blown head gaskets throughout its lifetime. The simplest way to fix this issue is to simply re-torque the head bolts to the proper spec, but sometimes the problem is worse than that.
Another common issue with the 7M-GTE is rod knock. Unfortunately, Toyota didn't build the 7M-GTE to extremely high standards like they did with the 1JZ. If the rod knock issues persists, you may end up with a blown bottom end. Basically, the 7M-GTE was one of the least Toyota engines produced in the 80s and 90s.
7M-GTE: Tuning Potential
If you've heard of how legendary the 1JZ and 2JZ are, you may be thinking the 7M-GTE is just as awesome, but it's not. Don't get me wrong, the 7M-GTE is a strong engine with lots of potential, but it's nothing compared to a 1JZ-GTE which is why many MK3 Supra owners swap to the 1JZ-GTE engine. Even better than both of those engines is the 2JZ, but that's a discussion for a different time. Compared to other engines of the time, the 7M-GTE was insanely though, but Toyota managed to out-do themselves with the JZ engines.
The 7M-GTE block is very strong just like the 1JZ, but the bottom end can only hold around 400-500rwhp. This amount of power is plenty for a streetcar, but if you're building a drag car or time attack car, you may need more power. Luckily there are quite a few aftermarket rods and pistons to choose from. The stock CT26 turbocharger can't really make more than 14psi because of its small size. Many people upgrade to a T3/T4 turbocharger or something like a Garrett GTX3076r which is a good balance between power and throttle response.
If you want your modified 7M-GTE to last than decking the head and block surface is highly recommended. This will get rid of any warping that has occurred from the previously mentioned head problem. Combined with some nice ARP head studs you won't ever have to worry about the cylinder head issue ever again. Of course, big power will require an aftermarket bottom end. If you're happy with staying under 500whp(ish), then the stock bottom end should do just fine.
If you're still craving more 7M-GTE information, I recommend checking out the Toyota M Family Wikipedia page.