So you are interested in buying a Jeep. Maybe you've never owned one and don't know if a Jeep will be reliable enough for you? Well, the Jeep brand has changed a lot over the years, and are now owned by FCA (Fiat Chrysler Automobiles).
In the past, they have been known for their excellent engines such as the 4.0L. Although their engines are still pretty good, they don't compare to how legendary they once were.
Many people are wondering how the reliability has been since Fiat took over, and Fiat doesn't have a good history with creating reliable vehicles.
In this short guide, we're going to look at the Grand Cherokee, Cherokee, and Wrangler. Further down the article, we will discuss the reliability on older Jeeps including some of my own.
Most of you reading this article are interested in buying a new Jeep so we'll cover those first.
WK2 Grand Cherokee Reliability
After poking around on forums and speaking to a couple of Grand Cherokee owners we realized how horribly unreliable they are. According to Consumer Reports, the Grand Cherokee has extremely poor reliability.
Even some Fiat/Chrysler technicians will openly admit almost all the cars that come in for work are Grand Cherokees. The most common problem for these new Grand Cherokees is the transmission basically going bad.
The most common problem for these new Grand Cherokees is the transmission basically going bad. Reports of rough shifting, jerking, hesitation and overall poor transmission performance are especially common on the 2015 models.
Unfortunately, the cost to repair this issue is around $7,500 which is insanely expensive. Fortunately, it seems as though Fiat/Chrysler found this issue and it appears to no longer be present in current Grand Cherokee models.
There are plenty of other known issues for the Grand Cherokee, it would take far too long to dive into all of them. If you're in the market for a WK2 Grand Cherokee I would strongly recommend visiting some forums to find out about other issues before you spend your hard earned money.
Many Grand Cherokee owners are currently in "lemon" lawsuits to get their money back.
KL Cherokee Reliability
The standard Cherokee seems to be more reliable than its bigger brother. However, it seems to also have transmission issues and just like the Grand Cherokee, the repair bill is insanely large.
Supposedly most of the transmission issues are software related and have been somewhat fixed with software updates. Some users on forums and Reddit claim to have their KL Cherokee in the shop nearly every month.
Besides the reliability, the base engine in the Cherokee is pretty underpowered for what kind of vehicle it's in. Most owners recommend getting some sort of extended warranty because more than likely, you'll need it.
JK Wrangler Reliability
Interestingly enough reports on the JK Wrangler show it to be fairly average in terms of reliability. I'm sure some of this is because of much simpler a Wrangler is compared to a Grand Cherokee or Cherokee.
The transmission issue that has plagued other Jeep models doesn't seem to a present issue on the JK Wrangler. The next generation JL Wrangler is rumored to have the 9-speed ZF transmission that has been so problematic for so many owners.
A lot of issues seem to arise when larger tires and an aftermarket lift are installed. Brakes wear out faster, as do suspension components and driveline components. Just like with the Cherokee, many owners strongly recommend purchasing an extended warranty if the option is available.
What's interesting is how well the JK Wrangler holds its resale value. Even with "meh" reliability, the JK Wrangler is still in demand. If you end up buying a JK Wrangler and experience horrible reliability, you can also sell it for nearly as much as you paid for it.
Newer Jeep Reliability
The 3.6L and 3.8L Pentastar engine found in relatively new Jeeps are good little engines. But, from the information I've gathered on Forums, the 3.6L is leaps and bounds better in both reliability and performance.
Also in my experience as a lube technician, I have found that the 3.6L Pentastar engine is pretty darn reliable. That engine comes in a massive variety of automobiles and they almost always seem to be running in tip-top shape regardless of mileage.
The 3.8L Jeeps, on the other hand, aren't always running tip-top in comparison.
JD Power Associates
The 2013 Wrangler has an overall dependability rating of 2/5, whilst the 2013 Grand Cherokee has a dependability rating of 3/5. Some reports vary on their rating, but for the most part, both of these vehicles are pretty far down the list of reliable vehicles.
The Wrangler is slightly below average, but is it as bad as something like a Land Rover? Well yes actually, it is nearly as unreliable as a Land Rover according to J.D. Power's dependability study. Jeep, Dodge, Ram, and Chrysler are all in the top 10 least reliable vehicles in the US.
Honestly when I saw that 2/5 rating for the Wrangler I was fairly surprised. I have never heard anything bad about them personally. Maybe JK Wrangler owners won't admit they bought an unreliable $40k Jeep?
Reliability rating source: USNEWS
So Are They Reliable?
The topic of reliability can become very complex very fast. Although modern Jeeps have reports of horrible initial reliable, some owners report excellent reliability over long periods of time.
Before you go off buying a Jeep I would strongly recommend asking Jeep owners if they would buy their Jeep again given the opportunity. For the most part, people don't want to complain about their expensive new car.
No one wants to admit they made a poor financial decision. That's why it's important to ask people on forums and places like Reddit where people will be honest about their experience.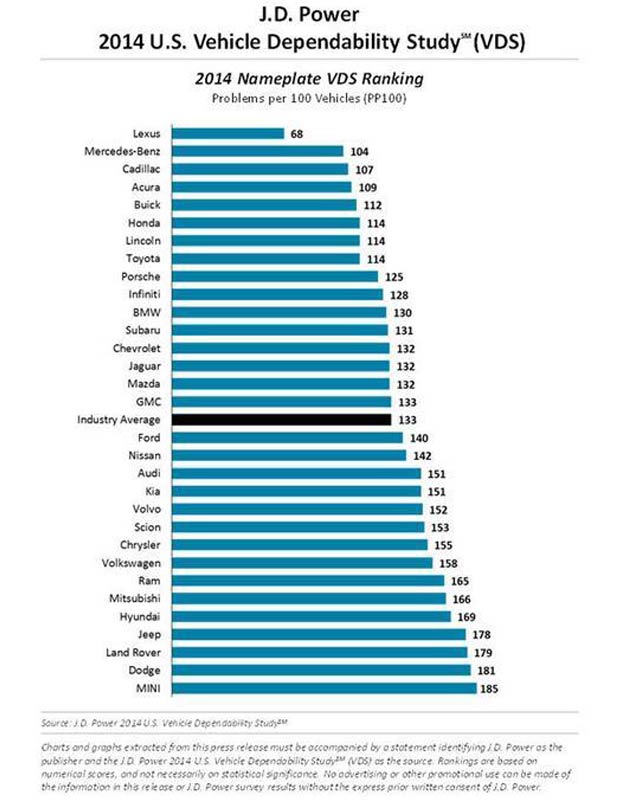 According to this chart, the Jeep brand on average is 1 problem less per 100 cars than Land Rover. That's surprisingly bad. Time will tell whether or not Fiat will increase or decrease the brand's reliability.
But, I feel pretty confident when I say that Fiat won't screw up the Jeep brand. So, if you were looking to buy a brand new Jeep, don't. As a Jeep enthusiast and owner, it pains me to say this, but don't buy a new Jeep unless you are willing to deal with the unreliability.
Older Jeep Reliability
When I say "older" jeeps I'm talking late 80s and 90s. I could dive into the reliability of Jeeps made before the 80s, but it'll take up to much time. Plus, you should be mechanically inclined if you buy an old Jeep.
I've owned a couple of 90s Jeeps and worked on countless XJ Cherokees over the years.
Renix 4.0L
Jeeps in the 80s came with either a 2.5L 4-cylinder or a 4.0L Renix inline-6. The Renix 4.0L was a little iffy with its reliability. The main problem comes from the wiring harness and sensors.
The Renix is pretty hard to diagnose but is easy to repair if you know what the actual problem is. However, it was very reliable mechanically, but the poor electrical system ultimately held it back.
High Output 4.0L
What awesome engine did Jeep make it the 90s? The 4.0L H.O.! The updated version of the AMC 4.0L ditched the Renix components in favor of new components. This new rendition of the 4.0L was known as the High Output.
The High Output had a much tidier wiring harness and was much easier to diagnose than the previous Renix 4.0L. The AMC 4.0L was one of four engines that continued to be produced after Chrysler purchased AMC in 1987.
The Jeep 4.0L H.O. has been praised by countless automotive journalists for its insane reliability. It could have a rod knock and still get you all the way home. It could be running 90* under the proper operating temperature, with vacuum leaks, a bad fuel injector, and still get you home (ask me how I know).
Seriously, Jeeps equipped with the 4.0L H.O. will do 300,000 miles easy. My last one was at 215k miles, and I took it wheeling nearly every weekend, and it kept chugging along just fine!
My Personal Jeeps Reliability
Like I mentioned above, I take my current Jeep wheeling all the time, as well as drive it every single day. It has only left me stranded once, and that was from me going to hard off-road.
There have been times where I needed to drive it upwards of 200 miles in one day and it was perfectly up to the task. Pretty good for a vehicle that only cost $1,000.
I have owned a total of 13 vehicles, which includes a few motorcycles. Out of those 13 vehicles, most of them broke something major.
Ninja 250 engine exploded, SC400 engine exploded, Suburban transmission exploded, Land Rover engine exploded, you get my point. Why am I telling you this?
Because the two Jeeps I've ever owned are the only vehicles that have lasted over a year without exploding. My first vehicle was a 93 Cherokee, and my last vehicle was a 92 Cherokee.
Literally, everything else I ever owned had some sort of detrimental issue that forced me to get rid of it. Of course, my current vehicle is super reliable, but that's because it has 25k miles and a warranty.
My $1,000 Jeeps seemed to take literally everything I could throw at them. From daily driving to road trips, to light pre-running, to trail riding. The current owner of my last Jeep takes it out wheeling almost every weekend and it's been super reliable for him too.
Summary
Overall if you're looking at buying a brand new Jeep, it might be better to look at alternatives such as the Toyota 4Runner. Some new Jeeps are extremely reliable and some are extremely unreliable.
I would especially stay away from the Cherokee and Grand Cherokee due to their transmission issues. The JK Wrangler doesn't seem to be affected by those transmission issues, but it still has a "meh" reliability rating.
Drop a comment below letting me know how your experience with your Jeep has been!