There's a lot of different reasons why anyone would want to install an LED light bar on their vehicle. But one thing is for sure though: it's a must, especially if you're involved with activities that involve the need for lighting and a better field of vision.
Whether it's for work or recreation, there will always be a need for you to buy an LED light bar.
If you're in the market of buying LED light bars, especially the 40" ones, make sure you check this list out. This catalog features the best 40" LEDs out there that will suit your vehicle's needs for whatever purpose in mind.
#1 Auto Power Plus 310W LED Light Bar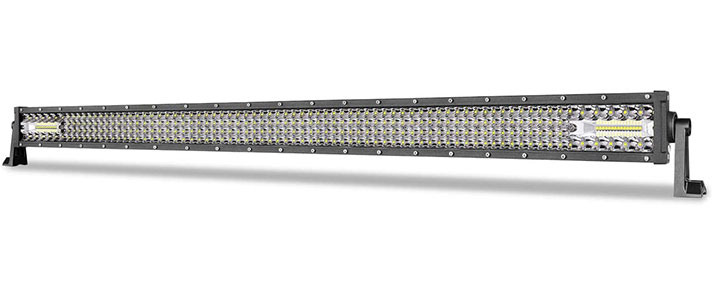 Bright lights are intended to illuminate an area on a much larger scale. For that purpose, the first one on our list, the Auto Power Plus 310W LED Light Bar, has your back.
It is suitable for off-road lighting (anything that involves cars, trucks, trains, boats, etc.), household lighting (garden, backyard, basically any indoor lighting), and other lighting needs (heavy machinery like bulldozers, excavators, and tractors).
What's in the bag? The light bar consists of 310 LEDs powered by 310W/piece with 31,000 lumens, a beam pattern of 15° to 30° for spotlighting and 120° for flood combo lighting, and a lifespan of over 50,000 hours.
That's a pretty long time for a heavy-duty LED light bar.
The lenses are also protected with PMMA lenses which are manufactured to withstand pressure and impact and can optimize the LED's optical performance. That means that the Auto Power Plus 310W LED Light Bar is durable and at the same time effective.
If you're gonna use this one for indoor lighting, be sure to use a transformer to convert the 10-120V AC to 12V DC.

#2 DJI 4X4 310W LED Light Bar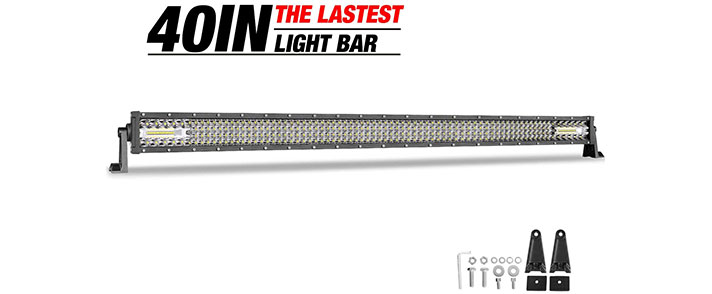 One of the main reasons to purchase a 40" LED light bar is to drastically improve the safety and convenience of your riding experience. That's where the second one on our list, the DJI 4X4 40 Inch 310W LED Light Bar, specializes in.
DJI 4×4 has developed LED light bars that dispense smooth beams under high, intense densities.
Why should you buy this? The effectiveness of the DJI 4X4 40 Inch 310W LED Light Bar is excellent, since it is made to have three rows of 150d° of flood LEDs and 4 rows of 30° spot LEDs that maximize light output.
It also has an ultra-thin design: it's just 2" thick! That means that your vehicle won't look awkward with these lights on!
It also has an IP69 waterproof rate. Aside from that, it's shockproof and dustproof as well, so you don't have to worry about dust and water entering the LED light bar anytime soon.


#3 4WDKING LED Light Bar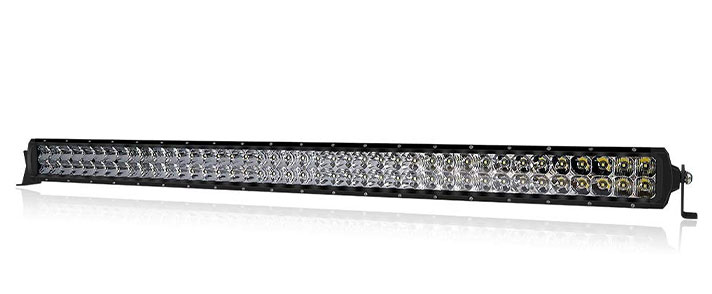 4WDKing's products are famous all over the world for different purposes: military use, off-road use, industrial use, and many more. That is enough evidence to prove that this LED light bar made in the USA will deliver astonishing results while standing the test of time.
Purchasing a 4WDKING 40" LED Light Bar will mean five things: a super bright combo beam, great performance, efficient heat dissipation, extreme durability, and flexible mounting.
Since 4WDKing has 15 years of experience when it comes to producing military products, you'll be sure to have a high-quality LED light bar on your hands.
The LED light bar is made with superior LED chips to give you a brighter, wider, and smoother beam of light. It also features a military-grade breather enclosed by 316 stainless steel screws to make sure that dust, corrosion, and water won't seep in.
This product is the epitome of US-quality light bars when you consider performance and durability.

#4 OFFROADTOWN 640W LED Light Bar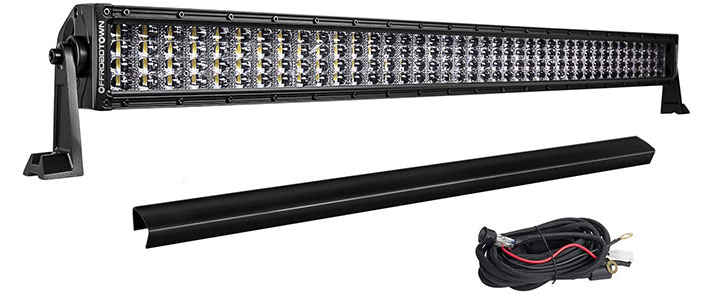 Now, if you're involved in some pretty extreme activities and you need a really powerful LED light bar, then OFFROADTOWN has something to offer you. Featuring their 640W 40" light bar (that power is almost double than everything on this list!).
The OFFROADTOWN 640W LED Light Bar has developed a quad row of Philips LED lights to provide off-road illumination that no typical dual-row light bars can do. It's big, it's bold, and offers more LEDs per square-inch: it could illuminate the trail better than its competitors.
The LED light bar features four rows of Philips LED chips installed in a 40" light bar, enhanced optics, combo beam pattern of 8° on spot, and 90° on the flood, and a 6063 aluminum (also known as architecture aluminum), known for its durability and corrosion resistance.
The OFFROADTOWN 640W LED Light Bar is easy to install because everything that you need to use for installation is included in the package, including wiring harnesses and toggle switches.

#5 Moso LED Light Bar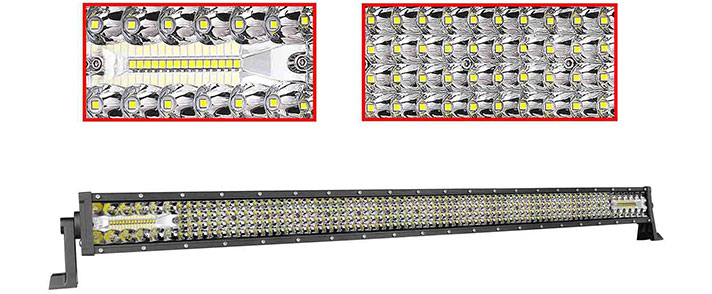 And the last but certainly not the very least, we have the Moso LED Lightbar. This may be the cheapest LED light bar in this list, but it does not falter when it comes to performance and durability.
They feature a super bright combination of beam patterns to give you a safer journey, a great heat dissipation measure, and a complete resistance against dust, rain, and shock.
What can the Moso LED light bar can offer? For an affordable price, you'll get a spot and flood beam combo which has 280 pieces of spot reflectors and 30 pieces of LEDs for flood beams.
This cheap but effective LED light bar can last up to 50,000 hours, thanks to its oversized cooling fins which act as heat sinks that dissipate excess heat.
With something as affordable and effective as the Moso LED Light Bar, you'll have everything you need.

When it comes to choosing the best 40" LED light bar for you, remember to keep the most important factor in mind: satisfaction. What's the point of getting a light bar that you somebody offered you if you think you and your vehicle won't be satisfied when using it?