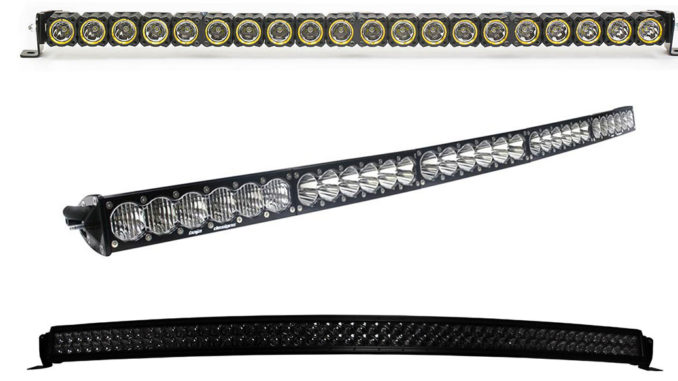 One of the best modifications you can do to your truck, car, tractor, motorcycle, UTV, or anything else with wheels is to install an LED light bar. The entire purpose of an LED light bar is to see more at night time. If you are off-roading at high speed, the ability between seeing and not seeing can literally be life or death. There has been plenty of time when we were out wheeling and almost flew off a mountain, but having an LED light bar saved us.
The most popular LED light bar size out there is the 50 inch curved. This size will fit almost any truck or SUV out there and the curved design matches almost every windshield curved out there. In this short guide, we're going to cover the best 50 inch light bars from most expensive to least expensive. We only recommend products that we would actually buy ourselves.
#1 Baja Designs OnX6 50 Inch

First up on our list is the Baja Design OnX6 50 Inch Arc. Baja Designs has long been one of the leaders in the LED light bar industry. To this day their only real competitor is Rigid Industries who invited the LED light bar. The OnX6 utilizes very deep and focused projectors to put the light far down the trail which is where you really want it. This is part of the reason they use a single row design.
The amount of R&D that goes into developing an LED light bar like this is quite a lot. Unfortunately, this drives the price up extremely high. You are getting a super high-quality product that uses cutting edge technology, but not everyone can afford it. Don't worry though, we have much more budget-friendly LED light bars listed down below.
This particular light bar from Baja Designs outputs an insane 32,350 lumens at 315 watts. This is achieved by using 30 Cree XM-L2 LEDs which are driven at 100%. The housing is made of aircraft grade aluminum. It's also IP69K rated which means it's pretty water and dust proof. Plus if you can somehow manage to break it there is a lifetime warranty behind it.


Warranty: Lifetime
Power: 315W
Output: 32,250 Lumens
Built Quality: Excellent
#2 Rigid Industries 50 Inch RDS Midnight Edition

Second up our list is the Rigid Industries 50 inch RDS Midnight Edition. Like we mentioned above, Rigid Industries and Baja Designs have long been the leaders in the LED light bar market. Unlike the OnX6, the 50 inch RDS uses a double row design. Rigid Industries does have deep and focused projectors, but not as much as Baja Designs.
Rigid Industries does off a single row version of this light bar if you'd prefer that, but for the money, the dual row version is slightly better. We picked the midnight edition because of its awesome looks. Rigid does offer this exact light bar in a standard chrome version if you'd prefer that. Just like the Baja Designs light bar, this one is very expensive due to high-quality materials and lots of R&D.
This 50 inch RDS from Rigid Industries outputs an impressive 26,150 lumens at 375W which is about 6,000 lumens less than the Baja Designs light bar listed above. This light bar is also water, dust, and shockproof. It also has a lifetime warranty if you manage to somehow break it.


Warranty: Lifetime
Power: 375W
Output: 26,150 Lumens
Built Quality: Excellent
#3 KC HiLites 50 Inch Flex Series

Third on our list is the 50 Inch Flex Series from KC HiLites. Although this light bar isn't technically a curved LED light bar, it's modular design could be made into a curved light bar. KC HiLites has been around for a very long time. Although they aren't a massive name in the light bar market, they have been producing off-road lights for over 40 years.
What makes this LED light bar so incredibly special is its modular design. Since it's an array of little light pods, you can add (or append for programming nerds) more to the array. This is useful if you want a slightly bigger, smaller, taller, or shorter light bar array. This also means you can turn into a curved light bar which is what this guide is all about.
KC HiLites uses extremely deep projectors on this light bar which allows them to project the light very far down the trail. They also offer amber covers if you plan on driving in lots of dust. The 50 inch array outputs 24,375 lumens at 250W which is an extremely high lumen/ratio. With this innovative design comes a high price, but if you want a nice modular setup this is the only way to go.


Warranty: 23 Years
Power: 250W
Output: 24,375 Lumens
Built Quality: Excellent
#4 Rough Country 50 Inch Curved Black Series

Getting into the budget oriented products we have the 50 inch Black Series from Rough Country. Although Rough Country is most known for their budget suspension lift kits, they do make halfway decent LED light bars. Their products are an excellent balance between innovation, quality, and price.
There isn't really anything in particular that makes this LED light bar special. It's basically just the standard run of the mill 50 inch curved using Cree LEDs, but their quality is definitely higher than cheap Chinese light bars. We picked the Black Series because of its awesome looks, but they do offer this exact light bar in a standard Chrome Series.
Since this product is budget oriented it lacks any real innovation. It does, however, output a respectable 23,040 lumens at 288 watts. Surprisingly this isn't much less than the much more expensive light bars listed above, but the small projectors limit how far that light actually goes. Rough Country backs this light bar up with their three-year warranty.


Warranty: 3 Years
Power: 288W
Output: 23,040 Lumens
Built Quality: Good
#5 Rough Country 50 Inch Curved X5 Series

Fifth on our list is another product from Rough Country. Since they offer products at a really good price to quality ratio, we felt it was worth mentioning their more innovative line of light bars. The X5 series utilizes a third row of LEDs in between the standard two rows. This allows them to have a much higher lumen count at the cost of smaller projectors.
If don't plan on going fast then the smaller projectors won't be a massive issue, but as soon as you get up to speed you'll want better projectors. For this reason, we would only recommend this product if you're rock crawling or just doing simple trail riding. The X5 series could actually be much better if Rough Country increased the height of the light bar to allow larger projectors.
The innovation of the X5 series isn't really that much, but it's just enough to raise the price slightly. That third row of LEDs bumps the lumen count up to 25,650 lumens at 285 watts. Rough Country light bars are IP67 water and dust resistant, but they aren't shock resistant like Baja Designs or Rigid Industries light bars. This light bar is covered by the same three-year warranty as the one listed above.


Warranty: 3 Years
Power: 285W
Output: 25,650 Lumens
Built Quality: Good
#6 Auxbeam 50 Inch 5D Curved

Auxbeam is quickly becoming the biggest name is the Chinese LED light bar industry, and for good reason. We've used tons of Auxbeam products in the past with great success. Sure the build quality might not be the best, but the price is cheap and the projectors are actually halfway decent.
Part of the reason this light bar is so cheap is its lack of innovation. Auxbeam does make arguably innovative products, but this particular one isn't anything special. The type of projectors they use can be found in many other Chinese light bars. The projector is basically just a standard reflector cup with a small projector on top of it. Auxbeam could push some innovation by increasing the depth of the projector for a tighter and cleaner beam pattern.
This particular light bar from Auxbeam outputs an estimated 28,800 lumens at 288W. This is just an estimate given by Auxbeam which is basically adding the maximum output of each individual diode together. The real-world output is probably closer to 21,000 lumens. Unfortunately, the low cost doesn't allow for any kind of water or dust resistant. If you're on a tight budget then this is the light bar for you.


Warranty: 1 Year
Power: 288W
Output: 28,800 Lumens (Questionable)
Built Quality: Poor
#7 Rigidhorse 50 Inch Curved 8D

Last, but certainly not least, is the 50 inch 8D curved from Rigidhorse. In the past, we've said we are against decreasing the projector size to increase the number of diodes used and we still stand by that. You may like the quad row design because it's actually decent for slow off-roading such as rock crawling.
Luckily Rigidhorse didn't completely cheap out and use simple reflector cups. Although the projectors are very small, they do have a 5D design meaning there is a reflector cup under the projector lens. This light bar does take an insane amount of power, 888 watts to be exact. For some vehicles, this may literally be to much load on the alternator to function properly.
Although we don't like quad row light bars or the fact that Rigidhorse tried copying Rigid Industries name, we do think this light bar is pretty good for a budget product. The housing is IP67 water and dust resistant. We can't find an exact lumen count for this light bar, but we would estimate it's around 30,000 lumens. For a budget product, this light bar is pretty hard to beat.


Warranty: 1 Year
Power: 888W
Output: Estimated 30,000 Lumens
Built Quality: Poor
#8 Bonus: Rigid Industries 50 Inch ADAPT
Although this light bar isn't a curved light bar, we thought it was worth mentioning. One of the biggest problems with LED light bars is picking between a flood beam or a spot beam design. One is good for slow off-roading and the other is good for high-speed off-roading. What if there was a light bar that could adapt to any situation? Rigid Industries pushed the envelope and developed the worlds first fully adaptive LED light bar.
Although this light bar is extremely expensive, there is literally no better light bar on the market. It works by constantly measuring vehicle speed via GPS and changing the beam angle according. We have a full article explain everything about What Makes the Rigid Industries ADAPT so Cool.
Importance of Quality Projectors
You may have noticed that we mentioned projectors quite a lot in this guide, and for good reason. An LED by itself doesn't project the light anywhere, but just lets it emit in every direction forward. This means you aren't putting the light on the trail which completely defeats the purpose of having an LED light bar in the first place.
There are a couple things that separate high-quality projectors from low-quality projectors. The depth of the reflector cup is pretty important because it puts all the light emitting from the LED into one small direction. Obviously, a more reflective design is better because less light will be wasted inside the reflector cup.
The fisheye lens on top of the reflector cup essentially magnifies the light into an even tighter beam. The clarity of the lens is pretty important and in our experience, cheap light bars don't have very clear lenses. The curvature of the lens will also determine how tight the beam will be after the light passes through the lens. All of this takes lots of R&D to find the best balance between all of these factors which is why quality light bars are so much more expensive than cheap Chinese light bars.
If you're still confused about which LED light bar is best for you be sure to check out our full Light Bar Buying Guide for more information.