There are various lengths of curved LED light bars in the market, ranging from 12" to 50".
They are all manufactured to fulfill a very specific purpose: illuminate an area. The choice for the length of the LED light bar depends on how wide an area needs to be illuminated: if it's a moderately small trail or space, settle for the 12" to 30" light bars. If you want a larger area lit up, go for 30" to 50".
Now, if you're into activities that require providing enough illumination for a huge area, then you'd need a longer light bar, preferably going above the 50" limit. Longer LED light bars are available as curved light bars.
Curved LED light bars are better for vehicles like trucks, SUVs, and other similar automobiles, especially if you're planning to install it above the windshield.
Are you looking for the best-curved light bars for your off-road journeys? This is a list of the best curved LED light bars, specifically 52" long, made to help you out on deciding what to light bar to purchase.
#1 Nilight ZH408 783W Curved Triple Row Flood Spot Combo Beam Led Bar

The Nilight LED light bars are one of the most popular brands of light bars in the market today. If you require 52" LED curved light bars, then you need to check out the Nilight ZH408 783W Curved Triple Row Flood Spot Combo Beam Led Bar.
It's a powerful heavy-duty light bar capable of producing super bright lights to cover a much wider area.
It features super brightness, thanks to the three rows of neatly arranged LEDs, each covered with reflector cups that allow better light refraction for extreme light efficiency. Its curved design is specifically made to fit into various vehicles perfectly.
Just imagine an off-road vehicle with a perfectly fit LED light bars above the windshield. It's great!
What's unique about the Nilight curved LED light bar is the quality of their wires. They include a kit that has a 12 gauge wire, a rocker switch, and a relay. This ensures excellent bending performance and electrical conductivity while resisting high temperatures and melting.
#2 LEDKINGDOMUS Curved LED Light Bar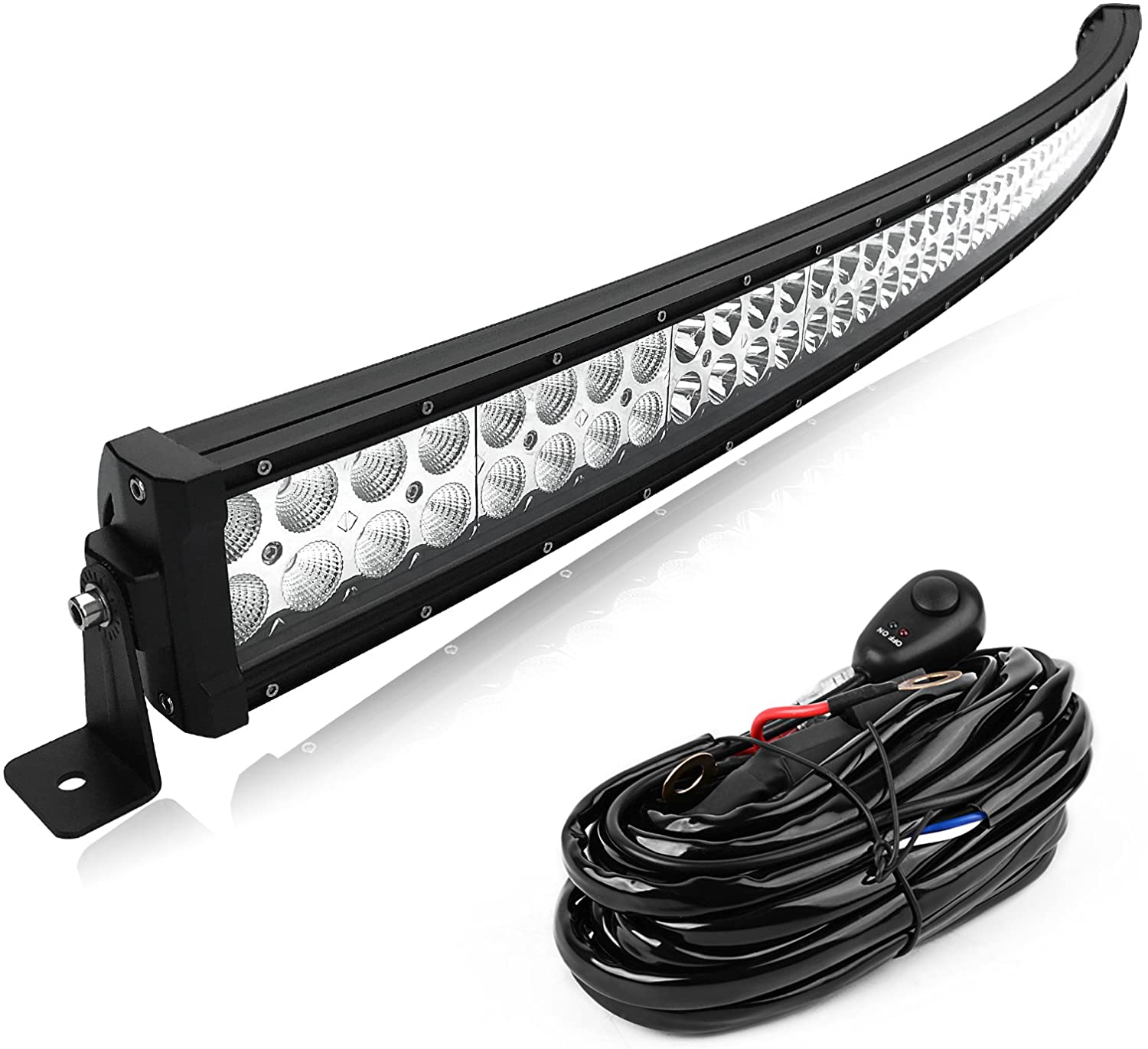 The LEDKINGDOMUS Curved LED Light Bar is a 52" light bar that has a combo pattern for extra versatility. Its curved design offers a wider illuminated area with the ability to project focused light yards away.
Aside from the fact that the LED chips in this light bar are covered with reflector cups for increased optical efficiency, the light bar can rotate to a full revolution!
What can the LEDKINGDOMUS Curved LED Light Bar do? It can emit super bright lights, thanks to the three rows of LEDs neatly arranged to project up to 6000K to 6500K of white light.
This type of illumination is perfect for irradiation from a long distance using the light bar's combo pattern that allows a wider light coverage. The LED light bar is pretty durable because it is housed in die-cast aluminum and a PC lens that helps transmit the light even better.
What's awesome about buying a LEDKINGDOMUS Curved LED Light Bar is that includes a lot of freebies: installation tools, pod lights, rocker switch wirings, and a harness kit. Nice!
#3 DakRide Curved Triple Row 1122W LED Light Bar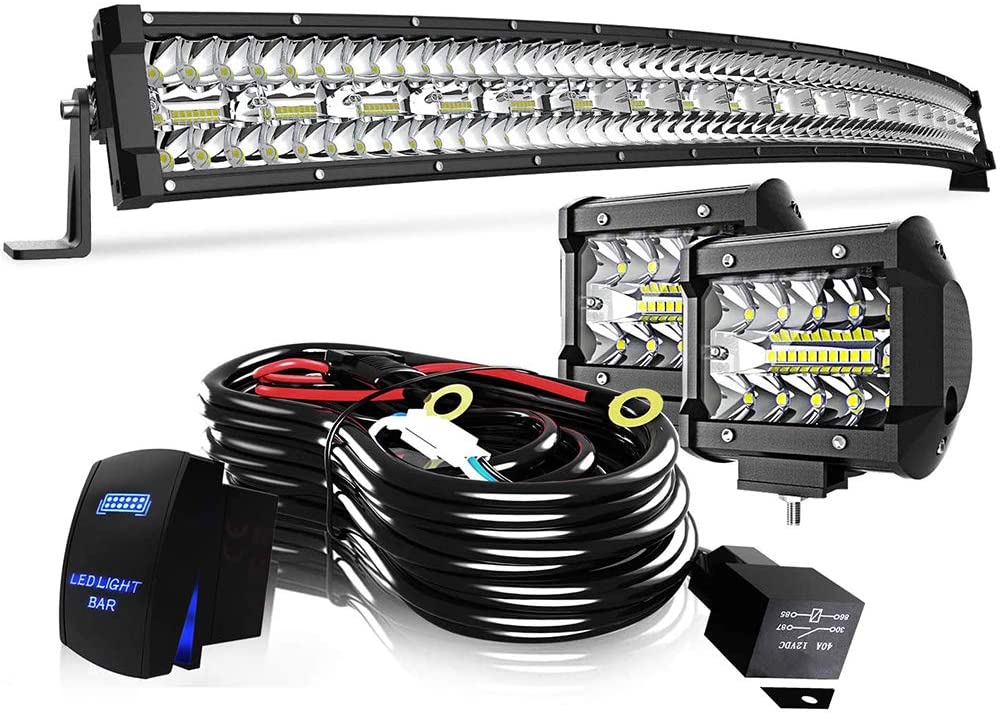 Now if you're into adventures that involve extreme darkness, then you need the sun attached to your vehicle. Featuring DakRide Lights with their Curved Triple Row 1122W LED Light Bar (now that's power!).
What do you get when you buy a powerful curved LED light bar? A super bright light. The three rows are covered with LED chips that are capable of illuminating a tremendous amount of area with cool, white light (combo beam pattern).
Just like the other light bars, die-cast aluminum, and PC lens that protects the LED chips from external damaging factors like water, dust, shock, and corrosive substances.
The heat dissipation system on this LED light bar is nice too. A silicon gel meant for conducting heat, together with the aluminum alloy housing mentioned earlier acts as heat sinks that dissipate excess heat created by the LEDs, allowing the light bar itself to last up to 50,000 hours!
The awesome thing about this is it's potential for varying applications is realized. The universal mounting brackets that come with the light bars make the installation on any vehicle easy and hassle-free.
#4 AUTOSAVER88 500W Curved LED Light Bar
And last but certainly not least, we have the 500W Curved LED Light Bar made by AUTOSAVER88. This curved LED light bar is the definition of upgraded brightness. Being one of the customer's favorites, this curved light bar is popular for giving justice to high-quality affordable LED light bars.
Its compatibility is impressive too: its working voltage fits into most vehicles, especially the off-road ones.
Let's go through its features. It has a 4D tempered fish eye lens that protects the LEDs and at the same time makes the projected light super bright. The product is waterproof, dustproof, with a waterproof standard of IP68.
That means you can submerge it under 1m deep water for up to two hours! Its adjustable brackets allow readjustments in the light direction – no need to dismount and disassemble the light bar just to point it in a certain direction.
The 52" variant of curved LED light bars is made to cover a wider area compared to the shorter light bars. Its curved design is meant to be compatible with above-the-windshield installations. Overall, the 52" curved LED light bars are a powerful bunch of light sources capable of summoning the sun even when it's midnight.
When choosing a light bar, make sure that you consider the shape, power, what beam pattern do you need, length, beam angle, resistance, price, and most of all, the satisfaction that you think you would get when you use it.
Nothing beats the feeling of buying the right equipment perfectly suited for your need.