Driving a truck is one of the pleasures in life that a very few select people seem to appreciate. Imagine riding a beast of a machine, strolling down the road, and carrying whatever payload you have in the back.
It may be heavy or light: who cares? You got a heavy-duty vehicle that can tackle whatever the day brings.
Then the lights on the horizon fade and your headlights don't seem to produce enough light to illuminate the way. That's rough, especially if you're going down a dirt road or a poorly lit highway.
Driving without enough light to reveal the way can be dangerous, both for you as a driver and for pedestrians.
Good thing a lot of LED lightbars are available in the market, suitable for trucks and SUVs, and even boats. One of the best variety of this is a 54" LED curved light bar. It's neat, it's powerful, and it's more than enough to keep the road ahead lit.
If you're planning to purchase some 54" LED curved light bars and you have no idea where to start, then you've come to the right place. We've made a list to help you out in your light bar hunting. Check it out!
#1 Nilight 70008C-A 312W Curved Spot-Flood Combo LED Bar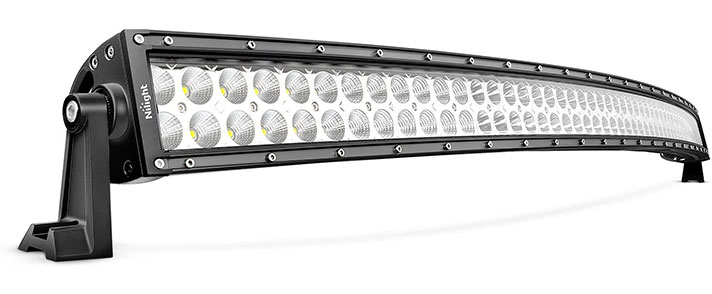 There are three types of LED light bars: spot, flood, and combined. The first one on our list is reserved for the Nilight 70008C-A 312W Curved, which is a combined LED light bar, capable of doing spotlight and floodlight.
It can be installed on a wide variety of vehicles like trucks, cars, SUVs, boats, ATVs – compatible for both vehicles with 12V and 24V voltage outputs.
What do you get when you buy the Nilight? The bright white light it emits comes from advanced CREE 10W LED chips, designed specifically to cover a wide area, illuminating your path from left to right.
It also has a great heat dissipation feature, by which heat sinks made of aluminum alloys dissipates the heat produced by the curved light bar, allowing it to last for up to 30,000 hours! It also has an adjustable mounting bracket that can tilt for up to 45° forward and backward. Illumination has never been this powerful.
What's awesome about this light bar is its durability. The mounting brackets are made from stainless steel, allowing it to withstand corrosion and rust, plus the light bar itself is waterproof and dustproof.
So if you're going somewhere far from civilization, we suggest you take this one.
#2 OZ-USA US Curved Ultra Spot Light Bar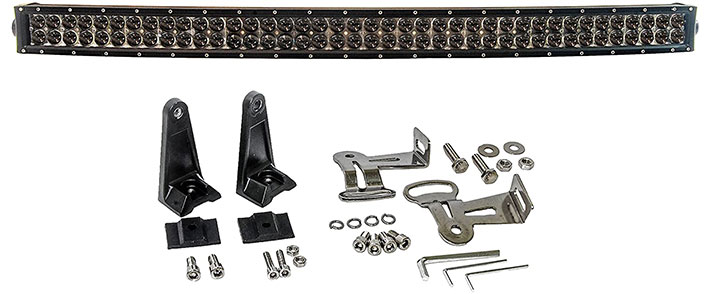 Are you planning to go off-road and do some work on the dirt? Do you fancy your tractors well equipped with powerful lights? Are you involved in some business involving the waters? Are you an off-road night racer? If you need some heavy spotlighting, you have to try the OZ-USA US Curved 312w 54″ Ultra Spot Light Bar.
It comes with Ultra Spot beam patterns and side flood lenses to spot things from afar at a maximum range. Their OSRAM LEDs designed to produce 10% to 20% more light than the typical LEDs are perfect for high-speed applications.
It's waterproof, so you can go on your wild and rough journeys without worrying about getting your LED light bars wet.
And since this specific model is used for off-road racing, this LED light bar is made to be extremely durable, capable of regulating the pressure inside the bar while keeping it free from moisture through the use of its military-grade waterproof breather.
The housing is made from heavy-duty aluminum, and the LED bar itself can withstand certain levels of impact.
If you're into extreme sports and/or heavy industrial work, then this is for you.
#3 Vivid Light Bars Dual Row Super Bright Cree Curved LED Light Bar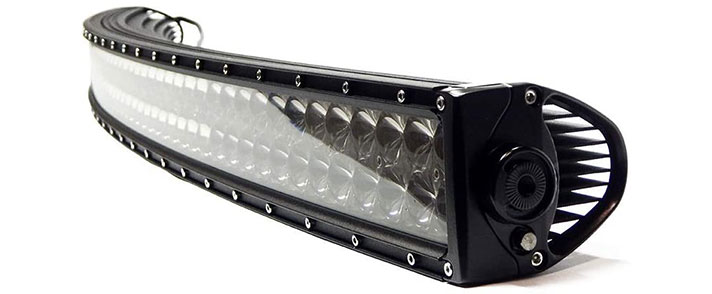 The Vivid Light Bars are for those who want long paths illuminated to ensure their safety while driving home at night. The third curved LED light bar on our list features fish eye projector lenses that are capable of ultra-focus and superior wide viewing area.
The product comes in two different variants depending on its size and color: 3W/5W CREE LED lights, and 4D Lenses/Regular Black Reflector, respectively.
What's with the Vivid Light Bars Dual Row Super Bright Cree Curved LED Light Bar? It utilizes CREE LED chips, which are known for its longevity, performance, and durability. It can last for up to 50,00 hours, light a vast area, and withstand blows due to its diecast aluminum housing.
It's also fairly easy to install because of the single harness universal mount that comes with the package.
What's awesome about this is its optional 4D lens design, which gives the user the ability to provide better light quality compared to your typical reflector lights. And as said earlier, it can focus on long-distance projection and is capable of casting a uniform light beam.
#4 AngelMa 300W
White Amber Yellow Single Row Led Light Bar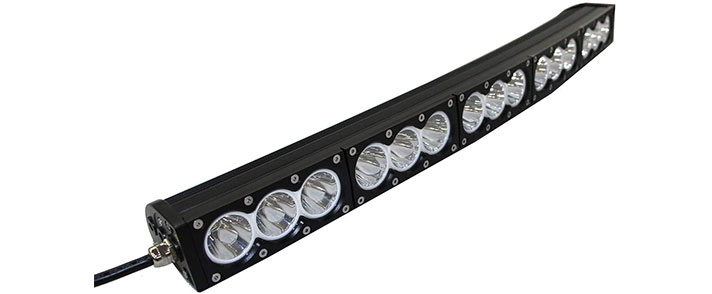 And last but certainly not the least, we have the AngelMa with their Single Row 300W 54" LED light bars that come in white light and indifferent beam patterns. This is another LED curved light bar that utilizes CREE LED chips (Surprise! It's 10W again).
AngelMa's LED curved light bar is specifically designed to emit super bright light and wide illumination.
What's in the bag? A 300W LED power, CREE LED chips for superior lighting, specially engineered lamp cups to amplify illumination range, aluminum alloy heat sinks to quickly dissipate heat, waterproofing that can withstand 30 minutes of 1m water depth, and an adjustable mounting bracket.
If you require spot focused lighting at an affordable price, then this is for you.
These curved LED light bars are typically installed on trucks, industrial machinery, SUVs, ATVs, basically any type of vehicle that is made to roughhouse. Having a trusty 54" curved light bar with you will help you tremendously by keeping your workplace safe and your trails lit.