If you're a car enthusiast who loves European cars so much you bought one, then you probably know how good of a vehicle the BMW M3 E90 and E92 are.
Branded as "The World's Greatest All-Around Car" by motortrend.com in 2009, the BMW M3 E90/E92 is still a decent platform to this day, even for modification.
There were over 50,000 E90 and E92 sold in 2013. Since they came out of dealerships, they've gained so much favor from the enthusiastic car community because of how impressive of a car they are.
There isn't much difference between BMW M3 E90 and E92 – they're both created by the high-performance division of BMW, but the most apparent deviations they have are the doors. The E90 is a 4-door sedan, and the E92 is a 2-door coupe.
As for the engine, both of them have an S65 V8 engine, capable of amassing up to 414hp at 8,300RPM and 295lb-ft of torque at 3,900RPM.
Yes, we said 8,300RPM. We all thought that there's nothing more satisfying to see a V8 that's capable of 7,000RPM – not until the fourth generation of the BMW M3 came.
Up to this day, the BMW M3 E90/E92 is still a sought-after machine. Many car enthusiasts love these vehicles because of how complete of a car they are. It also has massive aftermarket support on its back, so it's nice to own one too.
There are so many aftermarket performance mods available for the BMW M3, and to give you an idea of what upgrades are essential for the vehicle, we're giving you a list of the best performance mods you should get for the BMW M3 E90/E92.
Check out the list below so you can have an idea of what you need to get to further improve the power, performance, and looks of your BMW M3 E90/E92.
#1 Wheels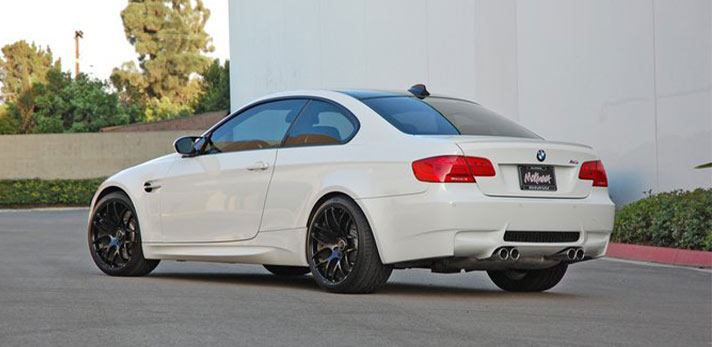 Once you've fitted in new wheels on the car, you'll realize why it's one of the best E92 and E90 M3 modifications to acquire first. These mods really bring the best out of the car aesthetic-wise.
You see, the OEM wheels are usually the culprits of two main problems: size and weight. All of the E9X M3s suffer from stock wheels that are too staggering; the 8″ front wheels are too narrow while the rear ones are 9″ to 9.5″, which is just too wide for some people.
This puts the vehicle into a position where it is more vulnerable to heavy understeer. The weight of the BMW M3 E90/E92 is just too heavy, too, weighing around 25lbs (front wheels) and 26lbs (rear wheels).
Replacing your stock wheels with the aftermarket ones that range around 18″ to 20″ in diameter, 9″ to 10.5″ in width, and 20mm to 25mm in offset will set your car up to a more comfortable and even sportier ride.
Recommendations:
#2 Lowering Mods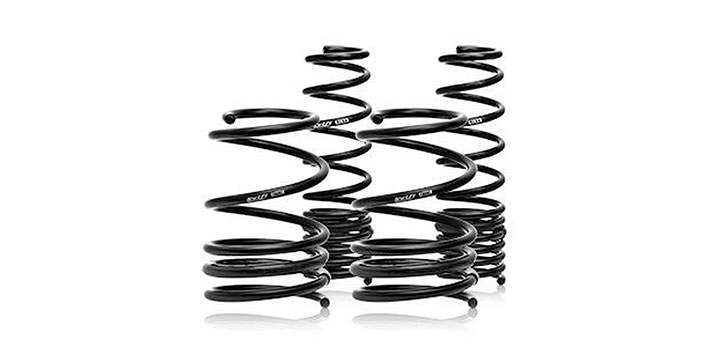 Lowering your BMW M3 E90/E92 should be on your list of priorities when looking for aftermarket performance mods. Since the vehicles are coined as an "all-around car," then it's in your best interest to set up your suspension for both daily and aggressive driving.
Lowering your vehicle may make sense to you now, but what mod should you get to do the job? It depends on your application, but car enthusiasts usually get either a set of lowering springs or a coilover kit.
Lowering springs can give you that lowered stance that you want. It's simple, right? The straightforwardness and affordability of this mod are just some of the reasons why most Bimmer lovers opt for lowering springs.
However, it does not give you any avenue of adjustment. Coilovers, on the other hand, offer the best of both worlds: ride height and damping adjustability. These are more complicated than lowering springs, but it gives the driver more room for customization.
So what should you pick between the two? Pick lowering springs if you only care about a lowered stance and if you drive your car on the streets and on the tracks from time to time.
Otherwise, choose coilovers if you prefer a more customized suspension feel that will suit your driving style, whether on the track or on the streets.
Recommendations:
#3 Exhaust Systems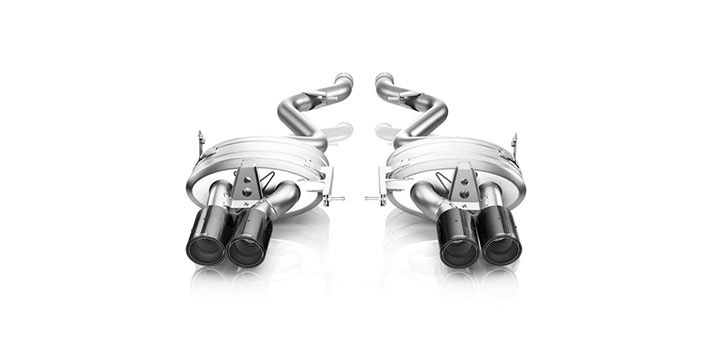 If you own one of the cars from the fourth generation of the BMW M3, then you're already familiar with the sound of it – or lack thereof. It's just too darn quiet! Most cars tend to benefit a lot from newer exhaust because of newfound sound output, but the BMW E90/E92 M3 becomes a whole different car with aftermarket exhaust systems.
On top of that, aftermarket exhaust systems hit two birds with one stone: the right exhaust will add more power to your car while significantly reducing its weight.
To keep your costs down and your hopes up, you should first determine what purpose you're leaning into. Is it for raw power or for an aggressive sound output? Since the BMW E90/E92 M3 has many aftermarket support, expect to have many choices to choose from.
Recommendations:
#4 Intake Systems
As a manufacturer of high-end luxury cars, BMW emphasizes silence whenever they conjure a vehicle out of their multi-cylinder brains. However, this silence doesn't appeal much to most car enthusiasts because most of them want a loud and aggressive car. This also means that you won't hear any engine sound.
If you want your car to be a bit more exciting for your auditory sense, it's highly advisable to install an aftermarket intake system to your BMW E90/E92 M3. BMW intakes are made explicitly to feed enough oxygen-rich air into naturally aspirated engines, just like the S65.
The BMW S65 engine is superb, and there's not much you can do as a car enthusiast to improve it. However, if you want to introduce it to a bit more power and sound to the vehicle, install an aftermarket intake system in it.
Recommendations:
GruppeM Carbon Fiber Ram Air Intake System
Eventuri Carbon Fiber Air Intake System
#5 ECU Tune
Getting your ECU tuned up is last on the list because it's the most critical upgrade you should get. Why is that? Software tuning is essential if you want your Bimmer to run smoothly and correctly after you've installed some modifications like intakes, exhausts, or even turbochargers. There's a surreal difference after getting an ECU tune because it reprograms the configurations of the stock ECU tune.
The beauty of getting an ECU tune is that you can set up your vehicle for certain specific applications if you wish to do so. Many tuners out there can tweak all of the 40 parameters of the stock ECU to fit it into whatever preference and application you want it to be in.
Do you want your BMW M3 E90/E92 to be a streetcar or a race-track annihilator? An ECU tune can easily set up the OEM settings of your car so that it can suit whatever driving style you prefer.
Recommendations:
Evolve Tune BMW E90/E92 M3
VR Tuned ECU Flash Tune BMW E90/E92 M3
Things You Should Know Before Modding Your BMW E90/E92 M3
You need to know a few things first before you start modifying your BMW M3 E90/E92. If you own either of the two M3s, you already know how expensive it is to own one.
If you don't make good decisions, keeping them alive can cost become very expensive annually. Adding a new mod can certainly ramp up your maintenance costs, so make sure to buy performance mods that can set your car up for a long time.
And also, if you're still hesitant about starting your Bimmer modification adventure, try to take advantage of the BMW M3 forums on the internet. There are undoubtedly many seasoned BMW M3 E90/E92 owners who know how well certain modifications react to the car.
At the end of the day, before purchasing any kind of mod, you have to explore your options first and weigh in the benefits and drawbacks of each mod you're planning to get.
The BMW M3 E90/E92 has already cemented itself as one of the most ideal platforms in the car community. Both of them look great and sound okay. Modifying the BMW M3 E90/E92 means that you're ready to take a significant step in your gearhead life.
So whatever mod it is you choose, just remember to take your time to do some extensive research so you can keep your costs down and your hopes up.