What makes the Chevy Silverado one of the best pickup trucks? It can tow up to 13,400lbs, have five different powertrains, and is powered by a turbodiesel engine, putting the Silverado on the line of trucks that has an impressive fuel capacity.
It's capable, powerful, durable – just the perfect attributes of a heavy-duty truck.
Adding a truck bed cover to your Silverado is a great decision. Here are three reasons why: it protects the trunk and its cargo, provides a better fuel economy, and makes your truck stylish.
Are you looking for some truck bed covers to outfit your Chevy Silverado? You're in luck then! We've created a list that features the best truck bed covers/tonneau bed covers that perfectly fits a Chevy Silverado.
What are you waiting for? Hop on the trunk and let's go!
#1 Tyger Auto T3 Soft Tri-Fold Tonneau Cover
Tyger is an expert at providing automotive enthusiasts the aftermarket auto parts they need. Introducing the first one on the list, the Tyger Auto T3 Soft Tri-Fold Tonneau Cover. Why settle for a Tyger?
Here are three reasons: they've patented their design in the USA, they have a team of specialists that can help you out when necessary, and they back up their product.
What does the Tyger Auto T3 Soft Tri-Fold Tonneau Cover offer?
EASY INSTALLATION. The tear-resistant vinyl resting on an aerospace-grade aluminum frame can be easily installed without using any tools – in just under 10 minutes!
WEATHERPROOFING. The truck bed cover can be sealed tight so your precious cargo can be protected from the harshest of natural elements like sun rays, rainwater, snow, or even hail!
SECURITY. This truck cover takes care of your belongings by utilizing clamps and stainless steel rods that can securely put your belongings in place.
The Tyger Auto T3 Soft Tri-Fold Tonneau Cover comes in three variants: the Tyger T1 (soft roll-up), Tyger T3 (soft tri-fold), and Tyger T5 (hard tri-fold).
#2 Gator ETX Soft Roll Up Tonneau Cover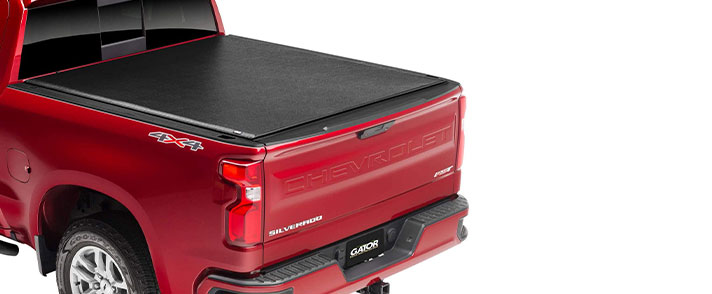 If something is made in the USA, it'll most likely be a high-quality material. Just like the second one on our list, the Gator ETX Soft Roll Up Tonneau Cover.
This tonneau cover is excellent at protecting your truck bed which contains all of your gear and valuable from every harmful imaginable element; natural or man-made. Now you're planning to get a Gator tonneau cover.
What should you expect to get?
WEATHERPROOFING. The Gator tonneau cover is specifically designed to protect your belongings from natural elements. With its weatherproof sealing, sun rays, rain, snow, and even hail!
EASE OF INSTALLATION. No need to stress out when it comes to the installation. The tonneau cover has pre-assembled with components for tool-free installation that can be finished within minutes.
AESTHETICS. Keep your cover crisp and clean by using the built-in adjustable tension control to pull the tonneau cover and keep it crumple-free. The cover creates a low-profile look that makes the truck look more stylish.
EASE OF USE. Operate the cover using only one hand by using the trigger latch located on the driver side. You can also drive with the tonneau cover wide open by rolling it to the cab's direction and holding it securely using fastening buckles.
Not interested in soft roll-up? There are other variants that you can choose from, like the Tri-Fold, Hard Tri-Fold, and Hard Quad-Fold.
#3 Lund Genesis Elite oft Roll Up Tonneau Cover
Looking for a low-profile, soft tonneau cover that exudes luxury?
Try out the Lund Genesis Roll-Up Cover. It has twill weaves which eliminate any need for maintenance. The innovative design that made the Lund Genesis Roll-Up Cover uses a patented latching and an adjustable tension control system that keeps the cover pulled tight.
Hooks and fasteners are present in the side rails are present to seal your trunk and protect it from elements like dust and water.
The Lund Genesis Elite Soft Roll-Up Tonneau Cover offers the following:
MAINTENANCE FRE MATERIAL. The matte canvas is easy to maintain and can even last a year without intensive cleaning. It is resistant to mold, mildew, UV rays, water, dust, and dirt.
FULL BED ACCESS. Since this is a roll-up cover, it doesn't consume any space in the trunk, leaving you 100% space.
LOW-PROFILE. The soft roll-up is mounted in such a way that it projects a low-profile look without interfering with the truck's lines.
It also comes as a standard roll-up, soft-fold, elite soft-fold, and hard-fold.
#4 BAK BAKFlip MX4 Hard Folding Tonneau Cover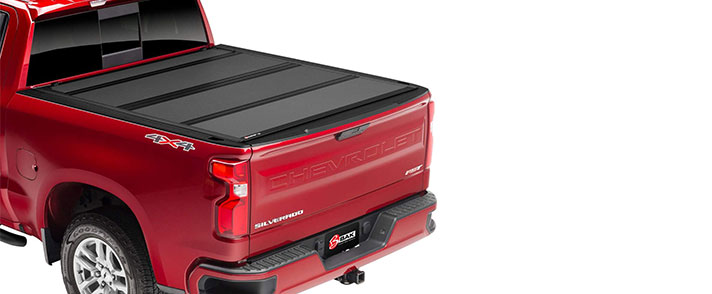 And last but certainly not the least, we have the BAK BAKFlip MX4 Hard Folding Truck Bed Tonneau Cover. The BAKFlip MX4 was the first hard-folding cover in the market to have a matte finish, making it the number 1 best selling hard-folding cover in America after it was released.
When you think about everything the BAKFlip has, the competition has no match for it. This is the definition of premium cover.
What's in store for you when you buy the BAKFlip MX4 Hard Folding Truck Bed Tonneau Cover?
STYLE. It has foldable panels coated with a matte finish so you can protect your gear against harmful external elements with style.
FULL BED ACCESS. You have full freedom on how you want it opened or closed. The tri-fold allows you to carry oversized cargoes without opening up all the panels. The MX4 also has an interesting tailgate seal that permits the tailgate to close with the cover either opened or closed.
SECURITY. The foldable aluminum panels latch automatically when you partially close or fully close them. You can use the lockable tailgate to protect your belongings when you choose to close the cover.
Choosing the right truck bed cover for your Chevy Silverado is an imperative action to make your belongings secured and safe from whatever nature throws at it. Make sure to know what you need first before buying a tonneau cover for your truck.