A car like the BMW M4 exists to be driven on the track. Admit it or not, BMW envisioned a vehicle that's not only great for daily driving, but also capable when subjected to competitive racing.
Sure, not all of us are professional racers, but most car enthusiasts crave the feeling of a sporty ride that can easily maneuver harsh and sharp turns. Fortunately, you can turn the BMW M4 into something more capable of handling wise through aftermarket coilovers.
Coilovers are suspension mods designed to make cars like the BMW M4 respond better when subjected to demanding driving activities like cornering under high-speed, encountering a bump on the road while at full speed, etc.
Coilovers can handle compression and rebound like a champ, thanks to their adjustable systems that allow you to set specific parameters vital for making a car's handling not so much of a handful.
When it comes to handling, there's nothing bad to be said for the BMW M4, only the fact that it's got no problem with dealing with tight and sharp turns. Its ride quality is firm enough, but you need to drive it aggressively and fast to enjoy the car fully.
And that may require the assistance of a component that will handle all of the bumps, turns, body roll, and any other undesirable things the car may encounter – something like coilovers.
Here are some of the best coilovers to get for your BMW M4. These kits will make your ride firmer, allowing you to conquer both the track and the streets with an upper hand.
#1 Godspeed Project MAXX Coilover Kit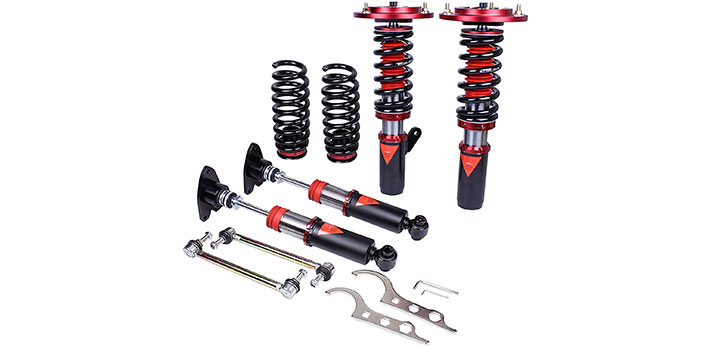 Manufacturer: Godspeed Project
Type of Construction: Monotube
Spring Rate (F/R, lb/in): 784 | 504
Compatibility: BMW M4 (2016-2019)
Let's face it: BMW modifications aren't the cheapest, but the first coilover in this list is relatively affordable considering how many benefits it can provide for your car. Godspeed Project's MAXX coilover kit is a cheap alternative for the overpriced coilovers out available in the market today.
It corresponds well when used both for the streets and the track, and it's got some pretty great component specs.
The MAXX coilover kit features anodized monotube shocks that utilize Italian-made shock oil with high viscosity index.
This coilover is ideal for activities that involve high-performance driving and maneuverability since shock oils with high viscosity index tend to be more consistent whether you drive your BMW M4 typically or you're putting the pedal to the metal.
The MAXX coilover kit also has lightweight shocks made from aluminum to emphasize the car's weight reduction properties.
Aside from that, the MAXX coilovers can go over 40 levels of the precise class of damping adjustment. This feature will come in handy whenever you feel like a specific damping setting is not conducive to your driving style.
You want to change the grounds into a more familiar yet more comfortable to handle configuration. Considered one of the BMW M4's best coilovers, the Godspeed Project MAXX coilover kit is an excellent option for budget-restricted car enthusiasts.
#2 BC Racing BR Series Coilover Kit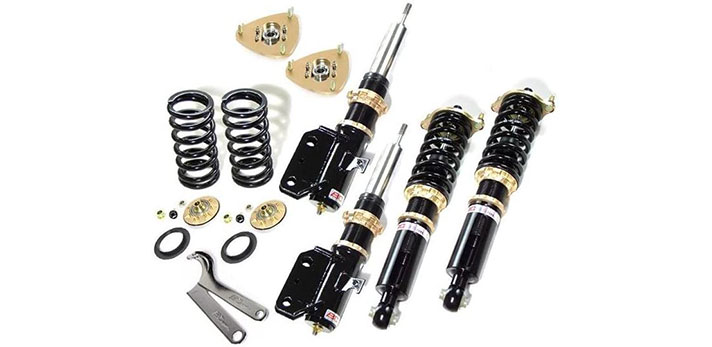 Manufacturer: BC Racing
Type of Construction: Monotube
Spring Rate (F/R, lb/in): 392 | 784
Compatibility: BMW M4 (2015-2019)
Here's another ideal coilover option for car enthusiasts and BMW M4 owners alike. BC Racing's BR Series is arguably the most popular brand of coilovers amongst car enthusiasts. They're recognized for the quality of their coilovers, even if they aren't that expensive.
The BR Series is a bang for the buck purchase for your BMW M4, especially if you don't want to spend too much money to upgrade your suspension.
The BR Series is a great coilover to use for the occasional track duty and daily driving. The coilover has a monotube shock design that utilizes a linear piston with a damping curve.
No need to worry about screwing up any of the adjustments accidentally since you can make the height adjustment through the shocks and not the body. The damping adjustment can be adjusted by up to 30-clicks too.
Included in the coilover kits are camber plates for both the front and the rear. With the BR Series, you can also om spring rate with Swift Springs available for some applications.
What sets the BR Series from the rest is the fact that this coilover is rebuildable. In case one of the components got ruined accidentally, you can purchase that particular part and have it installed on your existing coilovers.
#3 Emotion Tuning Coilover Kit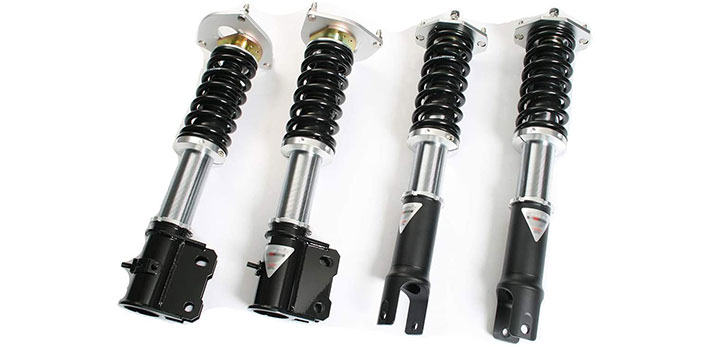 Manufacturer: Emotion Tuning
Type of Construction: Monotube
Spring Rate (F/R, lb/in): 784 | 504
Compatibility: BMW M4 (2014-2016)
The BMW M4 may be a German engineering product, but Japan has always been one of the car industry's premiere titans. They may be well known for their JDM cars, but they also know a thing or two about tuning up and modifying European vehicles like BMW.
For the third entry on our list of the best coilovers for BMW M4, we have the Emotion Tuning. This Japanese tuning company specializes in suspension, engine cooling, exhaust/intake systems, etc.
Designed in Japan and assembled in Taiwan, Emotion Tuning's coilovers deploy 24 damping adjustment levels, allowing you to set whatever ride stiffness you want. The coilover kit also utilizes Needle Valve Technology, wherein the shock absorption performance is incredibly linear, regardless of levels.
It also features high-performance springs, along with the forged aluminum alloy tube. The height and the preload adjustment are independent of each other too.
You may not hear about Emotion Tuning, and that's okay. You can find their presence globally, but they focus mainly on catering to car enthusiasts' needs from Asia. And with their coilover kit made explicitly for the BMW M4, expect to see the right mix of German and Japanese engineering marks on your car.
These two countries may not be a good combination history-wise, but they're clearly the best when it comes to automotive engineering.
#4 KW Variant 3 Coilover Kit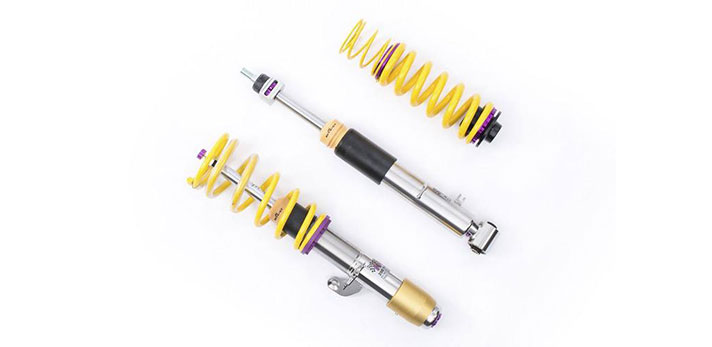 Manufacturer: KW Suspensions
Type of Construction: Monotube
Spring Rate (F/R, lb/in): Adjustable
Compatibility: BMW M4 Convertible (2015-2020)
Here's a special coilover made for the special type of BMW M4. This KW coilover kit exists to infuse state-of-the-art racing technology to the already powerful BMW M4, this time for the convertible version.
KW Suspensions are popular for creating premium coilovers that transform even the most basic cars into racing wonders. This coilover kit can deliver tons of benefits to your convertible BMW M4; for a price.
This KW Suspensions coilover kit utilizes an inox-line stainless steel technology for the shock body, making it durable and tolerating high loads. You can adjust the compression settings by up to 12 clicks, while the rebound settings can be set up to 16 clicks.
Each coilover is independent of one another, and they work well by themselves. The type of material KW used ensures that the coilover itself will live longer than you expect.
KW made the Variant 3 coilover kit to be the perfect upgrade for performance-obsessed drivers and seasoned car tuners who put overall suspension performance high up on a pedestal.
The independently adjustable settings of both the compression and the rebound make it easy for the driver to grip their preferred steering control, directional stability, and handling characteristics that show up with certain tuning setups.
#5 KW Coilovers Variant 4 (With Electronic Dampers)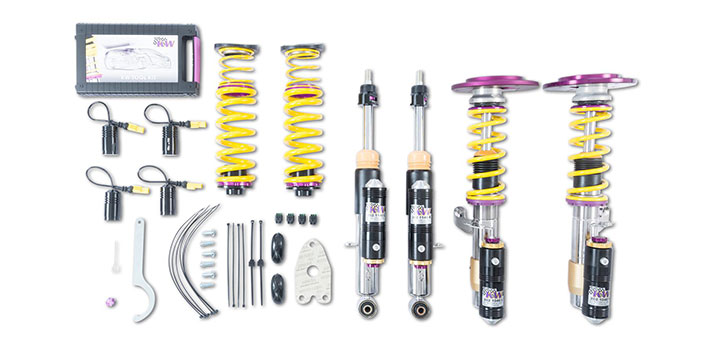 Manufacturer: KW Suspensions
Type of Construction: Electronic Dampers
Spring Rate (F/R, lb/in): Adjustable
Compatibility: BMW M4 Coupe (2015-2020)
Remember what we've said about KW Suspensions and them making premium coilovers? Ramp it up 5 times because here's the ultimate coilover kit for the BMW M4. KW Suspensions are known for prioritizing top-tier racing performance while making up for the ride quality at the same time.
For the last entry on the best coilovers for BMW M4, we have the KW Coilover Variant 4, with some electronic dampers included.
The KW Variant 4 coilover kit employs electronic dampers instead of the typical monotube design. Although electronic dampers can either be monotube or twin-tube, these types of dampers are great for high-performance vehicles.
It has three-way adjustable dampers with stainless steel coilover struts and a special damping adjustment system like you've never seen before.
Rebound damping can be changed by up to 16 clicks, low-speed damping by up to 6 clicks, and high-speed damping by up to 14 clicks. Aside from all of those performance benefits that you'll gain, there are also two basic setups from which you can choose from performance or comfort.
If there's one word to describe KW Coilover Variant 4, it would be this word: overkill.
The BMW M4 is already a fast and nimble car that goes with surprisingly good handling. By installing aftermarket coilovers to your car, you'll have a much better chance of dominating the track using your newfound damper settings.
You can also use your BMW M4 that has coilovers in it as a daily, although, of course you'd have to configure the coilover to a more comfortable setting.