Many car enthusiasts have praised the recent Hyundai Veloster N because of its race track capability. And to make things even more exciting, Road and Track chose the Hyundai Veloster N to be the 2020's Performance Car of the Year, beating other giants like the Nissan GT-R Nismo Corvette Stingray (prototype) and Toyota Supra.
And The Hyundai Veloster N won the competition using naked; without any suspension upgrades.
Whatever version of Hyundai Veloster you have, you can experience a track-capable car too. If you want a racing-grade type of car that can easily maneuver through tight turns and be able to corner with minimal body-roll, then you need something to manage the compression and rebound experience by your car; something like coilovers.
Coilovers have been a staple suspension upgrade for those who want to make their cars more track-worthy. Not only that, coilovers have an adjustable height system, too, making them more favorable than lowering springs that have preset ride heights.
If you're out to see what coilovers would look best on your Hyundai Veloster, check out the list below. We've gathered the best coilovers to pick for your Hyundai Veloster just for you.
#1 Megan Racing Street Series Coilover Kit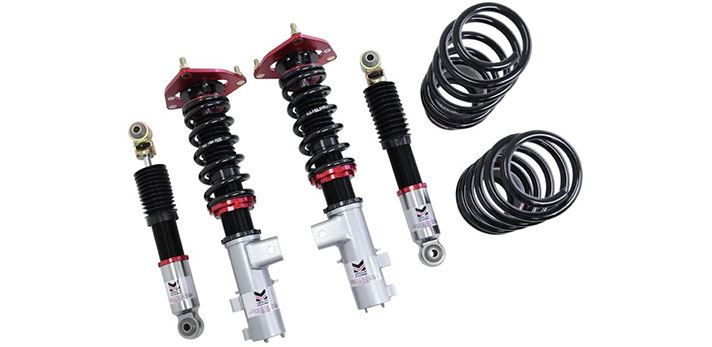 Manufacturer: Megan Racing
Type of Construction: Monotube
Spring Rate (F/R, lb/in): 336 | 224
Compatibility: Hyundai Veloster (2012-2015)
The first entry for the best coilovers for Hyundai Veloster would be none other than Megan Racing. This brand is one of the most brought up labels whenever coilovers are being discussed.
Many car enthusiasts use Megan Racing coilovers to set up their suspensions because of their low-cost benefits. The Stree-Series is one of those coilovers that can give your Hyundai Veloster an upgrade.
Since Megan Racing's products are built to make a car track-worthy, the Street Series does the same to your Hyundai Veloster too.
It has a compression/rebound damping adjustment system that can be adjusted by about 32 levels, and it's got a wide range of height adjustment that allows the user to set their car to whatever height they prefer.
Do you want a more aggressive drop? What about a subtle reduction in ride height? The Street Series can do that.
What's more, the Street Series also features pillow ball mounts so you can easily adjust your camber, giving your Hyundai Veloster an edge over other car's suspension setups.
Megan Racing suggests that you change the Street Series coilovers from 1 to 8 levels if you want to use the car for the track, 9 to 16 for more demanding use like uphill drives and mountain runs, and 17 to 32 for the street.

#2 Ksport Kontrol Pro Damper System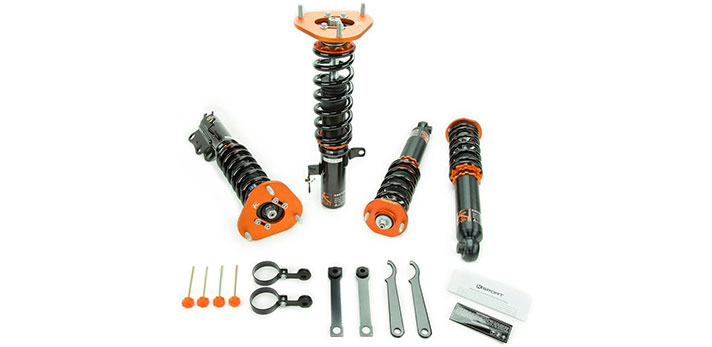 Manufacturer: Ksport
Type of Construction: Monotube
Spring Rate (F/R, lb/in): 420 | 224
Compatibility: Hyundai Veloster (2011-2017)
If you have a thing for coilovers that underwent through so much R&D, then the Ksport Kontrol Pro is a great coilover to start using. Made with 36 levels of damping adjustment, the Kontrol Pro allows your Hyundai Veloster to have a wide range of adjustment.
With the Kontrol Pro, you can fine-tune your suspension for more aggressive activities like track racing or more comfortable and user-friendly activities like street driving.
The Ksport Kontrol Pro features pillow ball top mounts both for the front and rear that offers the same level of adjustability but allows some room for compliance so that you can use your Hyundai Veloster for more demanding activities.
The coilover also uses adjustable lower mounts made out of 6061 billet aluminum, making it lightweight, sturdy, and resistant to rust and corrosion.
Speaking of coilover rust and corrosion resistance, the steel shock bodies are electroplated with zinc to protect the coilover from getting caught up with rust and corrosion from the elements.
The Ksport Kontrol Pro is an excellent coilover for those Hyundai Veloster owners that have racing in mind. It offers provides top-tier value and performance, whatever application you want your Hyundai Veloster to do.

#3 ST Suspensions ST X Coilover Kit
Manufacturer: ST Suspensions
Type of Construction: Twin-tube
Spring Rate (F/R, lb/in): N/A
Compatibility: Hyundai Veloster (2011-2017)
We understand the skepticism most car enthusiasts have when shopping for coilovers. However, when a suspensions company have brand ambassadors like Ken Block and Steve "Baggsy" Biagioni, would you still doubt?
ST Suspensions are one of the renowned brands that focus on making cars primed for racing, and their ST X coilover kit will sure do the same for your Hyundai Veloster.
You can consider the ST X coilover kit as one of the best Veloster coilovers because it offers benefits like continuous thread construction that allows the user to adjust their car's height range from moderate up to the extreme.
The coilover struts are galvanized and coated for maximum corrosion protection. Although the ST X coilover kit uses twin-tube dampers, it's enough to provide impressive performance gains while lasting for a very long time.
Why should I even get this coilover kit? What a skeptic! Here's one reason why you should get an ST X coilover kit for your Hyundai Veloster. The ST X coilover kit is made possible with KW Suspensions' help, the makers of the popular premium Variant 3 coilovers.
Designed in partnership with KW Germany, the ST X coilovers presents an opportunity to make your Hyundai Veloster more sporty in handling and driveability.

#4 BC Racing BR Series Coilovers
Manufacturer: BC Racing
Type of Construction: Monotube
Compatibility:

Hyundai Veloster (2012-2017)
Hyundai Veloster Turbo (2013-2017)
Hyundai Veloster Turbo R Spec (2014-2017)
Hyundai Veloster Re:Flex (2014-2015)
Hyundai Veloster Rally Edition (2016)
Hyundai Veloster Value Edition (2017)
Still here? Great! Here's a bang for the buck coilover kit used by many car enthusiasts to lower their cars. The BR Series coilovers from BC Racing are considered to be among the best coilovers for Hyundai Veloster because of the terrific benefits you get for such a reasonably affordable price.
You can hear the word "BR Racing coilovers" from almost all seasoned car enthusiasts, and that's because they're pretty reliable and cheap.
Perfect for both street and track use, a Hyundai Veloster with BC Racing coilovers is a car with sportier handling and more responsive suspensions, minus the annoyingly stiff ride quality.
The BR Series coilovers utilizes monotube shocks that include dampers that can be adjusted by up to 30 levels, both for the compression and rebound. There are also pillow ball mounts included in the kit, as well as adjustable camber plates.
What makes the BR Racing coilovers desirable is their coilover design. They've separated the ride height adjustment from the damper settings, making the ride quality of your Hyundai Veloster as it is.
Most coilovers set up cars for a stiffer ride, making you feel even the slightest bump on the road, which is annoying. But not BC Racing coilovers. They don't do that to you (good guy BC Racing).

#5 Godspeed MonoSS Coilover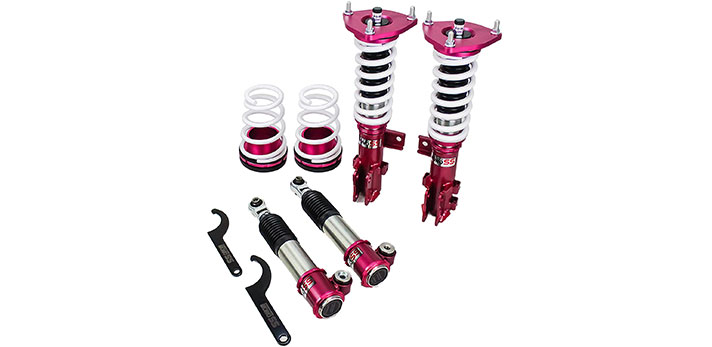 Manufacturer: Godspeed Project
Type of Construction: Monotube
Spring Rate (F/R, lb/in): 448 | 224
Compatibility: Hyundai Veloster (2012-2017)
Lastly, we have the MonoSS coilover from Godspeed Project. The MonoSS coilovers belong to Godspeed's clan of single-adjustable coilover kits designed to make what car it touches both street and race suitable.
When purchasing coilovers, there's an unwritten rule: if it's cheap, it's a wreck. Well, the MonoSS coilovers are an exception. It's one of those budget coilovers that delivers quality performance despite its inexpensive price tag.
The MonoSS coilovers from Godspeed features monotube-designed coilovers with anodized shock bodies to make them more durable and scratch/corrosion resistant.
Godspeed's coilover kit is an excellent choice for Hyundai Veloster owners who value weight reduction because the MonoSS's body is made from lightweight aluminum lower mounts.
The internal pistons are also pretty durable, thanks to the 2" carbon steel shocks that houses the internal performance pistons. What made the MonoSS belong to the list is how good the coilover kit when compared to the amount of money you'd have to spend.
Even if it's a cheap coilover kit, it's got some pretty neat perks that make it worthwhile, like 16 levels of damping adjustments, the use of high-viscosity index race shock oil, and independent height and spring preload configurations.
The MonoSS coilover kit is just another cheap suspension upgrade that delivers the best quality it can – and it does its job pretty well!

Even if you don't own the Hyundai Veloster N that won Race and Track's Performance Car of the Year for 2020, you can still have a performance car that's packing with impressive handling capabilities, plus the height adjustment bonus.
Coilover kits like those mentioned above are a great way to fine-tune your Hyundai Veloster to make it a great car suited for track and street driving.