At its peak, the Infiniti G35 was one of the most popular and sought after cars in the automotive community. It had all the benefits of the 350Z with an arguably better looking exterior, and as such, it became a massively popular platform for anyone looking for a project car.
Nissan made sure that the G35, like its far distant cousins Nissan 350Z and 370Z, can bring great delight to its owners by being easy to personalize and modify. That's probably one of the reasons why the Infiniti G35 is so loved even until now when the car is discontinued.
There are tons of modifications out there that offer a lot of benefit for your car, however, the most important part of any car is how it handles. If doesn't handle well, it doesn't matter how fast it is, how cool it looks, how loud it is, etc. With that in mind, the best upgrade for your suspension is switching to an aftermarket coilover to replace your factory springs and struts.
Suspension system upgrades like the coilovers are one the best performance mod that an Infiniti G35 can have. By installing a set in your car, you'll finally achieve that lowered ride height that you have always been craving for a very long time, while also improving handling and giving yourself extra adjustability in the process.
Check out the list below and see what's the best coilover for your Infiniti G35. 
#1 Rev9 Hyper-Street II Coilover Kit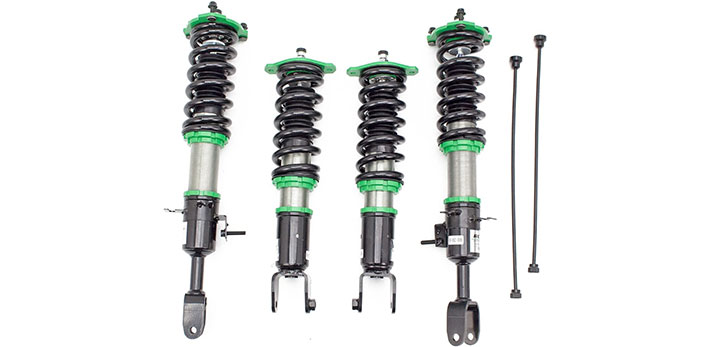 MANUFACTURER: Rev9
TYPE OF CONSTRUCTION: Monotube
SPRING RATE (FRONT/REAR): 784lb/in / 672lb/in
COMPATIBILITY: Infiniti G35 Sedan (2003-2006)
Coming off as the first one on our list, we have Rev9 and their Hyper-Street II Coilover kit. Rev9 has a reputation for making their customer's car look and feel as if it was ready to race any time of the day.
They're one of the pioneers when it comes to affordable and highly effective coilovers for your Infiniti G35 or any application for that matter. Other affordable are also listed further below if you're budget focused!
So what's with the Hyper-Street II? The Coilover features a damping adjustment of over 32 clicks of valving while having a separately adjustable spring tension that allows you to drop the height of your car without compromising the comfort of your ride.
It also has monotube shocks that generate a more stable damping force as compared to a twin-tube system.
What's cool about this coilover is that it has all that you need from a coilover for a fairly affordable price. By choosing this, you get components made of steel and aluminum for more sturdiness and stability, especially when making difficult turns.

#2 Tein Street Basis Z Coilovers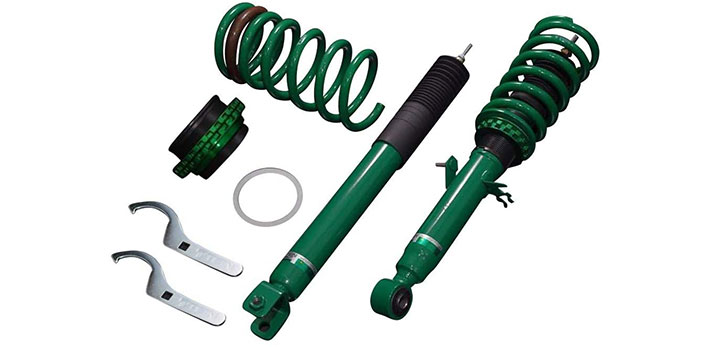 MANUFACTURER: Tein
TYPE OF CONSTRUCTION: Twin-tube
COMPATIBILITY: Infiniti G35 Sedan (2003-2007) – Infiniti G35 Coupe (2003-2006)
Tein is a California based aftermarket suspensions manufacturer that offers products made from Yokohama, Japan. Their JDM aftermarket parts are what makes cars like the Nissan Infiniti G35 run smoother and better.
This Coilover is perfect for both free-spirited drivers who want to run wild and daily casual drivers.
What's with the Street Basis Z anyways? What makes it so good? The Street Basis Z is a steel twin-tube coilover that has a pre-set damping and threaded ride height adjustment.
Monotubes maybe better than twin-tubes, but the Street Basis Z makes up for it by utilizing high-performance damper oils.
The reason why Street Basis Z is one of the best coilovers for Infiniti G35 coupe is that it has full-length dust boots that protect the piston rods from any debris on the road that might damage the shock absorbers.
It may seem minuscule, but hey, it's the thought that counts, right? Tein cares for your car, and that's a pretty good sign that they are reliable.

#3 Megan Racing EZ II Series Coilover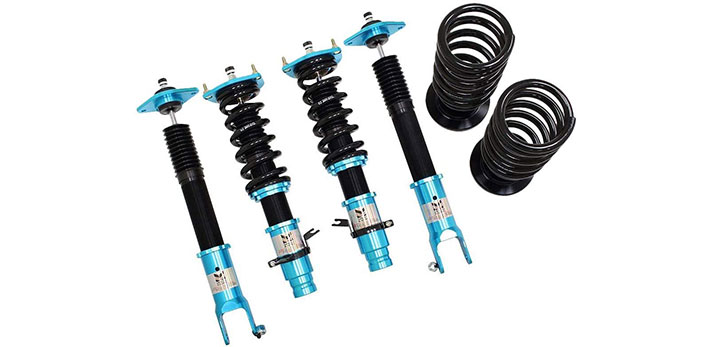 MANUFACTURER: Megan Racing
TYPE OF CONSTRUCTION: Monotube
SPRING RATE (FRONT/REAR): 560lb/in / 448lb/in
COMPATIBILITY: Infiniti G35 (2003-2008)
Megan Racing focuses on budget-restricted car enthusiasts that want the best coilover that they can get under a strict budget. That's why they released the EZ II Series, a coilover that covers all the necessary components that a Coilover system must-have.
Their coilovers are fairly affordable and don't compromise and quality and performance.
The EZ II Series has a lot of features that your Infiniti G35 can take benefit from. You can adjust the damping levels for up to 15 levels while having an independent adjusting system for the ride height.
This monotube coilover has a 1-year warranty, just in case, a faulty kit comes to your doorstep.
Megan Racing knew that the coilovers may be subjected to damage due to road debris, that's why they've included some rubber dust covers to protect the shock absorbers.
Aside from that, some rubber inserts come with aluminum brackets. They're thoughtful, aren't they?

#4 BC Racing BR True Rear Coilovers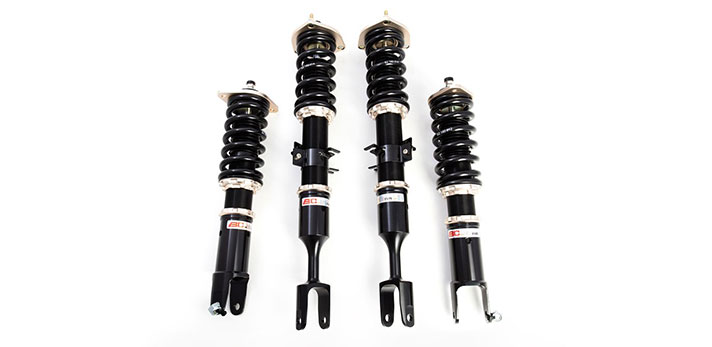 MANUFACTURER: BC Racing
TYPE OF CONSTRUCTION: Monotube
SPRING RATE (FRONT/REAR): N/A
COMPATIBILITY: Infiniti G35 (2003-2007)
There are two types of Infiniti G35 owners. Those who drive the car around the city during weekdays, and those who dominate the track on the weekends. If you belong to any of these two, chances are you require true-blue racing style coilovers.
Well, lucky you! The BC Racing coilovers are awesome for both the tracks and streets!
BC Racing features a coilover that has an independent ride adjustment system. No need to worry about messing with the other parts while adjusting the ride height!
Aside from that, it has easily accessible adjustment knobs and patented locking rings to keep all the adjustments made secured and locked tight.
On top of that, the BR True Rear coilovers can bring you the stability and maneuverability that you've always craved in a Nissan Infiniti G35.
With this kit on, you'll have a more responsive car in terms of handling, especially when you're trying to work on those tight corners.

#5 Tanabe Sustec Pro 5 Coilover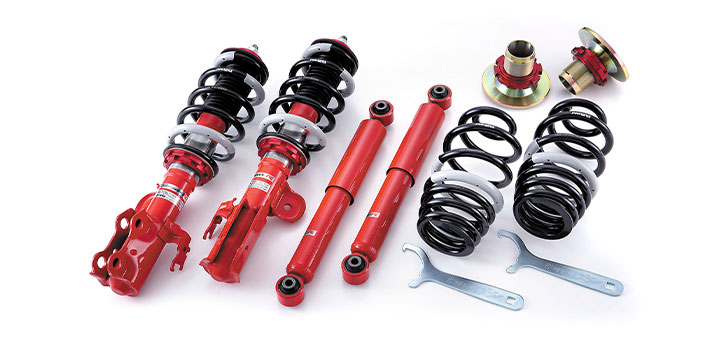 MANUFACTURER: Tanabe
TYPE OF CONSTRUCTION: Monotube
SPRING RATE (FRONT/REAR): 560lb/in / 448lb/in
COMPATIBILITY: Infiniti G35 Coupe (2003-2007)
And last but not the least, we have the Tanabe Sustec Pro 5, the most premium buys among the five coilovers featured on this list. When they said that "the best things in life aren't free" it is kinda true, especially when it comes to coilovers.
Yes, you can settle for the simple ones, but if you can make it rain, then by all means choose the Tanabe!
The Tanabe Sustec belongs to the finest range of aftermarket coilovers out there in the marketplace. It features circuit-developed technology that delivers a broad range of benefits.
One of these benefits is the extremely rugged dual plating steel bracket that protects the front suspension.
Other than that, it has reinforced shock pistons and valving. Experience a more responsive suspension system, thanks to its components that can withstand the most extreme of driving conditions.
Never worry about body roll and inadequate rebound damping, all thanks to the Sustec Pro 5!

Things to Look Out For When Choosing Coilovers
Choosing the right coilover can be difficult, even if the best of the best are laid out in front of you. How can you choose what will be the best coilover for your car if you don't know how to choose in the first place?
To help you out, here are some things to look out for when choosing coilovers.
1. Spring Rates
The car's body moves every time you accelerate, brake, turn, or hit any bump. By reducing the movement of the car's body, you can effectively spread the force evenly among the four tires that are in contact with the ground. This also has the benefit of making the car more stable as long as the spring rates aren't excessively hight.
By doing so, you keep the car stuck to the ground, avoiding too much body roll that may cause the car to overload the outside tires and cause under or oversteer. Body roll can also be mitigated with aftermarket sway bars which then allows for slightly softer springs depending on how you're tuning your suspension.
That's where the spring rates come in. All coilovers have a set spring rate, dependent on the spring that is included with the coilover when assembled. Identifying what beats suits the conditions of the activity you're participating in is important.
The higher the spring rates, the stiffer the ride quality will be. Excessively stiff or soft spring rates can impair handling, so make sure to have a spring rate best suited for your application, vehicle weight, and tire compound!
It all depends on the situation, but if you use the Infiniti G35 to race, use a coilover with a higher spring rate. Otherwise, use a coilover with a significantly lower spring rate if you only use the G35 to run along the streets.
2. Adjustability
The main reason why coilovers are the best choice when it comes to suspension upgrades is that it gives the user the freedom to adjust the springs, the ride height, and the valving all according to what they need. This is a big step up compared to lowering springs, which can often overpower your OEM dampers and actually impair handling more than improve handling.
Having the ability to adjust the ride height, the rebound damping, and the spring preload is crucial, especially if you drive a versatile car like the Infiniti G35. This is a very popular application for street driving, Autocross, NASA, drifting, and even drag racing.
If you're planning to swap the springs for a stiffer one, make sure that the spring rate matches with the damping to fend off the possibility of a bouncy ride. Be sure to not also go too low with your ride height! Suspension travel is key to handling. Bottoming out your suspension is a sure-fire way to make your car handle terrible.
3. Top Mount
Above the coilovers, there is this thing called the "top mount": It makes sure that every component in the Coilover is secured tightly and holding each other close. Pillowball mounts are static: they don't move at all and is great for racing applications.
Rubber mounts, on the other hand, reduces the deflection and are more common. Rubber will offer superior noise isolation and is probably best for a street car, however, the deflection can become problematic on the track.
There are so many coilovers in the market that offers so many benefits for the Infiniti G35. However, the five coilovers above are too promising to miss out. Whether you own a coupe or a sedan, the coilovers above can make your Infiniti G35 more responsive when it comes to handling and maneuverability.