The Nissan 240SX has been predominantly hitting the drifting scene ever since it was made. The S-chassis started as an affordable alternative to the much larger and powerful cars available during its time.
And with the rise of the S13 and the S14 model, the 240SX line cemented itself among the halls of the best cars for drifting purposes.
The Nissan 240SX, specifically the S14 is not just famous for its drifting capabilities: it's also famous for its rich and abundant aftermarket scene. Aftermarket modifications such as coilovers help this car upgrade its performance in terms of handling and maneuverability.
There are indeed a lot of modifications that you can get for the Nissan 240SX S14, but coilovers stand on its pedestal; for a couple of good reasons.
Coilovers are a great addition to any car, especially if you're involved with performance-based activities such as road and offroad racing, track racing, and drifting.
They greatly reduce a car's tendency to roll over when dealing with sharp turns, making it among the most important modification that a Nissan 240SX S14 can get.
The list below features only the best coilovers for 240sx S14 that you can get your hands on for your Nissan 240SX S14. They all have different unique features and capabilities to offer.
We've listed these coilovers down below so you won't have to scour the internet to find the best ones for your car. We got you!
#1 BC Racing BR Series Coilovers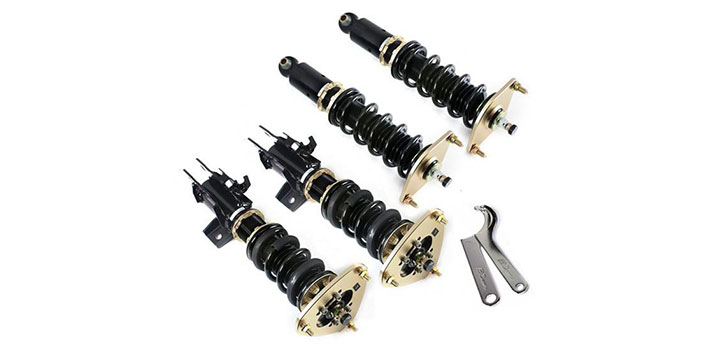 Manufacturer: BR Racing
Type of Construction: Monotube
Spring Rate (Front/Rear): 448lb/in | 336lb/in
Compatibility: Nissan 240SX S14 (1995-1998)
To start our list, we've got a reliable and trusted racing auto parts manufacturer: BC Racing. The BR Series coilovers are for those who want to drive their Nissan 240SX S14 as a daily car while experiencing an improved performance – all of the vibes a racecar can give without sacrificing too much of the ride's quality.
This line of coilovers for the Nissan 240SX S14 is among the best coilovers for S14 and is meant for daily and street driving.
The BR Series model offers 30 levels of damping adjustments so that you can change the settings of your car's compression whenever you choose to. It also has adjustable knobs that are easy to access to help you fine-tune your suspension system.
And also, the ride height and compression adjustment are independent of each other, allowing you to customize your preferred coilover setting with ease.
With the BR Series, you get to choose the ride height settings: do you want it low or high? And if you're worrying if those setting that you've made may be altered while driving, don't. BR Racing has installed their patented concave-shaped locking rings to keep the coilover locked in.
If you want to infuse daily driving with a bit of a racing thrill, you should get your hands on some BR Series coilovers.
#2 Rev9 Hyper-Street ONE Coilover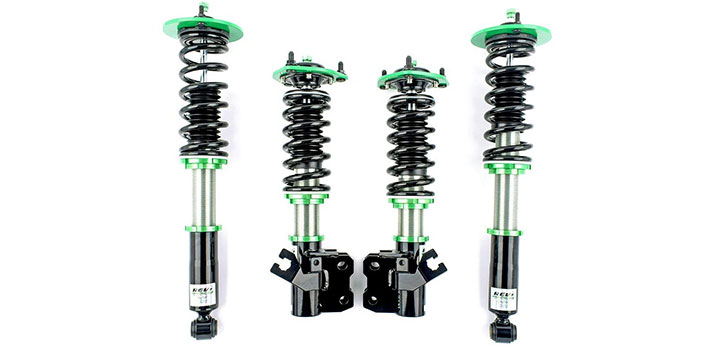 Manufacturer: Rev9 Power
Type of Construction: Monotube

Spring Rate (Front/Rear): 448lb/in | 336lb/in
Compatibility: Nissan 240SX S14 (1995-1998)
Now, if you're budget-restricted and you need the best coilovers that you can get with your limited funds, check out the Hyper-Street ONE from Rev9 Power.
This coilover is among the best budget coilovers for a 240SX S14, and for an affordable price, you and your car will get all the good stuff that is similar to what the more expensive brands can offer. Even if the Hyper-Street ONE is cheap, you'll get the best of what it can offer.
Designed for tuners with limited resources, the Hyper-Street ONE is made to lower your car's ride height using the combination of shocks and high-tensile springs.
They work hand-in-hand to make sure that your suspension system offers comfort and performance at the same time.
And also, you get to have 16 levels of damping force adjustment that will be handy in keeping the wheels in contact with the ground whenever you encounter a bump on the road.
With the Hyper-Street ONE installed in your suspension system, you now have a chance to improve your car's overall handling.
With the pillow ball mounts installed in the coilover, you can expect more predictable handling because you won't be needing to move too much since you can already acquire a couple of degrees of camber.
Aside from that, you'll also get a preset ride height of 1" to 2.5" from the original ride height.
On top of that, you also get performance springs that have high tensile strength.
Overall, the Rev9Power is a bang for the buck purchase that will not only good look on your car but will also give you and your Nissan 240SX S14 a chance for a better handling experience.
This coilover may be cheaper than your usual coilovers, but hey, it's Rev9Power: they always deliver what they promise.
#3 Godspeed MonoSS Coilover Kit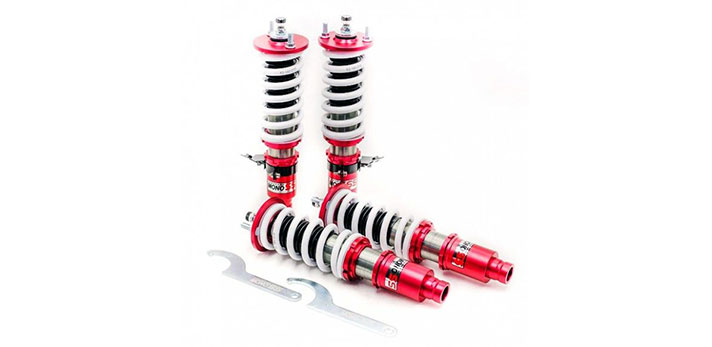 Manufacturer: Godspeed
Type of Construction: Monotube
Spring Rate (Front/Rear): 448lb/in | 336lb/in
Compatibility: Nissan 240sx S14 (1995-1998)
Colin McRae, a former rally champion once said: "Straight roads are for fast cars, turns are for fast drivers." Godspeed may have put the same ideology in mind when they created the MonoSS coilover kit for the Nissan 240SX S14.
Godspeed's products are imbued with racing DNA and this is obvious in the quality of their work, especially with the MonoSS coilovers. It's built to be tough enough to make your car comfortable during the roughest of turns.
With the MonoSS coilovers, you can expect to have relatively easier turns and minimal body roll. The coilover is made from SAE9252 steel which is pretty strong for a car like the Nissan S14. Aside from that, the MonoSS utilizes race-grade shock oil.
This fluid will make damping at any temperature exceptional. The coilover also makes use of Koyo 6204Z ball bearings which is a premium type of ball bearings made to exhibit high-performance capabilities.
The Godspeed MonoSS coilover kit can give you up to 16 levels of freedom when it comes to damping adjustment. What makes this among the 240SX'sbest street coilovers is its attention to the ride quality and material durability that all drifting cars need.
Since the MonoSS' components are made of high-quality metals, rest assured that your twist and turns can be handled with relative ease.
#4 DNA Motoring Coilover Damper Kit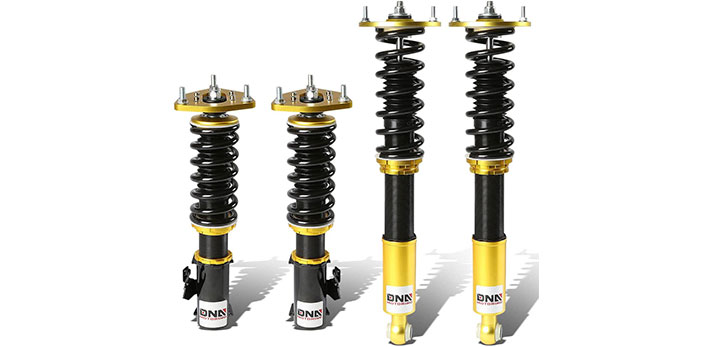 Manufacturer: DNA Motoring
Type of Construction: Monotube
Spring Rate (Front/Rear): 336lb/in | 336lb/in
Compatibility: Nissan 240SX S14 (1995-1998)
Is a list of coilover kits complete without DNA Motoring in it?
Of course not! DNA Motoring belongs to the roster of popular aftermarket part manufacturers, and this time, they've got their specific coilover for the Nissan 240SX S14.
Silvia is a great car for drifting, and DNA Motoring knows that. That's why this fourth coilover kit on our list has much to offer for the Nissan 240SX S14.
The coilovers made from DNA Motoring provide its users smoother and safer rides while offering excellent control and maneuverability. These coilovers are made from mild steel and are excellent under the roughest of conditions.
When you have these coilovers installed on your Nissan 240SX S14, you'll feel the new and enhanced cornering capabilities that your car gets. DNA Motoring's coilover is perfect both for the track and the streets.
The Nissan 240SX S14 is far better with the DNA Motoring coilover kits installed on it.
But why though? With DNA Motoring's coilover kit, the S14 can experience a sleek and aggressive stance without having a stiff ride, just like some of the competitor's suspension systems.
If you fancy a balance between handling and a comfortable ride, then here it is.
#5 Ksport Asphalt Rally Damper System
Manufacturer: Ksport
Type of Construction: Monotube
Spring Rate (Front/Rear): 549lb/in | 487lb/in
Compatibility: Nissan 240SX S14 (1995-1998)
Now, if you're on the hunt for the best coilover that will transform your Nissan 240SX S14 into a rally drift beast, then Ksport's coilovers are the best thing that you can get. This rally damper system is the ultimate expression of freedom when it comes to rally and drifting.
The Asphalt Rally offers a tremendous amount of benefits for the 240SX S14. This coilover kit is a premium purchase, and although it comes at a high price, purchasing it is sure is worth it.
The Ksport Asphalt Rally Damper System has everything a rally driver needs: extended strokes, compression and rebound adjustments that work simultaneously, and heavy-duty internal components.
The piston's diameter is large enough to hold much more shock fluids than the typical coilovers available in the market, and it has 36 levels of damping adjustments to give you the liberty to adjust the settings depending on your preference.
Choosing a set of coilovers for a drift car like the Nissan 240SX S14 can be a little difficult, but once you know what to look for, you'll have a much easier time finding the best one for your car.
The Nissan 240SX S14 isn't just for show: it's meant to race and drift. And with the right coilover, you can make your life a lot easier.