The Nissan 240SX S13 is one of those JDM cars that drives car enthusiasts crazy. Its origin, its history, and its availability for modification attract gear heads and racers alike. This RWD, naturally-aspirated vehicle made by Nissan is not just for the mad drifters, but it's also an ideal project car to own and modify.
Because of its RWD nature, it easily became one of the most famous JDM cars on the streets in the past decades. This car has overwhelming aftermarket support, which makes it one of the most satisfying cars to modify. One of the best modifications to get for the Nissan 240SX S13 are coilovers.
Coilover is a coined term for "coil over struts". It combines height adjustability with compression and rebound adjustments, easily making it one of the most sought-after components in the aftermarket scene.
Aside from the performance-enhancing attributes that it can give, it also provides prestige to the owner of the car too.
Check out the best coilovers for the Nissan 240SX S13 below. They all vary in price, make, and spring rates, so choose your best pick and see what fits your Nissan 240SX the best.
#1 Godspeed MonoSS Coilover Kit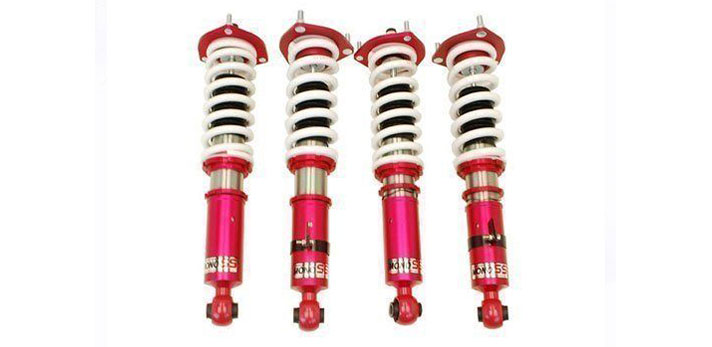 Manufacturer: Godspeed
Type of Construction: Monotube
Spring Rate (F/R, lb/in): 448/336
Compatibility: Nissan 240SX S13 (1989-94)
For the first of the best Nissan 240SX S13 coilovers in this list, we have Godspeed and their MonoSS coilover kit. This is one of Godspeed's flagship aftermarket products for the Nissan 240SX S13 and is built to make the S13 a streetworthy race car at a fairly affordable price.
This coilover offers the bare minimum of what an ideal coilover should perform like without compromising reliability and quality.
The MonoSS coilover kit is composed of a durable carbon monotube damper partnered with a 52mm internal piston to max out the damper response. It also has cold-bent springs that can balance performance without making your ride too stiff.
Aside from that, Godspeed utilizes racing-grade oil as the fluid used in the shock absorbers. This makes the shock absorbers perform even at high temperatures.
The fact that the MonoSS coilover kit is made from high-quality durable materials means that Godspeed treats its customers as performance racers. They made the MonoSS in a way that it maximizes the performance capabilities of the Nissan 240SX S13 without making it unreliable and too stiff.
#2 BC Racing BR Series Coilovers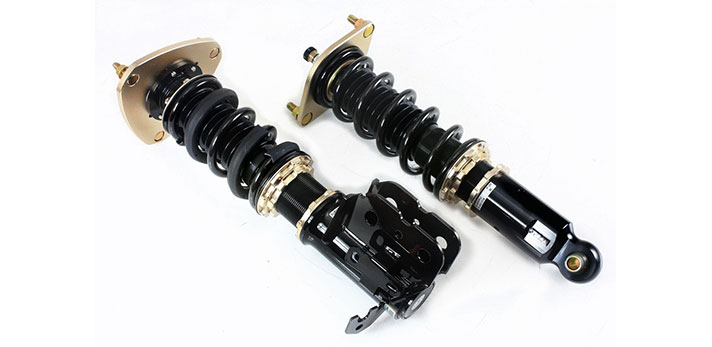 Manufacturer: BC Racing
Type of Construction: Monotube
Spring Rate (F/R, lb/in): 448/336
Compatibility: Nissan 240SX S13 (1989-1994)
The BR Series model from BR Racing is an ideal choice for those who seek a balance between street and racetrack driving. This coilover kit allows its owner to finely adjust the ride height, damping, and spring preload: all independent from each other.
You can experience the freedom and the thrill of track racing with this coilover kit installed on your Nissan 240SX S13.
The BR Series model features adjustable knobs where you can customize the settings of the coilovers' compression and rebound damping, the car's ride height, and the spring preload.
These knobs are very accessible, so you won't find yourself getting annoyed just because you can't reach the poorly placed knobs. And also, you can choose whatever ride height you are comfortable in; no more preset ride height!
On top of that, they utilize a concave-shaped lower locking ring to make the coilover kit tight and secure. It also has camber plates that allow the driver to adjust everything to perfect alignment without compromising any other features that the BR Series model offers.
So if you want that real racing experience imbued on your project car, then here is your chance!
#3 R9 Hyper-Street II Coilover Kit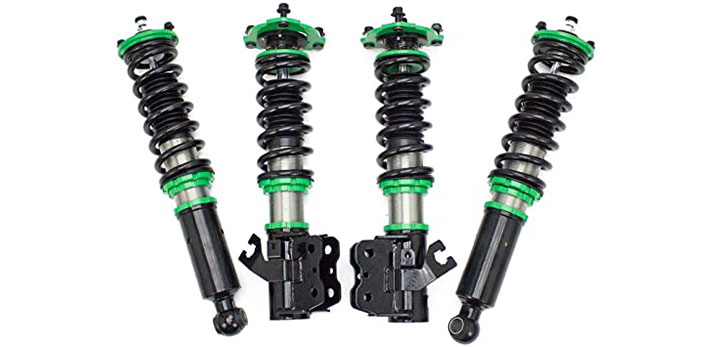 Manufacturer: Rev9 Power
Type of Construction: Monotube
Spring Rate (F/R, lb/in): 448/336
Compatibility: Nissan 240SX S13 (1989-1994)
If you're new to the coilover scene and you want to get the best coilover out of your tight budget, then you should try Rev9 Power's Hyper-Street II coilover kit. It is a great entry-level suspension upgrade that gives you great features that you can use to customize your Nissan 240SX S13's rebound settings, ride height, etc.
The Hyper-Street II coilover kit utilizes monotube shocks that have rebound settings which you can adjust in 32 ways. Aside from that, you'll also be given a full-ride height adjustability.
Rev9's attention to the customer's wants and needs made them decide to manufacture a coilover kit that focuses on the improvement of the car's handling performance.
The great thing about this coilover kit is how independent the systems are. You can adjust your car's ride height without affecting the spring tension of the coils. The monotube shocks are also a great choice of construction mainly because it gives your S13 a larger volume of shock fluid.
This translates to a more comfortable ride even on lowered vehicles.
#4 Ksport Kontrol Pro Coilover System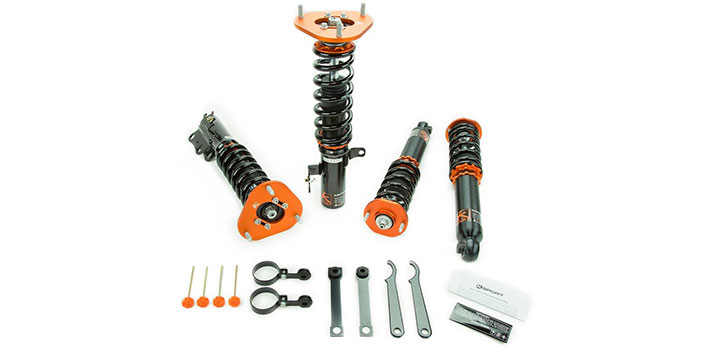 Manufacturer: Ksport

Type of Construction: Monotube
Spring Rate (F/R, lb/in): 487/347
Compatibility: Nissan 240SX S13 (1989-1994)
Now if you're not budget restricted and you can go all out by picking the best coilover for S13 even if it's expensive, then Ksport's premium coilover kit will be the best shock upgrade you'll ever see.
This coilover kit defines ultimate freedom and customizability over your Nissan 240SX S13's handling and ride height.
The Kontrol Pro series belong to the list of best selling products of Ksport.
It opens the door for your Nissan 240SX S13 for it to experience a top-tier suspension technology that allows your car to dominate both the racetrack and the streets.
It's got 36 levels of damping adjustability, a ride adjustment system wherein the user doesn't need to worry about maxing out the shocks, and unique camber adjustments. What makes the Kontrol Pro a top of the line coilover kit is its unique features.
These benefits include a high-pressure monotube design wherein the fluid is separated from the cylinder, an adjustable spring perch to adjust the car's ride height easily, and pillowball mounts to make driving the Nissan 240SX S13 feel more responsive.
There's just too much to love about the Kontrol Pro series. Its durability, reliability, and massive performance boost in terms of handling and ride comfort puts this coilover kit among the best coilovers for the Nissan 240SX S13.
It may be pricey, but it sure is worth every penny.
#5 ZYAuto Coilover Kit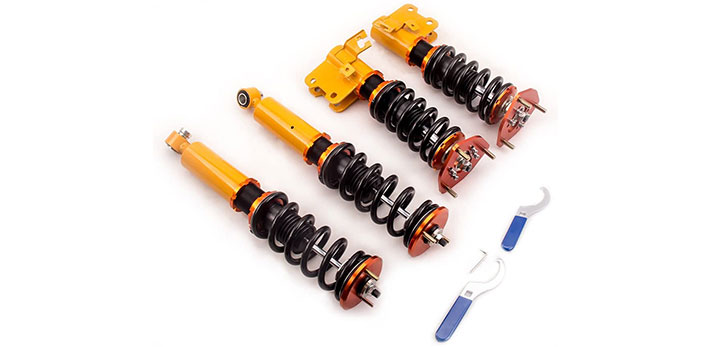 Manufacturer: ZYAuto
Type of Construction: Monotube
Spring Rate (F/R, lb/in): 448/392
Compatibility: Nissan 240SX S13 (1998-1990)
The coilovers from ZYAuto are a cheap alternative for the other coilover kits on this list. It has what the other kits offer too: ride height adjustability, adjustable preload spring tension, and adjustable dampers.
You can enjoy a more comfortable riding experience with new handling feel thanks to ZYAuto's coilover kit.
So what do you get from this coilover kit? 24 levels of damper adjustment, which gives you the ability to dial in the perfect damper setting for your car.A
side from that, you can sit on the driver seat with comfort knowing that the coilover is made from a durable 6061 aluminum partnered with high tensile performance springs. This is an affordable surefire way to upgrade your car's style and handling.
And also, instead of rubber mounts, you'll get pillow ball top mounts that not just improves driving feel and response, but also reduces the noise the coilover creates. This coilover kit is easy to install and comes with rubber boot inserts that keep the dampers clean.
Things to Consider Before Purchasing Coilovers
So you've finally decided to get a new aftermarket coilover kit for your beloved Nissan 240SX S13. That's great! Before you spend your hard-earned money on some suspension upgrades though, you need to consider some things first.
"There's nothing more than just a taste from what you paid for". These lyrics from a song apply to coilovers too. You literally get what you pay for. The more expensive coilovers oftentimes offer the best features, while the cheaper ones can offer the baseline features.
However, the cheaper coilovers do not offer the same durability and reliability in terms of safety and performance as the pricey ones.
So if you're into racing and you need to upgrade the Nissan 240SX S13's suspension system's capacity to the fullest, then go for the more expensive coilover kit. But if you're just a casual car enthusiast that wants to reduce your car's ride height while getting the other awesome benefits, then stick to the more affordable ones.
At the end of the day, pick the coilovers that you think will satisfy you the most.
Coilovers are a great way to upgrade your Nissan 240SX S13's ride height and handling. They give you a wide array of benefits, and as well as the freedom to pick your preferred setting with regards to the damper, ride height, and camber adjustment.
By picking the right coilover kit for your vehicle, you're guaranteed to experience a more thrilling ride.