The Scion FR-S is an awesome sports car to own, especially if you love to modify cars. The Scion FR-S is a close relative of the Subaru BR-Z, and just like its brother, it's a great lego car to play around with and modify.
With the availability of aftermarket products for the Subaru-Toyota trifecta (BRZ, GT86, FR-S), there are so many opportunities for car enthusiasts to make their cars look and perform as badass as it can be.
Some people love the Scion FR-S, and some hate it. You can't please everybody, right? Among the common topics talked about the Scion FR-S is its acceleration – or lack thereof. Others say it's underwhelming, while others claim that the acceleration is nonexistent at all.
So, as someone who loves to get pushed into their seats while driving but adores their Scion FR-S, how can you fix this? Simple. By adding an aftermarket intake system.
An intake system is one of the best performance mods that you can get for any car. And in the case of the Scion FR-S, it'll emphasize its ability to accelerate and create a pleasurable driving experience for whoever's driving it.
All car enthusiasts know that the Scion FR-S is a great project car to tinker around and modify, and if you're one of those guys who love to mod their car, then you've come to the right place.
The list below features the best intakes for Scion FR-S. Check them out and see what you think is the best one among them.
#1 K&N Cold Air Intake Kit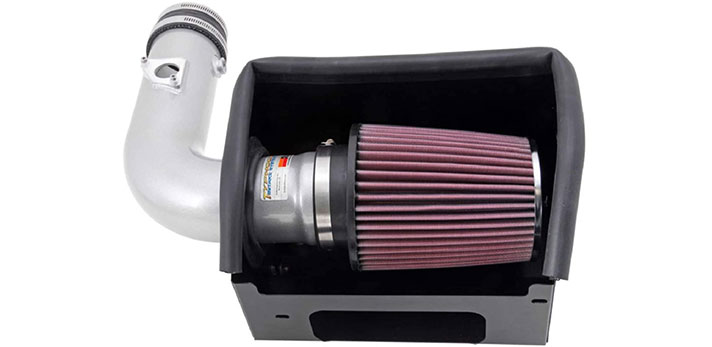 Manufacturer: K&N Engineering
Features: Oversized air filter w/ airbox
Power Gain: 6.67hp
Compatibility: Scion FR-S (2012-2019)
To start the list of Scion FR-S' best intakes, we have a popular brand of the air intake system, known for its reliability and durability.
Car enthusiasts love the K&N intakes because it's a great starting intake system for most of the project cars or even generic cars that need an extra dose of horsepower and torque.
K&N Engineering knows exactly what Scion FR-S owners need for their car, and they can give it to them.
The reason why so many customers love K&N filters are because of the benefits it gives to the car and its owner, like longevity, a guaranteed increase in horsepower, an improved capability to accelerate and go uphill, etc.
Aside from those benefits, the filters that K&N use are pretty reliable too, and can keep the engine from using contaminated air. The engine doesn't like dirty, hot air, and you know that!
K&N filters feature an oversized filter to keep dirt and microscopic contaminants from entering the engine through the air. Their product is easy to install, low-maintenance and is assured to keep your engine supplied with cold and clean air.
And also, you can hear the sound that the intake makes under the hood. Amazing, right?

#2 aFe Power Takeda Momentum Air Intake System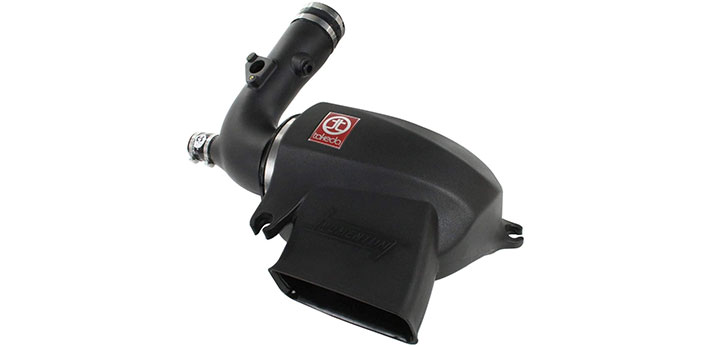 Manufacturer: aFe Power
Features: Roto-molded intake tube
Power Gain: 9hp
Compatibility: Scion FR-S (2012-2019)
aFe Power is another brand of air intake system that's popular with car enthusiasts. It's well known for manufacturing high-quality performance mods, systems, and components for various automobiles.
And in the case of the Scion FR-S, they have the Takeda, a one-of-a-kind air intake system with some unique features to offer, like the roto-molded intake tube and the intake system's housing.
The Takeda Momentum offers a sealed intake system capable of outflowing the stock intake by up to 54%. Under dyno-testing, they've come up with the result of what this intake system can make: an increase of 9hp plus 10lb-ft of torque.
The 360° Pro DRY S air filter allows the engine to receive clean and cold air at the maximum airflow possible. The filter is reusable and washable too; all you need is soap and water, and you're all set!
What sets the Takeda Momentum from the rest is its roto-molded intake tube. It optimizes the airflow that goes inside the engine to get the highest torque that it can.
And also, there are some other cool components like a built-in air scoop that captures cold air from the vehicle's front side, a rounded nose filter top that reduces air resistance, and an air filter interface that keeps the housing as flawlessly sealed as possible.

#3 Injen Technology Short Ram Air Intake System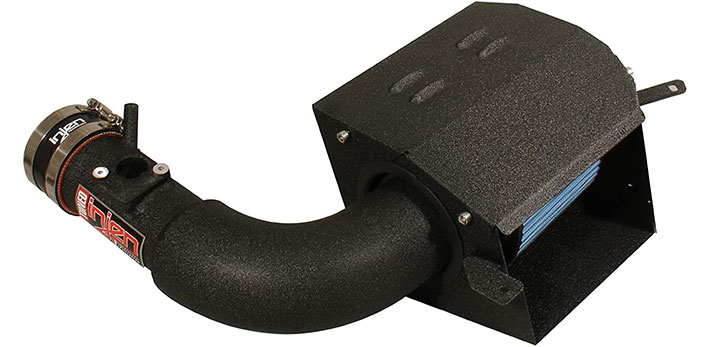 Manufacturer: Injen Technology
Features: SuperNano-Web dry air filter
Power Gain: 12hp
Compatibility: Scion FR-S (2013-2016)
Now, if you want something different from the typical cold-air intake, we suggest you try a short ram intake like this one from Injen Technology. It can produce more power compared to what a cold-air intake system can make by removing the resonator and the silencer box, thus reducing the restriction.
It also makes more noise, but if you drive a Scion FR-S and you want to be different from the rest, a bit of a louder sound wouldn't hurt, right?
As mentioned earlier, the removal of some components can result in a significant increase in airflow, and thus improving the torque and horsepower output of the car.
Injen Technology's short ram intake system can provide your Scion FR-S with a surplus of 12hp and 9lb-ft torque. Not mentioning the quality of the components used to make this intake system as high-performing and innovative as possible.

#4 Perrin Performance Red Air Intake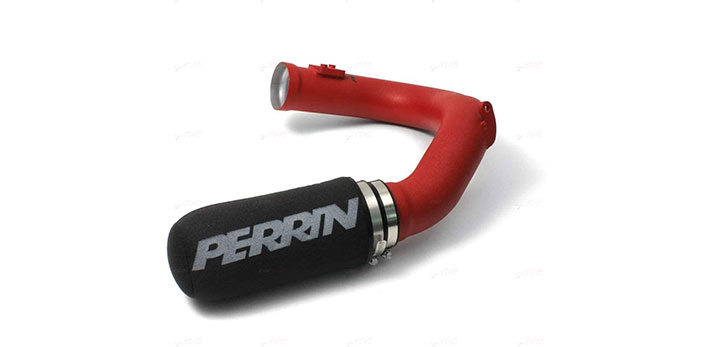 Manufacturer: Perrin Performance
Features: Open-cell foam filter
Power Gain: 5hp
Compatibility: Scion FR-S (2013-2016)
Why belong to the crowd when you can be unique? If you want your intake system to be as uniquely stylish and performance-based as possible, then you need to see Perrin Performance's cold-air intake system.
As you can see, the filter that they use is unusual compared to the common 360° conical air filter. It's different, and that's what makes this cold-air intake so interesting.
The Perrin Performance cold-air intake system's air filter is installed right behind the front bumper of the Scion FR-S. By doing so, it gets the chance to suck in cold air for the engine.
The air gets filtered by a unique open-cell foam filter, which offers superior air filtration and impressive dust holding capacity. It's a CARB compliant cold-air intake system, so you can be assured that you won't be pulled over due to a loud intake.
On top of that, the sound that the Perrin Performance cold-air intake system is satisfying too. Under normal driving conditions, it's not that different from the stock. But under heavier loads, you can undeniably hear a monster growling deeply under the hood.
It's a great way to tell people that you're not a normal car guy and you've chosen the most unique cold-air intake you can find.

#5 Grimmspeed Cold Air Intake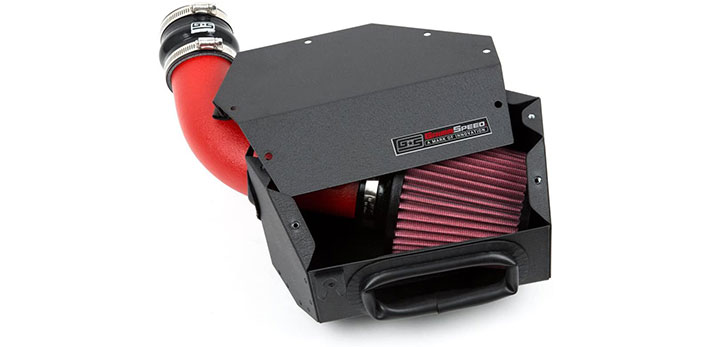 Manufacturer: Grimmspeed
Features: Innovative heat shield geometry
Power Gain: N/A
Compatibility: Scion FR-S (2013-2016)
Grimmspeed is one of those companies that care so much about their customers. On a personal level, they're just car enthusiasts who passionately love what they're doing, and their overflowing enthusiasm fills into the quality of their products.
The company started by catering to Subarus, so you can rest easy that they treat your Scion FR-S pretty good, and perhaps pamper it with the best cold-air intake system that they can get.
After heavy engineering research and design, this cold-air intake kit rose as one of the most innovative cold-air intakes present in the aftermarket scene. It has air straighteners that copy the OEM configuration to keep the MAF reading as accurate as possible.
The MAF sensor is relocated far from the engine bay so it won't be subjected to heat. And also, the air filter smoothes the incoming air and is reusable too.

#6 Corsa PowerCore Closed Box Air Intake System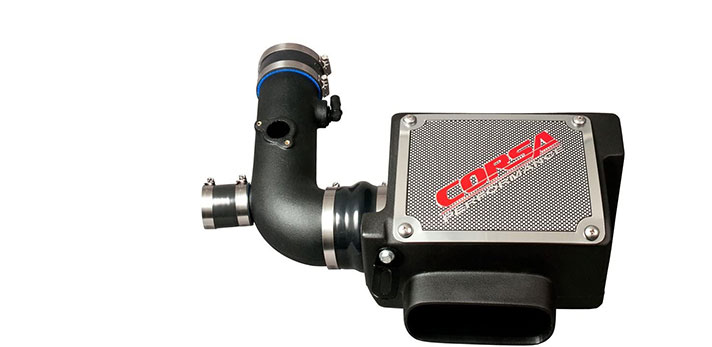 Manufacturer: Corsa Performance
Features: Donaldson PowerCore® Filter.
Power Gain: 9+hp
Compatibility: Scion FR-S (2012-2017)
And last but not least, we have Corsa Performance and their Powercore air intake system.
This air intake system is great on its own because they utilize a Donaldson PowerCore® Filter, a high-end air filter created to withstand harsh elements and to keep the engine safe from dust, dirt, impurities, and many other unwanted pollutants that can potentially damage the engine.
The PowerCore is a closed box air intake system that keeps the heat from the engine bay away from the incoming air. This assures the coldness of the air that goes inside the engine.
The air ducts are larger than what the common air intake has, and they are uniquely sculpted to let the engine breathe as easily as possible. The PowerCore air intake system performs better when partnered with a Corsa Sport Series cat-back exhaust.

The Scion FR-S may be lacking in the acceleration department, but that doesn't keep this car from being smoothly driven on the streets. It's acceleration or lack thereof can be fixed by installing an aftermarket intake system.
By doing so, you're not only adding some horsepower and torque, but you also make your fuel economy better too.