We're pretty sure you've heard of the Toyota Supra. That fast beast has something in common with the Lexus IS300: the engines. Both of them have the famous 2JZ, an inline-six over-engineered closed engine that empowers in ways you do not expect.
Even though the Toyota Supra used the turbocharged version of the engine, the Lexus IS300 continued to use the 2JZ-GE. The Lexus IS300 is famous for being a car that works well with power-inducing mods like intake systems.
If you want to make your Lexus IS300 more powerful, we suggest installing an air intake system in it.
A Lexus IS300 with an aftermarket intake system may not give extra power to be as close as to what a Supra can deliver, but it can certainly make your Lexus IS300 more potent up to a certain extent.
Autoparts manufacturers that specialize in making performance mods like the intake systems made sure that installing an air intake system in your Lexus IS300 will be worthwhile.
The list below features the best Lexus IS300 intakes available in the market today. We guarantee that these intake systems will provide some extra ponies for your Lexus IS300 is.
Sit back, relax, and check out the five best air intake systems that will make your Lexus IS300 more powerful.
#1 HPS Black Short Ram Air Intake Kit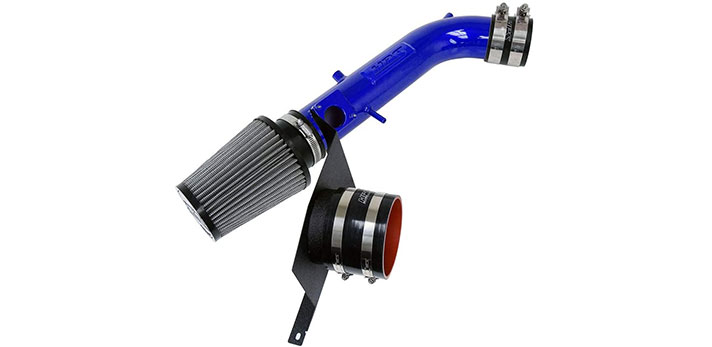 Manufacturer: HPS
Features: HPS Performance Air Filter
Power Gain: 11hp
Compatibility: Lexus IS300 (2000-2005)
To start the best IS300 intakes, we present to you HPS and their short ram air intake kit. Short rams are designed to have shorter intake pipes, reducing the airflow restrictions by eliminating other parts like the resonator and silencer box.
This design is what HPS did to their intake system; that's why it's capable of producing an extra 11hp for the benefit of your Lexus IS300.
The HPS short ram intake's piping utilizes a 2.75" mandrel-bent aluminum alloy piping with minimal to no restrictions compared to the stock intake pipe.
This piping is then connected to an HPS performance air filter that sieves the air, filtering all of the contaminants that may harm the engine. The air filter that HPS Black Short Ram uses is washable, reusable, and requires minimum maintenance.
Since short ram intakes are close to the engine, there must be something to fend off the heat that comes from the engine. HPS designed a powder-coated heat shield to do just the thing.
This heat shield is integrated with a fresh air scoop to maximize the cool air that the short ram intake sucks in. Overall, the HPS short ram intake is an affordable air intake system for those who want power benefits, especially in the high revs.
#2 aFe Power Takeda Stage-2 Intake System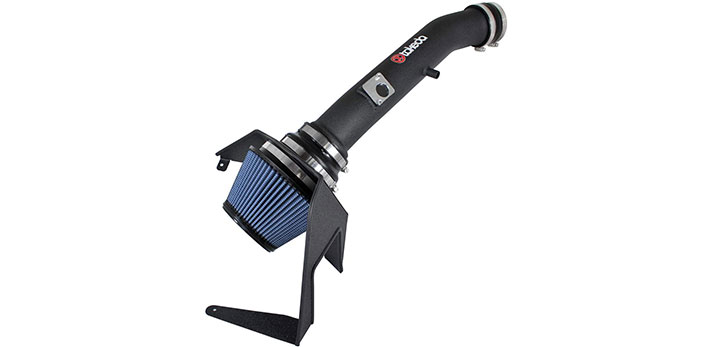 Manufacturer: aFe Power
Features: Pro 5R filters
Power Gain: 13hp
Compatibility: Lexus IS300 (2000-2005)
The aFe Power Takeda Stage 2 intake system exists for serious car enthusiasts about getting their Lexus IS300 pumped up with some serious horsepower and torque.
Takeda intakes are for the racers obsessed with weight reduction since these intakes are made out of high-quality aluminum, which is a reliable and light material. Although it's pricey, the benefits heavily outweigh the cost.
So what makes the Takeda Stage-2 noteworthy? The intake's 3" tube guarantees an improved volumetric flow, which means more air for the engine. The engine needs all of the excess air that it needs, especially cold-air.
After going through the low-restriction piping, the air then goes through the Pro 5R oiled media with five layers of filtering material that will surely fend off any harmful particulates in the air.
What's more, the Takeda Stage-2 intake system ensures max gains of up to 13hp and 11lb-ft of torque. You don't believe it?
Check their dyno tests! Some of the excellent parts that come with the Takeda Stage-2 includes a tri-angle filter adapter responsible for increasing air velocity and a powder-coated heat shield to help the air retain its low temperature.
#3 K&N Cold Air Intake Kit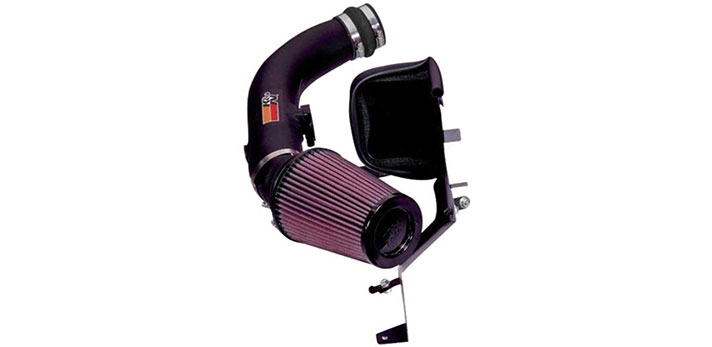 Manufacturer: K&N Engineering
Features: Oversized air filters
Power Gain: 9.45hp
Compatibility: Lexus IS300 (2001-2005)
If you're just a beginner car tuner and you just want the best-selling intake system for your Lexus IS300, then you better get your hands on some K&N cold-air intake kit.
K&N Engineering is famous for producing a reliable, high-quality cold-air intake system that is guaranteed to fail you.
It's a tremendous cold-air intake system for car enthusiasts who wants a reliable all-around air intake system that can last for a very long time.
K&N's cold-air intake kit assures you that your Lexus IS300 will have a moderate increase in horsepower.
An increase of 9.45hp is not that bad, right? This cold-air intake looks good under the hood, too; the oversized air filter seems as good as it functions.
It filters the air that goes in the engine real good, and due to its oversized nature, more air tends to go through it. What does that mean? POWER!
This brand of air intake is famous not for their intakes, but their filters. They claim that their filters don't just increase the airflow, but it also sucks up all the dirt without getting as congested as the typical paper filters.
What's more, K&N filters are washable and reusable, so don't even attempt to throw them away once they get piled up with dust and dirt.
#4 Injen Technology Polished Short Ram Intake System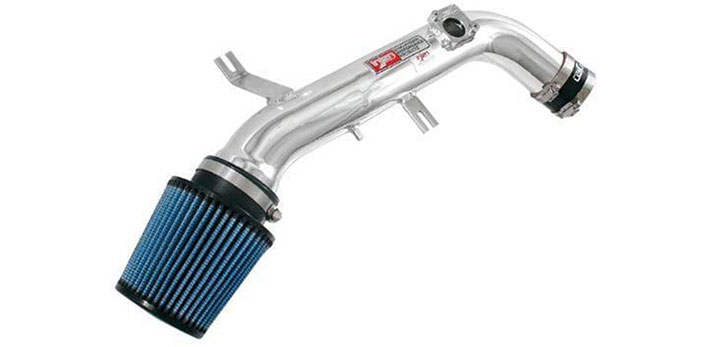 Manufacturer: Injen Technology
Features: SuperNano-Web dry air filter
Power Gain: 10hp
Compatibility: Lexus IS300 (2001-2005)
Here's another short ram intake system for your Lexus IS300, but this time it's from Injen Technology, another provider of dyno-proven solutions for demanding car enthusiast who wants nothing but the best for their cars.
Their polished short ram intake guarantees an increase of 10hp and 10lb-ft of torque. These performance gains aren't that bad, considering that this short ram intake is wallet-friendly.
Injen Technology's polished short ram intake has smooth T6-6061 piping that eliminates any restrictions, allowing more air for the 2JZ-GE.
This piping is then connected to Injen's very own SuperNano-Web dry air filter – the name suggests that it filters the air to the smallest particle possible.
There's also an optional hydro shield that you can get, making the whole intake system great.
Don't forget about the great sound that the Injen short ram creates under full throttle. Air intakes are notorious for creating a sweet under-the-hood sound that can make any Lexus IS300 owner squeal like a kid who just received their first Christmas gift.
A quick note: although hydro shields are optional, heat shields aren't included in the kit. The SuperNano-Web dry air filter is fully serviceable, so don't throw it if it gets dirty!
#5 AEM Short Ram Intake System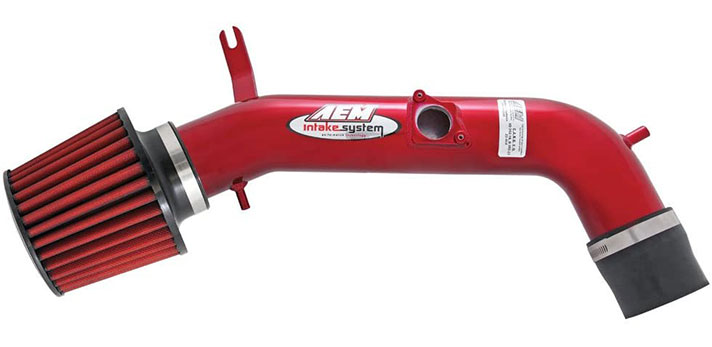 Manufacturer: AEM

Features: Dryflow synthetic air filter
Power Gain: N/A
Compatibility: Lexus IS300 (2001-2004)
Another short ram intake? Why not? Short ram intakes are fantastic! They're made to put airflow into maximum overdrive so the engine can create more power for the Lexus IS300.
For the last intake on this list, we got the AEM short ram intake system, an affordable airflow solution that guarantees a boost in horsepower, torque, and underhood sound.
As a short ram intake, AEM naturally removed all of the unnecessary parts that just make the airflow tube restrictive.
This intake is compatible with the existing OEM emission control devices such as MAF, PCV hose, etc. The aluminum tube offers a low restriction avenue for the air to flow through, and on top of that, the AEM short ram intake also produces an aggressively deep sound.
The AEM short ram intake was made for those budget-restricted Lexus IS300 owners that want the best quality intake that their limited budget can get.
Thanks to their Dryflow synthetic air filter, you can even save up more money because of the mpg improvement that your Lexus IS300's bound to have once you have this short ram intake on.
Getting an Aftermarket Intake System: Is It Worth It?
Craving some extra power for your car is a natural gearhead phase. Getting this extra power, however, is now the problem.
How can you add some good horsepower to your vehicle? There are some options that you can consider, for example, getting a turbocharger for your car.
It's a great option; however, if you don't want an overkill in extra horsepower, then opting for an intake system is a great idea.
Aftermarket air intake systems can make your car more powerful, give it better gas mileage, and add some character to the vehicle by making the sound under the hood louder and more aggressive.
On top of that, most air filters included in the available intake systems have low-maintenance air filters. So, is getting an aftermarket air intake system for your car worth it? Absolutely!
The Lexus IS300 is one of those cars that employ aftermarket air intake systems broadly. Since it has the 2JZ engine, why not crank the engine up a notch and make it slightly more powerful?
You can do such a thing through the use of an intake system. Either a short ram or a cold-air intake will do the trick.