Back when the BMW E46 M3 got released, people could not believe that a 3.2L inline-six engine can produce a whopping 333hp, roughly more than 100hp/L.
Some high-performance car manufacturers like Porsche claimed that anyone can build a machine with an output of 100hp/L, but the engine will never last.
And here we are in the second decade of the 2000s, still rocking the BMW E46 M3, along with some other power mods to amplify its performance even more.
Among these power mods are intake systems. When partnered with the notorious S54 engine, it can make a car like the BMW E46 M3 stand out. Attaching an intake system onto your machine would mean an increase of 5 to 15hp.
Not a flawed metric, right? Considering that air intake systems offer some sweet benefits like excellent sound under the hood, improved acceleration, better mileage, and many more gains than you expect.
Modifying a BMW E46 M3 is indeed a genuinely satisfying experience. That's why if you're looking for some power mods like intake systems, we've got your back.
We've searched the dark corners of the internet to gather intel on the best intake systems that a car like the BMW E46 M3 could have. Car enthusiasts love them, and surely you will too. Check them out to see what will suit your taste the most!
#1 K&N Performance Air Intake System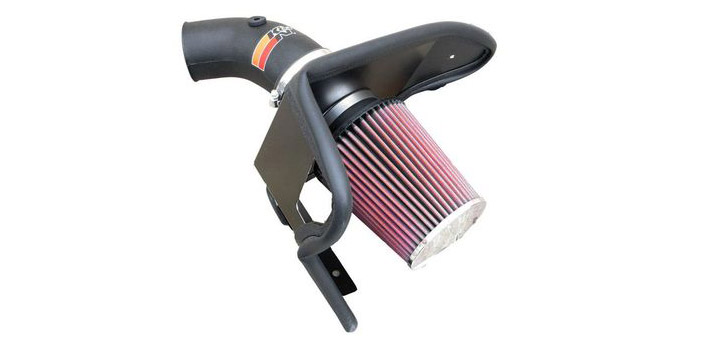 Manufacturer: K&N Engineering
Features: Roto-molded HDPE intake tube
Power Gain: 17.83hp
Compatibility: BMW E46 M3 (2001-2005)
K&N filters first come to mind when car enthusiasts are asked about what reliable filters they can recommend. To be fair, K&N Engineering stands out amongst the rest of intake systems manufacturers because of their knack for reliability, durability, and affordability.
Our first intake system is a great upgrade for those who want something that can deliver guaranteed power while offering a great air filtration system.
Mainly designed to increase a car's horsepower, the K&N performance air intake system features some unique components like an oversized conical air filter that keeps the incoming air crisp, cold, and clean.
The media used by this air filter utilizes thousands of cotton fibers that filter dirt, dust, and air impurities at the microscopic level. If there's one thing that K&N Engineering specializes in, it's their state-of-the-art filtration system.
Being among the best intake for E46 M3 is no small feat. That's why K&N Engineering does all its best to keep its reputation of being an air intake manufacturer capable of producing various intake systems that can deliver a great deal of horsepower.
If you're a bit skeptical about K&N, you can check out Bimmer forums or even other car forums. Car enthusiasts love the K&N, and to be honest, we can't blame them. Their intake systems, especially their air filters, are really great.
#2 Injen Technology Black Mega Ram Short Ram Intake System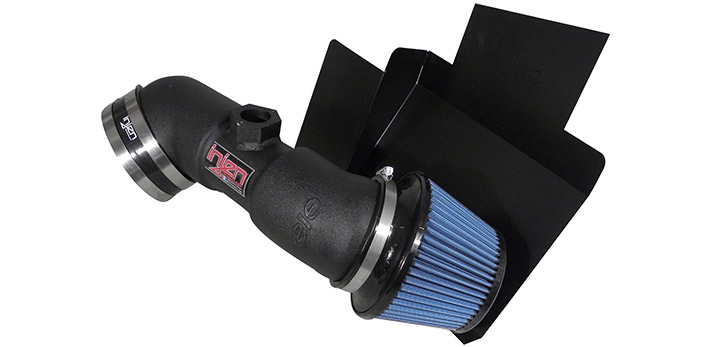 Manufacturer: Injen Technology
Features: Patented MR Technology
Power Gain: 19hp
Compatibility: BMW E46 M3 (2001-2006)
Here is another one of the best intakes for E46 M3, and this time, it's a short ram. This type of intake differs from a typical cold-air intake in a lot of ways. Short rams, in a nutshell, are intake systems with a much shorter intake pipe.
This type of design was utilized by Injen Technology to create an intake system with a top-tier filtration system, the Black Mega Ram short ram intake system.
So what can the Black Mega Ram do for your BMW E46 M3? To keep it short and simple (just like a short ram), it provides dyno-proven gains of up to 19hp and up to 13lb-ft of torque.
The short ram's tubing was created from 6061-T6 aluminum to ensure its durability. Not only that, the Black Mega Ram features a custom heat shield that keeps the incoming air free from the rising temperature of the engine bay.
Injen Technology is famous for its patented MR Technology, the world's first tuned intake system.
With the MR Technology, the airflow gets regulated at varying strategic intervals through a complicated step-down process, ensuring that the airflow rate and density are kept for peak performance.
Injen's MR Technology tunes the intake system to remove the necessity of MAF sensors recalibration.
#3 aFe Power Magnum FORCE Stage-2 Cold-Air Intake System (Dry S Filter)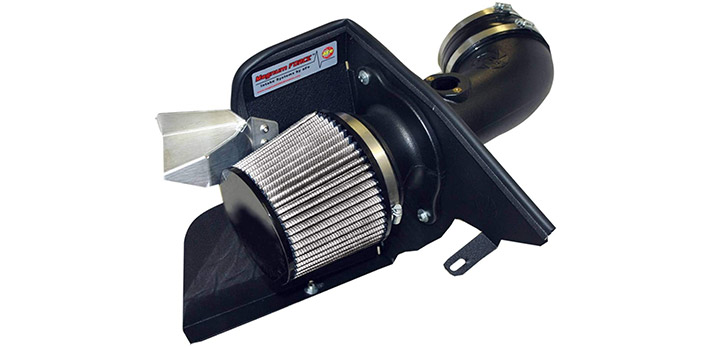 Manufacturer: aFe Power
Features: Pro Dry S Air Filter
Power Gain: 12hp
Compatibility: BMW E46 M3 (2001-2006)
aFe Power is another manufacturer of performance intake systems that leaves most car enthusiasts satisfied. The Magnum FORCE Stage-2 cold-air intake system, in particular, is a reasonably affordable option for those who want an excellent air filtration system.
This intake's filter media partnered with a one-piece air filter housing prevents the warm engine air from affecting the temperature of the incoming cold air.
The Magnum FORCE Stage-2 has three main features. The first one is the molded plastic tube, which outflows the factory intake by 33%. This intake directly replaces the stock, allowing a more volumetric rate of airflow into the engine.
Second is the Pro Dry S filter, a conical air filter packed with 3 layers of advanced synthetic material. The Pro Dry S filter requires low maintenance; just wash it with soap and water, then you're good to go.
Lastly, the Magnum FORCE Stage-2 intake system has a one-piece heat shield constructed out of 100% polyurethane to ensure its longevity and durability, even after multiple cleaning cycles.
With this cold-air intake system installed, expect an increase of horsepower and torque for up to +12hp and +11lb-ft, respectively. aFe Power is among the best intakes for the BMW E46 M3.
#4 aFe Power Magnum FORCE Stage-2 Cold-Air Intake System (5R Filter)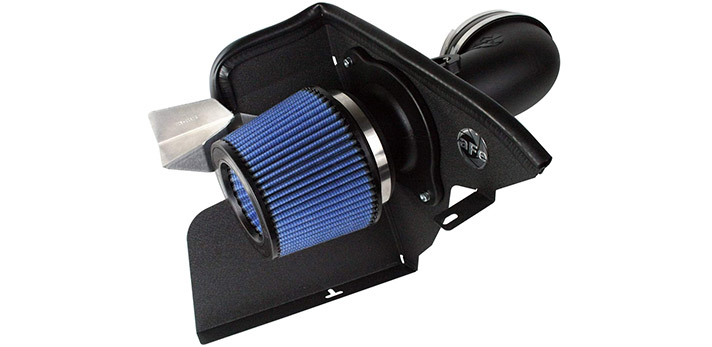 Manufacturer: aFe Power
Features: Pro Dry-S filter
Power Gain: +12hp
Compatibility: BMW M3 E46 (2001-2006)
Lastly, we have another Magnum FORCE Stage-2 cold-air intake system. You may think that this is the same intake system as the previous one, but there's a clear difference between the two.
Both of them may be fitted to a BMW E46 M3, but they have different air filters that function differently from each other. This specific cold-air intake utilizes a Pro 5R filter media, a more innovative filter media that keeps the air cleaner and provides more airflow than the Pro Dry S Filter.
Both of the Magnum FORCE Stage-2 cold-air intake systems mentioned in this list have the same functions, only different capabilities. For example, the Magnum FORCE Stage-2 cold-air intake system with a Pro Dry S filter media can only provide up to a 33% increase in volumetric airflow.
In comparison, the Pro 5R filter media can offer up to a 42% increase. This airflow gain is vital if you want an engine with higher efficiency.
Aside from that, this Magnum FORCE intake features a 5in a conical filter with an inverted top. This design promotes better airflow, along with the advanced Pro 5R filter media, a performance air filter fitted with five layers of progressive, oiled cotton gauze.
Both of these functionalities work together to supply colder, richer, and cleaner air for your S54 engine. Whether it's Magnum FORCE with a Pro Dry S filter or a Pro 5R filter, we can guarantee that these cold-air intakes are among the best intakes for BMW E46 M3.
Benefits of Getting an Aftermarket Exhaust for Your BMW M3 E46
You may be wondering why your BMW E46 M3 would need an aftermarket intake system, and to be honest, we can't blame you! BMW made sure that the M3 line performs very well, and it's pretty evident that the car is well-loved by many people because of its power and versatility.
However, as an avid car enthusiast, you'll always have an itch to improve your car in whatever way possible. If you're wondering what you'll gain from getting an aftermarket intake system for your vehicle, here are some benefits you should know.
Increase Your Horsepower and Torque Output Significantly
Okay, we get it. The BMW E46 M3 is an impressively powerful beast. But an extra horsepower wouldn't hurt, right? Not mentioning some torque increase that you'll get, which is critical if you want a vehicle that can accelerate better.
You'll instantly notice the difference between a car that uses a stock intake vs. a vehicle that utilizes an aftermarket intake system.
Improve Your Fuel Economy Substantially
When you supply cold air to the engine, you help the engine burn the fuel more efficiently. The more oxygen present in the cylinder, the easier the air-fuel mixture burns. And since the fuel combustion process is faster, you'll feel that your car runs a bit faster too.
This proves that there's a correlation between a cold-air intake and a car's mpg efficiency.
Any car would benefit from a performance air intake system, especially a BMW E46 M3. We all know that the M3 is BMW's line of performance cars, and what better way to further improve your vehicle's performance than to outfit it with a bang-for-the-buck upgrade like an intake system?
Not only that, aftermarket intake systems give your car sweet benefits, but they make your engine roar more aggressive too.