Back in its inception in 2012, the first version of the Hyundai Veloster has a 1.6L inline-four cylinder engine capable of producing 138hp at 128lb-ft of torque. The 2020 version can rack up to 147hp and 132lb-ft of torque.
It did have its improvements, however, we can all agree that the horsepower and torque output of the Hyundai Veloster can be pretty lackluster. Good thing there's a mod to change capable of increasing any car's horsepower and torque output: aftermarket intake systems.
Even if the Hyundai Veloster is made to make driving fun, we can all agree that it needs a little kick in the engine to fire the horsepower output up a notch.
Aftermarket intake systems help out; by collecting air and shoving it down the engine, it helps the fuel burn quicker, thus producing more power. Most aftermarket intake systems are capable of assisting the engine input up 5hp to 15hp. Not bad, right?
Aftermarket intake systems are significant modifications for a car like the Hyundai Veloster. So if, by any chance that you own one and you want it to be a bit more powerful, then this list is for you.
We've scoured the deepest corners of every Veloster forums, groups, and shops and gathered the best intake systems that can provide significant power to your Hyundai Veloster. Check the list out to see what's the best for your car!
#1 Injen Technology Short Ram Intake System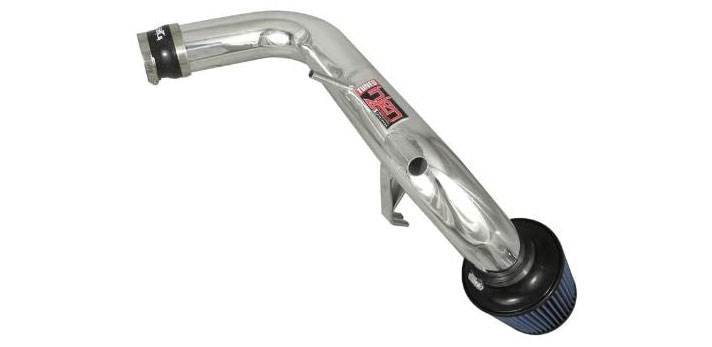 Manufacturer: Injen Technology
Features: SuperNano-Web dry air filter
Power Gain: 11hp
To start this list, we have a short ram from Injen Technology, one of the intake systems' leading brands. As you can see, it's a short ram, a variation of aftermarket intake systems that's great for cars that frequents the track. The Injen Technology short ram intake is slightly softer than a cold-air intake system, but it roars like a savage beast once your Hyundai Veloster is on high revs.
Injen Technology's short ram intake can level up your Hyundai Veloster to some degree. It's constructed out of 6061 aluminum piping, connected to a SuperNano-Web dry air filter.
The filter's name may be somewhat quirky, but it's a fully available dry air filter that utilizes a proprietary media that's guaranteed to filter out air pollutants that may potentially damage the engine's insides.
This intake short ram's performance gains are pretty impressive too. 11hp and 10lb-ft of torque may not sound much, but it's a lot compared to some intake systems that only offer five or seven horsepower.
And besides, it's a short ram intake. It usually delivers lower horsepower and torque gains compared to its cold-air intake cousins. As mentioned earlier, the engine's sound once installed with Injen's short ram becomes aggressive once under full throttle.
#2 K&N Cold-Air Intake Kit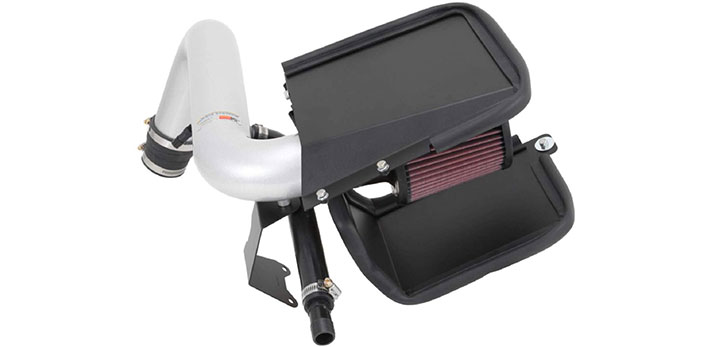 Manufacturer: K&N Engineering
Features: High-Flow air filter
Power Gain: 12.87hp
Compatibility: Hyundai Veloster Turbo (2013-2017)
Suppose you're new to the aftermarket scene, and you find it challenging to look for a quality air intake system for your Hyundai Veloster Turbo. In that case, we understand how hard it can be to look at all of those technical data and have a hard time understanding it: we've been there!
To solve this kind of issue, you should consider the best-selling aftermarket intake, a popular intake system with many great reviews from previous customers—something like K&N's cold-air intakes.
K&N Engineering has been producing high-quality cold-air intake systems for such a long time. Their cold-air intake explicitly made for the Hyundai Veloster Turbo has piping made out of aluminum connected to K&N's iconic High-Flow Air Filter™.
This type of filter is top-tier and can filter the air that's inducted into the engine. This cold-air intake's competency is evident in the amount of horsepower it can give to the car (12.87hp), which is pretty amazing if you ask us.
Customers love K&N cold-air intake kits because they are reliable, durable, and practical enough to do what an air intake must do:
Deliver some extra performance gains.
Filter the air that's going to the engine.
Emit a pretty sweet sound under the hood, especially in high revs.
Their High-Flow air filter deserves some attention, too, since it's one of the significant reasons why K&N filters are so good.
#3 AEM Cold-Air Intake System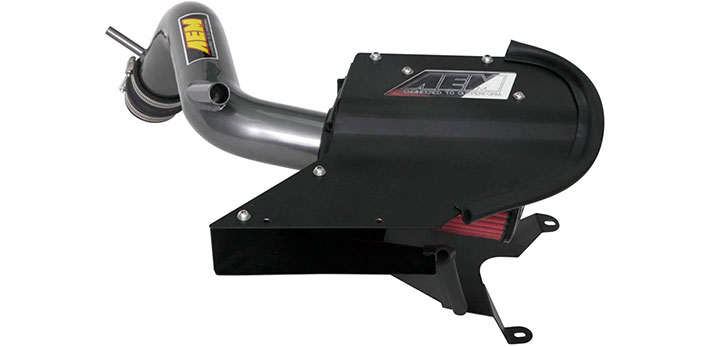 Manufacturer: AEM
Features: Heatshield with lid
Power Gain: 10.07hp
Compatibility: Hyundai Veloster N (2019-2020)
Still here? Great! Here's another cold-air intake system. This time we have something for the newest Veloster trim, the Hyundai Veloster N. AEM's cold-air intake system is considered to be among the best Veloster N intake systems to get because of its customer approval and its reliability.
Like K&N, AEM is one of the pioneers in air intake systems and air filters, so they know how to do their job well.
So what's with AEM and their cold-air intakes? Its intake pipe made out of aluminum is connected to a Dryflow synthetic air filter. This air filter is washable, reusable, and provides superb air filtration, flow, and performance.
And also, the aluminum piping is powder-coated with a gunmetal gray finish to make it more scratch, wear, and fade resistant. Aside from its protective capabilities, a coated piping just looks better compared to a polished aluminum piping.
And hey, don't forget about the heat shield with a lid too! We all know for a fact that the engine prefers cooler air, so cold-air intakes like this one from AEM have proper heat shielding to avoid heat from increasing the temperature of the air.
The colder the air is, the more oxygen-rich it is; and the engine loves that! AEM has been a titan in the aftermarket scene because of its cold-air intake systems. And this time, they've pretty much hit a home run with this cold-air intake kit.
#4 Spectre Performance Air Intake Kit
Manufacturer: Spectre Performance
Features: Spectre air filter
Power Gain: N/A
Compatibility: Hyundai Veloster (2011-2017)
Air intake systems are designed to siphon clean cold air from the ambient and then induct it into the engine to produce more horsepower.
Innovative air filters like what Spectre Performance offers to have advanced filtering systems that filter the dirt, dust, and whatever particles present in the air, freeing the cold air from whatever impurities it has.
And with a filter like Spectre Performance attached to an intake tube, power production has never been this great.
Spectre Performance's air intake system made for the Hyundai Veloster is a combination of a low-restriction polished aluminum intake tubing and Spectre Performance air filters, bound together to assist in supplying fresh and clean air to the engine.
The result is an increased combustion efficiency since excess air has been provided to the current air-fuel mixture. Spectre Performance's tapered conical air filter does most of the work to make the air crisp and clean.
What's more, Spectre Performance has been trusted by many car enthusiasts for many years now. Whatever their car is, people who've previously purchased Spectre Performance's air intake have expressed satisfaction and delight after they've installed it on their vehicles.
And just like K&N Engineering's intake system, Spectre Performance is one of the best-sellers because of the performance gains they deliver. They're just good at their job, that's all.
#5 aFe Power Takeda Stage-2 Cold Air Intake System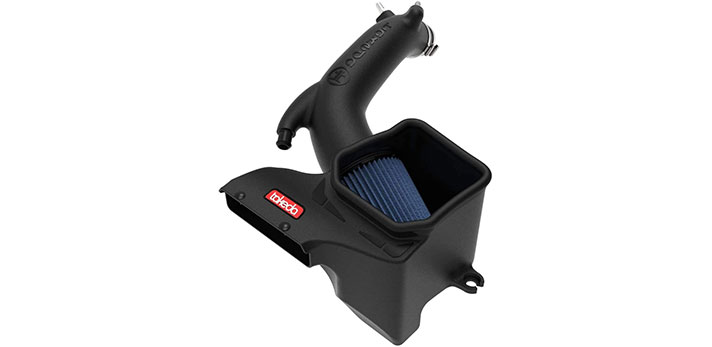 Manufacturer: aFe Power
Features: Pro 5R Filter
Power Gain: 11hp
Compatibility: Hyundai Veloster N (2019)
And lastly, we have another one of the best Veloster N intake, capable of adding up to 11hp and 10lb-ft of torque to what the Hyundai Veloster N's engine can make.
aFe Power's Takeda Stage-2 cold-air intake system is one of the renowned brands of performance intake systems that delivers impressive power gains for such an affordable price.
The Takeda Series is a trusted name that provides what improvements it promises, regardless of what vehicle you have.
The Takeda Stage-2 cold-air intake is an intake system that beats the OEM intake system by 35%. It's got a one-piece open XLPE (cross-linked polyethylene) polymer housing designed to minimize the heat that tends to warm up the cold-air going into the engine
The one-piece housing contains a specially-designed intake tube engineered to attain as much power gains as it can. Partnered with the XLPE housing, the cold-air will stay cold, as it should be.
What separates the Takeda Stage-2 from the other intakes are its housing and its filter. The durable and heat-soak-resistant XLPE housing keeps heat away from the air, while the Pro 5R media permeates the cold, clean air from the impurities it carries.
The Pro 5R media features a 360° radial flow that allows maximum air-flow, translating to power gains and clean, filtered air. These features are why the Takeda Stage-2 is perfect for both track and street use.
The Hyundai Veloster's engine may not be as impressive as its counterparts, but Hyundai did a great job keeping the car fun to drive.
It's performance attributes may prove itself lackluster, but with the help of performance mods like aftermarket intake systems, you can experience a bit more power in your Hyundai Veloster.