There's nothing more satisfying than seeing your beloved Acura RSX running free like a horse scampering on a field. But come to think of it, what do your Acura RSX and horses have in common? Power!
Horsepower gives the Acura RSX a lot of kick, but what if you can put some additional horses in your car?
You actually can! There are aftermarket modifications out there that will improve your car's function while giving it the excess horsepower that it needs. A lot of them are on sale in stores worldwide, but a specific mod can turn your Acura RSX from a humble car into a ravaging JDM beast.
Behold, the glorious aftermarket exhaust systems.
An aftermarket exhaust system gives your car a tremendous boost when it comes to raw horsepower and torque; something an Acura RSX needs. This car is usually used on street and track racing, so having a quality aftermarket exhaust system will do you and your car a lot of good.
Check out the list below of the best exhaust system suited for your Acura RSX. They all vary in shape, size, and of course, price. See what you like most and what's suited best for your car!
#1 DNA Motoring Catback Exhaust System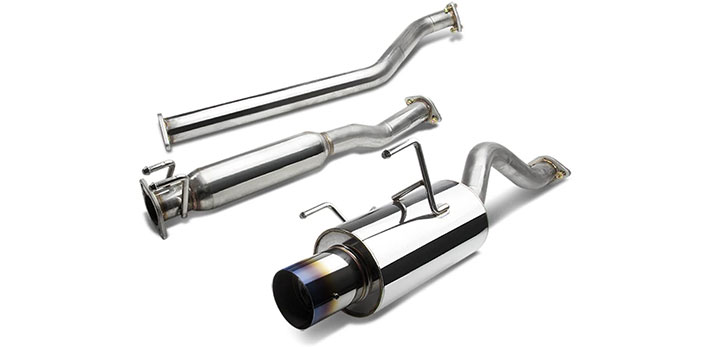 Manufacturer: DNA Motoring
Weight: 22.2lbs
Part Number: CBE-ARSX-S-BT
Compatibility: Acura RSX (2002-2006)
Upgrading your exhaust systems will mean fitting in larger pipes, mufflers with much lesser restrictions, and well-tuned resonators. That's why when you encounter such problems, exhaust systems like DNA Motoring can help you out big time.
Their cat-back exhaust system has improved a lot of cars in the past, and it will sure make yours better too!
Let's check out the package. The cat-back exhaust system is made from quality stainless steel, built with just the right diameter to optimize the exhaust gas airflow. The bends are done using mandrel bending, just to make sure that the curves will force out the gasses as efficient as possible.
The best thing about this exhaust system is that it can bring your Acura RSX up to additional 10hp-20hp. That excess horsepower may not sound much but it counts if you want to rev your engine to its maximum.
You can be assured that DNA Motoring won't break on you anytime soon because they take their R&D pretty seriously.
Aside from that, it's affordable too! A lot of previous customers have expressed their delight with the DNA Motoring cat-back exhaust system, placing its place among the best Acura RSX exhaust systems.
#2 Spec-D Tuning Catback System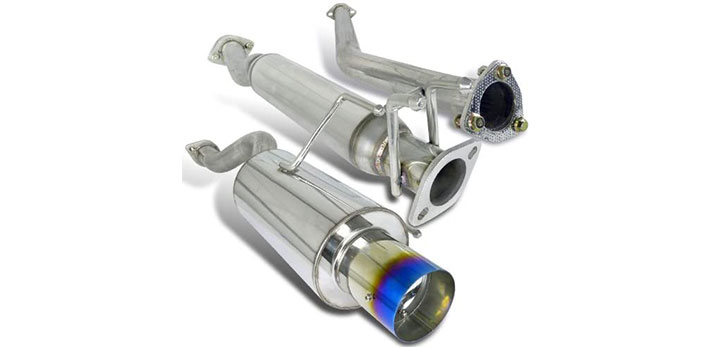 Manufacturer: Spec-D Tuning
Weight: 27lbs
Part Number: MFCAT2-RSX02T-SD
Compatibility: Acura RSX (2002-2006)
Have you ever experienced buying something online then when the package comes to you, it doesn't look like the one you've bought? Don't worry! Spec-D Tuning's exhaust system looks the same as the picture.
And as for the performance? You'll get exactly what you've read on its specs.
So what's in the bag? A JDM style exhaust system, specifically the N1 Spec-D Tuning's cat-back exhaust system utilizes a patented design of straight pipes, and multi-core mufflers to make airflow even more streamlined.
The piping has the diameter needed to make sure the exhaust gasses will have an increased velocity towards the exit.
Have you seen exhaust systems with burnt tips? They look great, don't they? Well, this exhaust system is one of them! The cat-back exhaust comes with removable silencers, light-weight stainless steel pipings, flanges, and all the necessary hardware needed for installation.
Although this may look just like any type of aftermarket exhaust, Spec-D Tuning highly suggests that you get the help of a professional instead of attempting to install it by yourself. Unless you're a professional yourself… Ha!
#3 Yonaka Acura Performance Catback Exhaust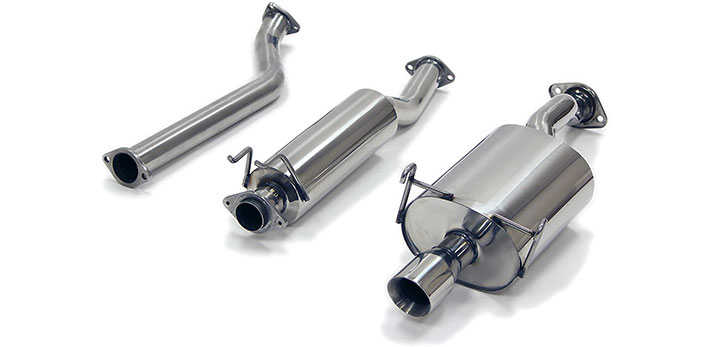 Manufacturer: Yonaka Motorsports
Weight: 29lbs
Part Number: YMCB-RSX-B
Compatibility: Acura RSX (2002-2006)
Some manufacturers can be considered as "jack-of-all-trades", but in reality, they are master of none. Most manufacturers can set-up your Acura RSX, but out there in the aftermarket jungle, there is a commando; a hardcore specialist when it comes to Acura RSX.
They know every nook and crannies in this car, and they know how to improve it.
Behold the Acura RSX experts, the Yonaka Motorsports. They've master crafted performance mods for the Acura RSX, and they've produced just the thing to make the car run wild and free. Their Acura performance cat-back exhaust is a direct fit into the OEM, so cutting off parts will not be required.
Expect a smooth, quiet, deep, and chill hum with Yonaka's exhaust without any of that annoying raspy sound when you're revving mid-range. Their 2.5" pipings are made from stainless steel – polished to perfection.
Expect a significant power increase, especially on lower revs.
Quick note: the Yonaka cat-back exhaust only fits the base models of the Acura RSX. Not Type-S, not the premium models: just the base. The "middle of the midnight" truly belongs to Acura RSX's best exhaust systems, even if they come off as a little bit pricey.
#4 Skunk2 Mega Power R Exhaust System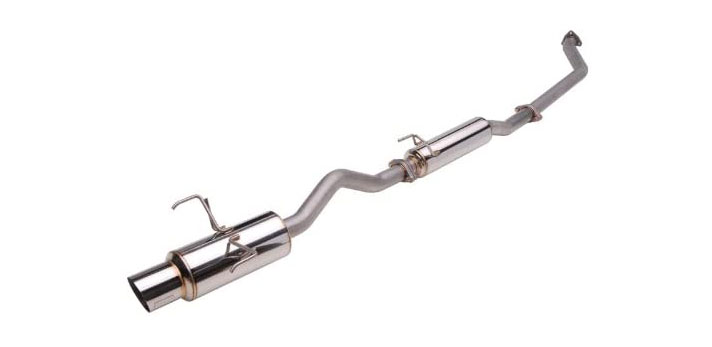 Manufacturer: Skunk2 Racing
Weight: 62.46lbs
Part Number: 413-05-5110
Compatibility: Acura RSX Type-S(2002-2006)
Peak engine performance comes when you have fully functioning parts at their peak capacity. At Skunk2 Racing, they've developed the Mega Power R Exhaust System to make sure that your Acura RSX Type-S will achieve its fullest potential – no matter what.
By generating more horses and optimizing your engine's exhaust gas airflow, the Mega Power R infuse your Acura RSX with their very own 15 and more years of racing experience.
The exhaust system is made from T304 stainless steel, matched with oversized mufflers and tubings to optimize the gas flow even more.
The Skunk2 also features N1 style exhaust tips, but unlike the last one, it isn't burnt. But it still looks pretty cool, especially once you've realized how many benefits you can!
#5 HKS Hi-Power Exhaust System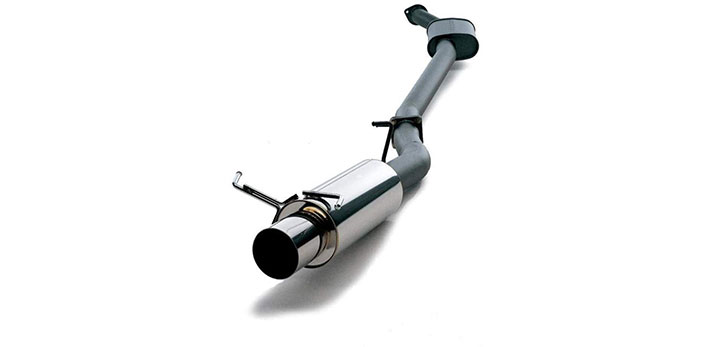 Manufacturer: HKS

Weight: 32.9lbs
Part Number: 32003-BH002
Compatibility: Acura RSX (2002-2003)
And last but not even least, we feature the HKS Hi-Power exhaust system, one of the fan-favorites that has garnered a lot of positive reviews from its past buyers. They look amazing, they sound amazing, and most of all, they're made amazingly.
Check out its construction to see what's in the bundle.
Made specifically with the greatest racers in mind the HKS Hi-Power exhaust system brings power, loudness, and aggression to your Acura RSX. The package comes with 2.36" diameter tubing, and a tip with a diameter of 4.53" that allows your car to growl deeply and loudly – like its ready to race.
The best thing about Hi-Power is it was built to last. With all the durable materials made to manufacture this exhaust system, you can be sure that HKS' exhaust system will serve you for a very long time.
5 Most Practical Reasons for Upgrading Your Exhaust System
Try asking yourself this: "Why does my Acura RSX need an exhaust upgrade?" There are some reasons to consider. Is there a bad burning smell coming from the engine bay? Is the car's fuel efficiency bad? Is the muffler hanging?
Aside from the commonly occurring problems, you can get an aftermarket exhaust just because of the benefits too.
Performance Performance-wise, exhaust systems belong to the top-tier performance mods for any type of vehicle. Mainly because they give raw and unadulterated additional power to the vehicle. Many car owners also want to get their hands on some aftermarket exhausts because they want the loud sound too.It may not bring the same amount of horsepower as what the turbochargers can give, but the best aftermarket exhaust systems for Acura RSX will give you the significant boost that you've always been searching for.
Style Looks. Style. Sound. These are just one of the few things that car enthusiasts seek in a car. Exhaust systems from the aftermarket bring all of those three in one plate.When it comes to aesthetic appeal and eargasm, you can put your bets on an aftermarket exhaust system.Those exhaust systems with N1 burnt tips pays homage to the classic Japanese style, while the sound will chill your spine as if you've seen a ghost. Some exhausts are just that good!
Longevity Better fuel economy is one of the advantages that you will get from replacing your OEM exhausts. The old ones may tend to restrict airflow, making the engine experience problems like overheating, excess backpressure, and more.By installing an aftermarket exhaust for your Acura RSX, you're guaranteed to have a car with better fuel economy. The numbers may not be off the charts, but the engine will need all the help that it can get.Aftermarket products like the exhaust system can bring tremendous benefits for your car, especially if you own an Acura RSX. This thing is made specifically for speed and luxury.
And even it peaked from 2001 to 2006, it can still give you the ride of your life.