The fifth generation of the Ford Mustang, the S197, continues to prove itself as an excellent platform for car modification up to this day.
Two of its trims, the Shelby GT500 and the Saleen Mustang, can produce an impressive amount of horsepower even for a Mustang.
These trims have inspired some car enthusiasts to push their fifth-gen Mustangs boundaries, motivating them to improve their cars using aftermarket performance modifications such as exhaust systems.
The stock exhaust system of the Ford Mustang S197 is excellent and all, but to push it to the limits of power production and a more satisfactory exhaust note, the car enthusiast scene introduced the use of exhaust systems.
These aftermarket modifications can make any car sound louder and more aggressive, not to mention the slight increase in horsepower that it entails. Aftermarket performance exhaust systems are among the best mods to get for a Ford Mustang S197 simply because it adds more character to an already impressive mechanical beast.
Looking for generic exhaust systems is easy, but exploring the dark corners of the internet and all of the Mustang forums? That's slightly difficult. That's why if you're looking for the best possible aftermarket performance exhaust systems you can get for your Ford Mustang S197; we've done the work for you.
The list below consists of the best exhausts available for the various trims of the Ford Mustang S197. Take a look!
#1 Borla ATAK Axle-Back Exhaust System
Manufacturer: Borla Exhausts
Weight: N/A
Part Number: 11806
Compatibility: Ford Mustang GT Coupe (2005)
The list starts with one of the best exhaust systems for Ford Mustang GT, the ATAK axle-back exhaust system from Borla Exhausts. This exhaust system is the loudest one Borla Exhausts could offer.
With Borla's unique proprietary ATAK (Acoustically Tuned Applied Kinetics), this aftermarket exhaust kit can produce a high-quality exhaust sound even at higher volumes.
Tuned like a graphic equalizer, the ATAK exhaust system can shape and focus sound waves, making the exhaust system produce an impressively loud exhaust note.
Borla ATAK Axle-Back Exhaust System Features:
Round and rolled exhaust tips
Distinctive loud and aggressive Borla sound
Made from aircraft-grade T-304 stainless steel
Integrated with ATAK Technology (Acoustically Tuned Applied Kinetics)
2.5" mandrel-bent piping

#2 Flowmaster Force II Dual Axle-Back Exhaust System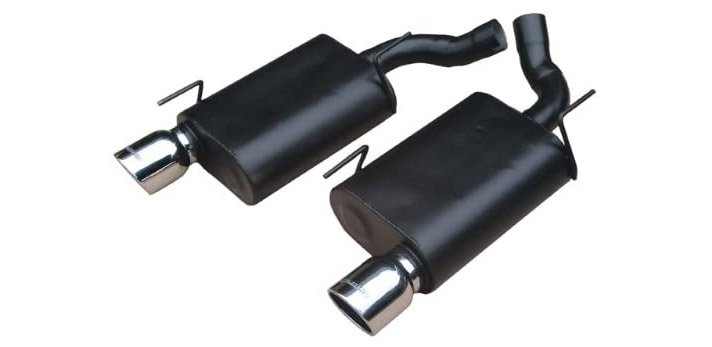 Manufacturer: Flowmaster

Weight: 14lbs
Part Number: 17410
Compatibility: Ford Mustang GT (2005-2010)
Here's one of the best Mustang exhaust you can get at a reasonably affordable price: the Force II dual axle-back exhaust system, an American-made exhaust created with maximum performance and looks in mind.
The Force II exhausts offer a moderate exhaust tone, both for the interior and the exterior, so you won't ever have to stress yourself about waking up your neighbors in the morning.
Some of the benefits the Flowmaster Force II exhaust system include are better throttle response, increased power, and improved MPGs.
Flowmaster Force II Dual Axle-Back Exhaust System Features:
60 Series performance mufflers
4" 304 stainless steel tips
Dyno tuned results
60 Series Mufflers
Moderate exterior exhaust note

#3 Roush Performance Exhaust System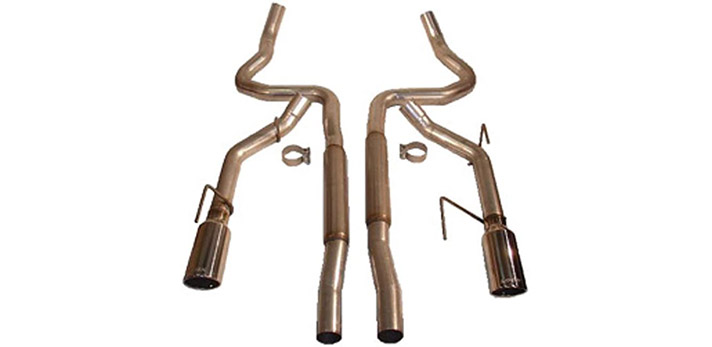 Manufacturer: Roush Performance
Weight: 45lbs
Part Number: 403936
Compatibility: Ford Mustang GT (2005-2009)
Trusting all of these "unknown" brands can be a bit scary, especially for a beginner car enthusiast. If you're a bit skeptical about these brands, then why not pick a Ford specialist?
Roush Performance has been working with Ford since 1976, and they've engineered the perfect exhaust system for a Ford Mustang. The Roush Performance exhaust kit for the Ford Mustang comes with enhanced sound mufflers that can make your car an aggressive sounding pony car.
Aside from the improved sound mufflers, the exhaust kit comes with intermediate exhaust tubes and finished tips.
Roush Performance Exhaust System Features:
Exhaust system sticks out from the back of the catalytic converter
2.5' mandrel-bent piping
4" polished 304 stainless steel tips
Increases power, fuel economy, and aggressive tone
Made by a Ford specialist

#4 MagnaFlow Competition Series Cat-Back Performance Exhaust System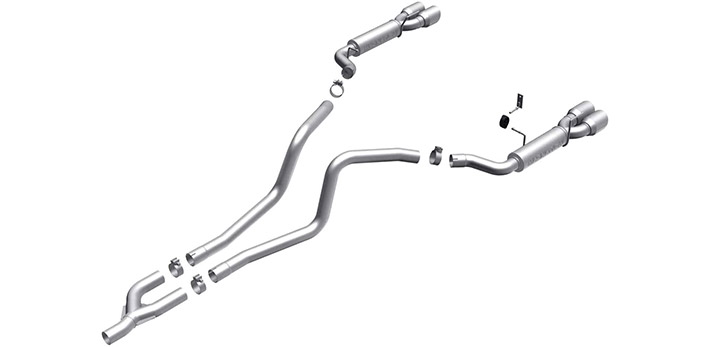 Manufacturer: Magnaflow

Weight: N/A
Part Number: 15078
Compatibility: Ford Mustang GT (2010)
Now, if you want to drive your Ford Mustang as if you're a professional racer, then you'd benefit a lot from the Competition Series cat-back performance exhaust system made by Magnaflow.
This company is notorious for creating high-quality exhaust systems that produce a mild sounding exhaust tone, but the Competition Series is different. It's made with utmost aggression and domination in mind, so if you're planning to use your Ford Mustang on the track, then you'll need this performance exhaust system.
MagnaFlow Competition Series Cat-Back Performance Exhaust System Features:
Quad-split rear exhaust tips
2.5" mandrel-bent stainless steel piping
Deep and aggressive Magnaflow performance sound
Optimized weight for weight reduction
Dyno-proven increase in horsepower output

#5 Corsa Sport Axle-Back Exhaust System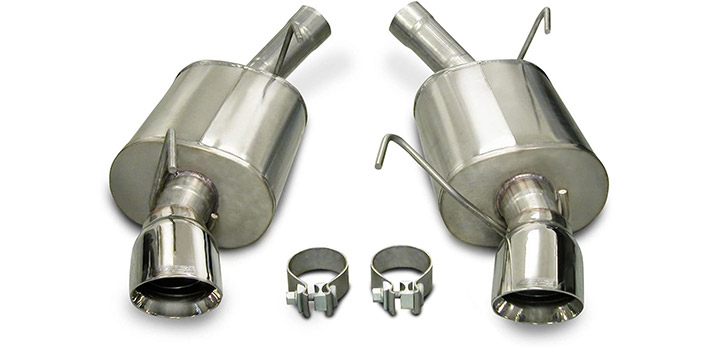 Manufacturer: Corsa Performance
Weight: 19lbs
Part Number: 14311
Compatibility: Ford Mustang Shelby GT500 (2005-2010)
Corsa Performance is arguably among the top manufacturers you should go to if you're keen on getting the best Mustang GT exhaust system in terms of sound quality. Like Borla, Corsa Performance has its sound technology that eliminates that drone we all know and hate.
The RSC Technology (Reflective Sound Cancellation) is capable of providing you with an aggressive exhaust tone under acceleration. It eliminates the drone while you're at cruising speed, allowing you to have a more enjoyable overall driving experience.
Corsa Sport Axle-Back Exhaust System Features:
Reflective Sound Cancellation Technology (RSC) for drone elimination
2.5" mandrel-bent stainless steel piping
Increase in horsepower and torque
+40% flow increase
Sport Sound Level

#6 Pypes Performance Exhaust True Dual Exhaust System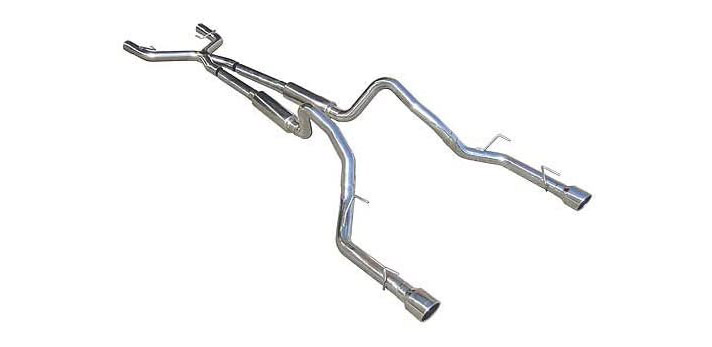 Manufacturer: Pypes Performance Exhaust

Weight: 30lbs
Part Number: SFM69
Compatibility: Ford Mustang (2005-2010)
Lastly, we have another one of the best Ford Mustang exhaust, and this time it's from Pypes Performance Exhaust. If you're looking for something that can make your V6 sound like a V8, then this exhaust system is your pick.
The True Dual Exhaust utilizes an M-80 Bullet Style muffler design, mounted right after the mid-pipe. This muffler is responsible for producing an aggressive deep and throaty exhaust tone reminiscent of the V8s from the fourth generation of Ford Mustangs.
It reuses the currently existing stock catalytic converters and includes an X-Pipe, a cat-back, and M-80 bullet-style mufflers.
Pypes Performance Exhaust True Dual Exhaust System Features:
True dual exhaust system for Ford Mustang V6 engines
Includes some necessary components like an x-pipe, a cat-back, and bullet-style mufflers
Deep, aggressive, and throaty exhaust note
2.5" 409 mandrel-bent stainless steel pipings
4" stainless steel tips (polished)

How to Pick the Right Exhaust System for Your Car
When choosing the right exhaust system for your car, you must know some vital information first. Knowing these will help you pick the straight exhaust that will complement your driving style and the kind of performance output you want for your car.
Construction
Crush bent vs. mandrel bent. The piping of stock exhaust systems is created through crush bending, a simple bending metal process to achieve a particular satisfiable bend. This process tends to generate more piping restrictions, thus reducing the potential horsepower gains you can get.
On the other hand, mandrel-bent pipes are bent through a more specialized process that eliminates all possibilities of piping restrictions, paving the way to more satisfying performance output.
Material
Mild steel vs. stainless steel. Mild steel is generally less costly but tends to corrode and rust over time. Stainless steels are more corrosion resistant and are capable of withstanding extreme conditions, such as rainy or snowy climates, however they are more costly.
We recommend getting stainless steel exhausts, since they have a better ROI than mild steel exhausts.
Type of Exhaust System
Cat-back vs. axle-back. A cat-back has its exhaust system placed behind the stock catalytic converter and tends to produce a more aggressive exhaust sound. On the other hand, an axle-back has its components set from the rear axle to the exhaust tips and is generally cheaper than cat-backs.
In a nutshell, pick cat-backs if you want a better exhaust system since cat-backs include other components like mufflers, tailpipes, and other necessary parts. If you want a more affordable option and are only interested in adding mufflers, fast installation time, and low cost, then axle-backs are for you.
All trims of the Ford Mustang S197 have proven themselves to be an excellent platform for modifications. Improving the Mustang's sound into either an aggressively sounding tone or mildly audible note would mean installing an aftermarket upgrade like performance exhaust systems.
These aftermarket mods are capable of introducing a new sound output for your car. Aside from the sweet rumbling you'll get, you're also entitled to benefits, like horsepower and torque increase, improvement in fuel economy, and of course, prestige among your peers.
Installing the best Mustang exhaust system on your car would attract the attention of your fellow car enthusiasts.