Owning a Honda Civic EK these days is like wielding a double-edged sword. Some people will love you because you've chosen a great platform for your enthusiastic car-related endeavors, and some uninformed lads will roast you for owning an old car.
But who cares? Us car enthusiasts know for a fact that the sixth-generation Honda Civic is one of the best things since sliced bread, and it really paved the way for hardcore ricer modifications back in the late 90s.
Modifying a Honda Civic EK is expected in the car enthusiast community. As said earlier, it's a great platform, even for modifications. You can tweak it up and make it a showroom-ready car, or you can transform it into a track-dedicated vehicle.
Some of the most common added changes to the Honda Civic EK are exhaust systems because it adds a lot of flair and character to the car. By giving it a more unique sound, the sixth-generation Civic can really stand out in the crowd.
Exhaust systems are great, not only because they allow your car to sound nice, but it also improves the vehicle's engine performance by using large-diameter smoothly-bent pipes. Come check out the list we've made of the best exhaust systems available for the Honda Civic EK.
All of the exhausts mentioned below are highly acclaimed by the Honda community, and they will surely give the other ones that aren't mentioned on this list a run for their money.
#1 GReddy Supreme SP Cat-Back Exhaust System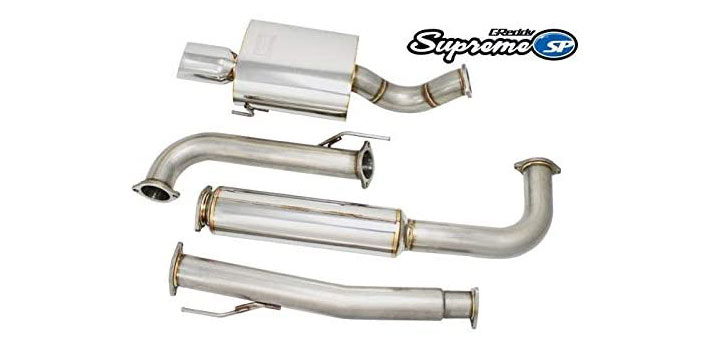 Manufacturer: GReddy
Part Number: 10158207
Compatibility: Honda Civic EK K-Swap (1996-2000)
Let's start with a mellow-sounding exhaust: the GReddy Supreme Cat-Back Exhaust System. GReddy designed this one for K-Series engines that are swapped into the Honda Civic EK.
Many EK Civic owners praise this exhaust for having a near-perfect fitment, a deep and loud sound output, and excellent build quality. It sounds quiet when you need it, and it sings loudly whenever you want it.
The GReddy Supreme Cat-Back Exhaust System is a unique exhaust that works excellently with more significant car displacement or turbocharged engine swaps.
It's got a stainless steel piping with a diameter of 3″ and can bolt on to 3-Bolt cat flanges that are K-swapped. What's more, this exhaust system boasts a 4″ exhaust tip diameter, alongside a sweetly deep sound that reaches up to 100dB at 5,500RPM.
The GReddy Supreme Cat-Back Exhaust System will surely give you a grin on your face while driving down the freeway. Overall, the GReddy Supreme Cat-Back Exhaust System is a sure bang-for-the-buck purchase you can have for your Honda Civic EK.
#2 Invidia N1 Catback Exhaust System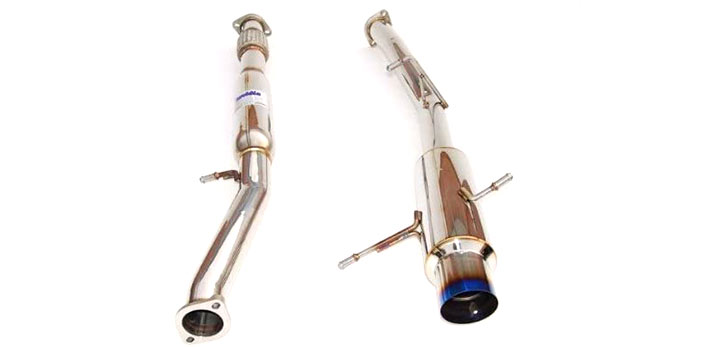 Manufacturer: Invidia
Part Number: HS96HC3GTP
Compatibility: Honda Civic EK (1996-2000)
Next up is the Invidia N1 Cat-Back Exhaust System, known for the good looks it can provide for your car. This aesthetically pleasing view comes with a decently loud exhaust note that isn't too obnoxious enough for you to get noise complaints from your neighbors.
This N1 cat-back exhaust can set you up for a very long time, thanks to its SUS304 stainless steel construction that is very resistant to corrosion and rusting. It also produces strong mid to top-end power strides and increases your car's horsepower and torque output to some degree.
The Invidia N1 Cat-Back Exhaust System has a piping diameter of 2.4″ that ends with slash-cut exhaust tips with a diameter of 4″. This exhaust system has mandrel-bent pipings made out of stainless steel and is polished to perfection.
These components prove to be very effective in assisting the exhaust gasses produced by your engine out of the vehicle. Because of this, your Honda Civic EK's exhaust flow can be much more efficient, and this will result in the reduction of the back pressure experienced by your vehicle.
#3 Spoon Sports Stainless N1 Muffler
Manufacturer: Spoon Sports
Part Number: 18030-EG6-011
Compatibility: Honda Civic EK9 (1997-2000)
If you own a Honda Civic EK9, first of all, we'd like to congratulate you.
Having the Type-R hatchback beast of a car means that you've got the money, and for that, we're going to give you an exhaust system made by the most renowned premium JDM Performance car manufacturer: Spoon Sports.
For the Honda Civic EK9 Type-R, Spoon Sports have their Stainless N1 Muffler ready to be fitted into your car.
Since it's just a muffler (for the price of a full exhaust system), it'd be best if you fit it with a Spoon Sports exhaust pipe.
The Spoon Sports Stainless N1 Muffler is ideal for street and circuit enthusiasts who only want the best components for their cars. Spoon Sports designed this exhaust system to maximize the exhaust gas flow of your vehicle as much as possible.
Developed and used by Spoon Sport's own race cars, you can guarantee that this product is not just the average run-of-the-mill exhaust you'll encounter on the internet.
Many car enthusiasts love this exhaust because even though it's pretty expensive, it works very well on a project car that's gonna be thrown into both track and endurance racing.
#4 APEXi WS2 Catback Exhaust System
Manufacturer: APEXi
Part Number: 116-KH01
Compatibility: Honda Civic EK (1996-2000)
Now, if you've frequented the Honda Civic EK forums, then you may have an idea of how EK Civic owners love their APEXi WS2 exhausts. This exhaust system has gained a lot of praise due to its "sleeper" look that comes with a lovely sound that fits the identity of the Honda Civic EK.
It's remarkable at average speeds, and it sounds loud enough at high speed but not very intrusive. This high-speed loud exhaust scream is fantastic because it doesn't accompany any weed-wacker kind of sound.
The APEXi WS2 Cat-Back Exhaust System is a street muffler that works well with the comprehensive capabilities of the Honda Civic EK. It's got a canister made out of polished SUS304 stainless steel accompanied with a 2.4″ mandrel-bent titanium-coated mild steel exhaust pipe.
This pipe ends with 4″ angle-cut exhaust tips, which look sublime from the rear end. If you've got the bank to break, we highly recommend the APEXi WS2 Cat-Back Exhaust System for your Honda Civic EK.
#5 Fujitsubo RM-01A Exhaust System
Manufacturer: Fujitsubo
Part Number: 160-52054
Compatibility: Honda Civic EK (1996-2000)
Weight reduction is an essential aspect of competitive racing. The lighter the vehicle is, the better its acceleration, braking, vehicle response, and cornering will be.
That's what the Fujitsubo RM-01A Exhaust System is made for: a competition-ready exhaust system that's gonna give you one hell of a great time on the track.
It's 50% lighter than the stock and is indeed a great modification, especially if you've transformed your Honda Civic EK as a track car.
What makes the Fujitsubo RM-01A Exhaust System the cream of the crop is that Fujitsubo gutted down all of its unnecessary components. The thickness of the materials got altered to achieve optimum weight that's ideal for competitive racing.
And even the pipe walls were thinned out! Fujitsubo assures you that it's durable enough to withstand punishment, thanks to its lightweight yet sturdy SUS304 stainless steel construction.
And although it's priced at a premium, there's no doubt that the Fujitsubo RM-01A Exhaust System is an ideal pick for drivers who are seeking an adrenaline-filled experience on the track.
#6 Tanabe Medalion Touring Cat-Back Exhaust System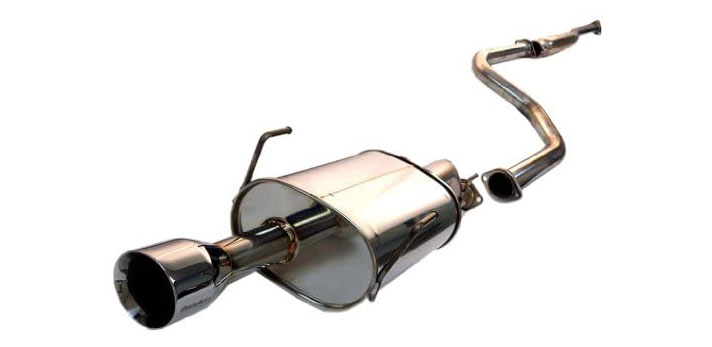 Manufacturer: Tanabe
Part Number: T70017
Compatibility: Honda Civic EK (1996-2000)
If you're a seasoned car enthusiast and you haven't heard of the Medallion exhausts, then you're probably living under a rock.
The Medallion cat-back exhausts are amongst the most critically acclaimed aftermarket exhaust systems in the Civic world for their unbelievable build quality and their knack for a pleasant and smooth sound.
If you think that's an exaggeration, just check out the forums and customer reviews to clear out your skepticism.
If you're weary of searching for a great exhaust system that will both look and sound great on your beloved Honda Civic EK, then it's about time you rest, for here's the Tanabe Medalion Touring Cat-Back Exhaust System.
This exhaust system boasts of a straight-through design that offers weight reduction and an increase in performance gains. On top of that, it provides you with an optimal ground clearance which is great if you've got your car's suspensions lowered.
And also, you can enjoy a clean, deep, and pleasant tone all across the RPM ranges. The secret behind this kind of sound output is Tanabe's use of an advanced packing material that suppresses the loudness of the exhaust while offering optimum exhaust flow at the same time.
There's no doubt that the Honda Civic EK is an ideal project car for many car enthusiasts today. With its sleek classic look, impressive suspension setup, and decent power output, you can actually enjoy this car both on the streets and the track.
Fitted in with the right aftermarket exhaust system, you can fully enjoy a whole new riding experience with the Honda Civic EK, unlike you've never had before.