The Toyota Tacoma, along with some pickup trucks like the Ford F-150, GMC Sierra, and Chevy Silverado is one of the most effective pickup trucks ever manufactured. Its towing and hauling capacity is great, it looks aggressive, and most of all the adventures in the frontier are more fun whilst riding this one.
To further increase Toyota Tacoma's effectivity and performance, you may need to make a few touches upon some spots. One of the best modifications that you can do to a Toyota Tacoma is to replace its OEM exhaust system with a new one.
Aftermarket exhausts are prevalent in the market and it's not hard to find one.
However, picking the best Toyota Tacoma exhaust can be tricky, that's why we're here to help you out! We've made a list of the best exhaust for Toyota Tacoma so you can save up your time and head straight into picking one.
These exhaust systems will sure do your truck a lot of good.
What are you waiting for? Check them out!
#1 Borla S-Type Cat-Back Exhaust System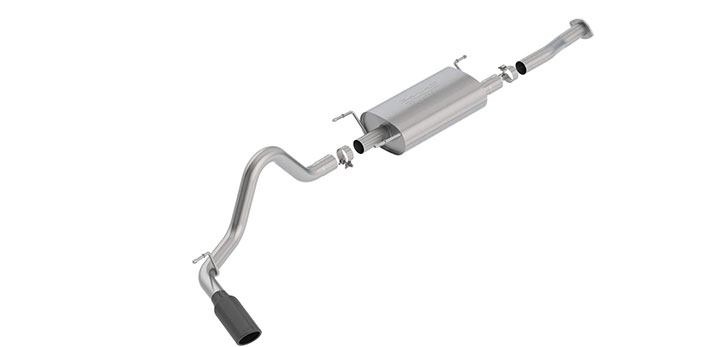 Manufacturer: Borla Exhaust
Weight: 40lbs
Part Number: 140680BC
Compatibility: Toyota Tacoma (2016-2020)
Have you ever heard of Borla Exhaust? Not yet? Then you're missing out a lot! They have made quite a lot of aftermarket exhausts for various types of vehicles. They are experts in making the best exhausts and they will pamper your Toyota Tacoma very well.
Putting your beloved Toyota Tacoma under their wings will be worth it.
So what's with the S-Type Cat-Back exhaust system? Each of these is made from high-quality T-304 stainless steel to make the entire exhaust system up the ranks when it comes to reliability.
The pipes are also mandrel-bent to make sure that the exhaust gas flow is optimal enough to create a significant additional horsepower for your truck.
The best thing about this one is its exhaust design. Their patented straight pipes and multi-core technology exhume all the hidden horsepower that you can use to increase your Toyota Tacoma's power output.
Their R&D alone is committed to bringing out the best from your truck!
#2 Gibson Cat-Back Single Exhaust System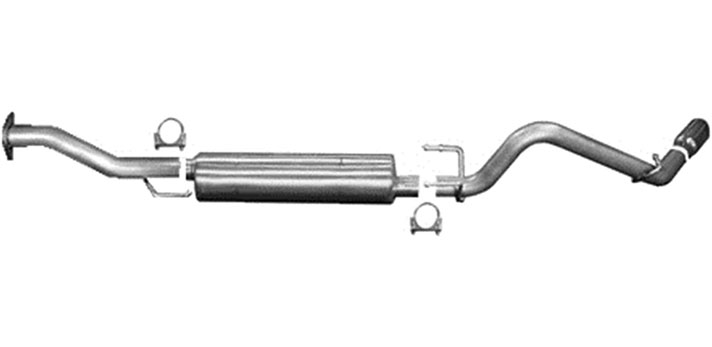 Manufacturer: Gibson Performance
Weight: 35.7lbs
Part Number: 618814
Compatibility: Toyota Tacoma (2016-2020)
For the second single exhaust cat-back system on the list, we have Gibson Performance and their single exhaust system. This one is perfect for you if you love to push your Toyota Tacoma to the limits.
Do you want improved acceleration? Check.
Do you need the maximum hill-climbing performance? Check.
What about additional towing power? Check!
The Gibson Performance exhaust may be cheap, but it packs a lot of punch. Made from stainless steel and mandrel-bent to perfection, this exhaust system says a lot about an increase in horsepower.
Dyno-tests shows that your Toyota Tacoma can gain up to 5-7 additional horsepower and 20lb-ft of additional torque. Not bad!
To add the cherry on top, the whole exhaust system is very easy to install. And also, don't expect too much drone while driving because there will be little to none. For such a low price, this is the best Toyota Tacoma exhaust system on this list.
#3 aFe MACH Force-XP Performance Cat-Back Exhaust System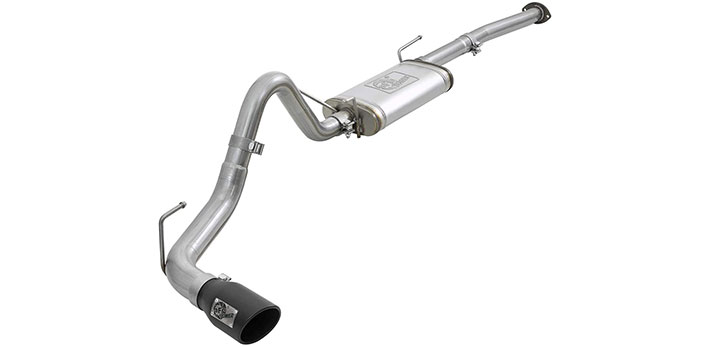 Manufacturer: aFe Power
Weight: 42lbs
Part Number: 49-46042-B
Compatibility: Toyota Tacoma (2016-2018)
By this point, it is safe to say that all pickup trucks have an untapped horsepower and torque that is just waiting to be unleashed. With an exhaust system like this one, you'll expect nothing but pure, raw, and unadulterated power and torque increase.
Behold, the Mach Force XP.
This exhaust system may look like any other exhaust system in this list but it has its unique benefits. aFe made sure to extract all the untapped horses and torques in your truck by utilizing 409 stainless steel pipes – mandrel-bent and MIG-welded.
It uses its straight pipe to make your Toyota Tacoma exhale all of those burnt gasses inside efficiently.
Aside from that, it has that awesome black stainless steel tip on the exhaust exits. You're not only getting power upgrades: you're getting a makeover baby!
The installation is hassle-free too, so don't worry too much and just enjoy the ride with the Mach Force XP.
#4 Flowmaster American Thunder Cat-Back Exhaust System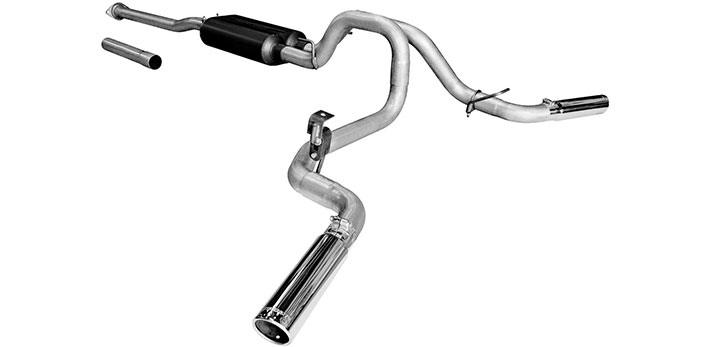 Manufacturer: Flowmaster
Weight: 44.8lbs
Part Number: 17432
Compatibility: Toyota Tacoma (2005-2012)
Flowmaster is a major name when it comes to pickup trucks and muscle cars. They've made countless cars and trucks perform better, and they could do the same to your Toyota Tacoma too.
Nothing says power and freedom like American Thunder, right?
At a fairly reasonable price, you can enjoy the following benefits that the American Thunder can give. One, sound. The American Thunder is Flowmaster's loudest exhaust. Two, upgraded towing capacity, acceleration, and fuel mileage.
And third, convenience. You won't be needing too much time and attention when installing this one. It's easy!
Every kit comes with all the necessary hardware that you'll be needing. Clamps, mounting hardware, instructions – you name it. The two-chamber muffler gives the American Thunder a nice finishing touch.
#5 MBRP Cat-Back Exhaust System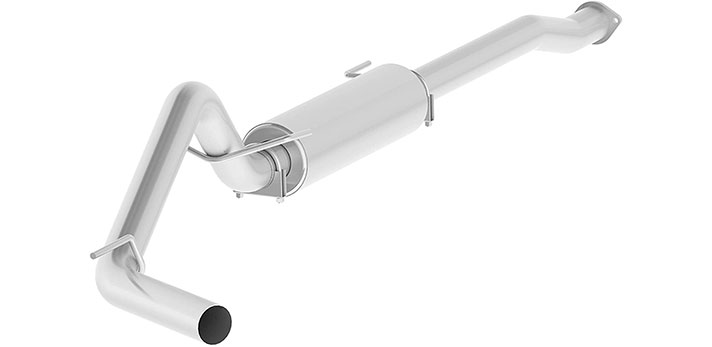 Manufacturer: MBRP
Weight: 55lbs
Part Number: S5338P
Compatibility: Toyota Tacoma (2016-2020)
This may be the cheapest one on the list, but don't let it fool you! The MBRP single exit cat-back exhaust is affordable, but it does its job well. This exhaust system is designed to be the flagship product of its Performance Series exhaust systems.
So what should you expect from this exhaust system? An increase in horses, torque, and mileage. The piping is made from entry-level aluminum. The mufflers smaller, and the sound is more aggressive and guttural than most of the premium exhaust systems out there. Neat!
There you have it! These are the best exhausts for Toyota Tacoma. They all vary in price, quality, and construction, so choose your best pick and enjoy all the benefits that your chosen exhaust system will bring!