Thirty-five years ago, Suzuki decided to overturn the sports bike market and showed the world what a real sports bike should be. And they did! Lo and behold, the Suzuki GSXR 750, a championship-winning 750cc performance sports bike capable of outrunning its competition – in style.
The Suzuki GSXR 750 belongs to the family of GSXR, a line famous for winning ten consecutive championships since 1999. The modern 2020 GSXR 750 in itself is an impressive sports bike that truly centers itself on the middle of the performance bike class.
This bike is awesome on its own, but what if we crank up its performance just a little bit? We can! By adding aftermarket exhausts, we can significantly improve its performance output. With that comes a definitive sound that GSXR 750 riders love.
Ladies and gentlemen, if you're looking to buy the best aftermarket exhaust for your GSXR 750, then see the list below. Go check them out!
#1 M4 GP Series Slip-On Exhaust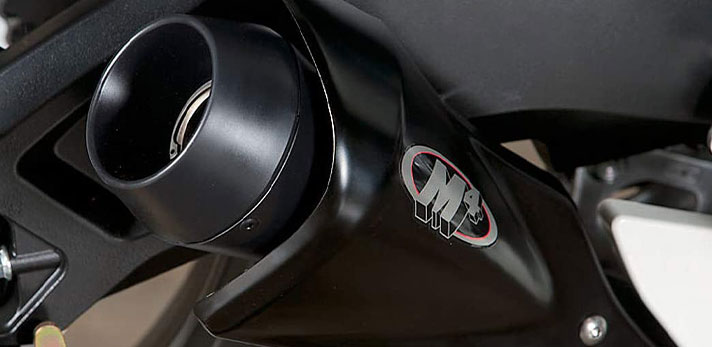 Manufacturer: M4 Exhausts
Weight: 4.24lbs
Compatibility: Suzuki GSXR 750 (2011-2016)
First on the list is the M4 GP Series Slip-On Exhaust. M4 made the GP series exhausts is specifically made to improve your bike's performance while reducing its overall weight.
Plus, it gives your GSXR 750 a nice definitive sound that M4 only has.
What do you get from purchasing this slip-on exhaust? It features an exhaust mounted lower, making the rider fit their foot conveniently without bumping it on the exhaust.
This exhaust also has a built-in baffle, creating that crisp attention-grabbing sound. It is also made from durable materials so you can be sure that it won't fail you.
The awesome thing about this slip-on exhaust is it is designed to work with the OEM header assembly. It's a slip-on; just literally slip them on! That's extremely convenient, especially if you don't have time to install a full-system exhaust. Neat!

#2 Yoshimura Alpha T Slip-On Exhaust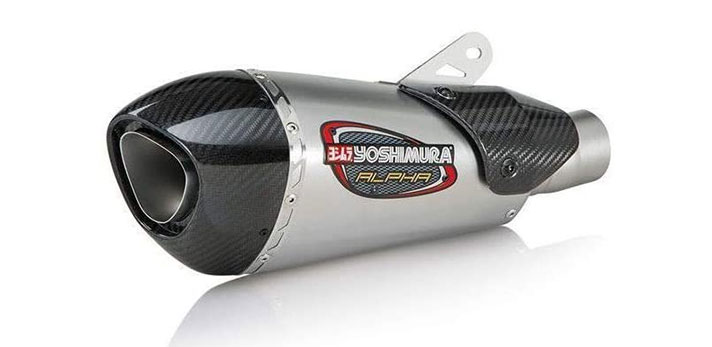 Manufacturer: Yoshimura
Weight: 4.4lbs
Compatibility: Suzuki GSXR 750 (2018)
What better way to improve a JDM motorcycle than to install a Japanese brand exhaust, specifically the Alpha T slip-on exhaust from Yoshimura. This is the real alpha exhaust.
Why? Aside from an iconic style that the Yoshimura products have, the company is well known for producing quality products that racers truly love.
What do you get from buying this exhaust? Well, a higher GP tone equates to a deeper and growling sound. The material is durable and is made from different types of metal depending on your choice.
On top of that, you can see how aggressive and stylish its looks is: a true alpha.
The best thing about this exhaust is that it is well-loved by many customers. According to them, the Yoshimura Alpha T is excellent in terms of sound and quality. It's also very easy to install too!

#3 Radiant Cycles Shorty GP Exhaust
Manufacturer: Radiant Cycles
Weight: 1.65lbs
Compatibility: Suzuki GSXR 750 (2008-2019)
We have another slip-on on our list, but this time, it's a shorty. A shorty exhaust is a, well, shorter exhaust that is typically bought by motorcycle owners for a specific reason.
Shorter exhausts generally enhance top-end horsepower while longer exhaust raises the low-end torque. This type of exhaust usually reduces the throttle's response to lower revs.
The Radiant Cycle Shorty GP exhaust gives you a durable, compact, lightweight, and easy to install shorty exhaust. By being just 2lbs in weight, it greatly reduces your GSXR 750's weight significantly.
Not mentioning the loud and boisterous sound that it makes. It's amazing!
One of its outstanding features is how light and durable it is. It's like putting on a massive toilet paper roll on your bike's exit exhaust pipes. Customers adore how hassle-free the installation is.
No need for extensive knowledge of bike mechanics to fit this one on your bike.

#4 Voodoo Polished Shorty Full System 4 into 1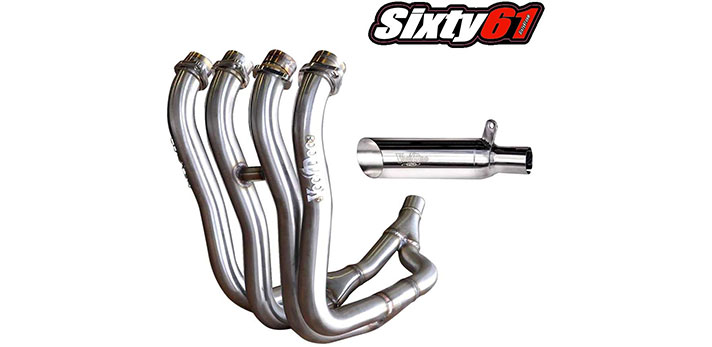 Manufacturer: VooDoo Industries
Weight: N/A
Compatibility: Suzuki GSXR 750 (2000-2005)
VooDoo Industries knows how to spoil their customers. That's why they've given them an alternative for a typical full-system exhaust – a 4-into-1 full-system exhaust. This type of full-exhaust system is just like the typical ones, but only on high-performance drugs.
Those extra exhaust pipes promote better engine exhaust flow and increase the power that the engine can make. This 4-into-1 full system-exhaust is made from high-quality stainless steel processed, bent, and welded to perfection.
It provides your GSXR 750 a tremendous power increase while making it roar like a beast.
In case you are not into loud-sounding exhausts, you can shut this exhaust up a little bit by purchasing a VooDoo Phantom Core silencer. This decreases to sound output by up to 8 decibels.

#5 M4 Street Slayer Slip-On Exhaust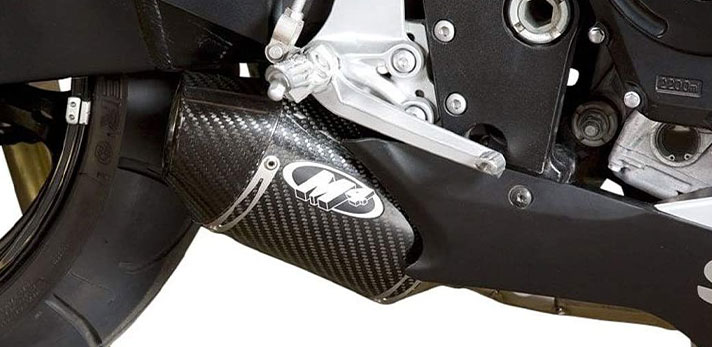 Manufacturer: M4 Exhausts
Weight: 5.64lbs
Compatibility: Suzuki GSXR 750 (2006-2007)
Last but not the least, we have another slip-on exhaust from M4 Exhausts, but this time it's from the Street Slayer series. This one is made from carbon fiber and is capable of slaying in the streets with its awesome sound.
By getting this slip-on exhaust, you're guaranteed to have a GSXR 750 infused with a race-spirited exhaust that will improve your power output significantly. Adding to that, the lovely aggressive sound that it creates is simply satisfying.
This slip-on exhaust is made from materials that are tried-and-tested to exhibit extreme durability. Slay the streets with the M4 Street Slayer Slip-On Exhaust.

The GSXR 750 is a legendary bike, and what does a legendary performance bike deserve? An upgrade, specifically an aftermarket exhaust. This will improve your bike's power output while rocking that sweet, low sound that we all love and adore.