The Dyna series of bikes from Harley Davidson are some of the most popular bikes in the US. They're much more nimble than the large touring bikes while also using larger engines than the Sportster.
The result is a perfect package between size, price, performance, and comfort. Unfortunately, Harleys sound pretty terrible straight off the showroom floor, and installing an aftermarket exhaust an absolute must.
Thankfully, the aftermarket for Harley Davidsons is massive, which means there are nearly endless choices for modifications. To help you find the perfect exhaust for your Dyna we've created this guide covering our favorite exhaust systems.
We've included different styles, sounds, and price ranges to help you narrow your search.
#1 Two Brother Comp S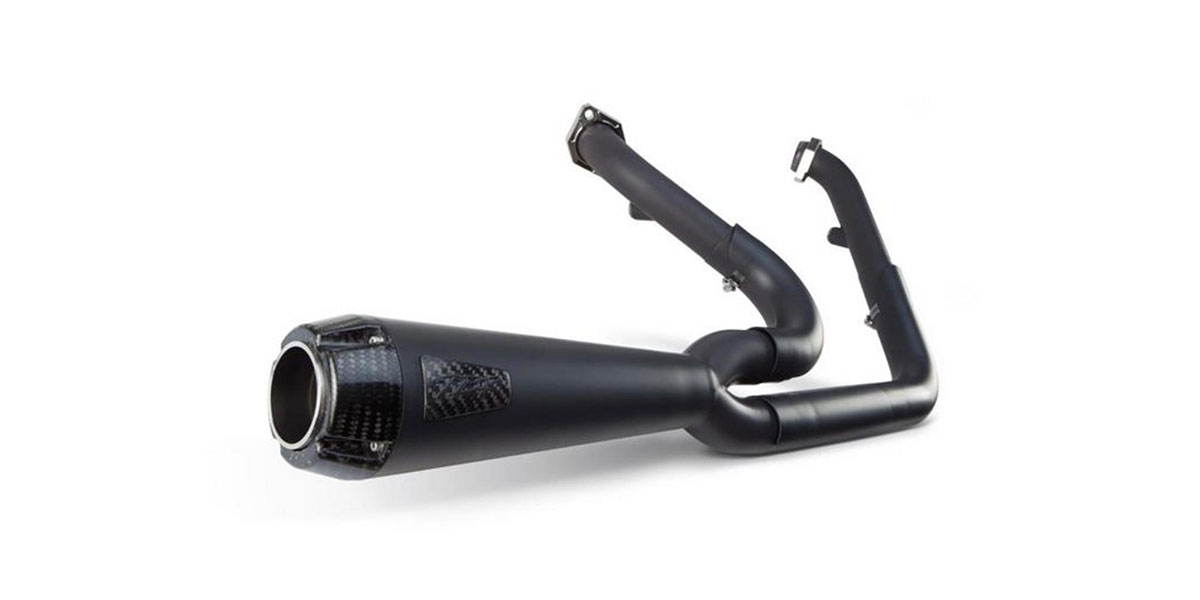 First on our list is one of the most popular choices for anyone building a performance-focused Dyna, which is the Two Brothers Comp S. This particular exhaust fits 06-17 Dyna models and it's available in polished stainless or a ceramic coated black finish.
2-1 Design
Carbon Fiber Cap
High-Clearance Fitment
What makes this particular exhaust so popular is the 2-1 design which provides superior exhaust scavenging compared to a 2-2 exhaust and the high clearance fitment. If you're the type of rider who's willing to push their Dyna to the limits, most exhaust systems will scrape when leaning to the right
Which this exhaust, the entire system sits up higher which improves ground clearance and allows you to lean further.
#2 Vance and Hines Short Shots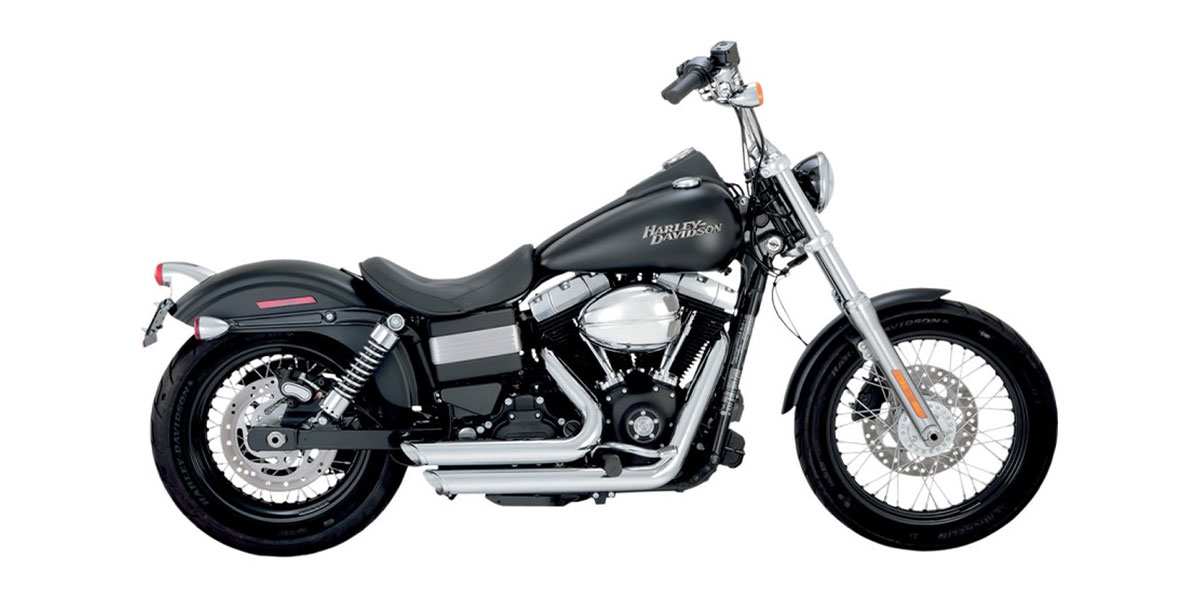 Next on the list, we're looking at the Short Shots from Vance And Hines. This system is very popular for those who want their Dyna to be as loud as possible. This exhaust is a 2-2 system that effectively no baffles or silencing.
Of course, this will make your Dyna obnoxiously loud, but for some Dyna owners, that's perfect. If you're looking for a more mild exhaust note, this system might be a bit too loud for you.
2-2 Design
Extremely Loud
Slash Cut Tips
The Short Shots are available in a Black or Polished finish, and both finishes feature a slash-cut design for the tips. For most Dynas, this exhaust will work with mid-controls and forward-controls. Best of all, this system is made in the USA!
#3 Cobra 909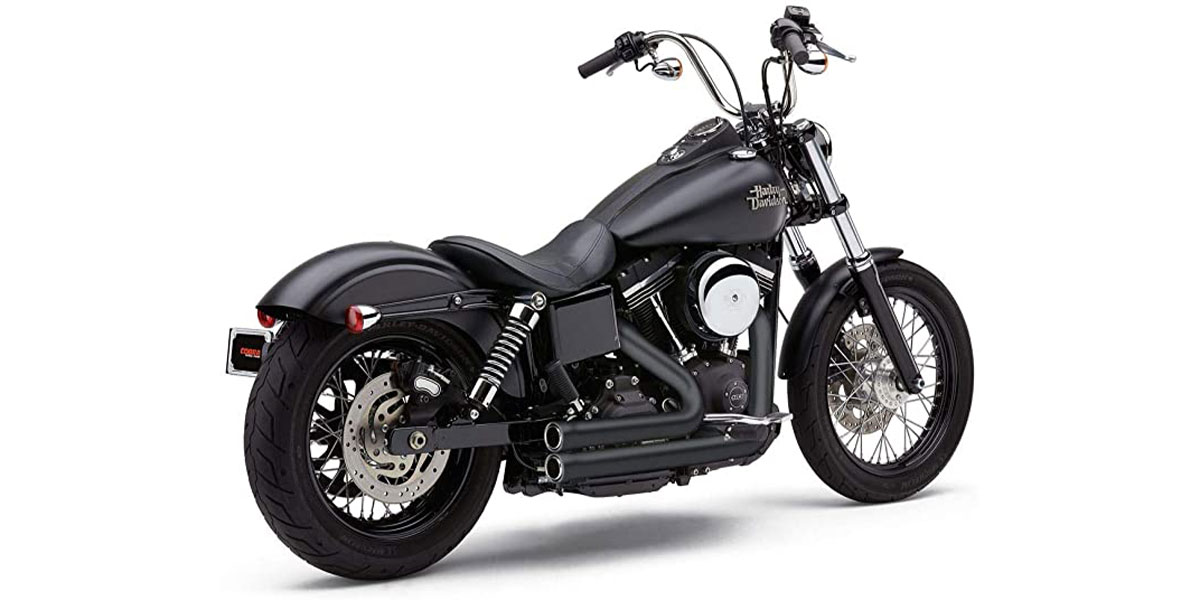 If you love nearly everything about the Short Shots but want something a little more affordable, we recommend the Cobra 909 system. Functionally, the Cobra 909 is nearly identical to the Short Shots.
It features a simple 2-2 design and the pipes follow a very similar path.
2-2 Design
Very Affordable
Straight Cut Tips
This exhaust uses triple-chromed, shotgun-style pipes with full-length heat shields and a chrome inner tip.
What makes this 2-2 exhaust unique is the lack of slash-cut tips. The straight cut tips are much more retro so if you're looking to give your Dyna a classic look, this is a great way to go.
#4 Bassani Road Rage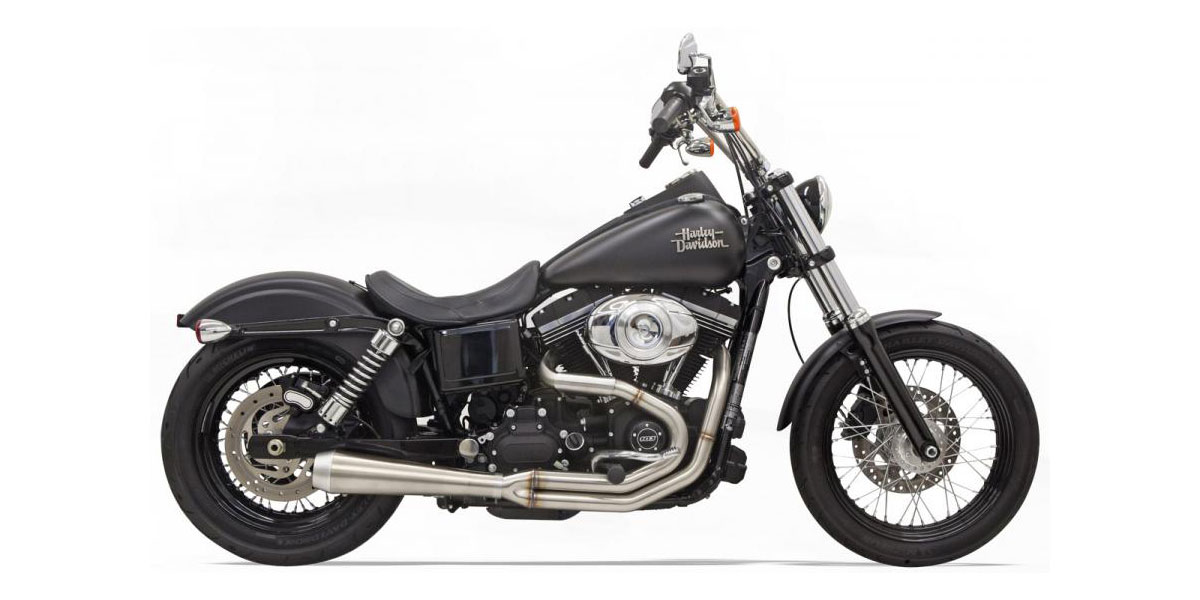 Next on the list, we have the Bassani Road Rage III, which is another 2-1 exhaust system. What's so special about the Road Rage III compared to most 2-1 systems is the equal length header design.
Equal length headers give you a different exhaust note than unequal length headers and more performance thanks to the improved exhaust scavenging characteristics.
Upswept Megaphone Muffler
Equal Length Pipes
Full Stainless Steel Construction
The head pipes on this particular system are stepped from 1-3/4″ to 1-7/8″. The collector features an advanced design that helps improve flow and scavenging even further.
The entire system is constructed from a high-quality stainless steel material with an upswept megaphone muffler. Best of all, Road Rage III is constructed in the USA!
#5 DRACULAEXTREME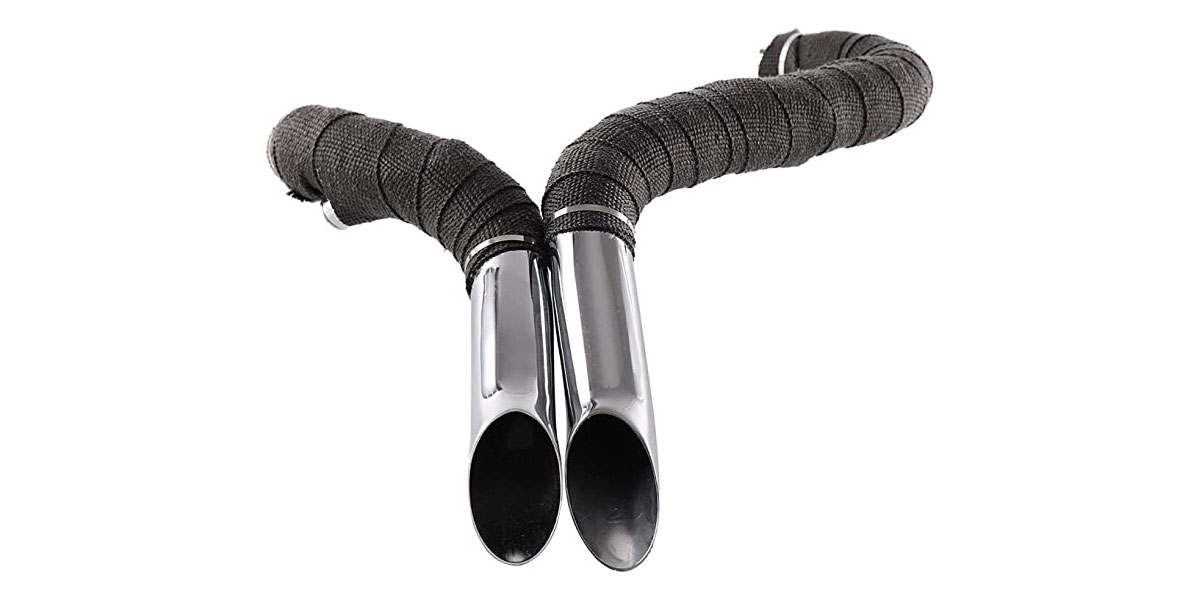 If you're looking for the absolute cheapest, loudest, and rawest system possible, then drag pipes are the perfect solution. More specifically, the DRACULEXTREME 2" drag pipes are the most popular option.
Before you order these, understand they WON'T work with mid-controls because of where the tips exit. You'll need forward controls to run this exhaust on your Dyna.
Cheapest System on the Market
Extremely Loud
Pre-Wrapped With Exhaust Wrap
An interesting feature of this exhaust is that they're pre-wrapped with exhaust wrap.
This helps keep the heat inside the exhaust instead of it roasting your leg. In many applications, exhaust wrap also helps increase exhaust velocity by retaining energy, but in the case of this exhaust, the pipes are so short that there are effectively no performance benefits to the exhaust wrap.
#6 Rinehart Slip-Ons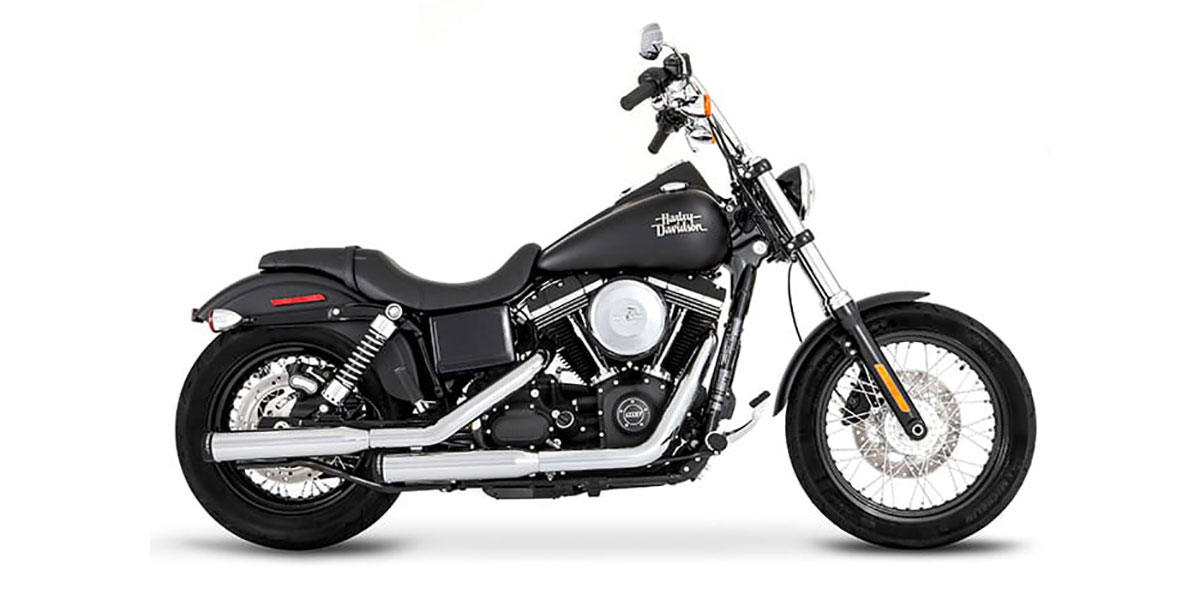 Of course, not all Dyna owners want to replace their entire exhaust system. if you're looking for a little added sound while leaving your OEM headpipes in place, slip-on mufflers are a great choice.
These slip-on mufflers from Rinehart feature a full chrome body with black tips.
Slip-On Design
Chrome Body
Black Tips
Installation for slip-on mufflers is super easy and requires no special tools. Just remove the old mufflers on your Dyna and slide these on!
With the stock headpipes in place, don't expect the same power gains as a full exhaust system, but you'll have a great exhaust note!
#7 Bassani Sweeper Radial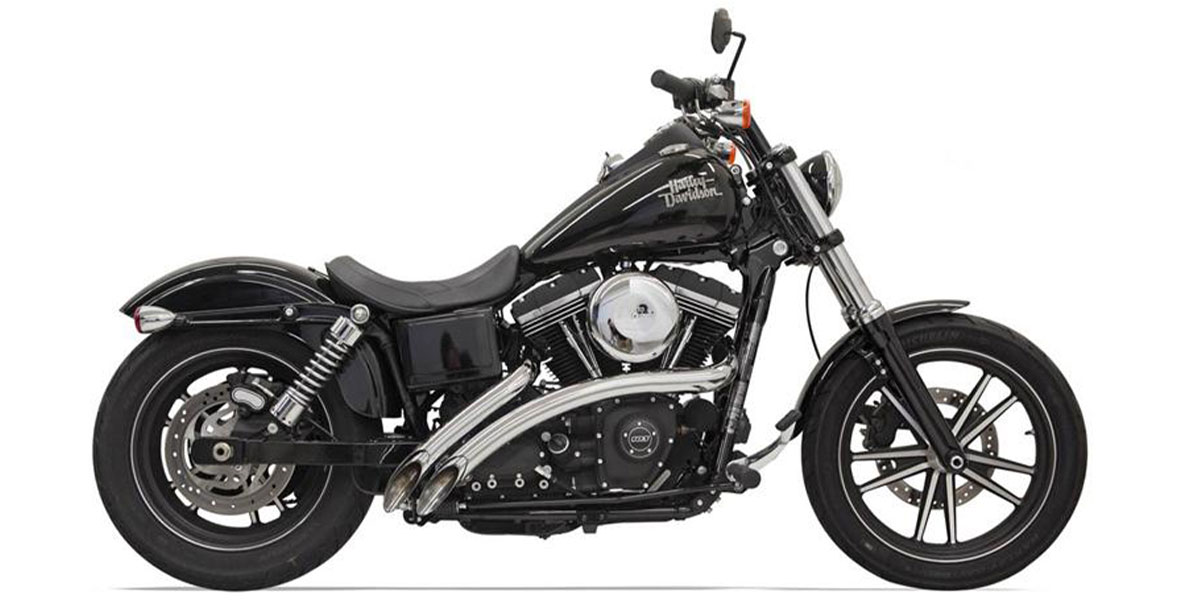 If you're not a fan of the typical exhaust pipe path that you'll find on most exhaust systems, the Bassani Sweeper Radial is a great alternative. What makes this exhaust special is the unique exhaust which doesn't route the front pipe under the rider's footpeg.
Instead, both pipes exit the engine near the engine case and sweep downwards.
2-2 Design
Unique Path
Slash Cut Tips
This system features no real baffling or silencing, so you'll get a very loud and raw exhaust note. The heat shields and pipes are all black and the tips are both slash-cut upwards.
#8 Freedom HD00047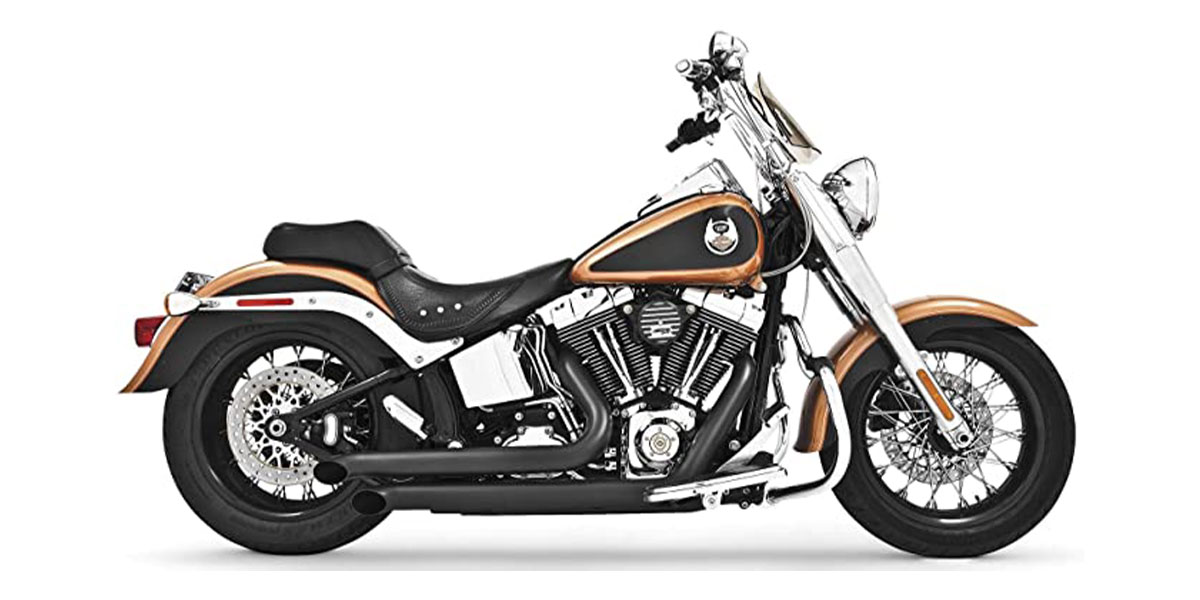 Last, but certainly not least, we're recommending the Freedom HD00047. This exhaust definitely has more of a classic look, with a 2-2 design and full-length pipes. The end of the pipes turns out with slash-cut tips.
The system is constructed from high-quality 2-1/2″ stainless steel, with 16-gauge heat shields to stop the heat from roasting your leg.
2-2 Design
Turn-Out Tips
Classic Appearance
This system is designed to work with mid-controls and forward-controls. It features a very sinister all-black finish and the entire kit is constructed in the USA for the best quality possible!