The Harley Sportster, as you probably know, is one of the most popular bikes in the world. It combines the sound and feel of a Harley into a smaller and lighter package than a Dyna or Touring bike.
The Iron 883 is a very popular Sportster model than many Harley owners use as their first bike. Naturally, you're going to want your Iron 883 to sound like a Harley, which means ditching the stock exhaust system for something louder.
The aftermarket industry for Harley Davidsons is massive and finding the perfect exhaust system for you can be tough.
To help you find the perfect exhaust for your Iron 883, we've created this short guide fo the best exhaust systems on the market.
#1 Vance and Hines Short Shots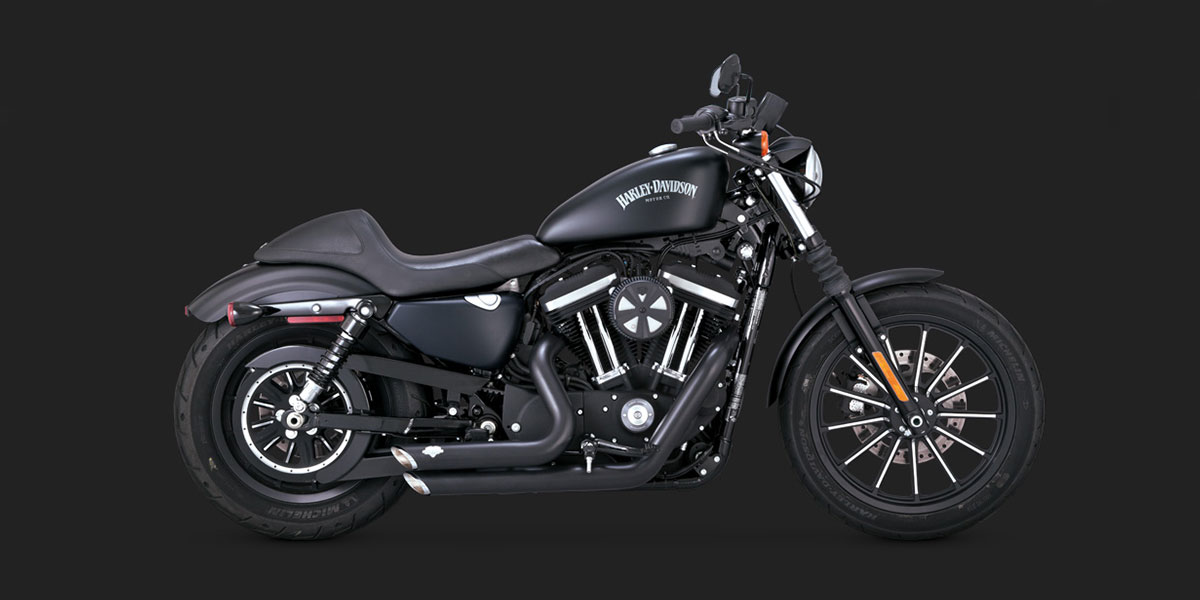 Right off the bat, we're going to look at one of the most popular Harley exhaust systems on the market, which is the Vance and Hines Short Shots. What makes these so popular for Iron 883 and all Sportster models is the simple appearance, minimalistic design, and very loud exhaust note.
If you're looking for a more mild exhaust note, this system might be a bit too loud for you.
True dual
Slash cut tips
Minimalistic design
This system is designed as a true dual system, which means the two pipes never converge at any point. Theoretically, this type of design doesn't improve performance as much as a 2-1 system, but you will still see decent power gains.
The pipes feature a twin slash cut tip and a Matte Black or Polished finish. Best of all, this system is made in the USA!
#2 Bassani Radial Sweepers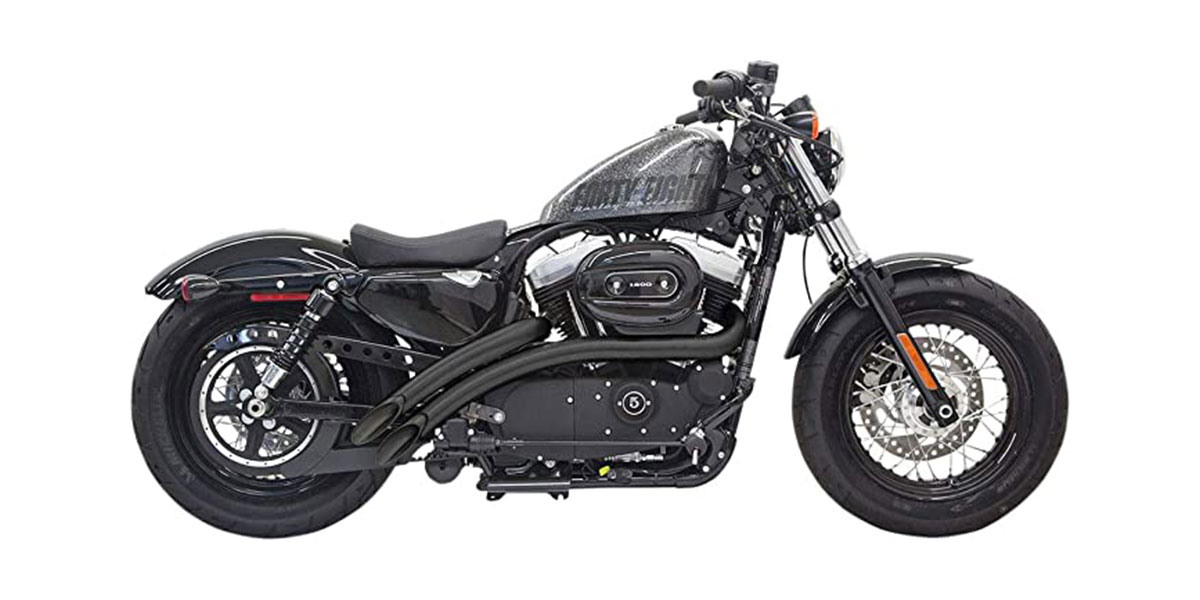 As a very loud and very stylistic alternative to the Vance and Hines Short Shots, we recommend the Bassani Radial Sweepers. What makes this exhaust special is the unique exhaust which doesn't route the front pipe under the rider's footpeg.
Instead, both pipes exit the engine about the case and sweep downwards, pointing the tips toward the floor.
True dual
Radial piping
All black appearance
This system is also a true dual system and provides very little sound baffling. The system is constructed from 16-gauge double-wall steel and finished with a very sinister black color. The tips are very slash cut and have a very unique appearance.
Unfortunately, this system is more expensive than many other options, but the unique styling may be worth it to you!
#3 Bassani Road Rage 3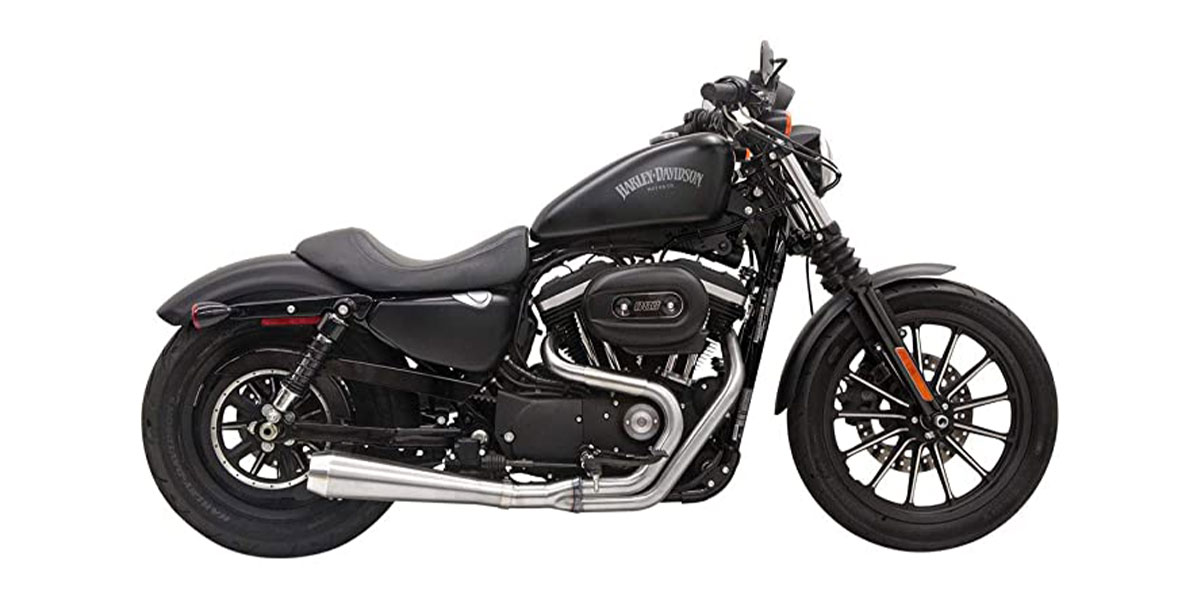 If you're a fan of the Bassani brand and sound, but want the exhaust performance characteristics of a 2-1 system, then the Road Rage 3 is a great option. This system uses equal length headers merged into one larger pipe with a baffle.
The equal length design helps improve exhaust scavenging and thermal efficiency, which ultimately means more power for your Iron 883!
2-1 design
Equal length headers
Stainless steel finish
Besides the improves performance, many Harley enthusiasts prefer the sound of a proper 2-1 system, which is much more refined than an extremely louder dual system.
Unfortunately, if you believe in making everything black, you'll be disappointed to find out this system has a raw stainless steel finish.
#4 Cobra 909 2-to-2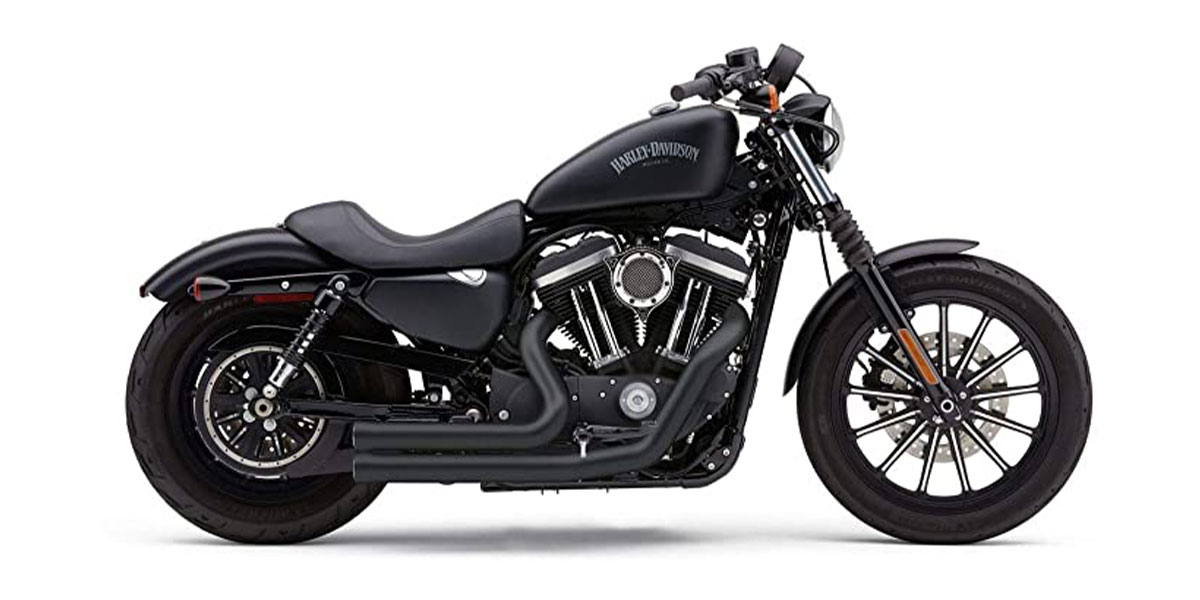 If you're a fan of the simplistic design of the Short Shots, but want something more affordable then the Cobra 909 is a great option. Functionally and stylistically, the Cobra 909 is very similar to the Vance and Hines Short Shots, but without the slash-cut tips. Instead, the tips are flat and give the Iron 883 a more classic appearance.
2-2 design
Black finish
Very affordable
The very affordable price tag is the real reason for the 909's popularity, and it is one of the more affordable options on this list.
#5 SHARKROAD Drag Pipes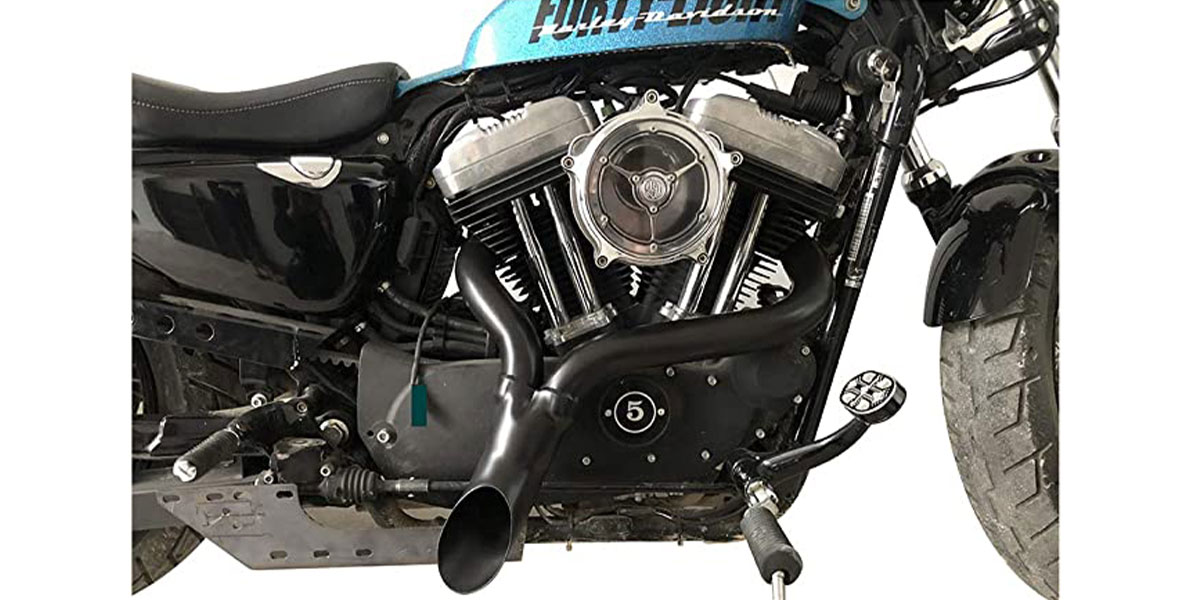 If you're looking for something super cheap, super loud, and very raw looking, the SHARKROAD drag pipes are a great option for you. This exhaust is the cheapest system we could find for the Iron 883 and that's possible thanks to the very minimal design.
As you can tell from the photo above, this system simply converges both pipes and aims them down.
2-1 dump design
Cheapest system on the market
Extremely loud
While the straight down dump design is very cool, it's not something that works with mid-controls. This system will only fit your Iron 883 if you have forward controls installed.
This system will fit all Sportster models from 2004 to 2020 and even includes the necessary bungs for models that require O2 sensors to run properly!
#6 Freedom Performance Staggered Dual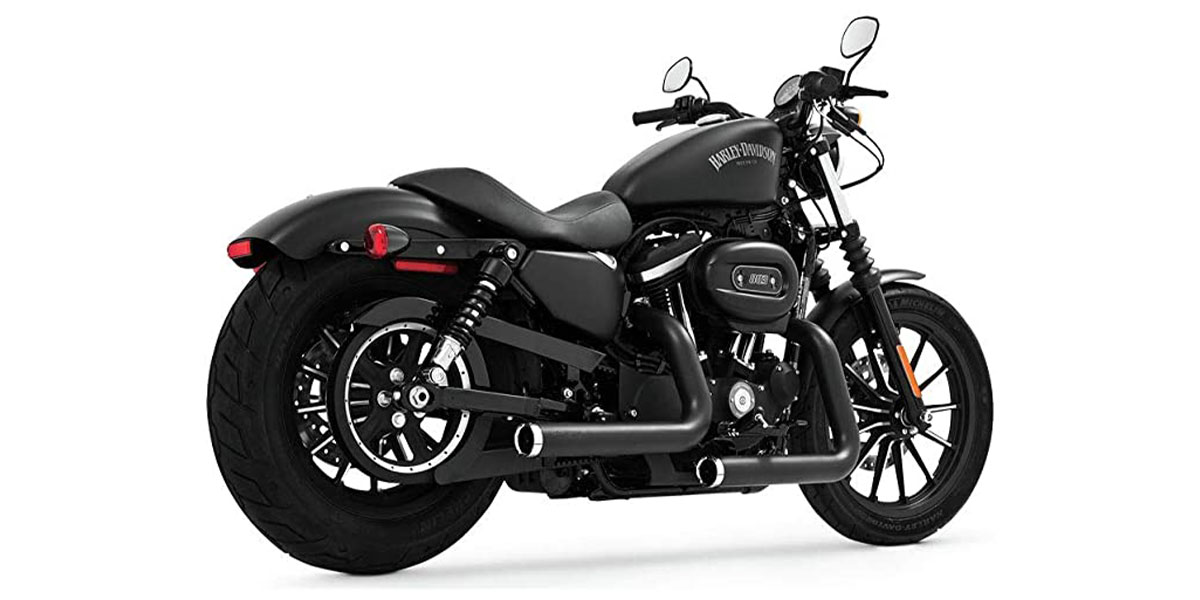 Last but certainly not least is the Freedom Performance Staggered Dual, which is the only 2-2 system on the list with equal length pipes. Because of the 2-2 design, the equal length pipes have no real performance benefit, however, they provide a unique sound and appearance.
Dual staggered
Black or Chrome finish
Equal length pipes
Aside from the unique design, this system also offers a Chrome or Black finish depending on your taste. The system features 220° one-piece 16-gauge heavy-duty steel and removable baffles for those who want their Iron 883 to be as loud as possible.