The Nissan 240SX S14 is among the best naturally aspirated cars that have hit the market since its earliest arrival in the US. It's stylish, it can be handled pretty well, and most of all, it's impressive performance-wise.
Many JDM car enthusiasts have expressed their love and respect for the car because this has a rich culture of being an impressive piece of art in its trunk.
The car's openness to modification is among the reasons why car enthusiasts love it so much. In the pursuit of hard-core performance and aesthetically pleasing looks, the aftermarket scene has been motivated to manufacture a variety of products.
Along with this pursuit, many high-quality aftermarket components have been left on the trail, waiting to be installed on a car like the Nissan 240SX S14.
One example of such modification is the air intake system. If you're not already familiar with the function of an air intake system, don't worry. We'll briefly explain it to you.
In a nutshell, an aftermarket air intake system allows your car's engine to breathe cleaner air, resulting in more efficient combustion. This translates to the car's ability to accelerate faster, generate more power, and have better mpg.
So if you're aiming to get the best air intake system to amplify your Nissan 240SX S14's abilities, then you're in such luck for arriving here. The list below features the best air intake that you can get for your car.
They all have something unique to offer, so make sure to stick around, check them out, and see what suits your preferences the best!
#1 DC Sports Short Ram Intake System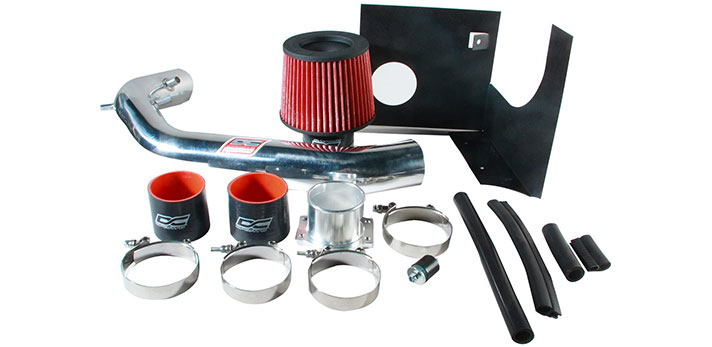 Manufacturer: DC Sports
Features: Heatshield
Power Gain: N/A
Compatibility: Nissan 240SX S14 (1995-1996)
The short ram intake from DC Sports is a great example of an air intake system that can give you the best of both worlds: first is heat protection, and second is better breathability.
DC Sports have a knack for making high-quality air intake systems that truly responds to the car and the customer's needs. One such example of their high-quality product is this short ram intake.
Each of their intake kits has an air filter that doesn't require any oil for it to function efficiently. That also means that you can say goodbye to the possibility of getting the intake track oiled all over.
The piping is made from aluminum, which is great if weight reduction is an important factor for you. The air filters utilized by this short ram intake don't need oil. It's reusable, washable, and is pretty easy to install.
What adds icing to the top on the top, the short ram intake also comes with a heat shield. This makes sure that no hot air can enter your engine.
That's a great addition to the kit, because when hot air gets sucked in the engine, the combustion of the air-fuel mixture is greatly affected, and thus making the engine less efficient.

#2 Injen Technology Short Ram Intake System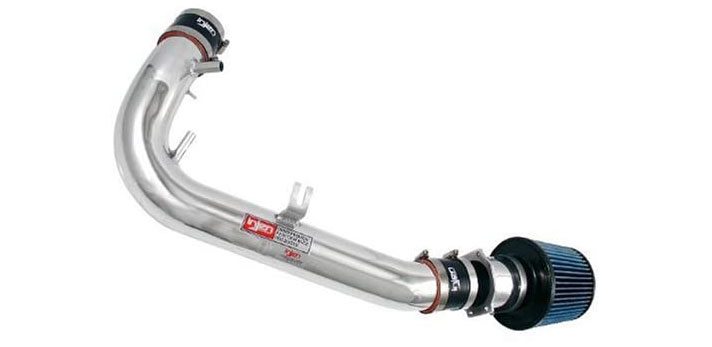 Manufacturer: Injen Technology
Features: SuperNano web dry air filter
Power Gain: N/A
Compatibility: Nissan 240SX S14 (1995-1996)
Injen Technology belongs to the roster of the manufacturers who makes the best intake systems for Nissan 240SX S14. They are very well known for producing top-tier aftermarket performance parts like this short ram intake here.
This is the intake system for you if you've been wanting to have an intake system that prioritizes supreme filtration and as well as an increase in horsepower and torque output.
What makes this intake system so good? For starters, Injen crafted the intake system's tubing from aerospace-grade T6-6061 stainless steel. This makes the tubing strong, lightweight, and incredibly resistant to corrosion.
The tubing is also mandrel-bent to minimize pipe losses. And also, it utilizes two layers of surgical gauze cotton to filter the air as best as possible for the engine to breathe in.
All of these attributes from Injen Technology's short ram intake system translate to improved airflow which aids the engine burns the fuel faster. And in turn, you get to enjoy a Nissan 240SX S14 with much better throttle response and an even better fuel economy.
What's more to ask?

#3 K&N Cold Air Intake Kit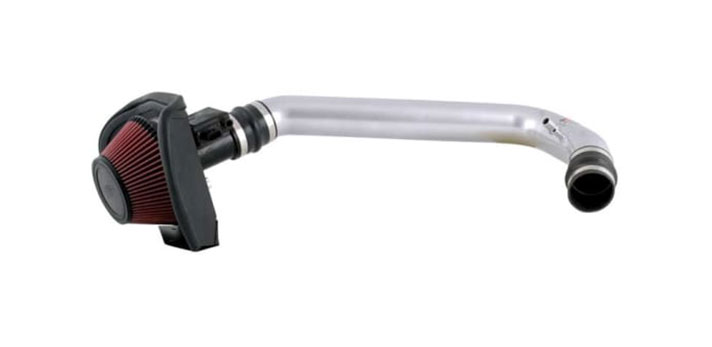 Manufacturer: K&N Engineering
Features: High Flow air filter
Power Gain: 4.94hp
Compatibility: Nissan 240SX S14 (1995-1998)
Now, if you want to settle with an air intake system that has been tried, tested, and recommended by many previous customers, then you should check out what K&N Engineering and its filters can offer you.
K&N Engineering is arguably known as the most popular brand of the intake system. This cold air intake kit is a testament to their attention to detail, product quality, and most of all, customer satisfaction.
So what does this cold-air intake kit do for your Nissan 240SX S14? With this cold-air intake installed on your car, you're guaranteed to have up to a 4.94hp increase. That may not be much at the first glance, but it's an indication that this air filter is doing its job pretty well.
The aluminum intake tubes are connected to a High Flow air filter that specializes in exceptional filtration through the use of layers and layers of filtration media. This cold air intake system is low maintenance and the filter only requires to be cleaned and maintained once every 100,000 miles!
That is under regular road conditions, of course.
And oh, did we mention that a custom heat shield is included in the package? What about a limited million-mile warranty? Those are bonuses! Overall, K&N Engineering is well-loved due to the attention and care that they give to their customers.
Car enthusiasts have always wanted an intake system that will exceptionally filter the air, and K&N listened. Thus, their cold-air intake system.

#4 APEXi Super Suction Kit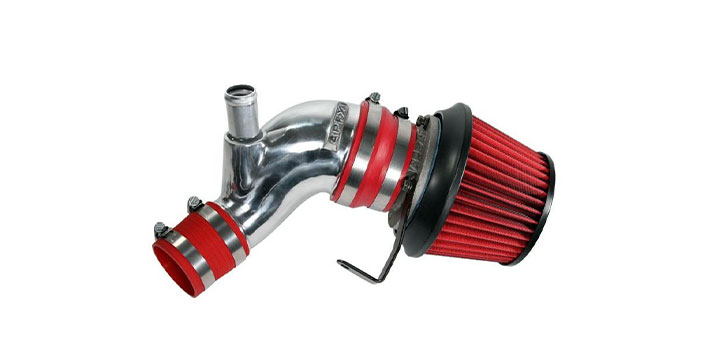 Manufacturer: APEXi
Features: Stock MAF Meter Jspec
Power Gain: N/A
Compatibility: Nissan 240SX S14 (1995-1999)
If you're a hardcore Nissan 240SX S14 enthusiast and you've been having the itch to transition their fuel injection system to D-Jetro, switch their airflow meters to capable ones, and replace their intake system all at the same time, then we have something for you.
That may sound like a situational overhyped statement, but you can get those three with APEXi's Super Suction Kit.
This Super Suction Kit allows its users to awaken the sleeping beast inside of their engines. This kit comes with the following: a replacement intake pipe with a filter, an L-Jetro airflow meter clip, and all of the hardware that you'll need.
Although keep in mind that other separately sold components like pressure sensors are needed to be installed first for the D-Jetro versions.

#5 CXRacing Intake Pipe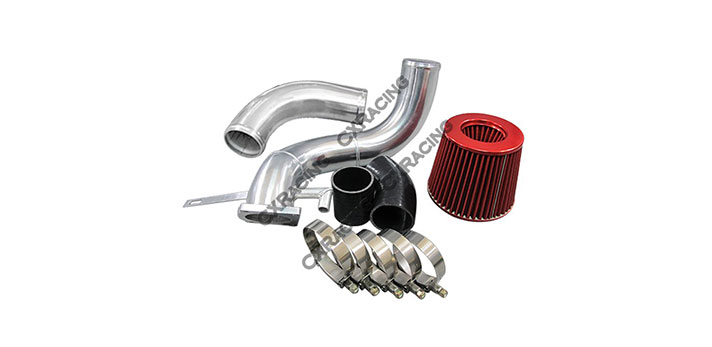 Manufacturer: CXRacing
Features: N/A
Power Gain: N/A
Compatibility: Nissan 240SX S14 with RB20/25DET engine swap
For the last entry, we have something special. This is an intake pipe specially made for Nissan 240SX S14 that has its engine replaced with an RB20DET or RB25DET engine.
It increases the airflow that the engine gets and makes the Nissan 240SX S14 perform better. This 2.75" throttle body intake pipe replaces the factory intake pipe and the blow-off valve with a 6" long cast aluminum pipe and 3" blow-off valve flange pipe.
The package includes an aluminum intake pipe, a black silicone hose, some T-bolt clamps, and a blow-off valve. This intake pipe is a special case, and therefore, it needs special attention.

Benefits of Installing an Air Intake System on a Nissan 240SX S14
Are air intake systems worth the money? Of course, they are! There are significant benefits that you can get from getting an aftermarket air intake kit installed on your Nissan 240SX S14. Here are some of them:
Additional Horsepower and Torque Output
What an air intake system does is it optimizes the combustion of the fuel inside the cylinders. Once the cylinders fire up better than it used to be, then you can get a certain amount of additional horsepower.
This may not be as much as you'd expect, but it certainly helps out the car in so many ways. It also improves the car's throttle response and is handy for sudden acceleration.
Better Fuel Economy
An aftermarket intake system makes your car more fuel-efficient. This is because the fuel is getting burnt easier thanks to the excess air that is flowing into the engine. Aftermarket intake systems make sure that your engine gets cold and oxygen-air, hence better combustion and better fuel economy.
Louder Engine Sound
The stock intake system is meant to be low-profile. Manufacturers know that, so they gave car enthusiasts the chance to go fast and go loud. Aftermarket air intake systems make your car roar louder than ever before, and that is because of all the excess air that the engine is getting.
The Nissan 240SX S14 greatly benefits from aftermarket intake systems. Since this car is mainly used for drifting, the owner's life gets so much easier thanks to all of the benefits that aftermarket intake systems offer.