The Kawasaki Ninja 400 is arguably one of the best beginner motorcycles one can get. Succeeding the Kawasaki Ninja 300, this bad boy has increased capabilities compared to its predecessor.
It has lighter chassis, stiffer suspension, and an engine that contains a large air-box for more efficient intake together with a downdraft intake. Released to the market in February 2018, this is one of the most favorite choices of beginners who want to experience the power of a superbike.
It's powerful, faster, and more user-friendly. Although a lot of doubt that it can be classified as a starter motorcycle, the Kawasaki Ninja 400 speaks for itself.
One of the problems that the Ninja 400 encounters are the overbearing size of the exhaust. If you ride your Ninja using the balls of your feet, you'll feel your feet bump against the exhaust.
One way to fix that is to replace the stock exhaust with a new one. Luckily for you, we've made a list of the best aftermarket exhaust out there that you can choose from.
Don't keep your Ninja 400 waiting. Let's jump right on to the list!
#1 Two Brothers S1R Black Series Slip-On Exhaust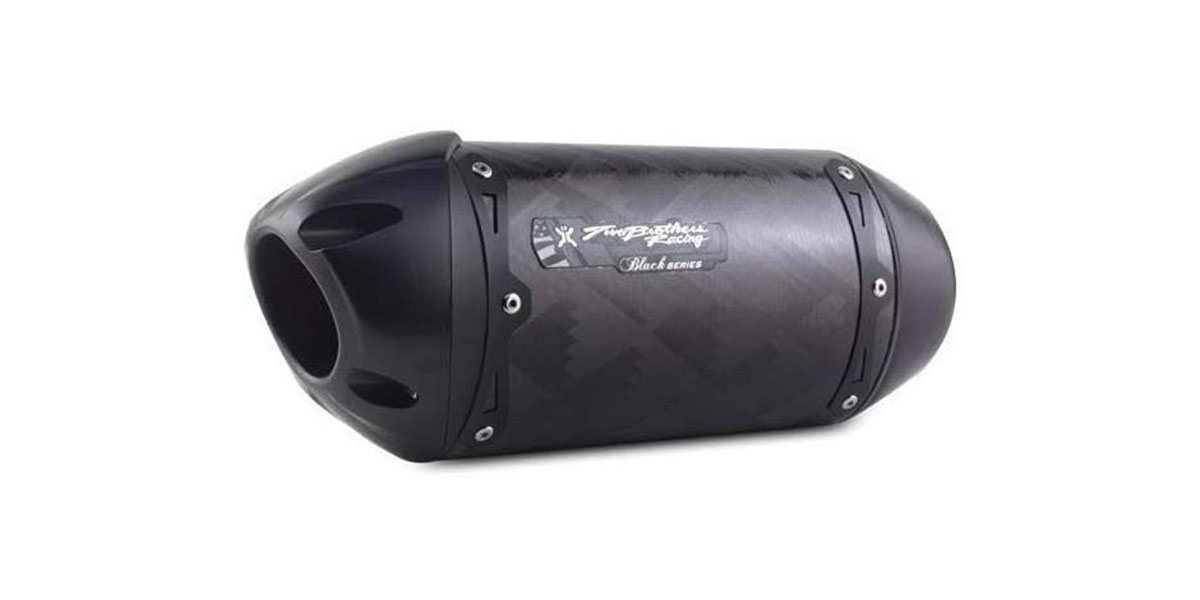 First off, we got the Two Brothers S1R Black Series Slip-On Exhaust made out of carbon fiber. The Two Brothers we're pretty good at racing, then they've realized they're pretty good at making exhaust system for motorcycles too
The S1R Series exhausts use a spring system to mount the motorcycle header pipe, a carbon fiber muffler, and an end cap with a sleeker design that gives the modern aesthetic vibes on it.
Choosing the S1R Black Series Exhaust for your Kawasaki Ninja 400 will mean additional power, weight savings, and that Two Brothers sound that we all know and love – but only beefier and louder.
So what's with the Two Brothers S1R? This latest addition to their exhaust collection is made out of aerospace-grade carbon fiber and aluminum.
The end cap is made from magnesium and coated with Teflon, the inlet is connected with a spring instead of valves, and it has a perforated core inside, spiral wound to promote better exhaust gas flow.
The reviews for this slip-on exhaust are great. Previous customers claim that when they purchased this slip-on exhaust, it totally upped their Kawasaki Ninja 400 game to another level.
Some issues encountered with this involves difficulty in installation, but if you're a bike-savvy person, there's nothing to worry about.
#2 Akrapovic Slip-On Exhaust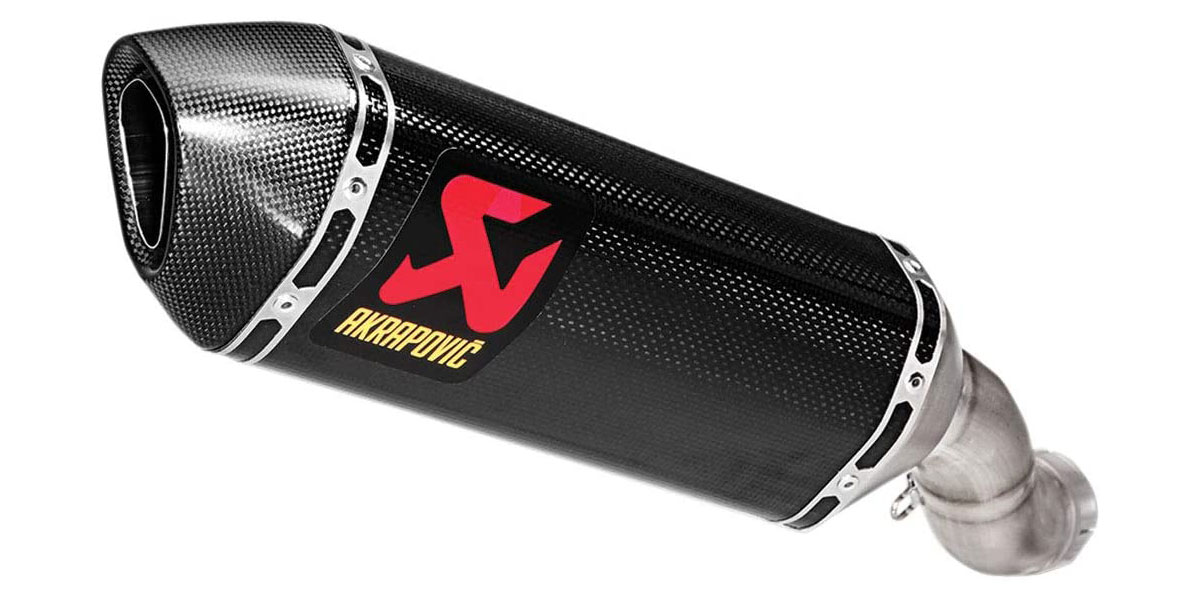 The exhausts that Akrapovic makes are considered to be one of the premium purchases that you can do when it comes to upgrading your exhaust.
Yes, they come off pretty expensive, but when you realize what the Akrapovic Slip-On can bring into the table, you'll be convinced that it's a worthy investment.
They set themselves high above the completion because they don't limit themselves when it comes to improving their exhaust's performance, look, and capabilities. If you're the type of person who wouldn't hold back in upgrading your bike, then the Akrapovic Slip-On exhaust is perfect for you.
The materials they use for their exhaust are nuts – they didn't really hold back. You'll see a ridiculous amount of carbon fiber; even the exhaust bracket is made of carbon fiber, which makes the whole muffler incredibly light.
The oval-shaped canister is a testament that they pay a crucial amount of detail on the design and construction of their product.
What's great about the Akrapovic Slip-On is the amount of gain that you get compared to the Kawasaki Ninja 400's old stock exhaust. By putting this slip-on on, you get an additional of 1.1HP at 10,200 RPM, 1.4lb-ft of torque at 3,250RPM, and a 58.5% weight reduction.
This justifies the fact that Akrapovic is notorious for having one of the most expensive exhausts in the market. But hey, a small price to pay for greatness, right?
#3 Hotbodies Racing MGP Growler Slip-On Exhaust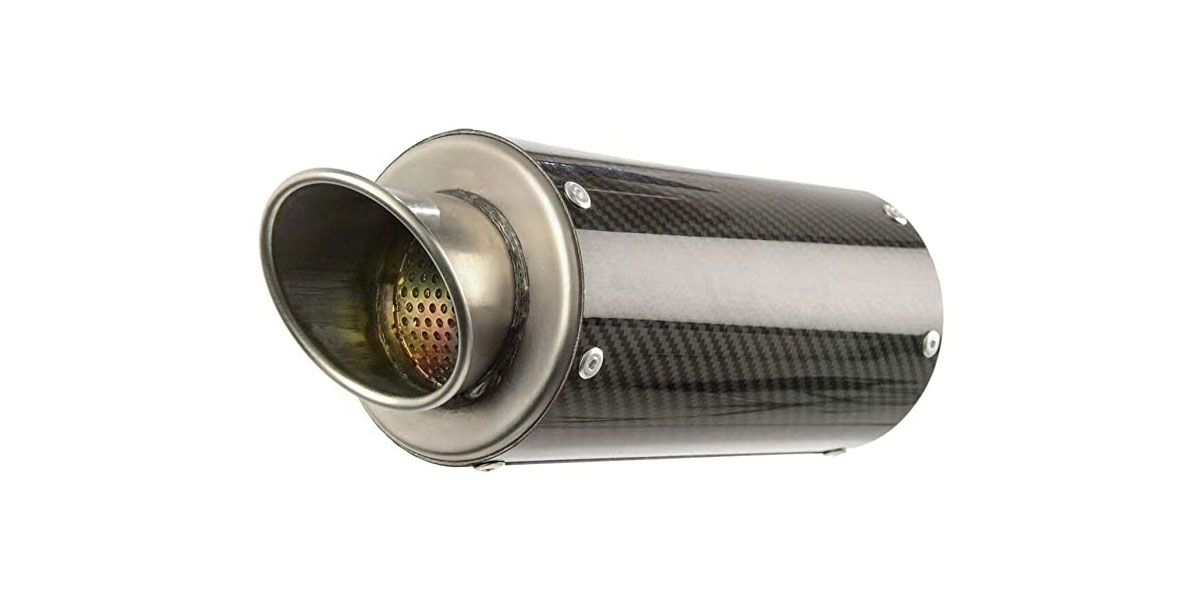 The third on our list is the Hotbodies Racing MGP Growler Slip-On Exhaust. If you're a big fan of European racing superbikes, then this slip-on is for you. Hotbodies made this exhaust to imitate the aggressive design of Grand Prix exhausts, selling them at a pretty reasonable price.
This slip-on is made from carbon fiber, which makes the exhaust itself really lightweight and durable. That's what you want in your motorcycle aside from the loud sound and the performance upgrade.
As you can see, the cylindrical canister has a beautiful carbon fiber finish. The insides contain a perforated core that increases the speed of airflow, the end cap is made from stainless steel and has a natural finish.
It may not look as intimidating compared to the ones shown above, but it's capable of improving your Ninja's power and torque by a handful.
What's so cool about this is that it's not that hard to install. Even someone with no knowledge in exhaust installation can do it! A lot of customers are pleased with the MGP Growler Slip-On.
#4 Yoshimura Alpha T Slip-On Exhaust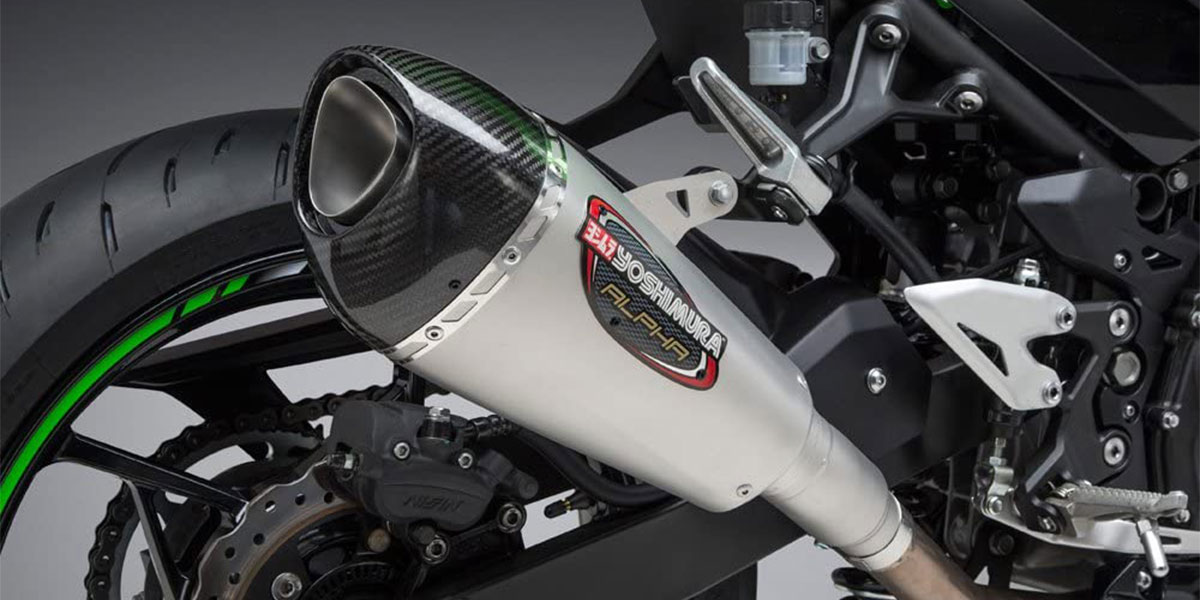 If the heavy metal music has a Big Four, then the Kawasaki Ninja 400 exhausts have one as well. The big fourth on our list is the Yoshimura Alpha T Slip-On Exhaust. Yoshimura is famous for its focus on Research and Development.
That's why they produce one of the best exhausts for motorcycles. If you're an aesthetic heavy person that wants an aggressive style for your Kawasaki Ninja 400, then you need a Yoshi.
Available in different variants such as street-stainless steel, stainless steel, carbon fiber, and Works finish, the Alpha T slip-on makes use of a conical sleeve that is responsible for a louder tone compared to the Yoshi Alpha.
This slip-on is considerably lighter than its predecessor, making it perfect for your Ninja 400.
What's cool about this is how well it looks together with the Kawasaki Ninja 400. It is as if they were meant to be! To be fair, the Yoshi Alpha T focuses a lot on aggressive aesthetics, and it coincidentally matched the alpha looks of the Ninja 400.