The whole idea of having a Kawasaki Ninja ZX-6R is to ride around a bike that screams performance, both on the track and on the street. One look at the Kawasaki Ninja ZX-6R and you'll have your jaws dropped.
Even if it's meant to race, it is capable of day to day commuting. Aside from its huge body and deep sound, it is widely known for having a strong acceleration in every gear in its whole rev range.
Some problems encountered by Kawasaki ZX-6R owners are the seat ergonomics and the fact that you can only feel the speed once you reach 62mph. That means upgrades and tunings are needed to compromise with the lacking properties the Kawasaki ZX-6R has.
Since it's a race-focused motorcycle, upgrading the exhaust system is a great idea, especially if you're looking for some extra oomph in the sound.
The stock exhaust already has a deep, growling sound, but there are a lot of alternatives out there that are capable of improving your ZX-6R's performance and as well as give the sound that will truly satisfy you.
If you're looking for the best exhaust for your Kawasaki ZX-6R, then this is the guide for you.
#1 Two Brothers Racing Black Series Slip-On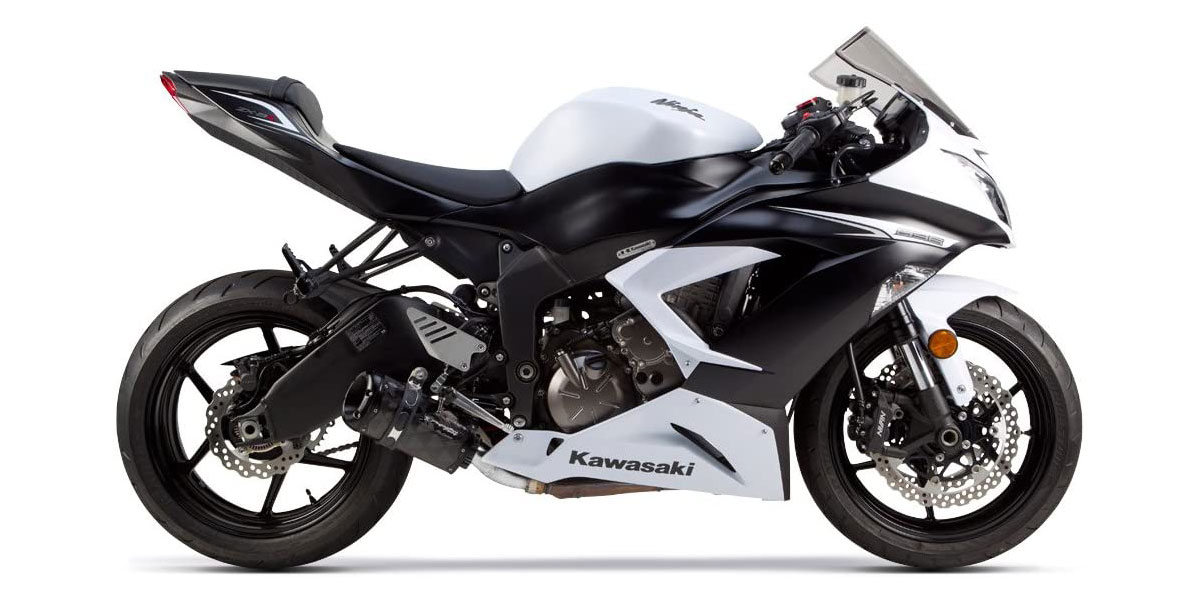 The Two Brothers Racing is known for manufacturing high-quality racing exhausts for a decently fair price. Take thr first exhaust on our list for example. This is the Two Brothers Racing Sli-On Exhaust System with a carbon-fiber canister.
This is one of the customers ' favorite buys when it comes to slip-on – for plenty of reasons. One look at this slip-on and you'll see that it's different from the rest.
The Two Brothers Racing Black Series Slip-On is custom made from military-grade carbon fiber. Its end inlet and outlet are made from black aluminum and is CNC machined to maintain precision-quality standards.
The insides are filled with a spiral-wound perforated core that promotes better airflow for the exhaust gasses. And obviously, the hardware has black aggressive accents. It's also available on aluminum.
What's great about this one is the reviews the customers give. Since this is a customer favorite, you bet that there's a lot of benefits from purchasing this slip-on exhaust. On average, the customers are very satisfied with the crazy loud sound it emits.
The only downsides with this exhaust is the need for a power commander if you removed your catalytic converter. Other than that, it's a worthy investment.

#2 Akrapovic Racing Full System Exhaust
The second on our list is the Akrapovic Racing Full System Exhaust. The Akrapovic is known for the top-tier quality exhaust that comes at a price. Since they priority performance, you can be sure that the Akrapovic will treat your ride like a professional racing motorcycle.
This line of Akrapovic full system exhausts is designed specifically for riders who want to push their Kawasaki ZX-6R to its fullest potential in terms of performance.
The Akrapovic Racing Full System Exhaust is far lighter than the stock exhaust system. It also gives a significant amount of improvement in terms of power, performance, and sound.
The muffler outer sleeve is made from carbon fiber, and the end cap gives the full system a nice finishing racing touch.
What's unique about this exhaust system is that it gives a quantitative amount of improvement compared to what the Kawasaki ZX-6R can give. For example, installing this full system exhaust will give your ride a max gain of +9.6 HP for every 14,600RPM.
For the torque, you get an additional 3.7lb-ft for every 6400RPM. And as for the weight reduction, you'll reduce as much as 66.1% in weight compared to your stock exhaust. How's that for a top-quality line of full system exhaust?

#3 Hotbodies Racing MGP Stinger Slip-On Exhaust for 13-20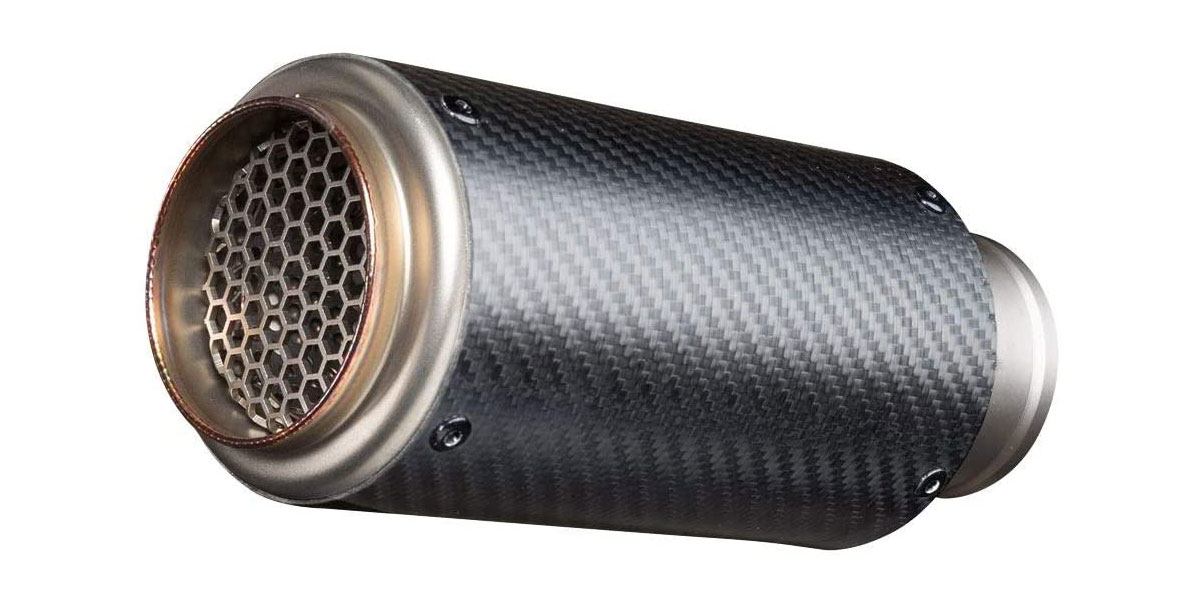 If you have a taste for European-styled components, then this is for you. Behold the Hotbodies Racing MGP Stinger Slip-On Exhaust, made from carbon fiber, and is available for Kawasaki ZX-6R models under the years 2013 and 2020.
This line of slip-on is known for its deep growl, outstanding performance, and that MotoGP exhaust aesthetics. When you purchase this slip-on exhaust, you don't need to modify it to fit into your motorcycle.
All hardware needed to mount this into your Kawasaki ZX-6R will be included once you purchase the slip-on, making the installation less hassle.
What you get from buying this is a muffler sleeve made out of carbon fiber with a weave pattern Hotbodies is famous for, anodized rivets, end caps made of stainless steel, and a logo etched using a laser to make it as neat as possible.
This Italy-made slip-on exhaust is race-grade, so performance and sound improvement will be evident once you've successfully installed it.
Have you seen the exhausts used in the MotoGP? The MGP Stinger Slip-On Exhaust is so similar to them, some people even mistake it for the real ones!
Customer reviews are great, claiming that for such a price, they weren't expecting too much but they were genuinely surprised about how good it is. Great buy!

#4 Hotbodies Racing MGP Exhaust for 09-16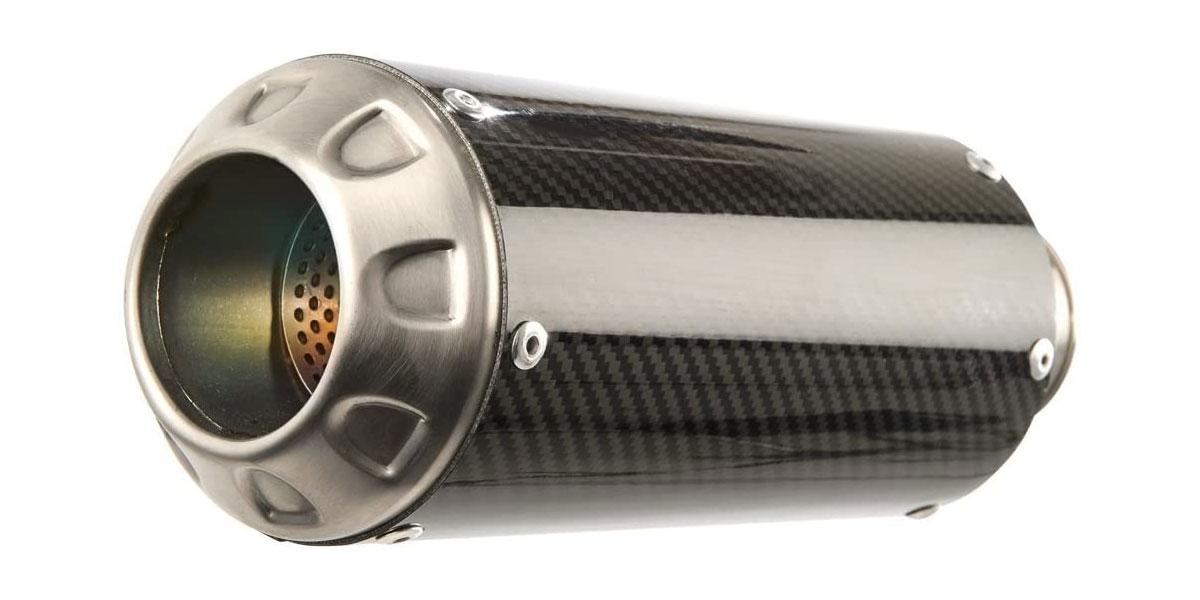 The old Kawasaki ZX-6Rs needs some lovin' too! Introducing the last for our list is the Hotbodies MGP Exhaust made out of carbon fiber with a stainless steel end cap.
Available for Kawasaki ZX-6R models under the 2009 and 2016 period, this loudmouth is just what you need to amplify your ride's performance.
Buying this slip-on will give your old Kawasaki ZX-6R that MotoGP looks that you've always craved for. This is far lighter than that of the stock exhaust, and it fits perfectly without the need for modifications.
Aside from the looks and performance of a MotoGP inspired ride, it also emits that wild and aggressive sound that will make the people around you think that you're a professional motorcycle racer.
The only downside for this one is it doesn't come with installation instructions. Others find it to be obnoxiously loud and require a baffle, but hey. Every man for himself, right?