Your license plate is one of the parts of your car that you can't really change or replace so easily. Truth be told, having a plain-looking license plate can be extremely boring. Try to imagine the look on the faces of the driver behind you and realize that your car is just another car – nothing too unique.
It doesn't have to always be that way. Fortunately, there are license plate frames available in the market for you to choose from.
Purchasing a license plate frame is an ideal option, especially if you've got a few reasons in mind, like you still having that default license plate frame from your car dealership, the paint is chipping away, or it's still bruised up from the last fender bender.
Whatever your reason is, buying a new license plate is something your car will thank you for. We did the heavy lifting for you and created a list of the best license plate out there in the market, from the simple-looking ones to the stylish frames, all listed down just for you.
#1 Rightcar Solutions Flawless Silicone License Plate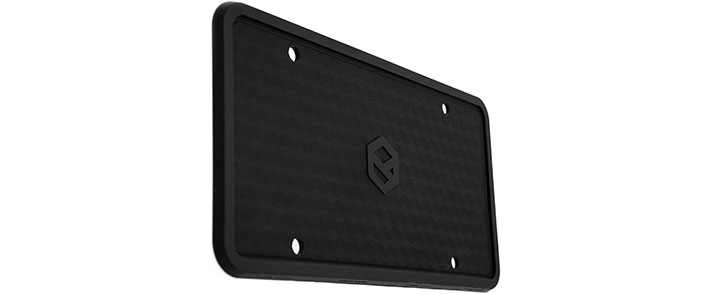 Are you looking for the right license plate for your car?
Good thing there's the Rightcar Solutions Flawless Silicone License Plate for you. This black license plate frame offers not just functionality, but also a lot of minimalistic style for your car.
Its flawless construction makes its surface and edges smooth, and will perfectly fit any standard-issue license plate.
PROS
✔ This industrial grade license plate border protects your license plate from a lot of harmful elements like rust, deformation, ice, and water.
✔ Don't worry about getting stopped by a police officer: this frame does not obstruct the license plate.
✔ Their license plate frame is available in six different colors, so feel free to choose what frame would look best in your car
CONS
✘ The silicone plate may not stick properly once the frame is attached to the vehicle.
✘ The color may fade after a few months.
✘ Maybe smaller than the license plate itself, so you may struggle a little bit when installing it.

#2 Aujen Silicone License Plate Frame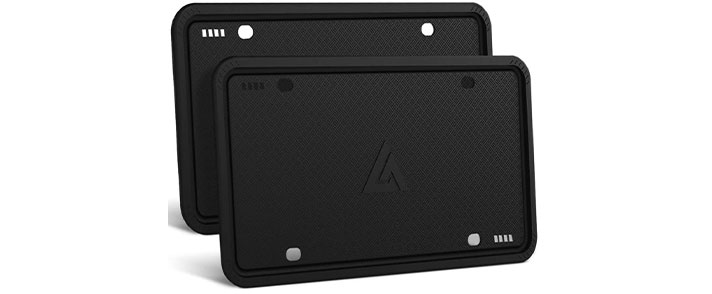 If you're looking for a practical framework that will protect your license plate with flexibility and durability, then you need to check out the Aujen Silicone License Plate Frame.
It is made from high-quality silicone that protects your incense plate from elements that may damage it.
PROS
✔ It can withstand extreme temperatures without fading, chipping off, or cracking.
✔ It can hold out against tough punishments from all-natural and manmade harms, like water (it has draining holes), scratches, and even rattles.
✔ The frame is fashioned with holes that serve as screw holes and breathing holes. It also only covers the rims of the
CONS
✘ It does not come with any tool, so installation can be difficult.
✘ Some parts may be a bit huge so the license plate won't fit perfectly.
✘ The frame itself is thin and can be a bit flimsy.

#3 SunplusTrade License Plate Frame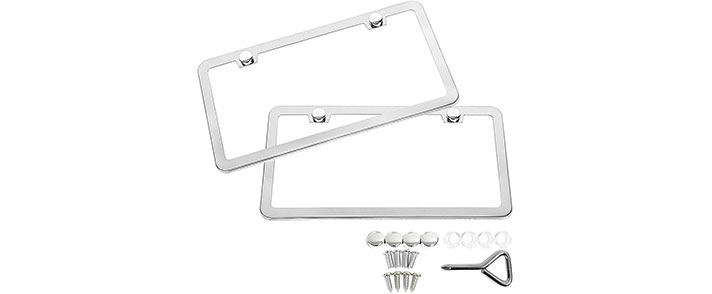 If you're not interested in black license plate frames, then consider this mirror-polished license plate frame. This slim but stylish license plate frame protects the license from rust, corrosion, and other elements while having an aesthetically pleasing look.
It also comes with the tools needed to get it installed.
PROS
✔ Gives off an eye-candy vibe to the license plate because of its aesthetically pleasing look.
✔ The caps included matches the frame perfectly, and the metal stretches up to the back of the frame, making it a great fit.
✔ The tool, screws, and caps are included in the package so the installation is pretty easy.
CONS
✘ The caps and screws may not fit well because they aren't long enough.
✘ The metal is fairly thin and is prone to rust after long exposure.
✘ Since this is a metal license plate frame, there are sharp edges present.

#4 HC Hippo Creation Bling License Plate Frame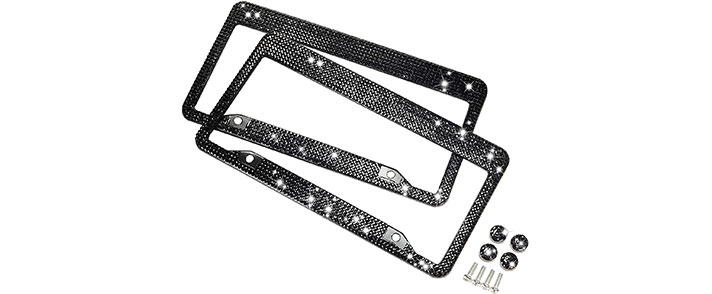 Some license plates can be boring, plain, and too minimalistic. If you're looking for a flashy license plate frame that doesn't starve itself from the attention it deserves, then check out the H C Hippo Creation Bling License Plate Frame.
Give your car some shines and sparkles by outfitting your car with this license plate.
PROS
✔ Made from high-quality stainless steel. It is lightweight, durable, and rust-resistant.
✔ There are over 1000 pieces of shiny bling glass crystals attached to it.
✔ All the necessary mounting screws and anti-theft caps are included to make sure installation is easy.
CONS
✘ The frame may tend to cover up the state and year stickers.
✘ The glass crystals may not be as shiny as anyone may expect.
✘ It only has two holes for installation, so there's a tendency to rattle if not screwed tightly within those two holes.

When buying a license plate frame for a car, you need to answer these questions first. These questions matter greatly if you want the right frame for you.
1. What are the state laws that involved buying a license plate cover?
– Some states have imposed certain laws involving license plate covers. Before you purchase your frame, make sure to check the Department of Motor Vehicles first to check out the laws you need to follow.
2. How strong and durable is your chosen plate cover?
– If you're going to buy a license plate cover, make sure to go over how strong the materials are and how can it withstand different stresses like heat, pressure, water exposure, etc.
3. How easy it is to install?
– Some license plate covers are pretty difficult to install mainly because not all tools are included in the package, or the holes aren't enough.
4. How many frames are included in the bundle?
This is one of the most common questions most buyers fail to answer, which causes them to buy a single frame only just because they've read the product description wrong.
Choosing the right frame to protect your license plate is an important decision: your license plate is an extension of your car, and your car is an extension of who you are. Shop smart!