What do you get when BMW's former VP of Engineering transfers to Kia Motors? A powerful rear-wheel-drive sedan named Kia Stinger. First released back in 2017, this luxury performance car boasts of its superior interior and its elegantly looking exterior.
The Kia Stinger may look like the typical luxury car, but when you get to know it better, you'll discover something: it floats like a butterfly, but it stings like a bee! This luxury car can give you an impressive riding experience, thanks to its turbocharged engines and balanced handling system.
However, like any car, it will always have some room for improvement. One of these improvements is its ride height. You can lower your Kia Stinger's ride height by using suspension upgrades like lowering springs.
Lowering springs are cheap yet effective options when it comes to lowering your Kia Stinger. Aside from the obvious lowered height, it offers your car a tremendous amount of benefits! Check out the best lowering springs below and see how lowering springs can bring your car some gains!
#1 Godspeed Traction-S Lowering Springs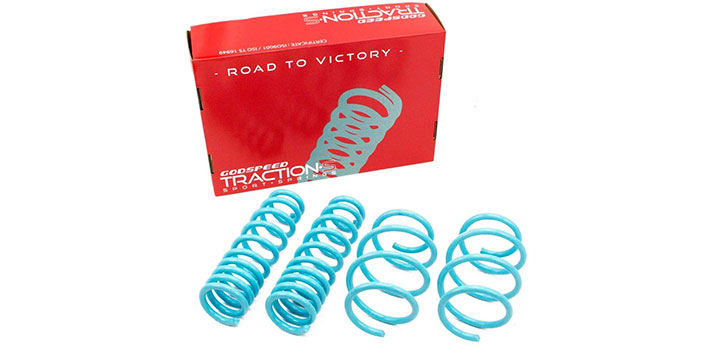 Spring Type: Progressive
Height Reduction (Front/Rear): 1.2″/1.3″
Compatibility: Kia Stinger GT (2018-2019)
The first Kia Stinger lowering springs on our list is the Traction-S from Godspeed. What do you expect from a suspension systems upgrades manufacturer named Godspeed? A godlike quality of products! Okay, that may be a bit of an exaggeration, but we're not kidding when we say that Godspeed products are top-tier when it comes to quality.
So what do you get from Godspeed? First, you'll get enhanced maneuverability. The Traction-S will help your Kia Stinger to make quicker turns and improved cornering.
Second, quality material. The steel used to make this is durable enough on its own. But to make sure, the SAE 9254 wire is cold wound to prevent possible sagging. It is then powder-coated to make sure that the springs would not corrode.
Third, it significantly lowers your ride height, making your car look more elegant and slicker than before. Not mentioning the OEM riding comfort that it already has.
Third, the lowering springs are specifically made to withstand rattling and other undesirable reactions like clunking and rubbing, even when you're limit testing.

#2 Eibach Pro-Kit Performance Spring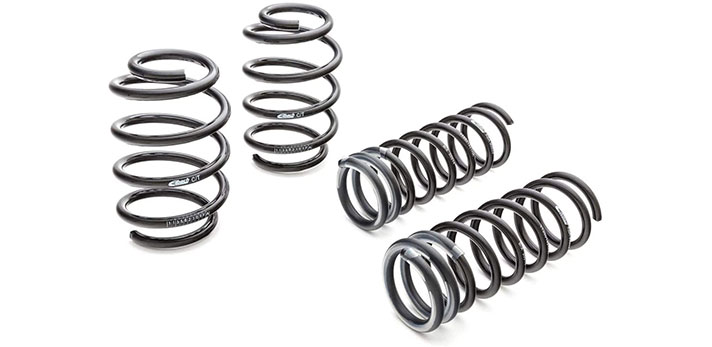 Spring Type: Progressive
Height Reduction (Front/Rear):  1.4"/1.2″
Compatibility: KIA Stinger GT (2018-2020)
The second of the best Kia Stinger GT lowering springs on this list will be Eibach and their Pro-Kit Performance lowering springs. Eibach is one of those suspension upgrades manufacturers that has a knack for giving their customers what they truly want when it comes to aftermarket upgrades.
Getting some Pro-Kit Performance lowering springs for your Kia Stinger GT would mean a highly improved car. Aside from the fact that it will be significantly lowered than it used to be, you will experience some on-hand benefits that you will surely love.
What are these benefits?
For starters, better traction. This lowering spring with its specific spring rate will create all the damping force needed to make the Kia Stinger as static as possible when bumps and uneven roads are encountered. 
The second benefit is a highly improved handling performance. Since the car is steady enough to push itself to the ground, you can corner and turn faster. You'd also experience better fuel economy!
The third one is a new and aggressive look. Not all people love a Kia Stinger, but almost all of us know that a lowered car looks awesome. "Did you say a lowered Kia Stinger? That's something to check out!

#3 Megan Racing Lowering Springs Kit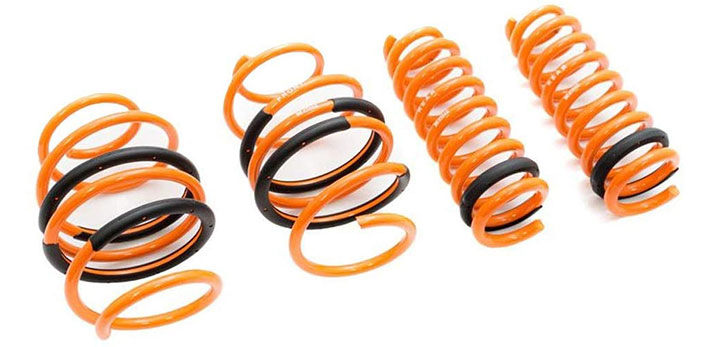 Spring Type: Progressive
Height Reduction (Front/Rear): 1.1"/0.8"
Compatibility: Kia Stinger (2018-2020)
If you're looking for a lowering spring kit that is fairly affordable but doesn't compromise on quality and performance, then Megan Racing's lowering spring kit is something you should check out. For just 200 plus bucks, you get a quality suspension upgrade with a touch of black and orange. Cool!
Okay, so you're interested in this lowering spring. What benefits would get from purchasing this lowering spring?" Here are the answers.
Number one: a subtle ride height drop. Compared to the previous lowering springs, Megan Racing's lowering springs will only reduce your Kia Stinger's height by up to 1.1" on the front and 0.8" on the back.
Number two: pleasing aesthetics. There's a difference between a standard drop in height (what lowering springs usually offer) and Megan Racing's subtle ride height drop. As we've said multiple times, S-U-B-T-L-E. Not too little, and not too much. Just the right crouch from the Kia Stinger is enough to attract everyone's attention.
And number three: improved handling characteristics. With the Kia Stinger's center of gravity lowered and better ground grip, you can now corner, turn, and maneuver even better. This is all possible while maintaining a smooth and comfortable ride.

#4 H&R Sport Lowering Springs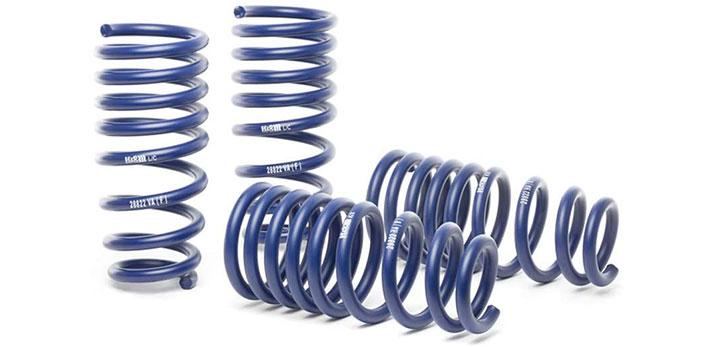 Spring Type: Progressive

 

Height Reduction (Front/Rear): 1.3"/1.2"
Compatibility: Kia Stinger (2018-2019), Kia Stinger GT (2018-2019)
Save the best for last right? Featuring the last of the best Kia Stinger GT lowering springs, the Sport lowering springs from H&R. It's got progressive springs, so expect the best results from these lowering springs. Progressive springs are used because of their versatility.
With this lowering spring, you get a sporty new look that you will truly love. The 1.2" to 1.3" reduction in height allows your Kia Stinger to have a lowered center of gravity, making it more responsive to cornering, turning, and overall maneuverability.
The materials made for this lowering springs are strong and sturdy enough to withstand compressive stress and corrosion. On top of that, it can be used together with both OEM and aftermarket shocks absorbers. This is not just lowering spring is versatile; it's impressive!

Why Do You Need to Upgrade Your Kia Stinger's Suspension System?
Using lowering springs is a great way to upgrade your Kia Stinger's suspension. This is a more affordable way to lower the height of your car compared to coilovers. But first, you need to know the benefits that you can get from installing lowering springs to your beloved Kia Stinger.
1. Better Handling 
The Stinger lowering springs are made to be the second option for coilovers. This is a more budget-friendly option if you want your Kia Stinger to have better handling capabilities than the usual.
Better handling means better cornering capabilities. Cornering more effectively in a Kia Stinger is incredibly important, especially if you're in long rides that involve roads that are full of twists and turns. 
With a lowering spring installed in your Kia Stinger, you'll feel that your car is more responsive to your movement, especially when sharp turns are up ahead.
2. Improved Traction 
One of the main functions of lowering springs is to drop the ride height of your Kia Stinger. Once the ride height is lowered enough, the car's center of gravity gets lowered too. With a center of gravity lowered than it previously is, the tendency of your car rolling over will be lower too! 
Make your car less likely to turn over with the use of lowering springs. This is incredibly important, especially if you want to reduce the risk of rolling out like a ball when extreme situations come.
3. Better Aerodynamic Properties 
Lowered vehicles are notorious for being more aerodynamic. Since its position is lower, it covers a lesser surface area when it's driving forward. Less air is hitting the non-streamlined parts of the car (wheels, tires, etc.) Several Kia Stinger owners also report that there's a significant amount of improvement in terms of fuel economy.
However, take note that too much lowering can increase your car's wind drag, so be advised! There should be enough wind going under the car if you want it to run smoothly and drag-free. If you lower your Kia Stinger too much, you will experience a substantial decrease in performance.
4. Better Riding Experience
With all of the previous benefits in mind, your Kia Stinger will experience a better run. And you will too! The combination of better handling improved turning and cornering, increased traction, and being aerodynamic will make your Kia Stinger a more pleasurable car to drive around.
5. Aesthetically Pleasing 
And last but not the least, lowering springs will make your Kia Stinger look even more impressive. There's something about lowered cars that create a vacuum of attention, right? Making your car lowered through the use of lowering springs will make your Kia Stinger more relaxed, assertive, and more elegant.
Just keep in mind though. There are also some disadvantages when getting yourself some lowering springs. These disadvantages include no more going on rough roads, accelerated tire wear, and a few extra holes in your wallet.
These are the four best lowering springs that you can get for your Kia Stinger. With new lowering springs on you Kia Stinger, expect better handling, cornering, fuel economy, any more awesome benefits that you will truly love!