The Nissan 370z is undoubtedly an impressive car. Whether it's performance or looks, there are only a few JDM cars that can be compared to this ride. JDM cars like Mitsubishi Lancer Evo X, Subaru WRX Sti, and many more have garnered a lot of fans, just like the Nissan 370z did.
Performance-wise, the Fairlady is a satisfying ride to get on to. The riding quality is great and the euphoria of grabbing passerby's attention is riveting. To put this car into another level, you should try installing it with modifications, preferably some suspension modifications.
Coilovers can be a great option, but if you're looking for a budget-friendly suspension lowering option, then you should try out lowering kits. These are suspension lowering springs that reduce the fender-to-tire clearance without the perks of better handling.
The list below features the best Nissan 370z lowering springs that you can find out there on the interwebs. Check them out to see what you'd like!
#1 Tein S-Tech Lowering Spring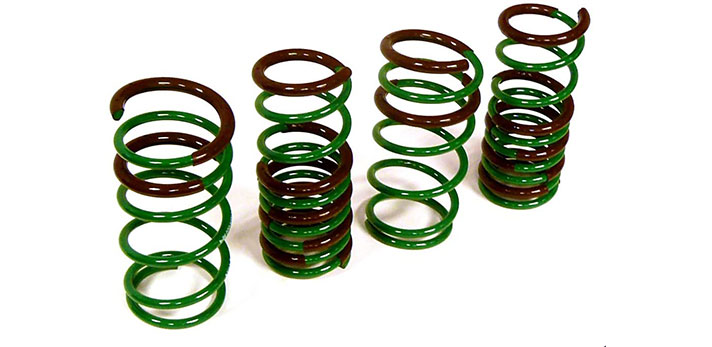 WEIGHT: 22lbs
SPRING RATE: Progressive
COMPATIBILITY: Nissan 370z (2009-2020)
The first one on our list is Tein and their S-Tech lowering springs. If you're familiar with the aftermarket scene, Tein is one of the popular brands that has been catering to their customers for quite some time now. They offer high-quality products such as lowering springs, which customers and car enthusiasts truly love.
There's so much to love about these types of 370z lowering springs. It's made from chrome vanadium which is a sturdy material that will last for a long time. The spring rate design is also progressive, capable of adjusting depending on the compression level that it is handling.
On top of that, there are also silencers to keep it from squeaking annoyingly. Plus, you get one year defect and sag warranty. Nice! In case the ones you bought has over 5mm of sag, damaged, or deformed, you can return it to them to get a new one.
#2 Whiteline Lowering Spring Kit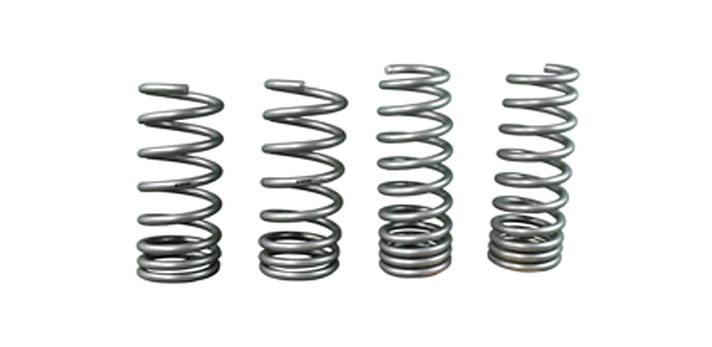 WEIGHT: 36.3lbs
SPRING RATE: Progressive
COMPATIBILITY: Nissan 370z (2009-2013)
Whiteline is the definition of performance and riding quality improvement combined. The Whiteline lowering spring kit is being manufactured in Europe and is made to find and utilize the existing stock and aftermarket shock absorbers.
By lowering your Nissan 370z's center of gravity, it gives your car a nice looking stance, as well as improved overall handling.
The lowering springs itself is a pretty nice product. The progressive springs improve your car's overall handling and performance without negatively affecting the quality of the ride.
The springs are cold rolled and are made from Europe, and is coated with a special unconventional paint that is far tougher than the typical ones.
To add in a little more flavor, these lowering springs are made specifically to fit in perfectly with the OEM shocks. That's less problem for you! You also get a three-year/60,000km warranty, which includes all the necessary parts and labor. Neat!
#3 Swift Springs Spec-R Sport Lowering Springs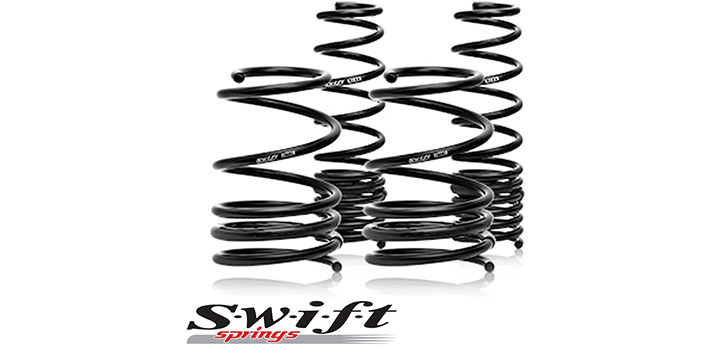 WEIGHT: 35lbs
SPRING RATE: Progressive
COMPATIBILITY: Nissan 370z (2009-2019)
When it comes to finding the best 370z lowering springs, you must look for a specific kind of ride quality that you can get like your car was fresh from the showroom. The lowering springs must improve the handling, height, and stance of your beloved Nissan 370z to make sure that it's worth it.
Hence, the Spec-R Sport lowering springs from Swift Springs.
The Spec-R Sport is made with driving enthusiasts in mind. To keep style and handling performance in the box, they've modified the lowering spring's ride height potential to maximize the geometry of the suspension.
The spring's rate is raised even further to comply with the highest limits of the OEM shock valving. Overall, the optimal level of comfort is kept to keep it street-viable.
If you're someone who wants to truly feel what's it like to drive a Nissan 360z on the track, then look nowhere else! Swift Springs has your back here and is ready to provide you with the sports ride experience that you've always craved.
#4 Godspeed Traction-S Performance Lowering Springs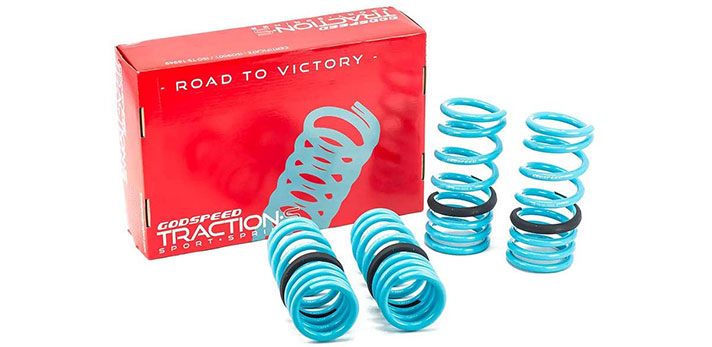 WEIGHT: 40lbs
SPRING RATE: 481lbs/in (FRONT)/560lbs/in(REAR)
COMPATIBILITY: Nissan 370z (2009-2019)
When it comes to the best lowering springs for the 370z, few can beat what Godspeed can bring. This time, they offer you their Traction-S Performance lowering springs, capable of improving your car's handling to another level.
So what could Godspeed bring in to your car? First off, an enhanced road performance. With these springs on, expect to make faster turn-ins, a more responsive steering, and an enhanced cornering.
All of these are possible thanks to Godspeed's cold-wound springs that are corrosion resistant and impervious to sagging.
The best thing about this one is you can say goodbye to clunking and rattling when you're trying to limit-testing these springs on your car. And even if it's ruined, you can ask Godspeed for assistance, thanks to the limited lifetime warranty included on those lowering springs.
#5 Eibach Pro-Kit Performance Spring Kit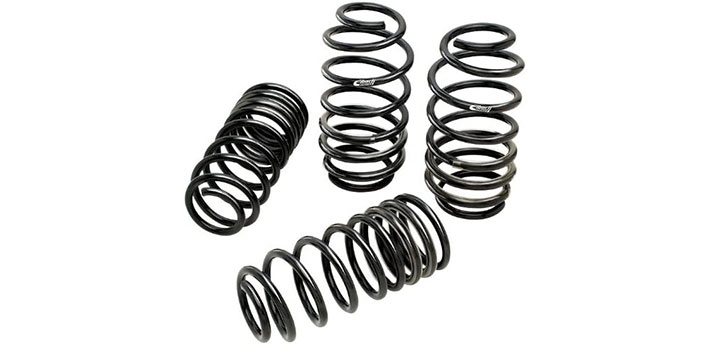 WEIGHT: 18.2lbs
SPRING RATE: Progressive
COMPATIBILITY: Nissan 370z (2016-2018)
"Save the best for last", right? If you want Nissan 370z's best lowering spring, then look nowhere else. The customer's favorite is here: the Eibach Pro-Kit performance spring kit. This is the most recommended brand of lowering springs for you here on this list, so check out its features.
While providing highly improved performance with a touch of aggressive looks, it lowers your car's center of gravity. It allows your Nissan 370z to corner quicker and halts almost instantly. This is truly a recommended lowering spring for Nissan 370z owners.
And there you have it! These are the best lowering springs for Nissan 370z. Make sure you pick what satisfy you the most, so you can get the best value out of the money you are willing to spend. All of these lowering springs are suited to bring out the best from your Nissan 370z in terms of handling, stance, and ride quality.