Have you ever seen a side-by-side car as sinister as the Can-Am Maverick X3? I doubt! They have been dominating rough terrain with their extremely capable cars that will undoubtedly give you a thrilling and exciting off-road experience.
With just a glance, you can see how marvelous a vehicle this thing is.
The 2021 Can-Am Maverick X3 was a real show-off. One of the most powerful cars that they've got is the Maverick X3 X DS Turbo RR. It's got a 900CC 3-cylinder turbocharged engine capable of 195hp: enough to make the vehicle fly – literally!
The other variants are pretty awesome too and are equally capable.
Do you know what's are good additions to a powerful side-by-side car? Mods! The Can-Am Maverick X3 is open to a lot of mods, and each of them gives a ton of benefits. If you're looking for mods that can upgrade your Maverick X3, then you can close all of those tabs because we've got something for you.
We give you the best mods for Maverick X3. They'll improve your side-by-side significantly, so don't waste any time and check them out!
#1 Exhaust Systems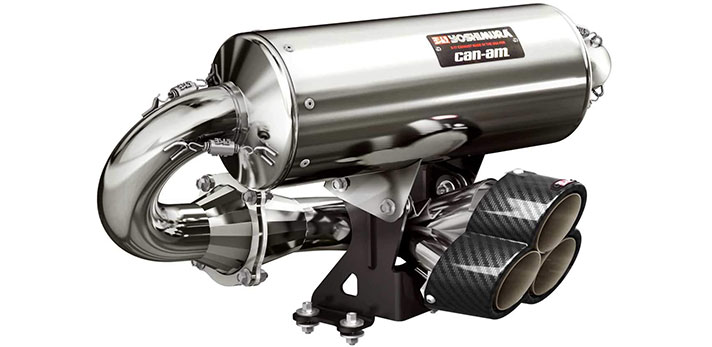 Exhaust systems are one of the best Can-Am X3 mods that you can get. Why? Don't you want to ride around rocky roads and rough terrains while sounding awesome?
The deep and aggressive sound is not just the only thing that you can get from an exhaust system. By installing one on your Can-Am X3, you're guaranteed to have some additional horsepower.
This is important for the Maverick since it has to be fast for it to gain some momentum to go over obstacles.
There are two types of exhausts that you can get for your UTV: a full-system or a slip-on exhaust. A full-system comes with a muffler and an exhaust header. On the other hand, the slip-on exhaust only offers a muffler, hence the term "slip-on".
If you're interested in getting your hands on some exhaust systems for your Maverick X3, you should try the Yoshimura slip-on exhaust.
#2 Beadlock Wheels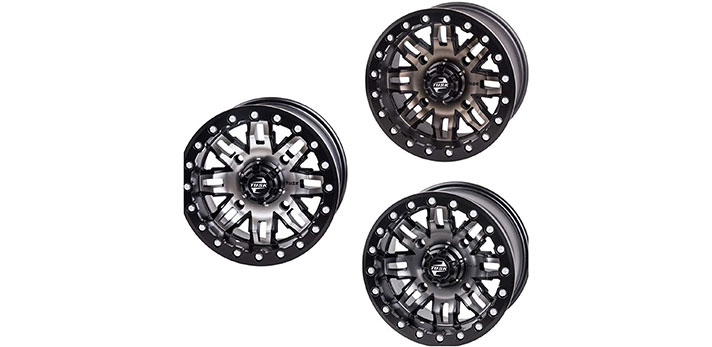 A tough car needs tough wheels. Beadlock wheels are just the right thing for UTV's like the Can-Am X3 simply because of its durability and traction capabilities. They help UTV's in a very special way, and without it, your daily weekend off-road activity can turn into something ugly.
UTV drivers usually air down their tires so they can gain better traction when driving on rough terrain. By doing so, the tires can grip the ground better and at the same time avoid punctures.
However, tires with lower air pressure can cause a serious problem: tire bead popping out of the rim.
This is where beadlock wheels come in. They secure the tire beads together, making them locked up tightly. Aside from keeping the tires married to the wheels, beadlock wheels look great too!
They make any off-road vehicle look meaner, more sinister, and even more aggressive.
If you want some quality beadlock wheels, you should try some from Tusk Racing. They have superior quality and at the same time, they're pretty affordable too.
#3 Lift Kits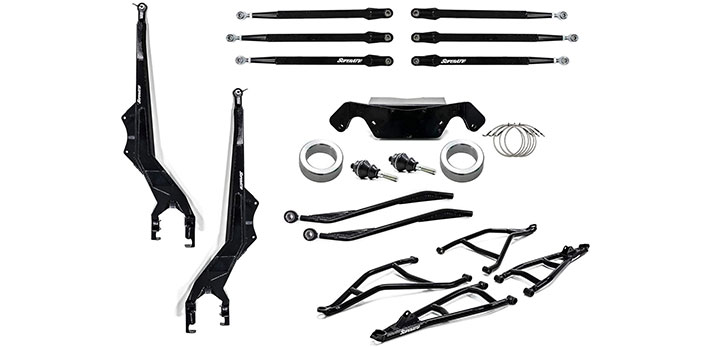 The typical Can-Am Maverick X3 comes with a default 28" to 30" tires. Of course, this UTV can use some larger tires however, if you want larger tires, you need a higher ride height for your Maverick X3.
And to do this, you need to "lift" the car; hence the lift kits.
Lift kits are the keys to making UTV's like the Maverick X3 taller. Now, if the Maverick X3 is taller, you can outfit it with larger tires. And what do off-road vehicles need the most other than larger tires?
Better sized tires give more opportunities for off-road enthusiasts to maneuver extreme trails where large boulders and rocks are present. It gives the Maverick X3 better grip over obstacles and debris – just what the Maverick X3 needs.
Are you looking for some lift kits for your Maverick X3 but you don't know where to start? Try some 3" lift kits from SuperATV. They're great!
#4 A-Arms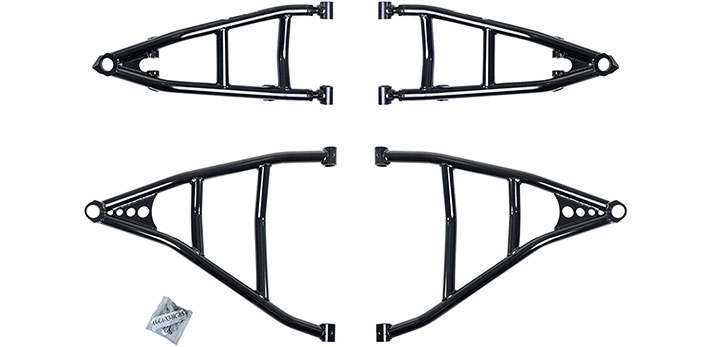 The Can-Am Maverick X3 was meant to be driven to the extreme. If you're not using the Maverick X3 to drive off-road like a mad-man, then you're doing it wrong! However, driving this UTV to its maximum capacity can damage some of its components, especially the control arms (aka A-Arms).
The A-Arms are the "abs" of the Maverick X3. It's your UTV's front suspension core that connects your wheels to all of the wheels. One end of the a-arm is connected to the Maverick X3's chassis while the other end is connected to the wheels.
The OEM control arm is good, but replacing them with an aftermarket one is far better.
If you're looking for some top-tier a-arms because you've damaged the stock (we hope not!) or you just want to replace them, you should check out the SuperATV Heavy Duty A-Arms.
#5 Brake Calipers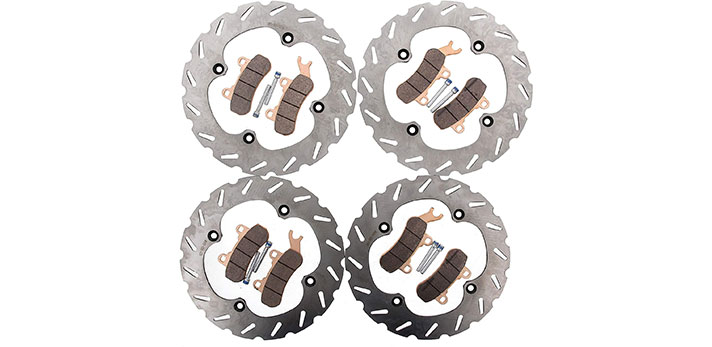 Brake calipers house the brake pads. Whenever you put pressure on your brake pedals, it pushes the brake fluid forcefully to make the piston in the caliper function, thus pushing the pads against the rotors
If you want your Maverick X3 to function properly, all of the brake components must function properly on their own.
Now the brakes are one of the most critical parts of a UTV, thus making it belong to the best maverick x3 upgrades to get. By getting some brand new aftermarket brake calipers, you give your brake pads and other components a chance to experience the outdoors longer.
Brake calipers are arguably one of the most important parts of any vehicle. So if you're looking for some brake calipers for your Maverick X3, then you should take a look at the brake kits offered by Agency Power.
#6 Shock Re-valving
Re-valving is the process of replacing the shim stacks with better ones that will control the oil flow better in the suspension system. By getting your suspension re-valved, you allow yourself to experience driving a Maverick X3 that is safer, faster, and even more enjoyable than it ever was before.
By re-valving your shocks, you customize your UTV to give you better control of the vehicle in terms of handling. Once the good setup wheels are firmly attached to the ground, you can drive better.
And with this major increase in control, you can now drive the Maverick X3 faster.
#7 ECU Reflashing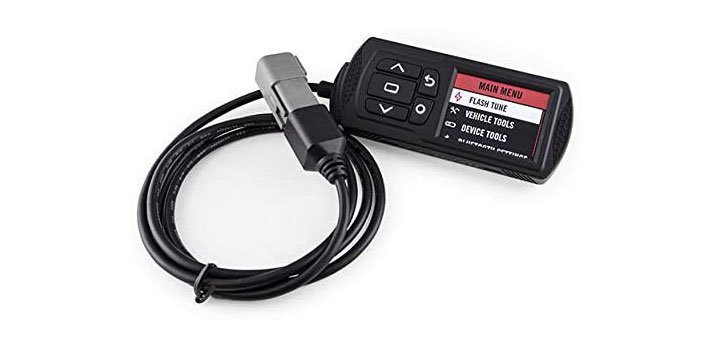 What ECU reflashing means is the remapping of the engine computer unit to set certain parameters to push a car to its potential. Whenever a manufacturer releases a new vehicle, the ECUs are always set to default mode.
By remapping it, you can control the parameters and make your Maverick X3 perform better.
The ECU (aka ECM) can be reflashed depending on what a person needs. You can reflash an ECU for economic purposes or vehicle issues, but you'd want to reflash the ECU of the Maverick X3 to level up its performance.
ECU flashes like the DynoJet Power Vision 3 can modify a Can-Am Maverick X3's fueling revise it for as much power and torque as the Maverick X3 can. It can also increase the speed and rev limit of the UTV. Pretty cool, right?
#8 Radius Rods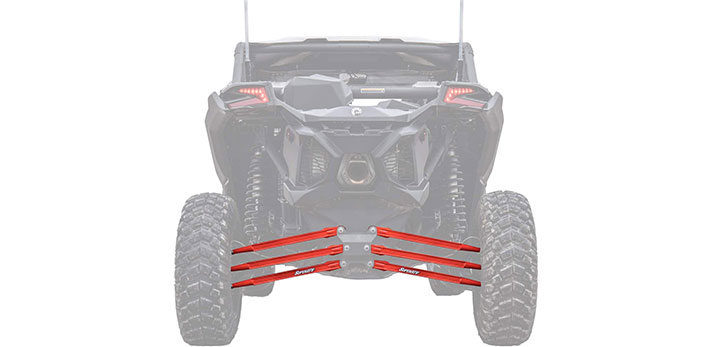 Radius rods are one of the most underrated and one of the best Can-Am Maverick X3 mods simply because it protects the driver from sudden impact. By replacing the OEM with aftermarket radius rods, you not only secure your safety but you also remove all the worries of driving a faulty side-by-side car.
Assault Industries radius rods are just what you need for your Maverick X3. They came from a reputable manufacturer, they're proven to be more rigid than the OEM, and they're heavy-duty too!
#9 Door Panels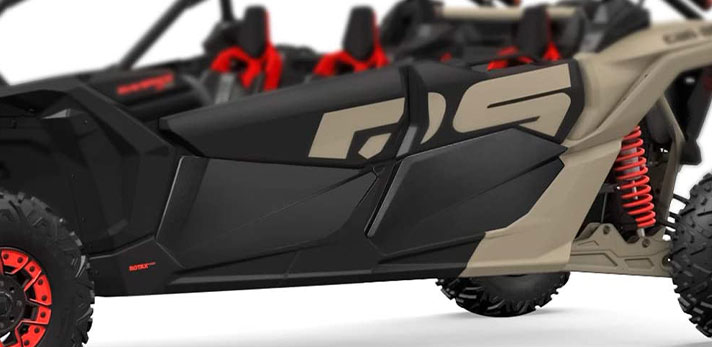 The Can-Am Maverick X3 may be an awesome side-by-side car, however, there's a tiny bit of a detail that annoys many owners of the car: the car door doesn't cover everything! This leaves an opening for mud, sand, and many other unwanted materials that may enter the vehicle while driving.
You can avoid such an unfortunate event by installing some door panels on your Maverick X3, like the ones from Kemimoto. It's plastic but it's quite durable and can fend off any evil rocks or debris that may harm you while driving around the rough terrain like a madman.
With the additional function that these door panels offer, door panels can be considered as lowkey one of Can-Am Maverick X3's best mods.
#10 Mirrors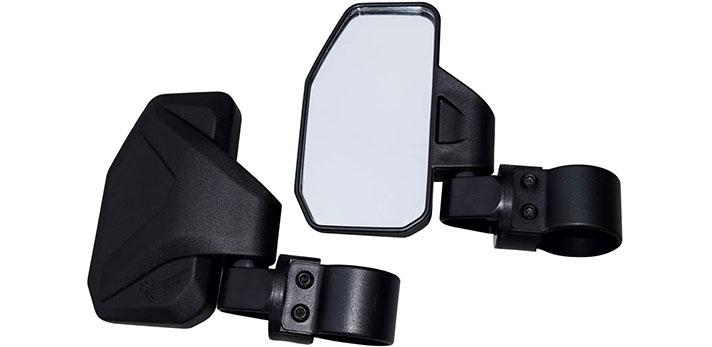 And last but not even the very least, you need to get some Maverick X3 specialized mirrors. You should check out Assault Industries' aviator side mirrors that fit on Can-Am Maverick X3. They look aggressive enough while providing a high level of visibility for the driver. The polymer housing can withstand intense impacts too!
Whatever the model may be, driving a Can-Am Maverick X3 can be extremely fun. However, setting it up with some high-quality aftermarket modifications can be fun too! All of these mods serve the Maverick a purpose, so be sure to pick the right brand and quality.