There's nothing as unique, powerful, and adaptable as the Dodge Challenger when it comes to American muscle cars. Originally released with dozens of trims available, the Dodge Challenger is a true-blue pony car that doesn't fail to exercise its dominance among its peers. This dominance is evident in the recent Dodge Challenger Hellcat SRT which boasts an impressive horsepower output of 717hp at 6000rpm. The handling of this big boy is excellent despite its size and weight.
Whatever Dodge Challenger year model or trim you have, we're sure that you're having a tremendous amount of fun driving it. And if you're an avid car enthusiast who loves modifying all sorts of cars, then you're in for a ride of your life. These road stallions may be powerful enough, but did you know that you can add aftermarket upgrades into it to make it even more powerful and capable enough to deal with demanding road activities?
The list below features all of the necessary aftermarket mods you need to make your Dodge Challenger more exciting. These upgrades range from power mods to further amplify your car's power output to handling mods to allow you to control the vehicle in the most demanding of turns. We've also gathered some miscellaneous aftermarket mods that can make your experience with driving a Dodge Challenger more convenient and fun. Check the list out and see what would best fit you and your car!
Power Mods
1. Make the Challenger Roar With Exhaust Systems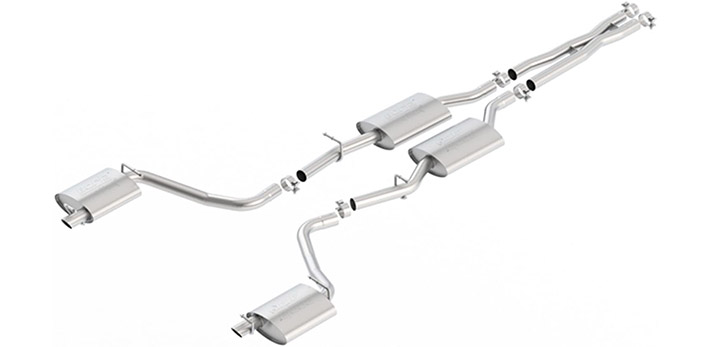 What makes the Dodge Challenger a road stallion worthy of being ridden is the roar it makes. Its stock exhaust tone is enough to break the necks of passersby and attract as much attention as it can. Yes, the OEM exhaust system is good enough, but for a car enthusiast who wants to replace every stock part of a car with aftermarket parts, nothing's good enough. 
Benefits of Using Aftermarket Exhaust Systems:
Deep and aggressive exhaust tone (Depends on the exhaust system)
Increase in horsepower and torque output
Improved fuel economy
An aftermarket exhaust system is an excellent addition to your car if you're gearing for a more aggressive sounding vehicle. It makes your car a bit more powerful too. If you're in the market for some cheap yet competitive aftermarket exhaust systems that'll make your Dodge Challenger sound better, then you should check out the Borla ATAK cat-back exhaust system.
2. Let the Car Breathe Easily With Intake Systems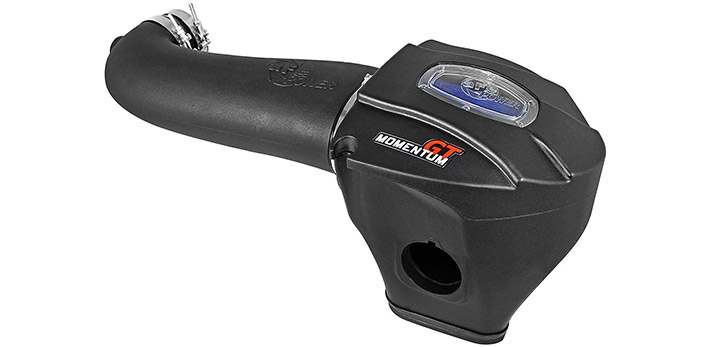 A beast as powerful as the Dodge Challenger needs all of the air it can so it can burn the fuel as efficiently as possible. Aftermarket intake systems allow the cold ambient air to enter the car's engine, making the air-fuel combustion more efficient than it already is—the improvement results in better fuel economy and a significant increase in engine performance output.
Benefits of Using Aftermarket Intake Systems:
Better fuel economy
Increase in horsepower and torque output
Impressive sound under the hood
If you think exhaust systems are the only ones capable of producing an incredible car sound, then you're dead wrong. Aftermarket intake systems are considered to be among the best mods for a Dodge Challenger simply because of the eargasmic sound that it creates under the hood. An example of a good aftermarket intake system that produces an excellent intake sound is aFe Power's Performance air intake system.
3. Put Your Car's Power Output on Steroids With Turbochargers
What's better than power? MORE POWER! We all know how powerful Dodge Challengers are. They're majestic mechanical creatures built to exhibit raw power and dominance. However, there are some seasoned car enthusiasts with an insatiable need for speed who are not satisfied with the engine's default power output. If you're among these madmen who want extra power to their already powerful car, then turbochargers are just the thing for you.
Benefits of Using Turbochargers:
Significant increase in horsepower output
Better fuel economy
Higher engine efficiency
Turbochargers are among the best Dodge challenger modifications you can get your hands on. Depending on the amount of horsepower increase you want, you'd need a turbo kit that'll fit precisely on a Challenger's specifications. Turbochargers are more engine-friendly than superchargers, so it's the best one to get as a steroid for your car's power output.
4. Reprogram The Challenger's Brain With ECU Performance Chips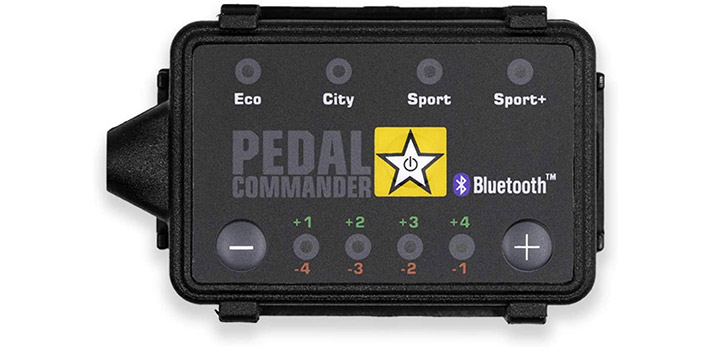 Since you're planning to change your car's body parts, you might as well change your Dodge Challenger's brain. An ECU performance chip is a great way to alter your car's default engine and emission settings and turn them into more user-defined configurations. ECU performance chips reprogram the vehicle's basic settings, allowing you to change it to whatever structure you'd prefer.
Benefits of Remapping Your ECU:
Better horsepower and torque output
Better fuel efficiency
Better overall performance
An ECU reprograms chip like the Pedal Commander – PC31 is a great non-warranty-voiding tool you can use to make your Dodge Challenger accelerate faster, increase your fuel economy by up to 20%, and allow your car to have four different driving modes: Eco, City, Sport, and Sport +. The latter driving modes' variance gives you more freedom when it comes to driving styles, which also translates to better fuel efficiency.
Handling Mods
5. Introduce an Aggressive Stance to Your Challenger With Suspension Lowering Upgrades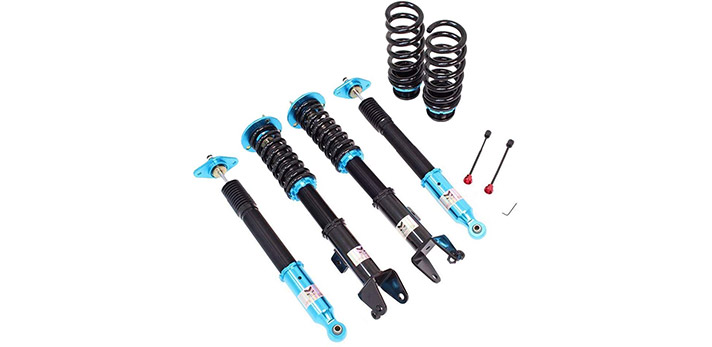 Wheel gaps are among the pet peeves of some seasoned car enthusiasts. These gaps make the car look beta, unsophisticated, and unaggressive. Car's like the Dodge Challenger exist to exhibit sheer power and dominance, and you can further improve those characteristics by lowering your car's ride height. 
Benefits of Lowering Your Car:
Reduced rollover risk
It makes the car aerodynamic
Better cornering
Improved handling
When it comes to lowering any car's ride height, you're often left with two choices: the affordable primary option or sportier, more tuner-friendly choice. The direct affordable option would be a set of lowering springs capable of reducing your car's stature with a preset ride height. A good set of lowering springs can make your Dodge Challenger's handling a bit better because of capability to lower a car's center of gravity. 
However, the sportier and more tuner-friendly choice, a coilover kit, hits differently from lowering springs. These mods are used to adjust a car's damping and ride height simultaneously to cater to a more specific set of ride styles. The best Dodge Challenger suspension upgrades you can get are Megan Racing lowering springs and Megan Racing EZ II Series coilover kit.
6. Possess More Stopping Power With Big Brakes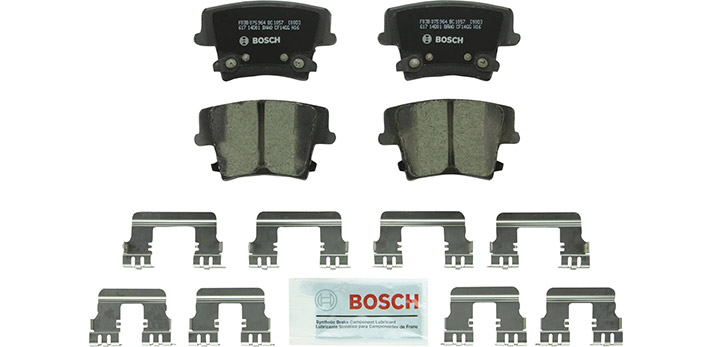 "With great power comes great stopping ability." Now, we don't know what universe a gearhead Uncle Ben exist, but we all know that powerful cars need bigger brakes. A 2020 Dodge Challenger can go from 0-60 in just 3.4 seconds, and it can even do a wheelie! Something as powerful and heavy as this type of car needs something capable enough to stop it, like big brakes.
Benefits of Getting Big Brakes:
More stopping power
Safe for track use
Aesthetically pleasing
High-quality brakes like the Brembo GT Series are more than capable of stopping a car like the Dodge Challenger. Aside from big brakes, you should also upgrade your car's brake pads with more durable ones. There are various brake pads available in the market today. Still, for vehicles as big and powerful as the Dodge Challenger, something like Bosch's QuietCast premium ceramic brake pads would be an excellent investment. 
Other Dodge Challenger Mods You Need
#1 Strut Tower Brace
Strut tower braces are some of the extra upgrades you can get to reinforce your Dodge Challenger's chassis. Strut bars like Mopar's strut tower brace kit can make your Challenger more rigid, allowing you to be more playful and predictable with your driving mechanics, especially during cornering. What's more, strut tower braces stabilize your steering even at very high speeds.
#2 Throttle Body
Fuel-injected cars utilize components like throttle bodies to control the amount of airflow into the engine. A throttle body is a significant complementary modification that goes well with upgraded parts like aftermarket intake and exhaust systems, tuners, and many other performance mods. The BBK 85mm throttle body is an excellent example of what a decent throttle body looks like, but you should take note that most mechanics wouldn't advise you to invest in a throttle body until you've got other major mod updates.
#3 Thermostat
Engines like the Hemi variants tend to suffer a particular avoidable problem: heat soak. This phenomenon happens when hot air gets trapped in the engine bay, lowering the intake system's efficiency. We all know that the engine doesn't really appreciate hot air, so to solve this problem, a cheap and easy-to-install solution can be introduced: thermostats.
The Mishimoto racing thermostat is an excellent example of a high-quality racing-grade thermostat that lowers the activation temp and allows the coolant to go through the engine earlier than usual. By giving a car's cooling system a head start, this thermostat can help reduce engine wear, therefore extending your engine's life.
Picking the Dodge Challenger as a muscle car to modify can be the best choice you can make in your life. This mighty beast of a vehicle never fails to make its driver smile with its unique and satisfying driving experience. And with the addition of aftermarket power and handling modifications like exhaust systems and suspension lowering upgrades, you're bound to have a stallion unshackled from its reigns.