Modifying your beloved Nissan 350z comes in many shapes and forms.
Some people start by buying aftermarket exhausts, some begin by buying cosmetic mods. You may like your Nissan 350z modded in a specific way, but if you want a modification that will affect both its aesthetics and performance, then you should consider buying coilovers.
Aftermarket coilovers are great at making cars better when it comes to handling, adjustability, balance, and consistency.
They are the "sacred" components of muscle and racing cars because these vehicles need more grip when making tight turns. Do you want to look as if you're effortlessly nailing those turns? Then a coilover is what you need.
The best coilovers for Nissan 350z are listed down below.
We've created this list so you won't have to scour the deep trenches of the internet just to find what coilover fits for your car. Step on the gas, take the next turn, and let's start checking out this list!
#1 ApexI N1 Damper ExV Coilovers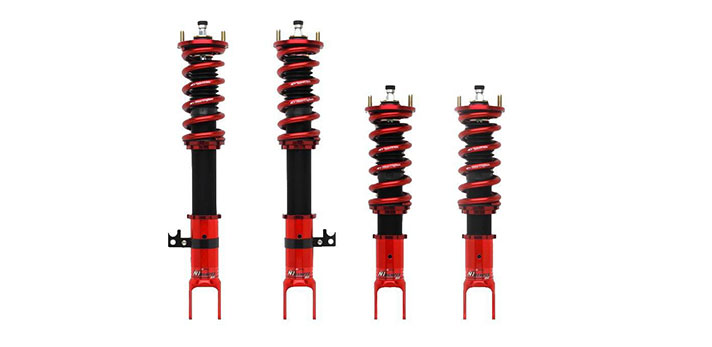 WEIGHT: 35.5lbs
TYPE OF CONSTRUCTION: Monotube
COMPATIBILITY: Nissan 350z (2003)
What does a JDM car need? A JDM coilover. Introducing the first one on our list, APEXi. This company is famous for being one of the titans when it comes to car tuning and aftermarket parts.
APEXi's coilovers are great for Nissan 350z owners who want to enhance their car's handling while taking care of the looks too.
The ApexI N1 Damper ExV Coilovers is one of the most expensive ones on the list. The ExV in its name stands for "Expert Type V", and was specifically made to be the supreme suspension that can dominate the streets.
Its goal is to improve a Nissan 350z's riding quality while giving back the best value for the price.
By buying this coilover, you get a monotube damper (44mm), an adjustable body suited for fine adjustments, some accessories, and a top-tier design at a fairly high price.

#2 Rev9 Hyper-Street II Coilover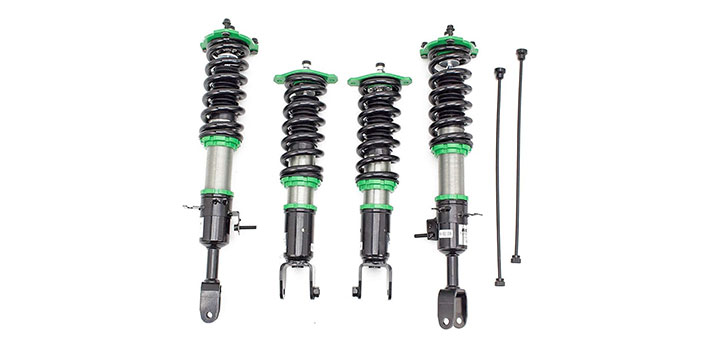 WEIGHT: N/A
TYPE OF CONSTRUCTION: Monotube
COMPATIBILITY: Nissan 350z (2003-2009)
The second one on our list goes to Rev9 and their Hyper-Street II Coilover, compatible with Nissan 350z from manufacturing years 2003 to 2009. Nissan 350z coilovers are not that difficult to find because 350zs are manufactured for a brief period only.
But ironically, choosing a great coilover for this car is another thing.
If you want great coilovers for your Nissan 350z Rev9 Hyper-Street II Coilover is something you should check out.
So what do you get from buying this coilover? First: a damper setup system where specific ratings of the springs are matched with the correct length of the monotube's shock. The second is max-length adjustability.
This feature allows ride height and the spring tension to be set separately. Lastly, a monotube shock that has 32 clicks of rebound adjustment.
The reviews about this product are great; it mirrors the quality if the coilover itself. Do you want a cheap coilover that gives a lot of benefits to your Nissan 350z? Then this coilover is for you.

#3 Tein Coil Overs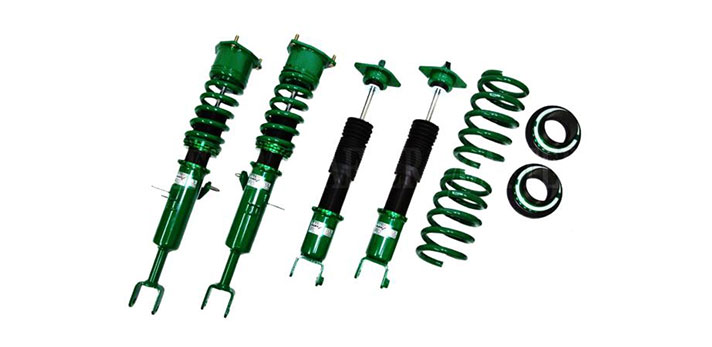 WEIGHT: 64.5lbs
TYPE OF CONSTRUCTION: Twin-tube
COMPATIBILITY: Nissan 350z (2003-2008)
Another JDM powerhouse is featured on our as third on our list. TEIN is a celebrated tuning house that has their eyes not on the price, but the quality of their work.
Their products are manufactured from Yokohama Japan, where they utilized their experience on improving circuit cars to make quality products like the TEIN Coil Overs.
What's in the bag? You get a ride-height adjustment that is simple and easy to use. Second, instead of the typical monotube, you get a twin-tube that allows longer strokes that result in more satisfying riding experience.
Nissan 350z coilovers reviews have great opinions about this coilover. A lot of people claim that the instructions for the installations were clear and concise. An adjustment wrench is even included in the package!

#4 KW Variant 3 Coilover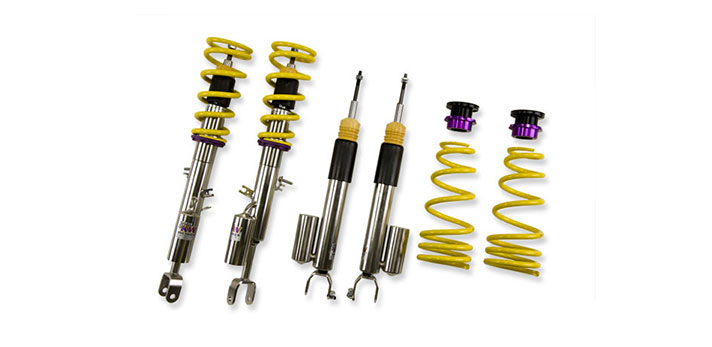 WEIGHT: 59.0lbs
TYPE OF CONSTRUCTION: Monotube
COMPATIBILITY: Nissan 350z (2003-2008)
KW has created an impressive coilover kit; for a price. The KW Variant 3 Coilover offers a kind of product that showcases simplicity and top-tier quality all in one product.
Some Nissan 350z owners complain about how bouncy the car is when they're riding on the highway. With the KW Variant 3 Coilover, you can feel your 350z being more responsive as it tightens up the car handling.
If you want a superb riding experience with improved car performance, then this is for you.
By having this coilover outfitted on your Nissan 350z, you can feel that the riding quality that you'll experience with the coilovers on is slightly better than the OEM suspensions. It is now more sporty and sturdier!
The price of this kit is justifiable when you realize how crazy of a coilover the KW Variant 3 Coilover is.

#5 BC Racing True Rear BR Series Coilovers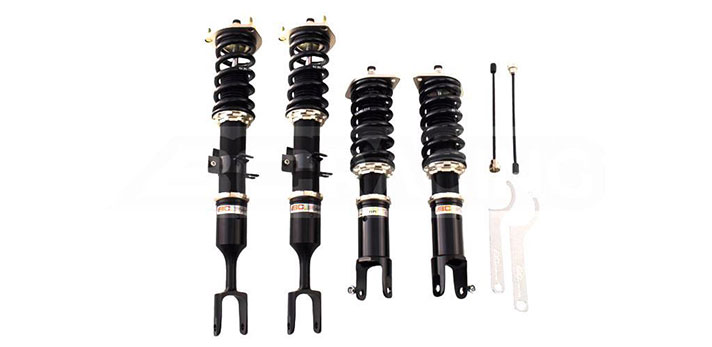 WEIGHT: 52.0lbs
TYPE OF CONSTRUCTION: Monotube
COMPATIBILITY: Nissan 350z (2003-2008)
And finally, for the last one on our list, we have the BC Racing True Rear BR Series Coilovers. Just like TEIN and Apexi, BC Racing is also a famous company that has a history of racing.
Their products like suspension kits are famous in the USA, UK, Canada, and other countries. Do you want to know why?
BC Racing's products, specifically this coilover, walks the fine line between reasonable price and high-quality production. To give proof to that, a lot of Nissan 350z coilovers forums implies that you get the taste of what you've paid for, twice.
In terms of affordability and quality, we recommend this to be the top one.
By having these coilovers on your Nissan 350z, you'll be guaranteed to have a car that feels like a track and streetcar at the same time.
When the damping is set to midrange, street driving becomes so satisfying because the coilovers are unshakeable at this point.
Outfitting your Nissan 350z with a coilover is a great investment, especially if you're finely in tune with how important handling and the car's body height is. Coilovers does some justice to the car's aesthetics too!