There's something really attractive about a leveled truck, right? The right amount of ground clearance gives the vehicle a nice, aggressive, and mean look. Aside from this, their capacity to complete off-road tasks is just too good.
Those things can be achieved by installing a leveling kit on your truck.
A pickup truck like the Dodge Ram 1500 definitely looks mean, but if you make it leveled enough to be in parallel with the rear's height, it can look even better and can be more effective.
If you want your Dodge Ram 1500 to look cooler, tow more effectively, or even clear away small but heavy debris, then you have to install a leveling kit on it.
We have a list of the best aftermarket leveling kits that are compatible with different year models of the Ram 1500. Check them out!
#1 Daystar 1.5″ Leveling Kit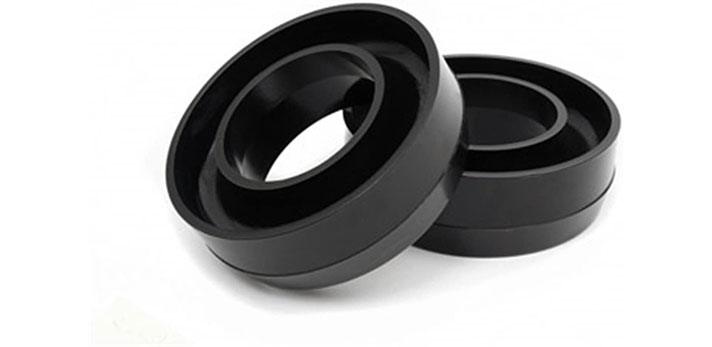 For the first one on our list, we have the Daystar 1.5″ Leveling Kit, fit for all Ram 1500 under the year models 1994 to 2013. All those old pickup trucks need some loving too!
This leveling kit will lift the front of your truck by a significant 1.5", enough to align it with the cargo bed.
The old versions of the Ram 1500 are smaller compared to the latest versions. However, it can still accomplish whatever task you put on it. With the Daystar 1.5" Leveling Kit, you can improve the ground clearance of your old truck, allowing it to have larger tires for more demanding labor.
There isn't much detail provided about this leveling kit, but knowing the reputation that precedes Daystar, you're sure to have a quality riding experience with this leveling kit on.
#2 KSP Strut Spacers 2.5" Front Leveling Lift Kit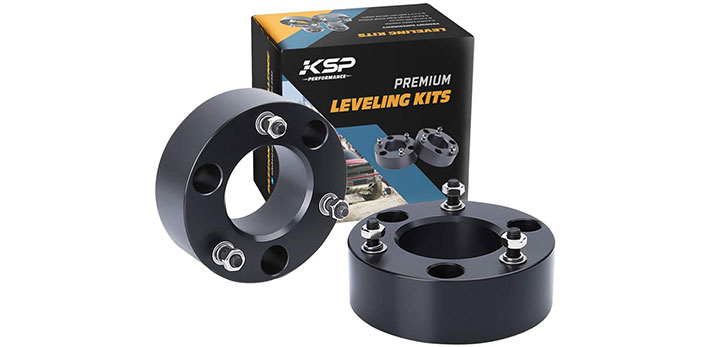 The second spot on our list goes to the KSP and their Strut Spacers 2.5" Front Leveling Lift Kits. To be honest, this is not recommended for newbies and beginners who are relatively new to the leveling kit scene, but if you have competent knowledge about truck suspensions, then this won't be a problem for you.
Getting the leveling kit would mean a 2.5 inches increase in the level of the front of your Ram 1500. This is enough to make it paralle with the truck bed. With this thing on, you can make your truck look more confident.
It is relatively easy to install, but if you're having a bit of a problem, don't stress out too much! Most buyers who are new to this experience difficulty too!
What's great about this leveling kit is the amount of punishment it can take. This leveling kit is made from durable materials, allowing it to go through off-road obstacles with ease.
#3 Dynofit 3″ Front and 2″ Rear Leveling Lift Kit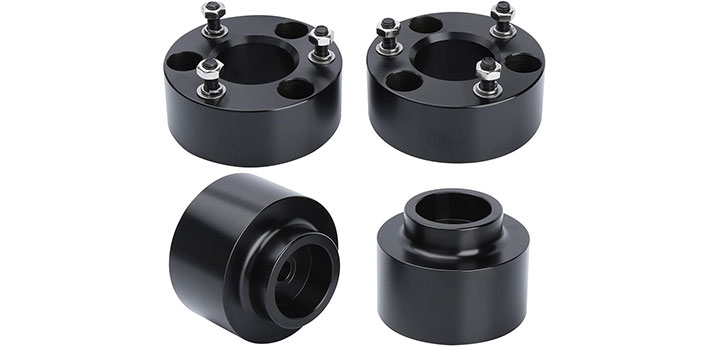 If you like to level both the front and rear end of your truck, then the 3″ Dynofit 3" Front and 2″ Rear Leveling Lift Kits is the thing for you. Compatible with Dodge Ram 1500 that belongs to the manufacturing year 2009 to 2018, it can lift your truck's front by 3 inches and it's rear by about 2 inches.
That's a significant increase in ground clearance!
Dynofit's durability is impressive. Just like the leveling kits above, it is made from aluminum billet that has aircraft-approved properties. The only downside to this is the warranty included: it only lasts for two years.
Now, if you don't have trust issues, this leveling kit is highly recommended for you Ram 1500.
Customer reviews on this truck are fantastic, and apart from that, it can give you enough confidence to take on more off-road campaigns without worrying too much if your truck's suspensions would give up or if your ride would look nasty – it doesn't!
#4 Supreme Suspensions 3.5" Front Leveling Kit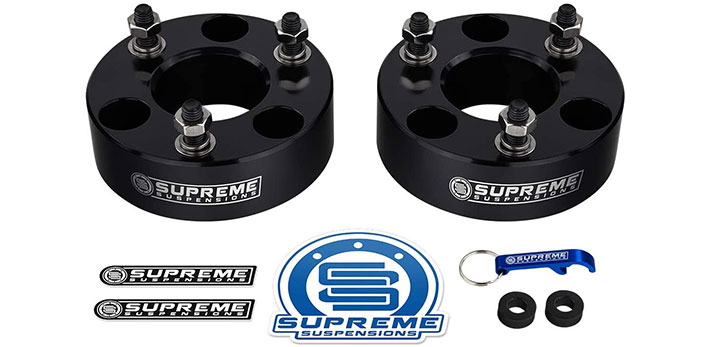 Giving your Ram 1500 some boost in height is a great thing. It improves its stance, and as well as the ground clearance, allowing you to outfit your truck with larger tires. This is the expertise of Supreme Suspensions, specifically, their 3.5" Front Leveling Kit.
This is a great modification for your truck, but please do take note that the ratio between the spacer thickness and the lift height is not 1:1.
So make sure that you carefully measure your ride height before installation and after it gets outfitted with the Supreme Suspension 3.5" Front Leveling Kit, just to make sure that you achieve the full lift amount you desire.
#5 2″ Dynofit 2" Leveling Lift Kit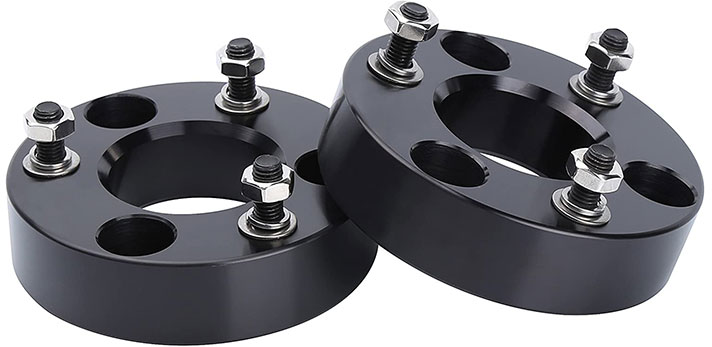 And now for the last one on our list, we have another one from Dynofit, and this time it's 2" front leveling kit, suitable to Ram 1500s that has been manufactured around 2006 to 2019. Dynofit's reputation for making durable and effective leveling kits is just a testimony to how great of a choice it would be to outfit this kit in your truck.
Aside from the obvious fact that it is durable and high-quality, it raises the front of your truck by a crucial 2 inches. This is enough to level your truck's front to the cargo bed.
With somethings, this affordable and functional, the Dynofit 2" Leveling Lift Kit is a sure way to give your Ram 1500 the ground clearance it deserves.
The great thing about this leveling kit is how easy it is to install. It is a no-brainer!
There are a lot of things to consider if you want to buy the right leveling kit for your Ram 1500. Whatever year model it is, remember to take it slow, and refrain from pressing the "place order" as much as you can.
When choosing the best leveling kit for your Dodge Ram 1500, make sure that you do your research first to avoid regretful purchases. These technical details may be confusing to some, so don't hesitate to ask questions!
Try to learn as much as you can about leveling kits and how it can benefit your Ram 1500.