The Dodge Ram 2500 is known to be one of the most powerful pickup truck in the USA. It has amazing power and torque output, versatile cabin, comfortable interiors, and an outstanding off-road capability.
Since it is made for hauling heavy payloads and gathering valuables and gears on its bed, installing a truck bed cover is a great decision. Not only does it secure your goods on the bed space, but it also protects them from theft, natural elements, and accidental falling.
If you're looking for the best truck bed covers you can outfit your Ram 2500 with, then the winds of fate have brought you in the right place. We've made a list of the best Dodge Ram 2500 that is available in the market. Check this out!
#1 Tyger Auto T3 Soft Tri-Fold Bed Cover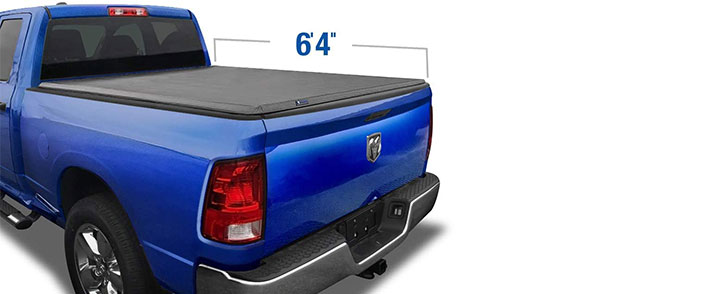 Tyger Auto is laser-focused on manufacturing the best aftermarket car parts and accessories that exceed the OE standards. This kind of work ethic is applied to their T3 Soft Tri-Fold Bed Cover.
It can be conveniently folded for easy access to the trunk bed, it protects your cargo effectively, and it gives your Ram 2500 a neat, customized look. By utilizing an aerodynamic design, you can rack up to 13% of gas savings!
So what do you get when you buy a Tyger Auto T3 Soft Tri-Fold Bed Cover?
EASE OF INSTALLATION. The cover's frame is made from aerospace-grade aluminum and tear-resistant vinyl. This truck bed quality can be installed within minutes using free tools included in the package.
SECURITY. Your gear and belongings are secured, thanks to the quick-release clamps attached with rods made of stainless steel that is specifically made to be durable.
WEATHERPROOFING. The tonneau cover can protect your valuables from various natural elements like extreme sunlight, rainwater, snow, and even hail!
Tyger Auto also offers different variants aside from the T3, like the T1 (Soft Roll-Up) and the T5 (Alloy Hard Top Tri-Fold).
#2 Gator ETX Soft Roll Up Tonneau Cover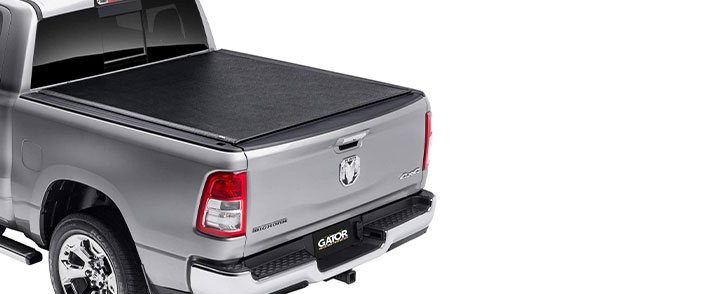 Science has greatly improved by imitating wildlife. In this case, if you want to protect your belongings, we suggest you imitate an alligator: it utilizes a hard leather back to protect its insides, just like what this truck bed cover does.
Try out Gator's ETX Soft Roll Up Tonneau Cover. There's a lot of things the Gator can offer, like enhanced security because of its heavy-duty latchings, vinyl that gives off a stylish and sleek loo, etc.
What's in the bag?
HASSLE-FREE INSTALLATION. No need for a difficult and extensive installation process! Just simply attach the rails on without ever using a drill. You can finish installing everything as quick as 20 minutes!
GREAT AESTHETICS. An adjustable tension control mechanism keeps the cover crisp and crumple-free. Stake pocket holes are available so you can use other accessories as well. It also complements your Ram 2500's design by optimizing a low-profile design.
FULL ACCESS TO THE TRUCK BED. The soft roll-up cover is designed to not interfere with anything inside the truck bed, allowing you to access 100% of your bed.
This is a tonneau bed cover made in the USA, so quality and durability are ensured.
#3 TruXedo TruXport Soft Roll Up Tonneau Cover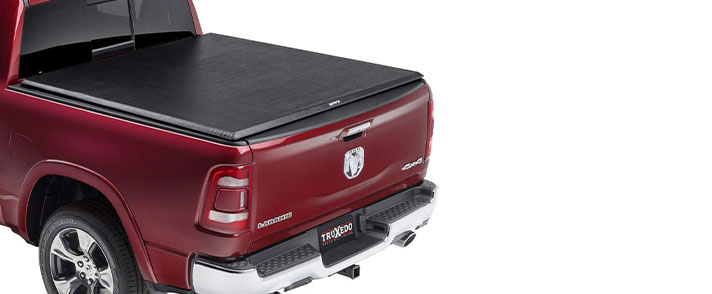 Tuxedos are usually worn so that the one who's wearing it will look elegant and stylish. This same thing applies to the TruXedo TruXport Soft Roll Up Truck Bed Tonneau Cover.
This is one of the best tonneau covers you can outfit your Ram 2500 with. It's low-profile, secure, and functional. The weave cover does an impeccable job of keeping rainwater out of the truck bed.
What will you get when you buy a TruXport Soft Roll Up Truck Bed Tonneau Cover?
DISTINCTIVE GOOD LOOKS. The top mount is just 1.5″. This cover sits just above the truck bed, giving your Ram 2500 a stylish good look. The straight tubes also make the back of your truck look smooth and neat when you close the cover.
EASE OF USE. Paddles can be used to latch the cover on both sides of the truck. When you close the cover, you can fasten the rail by putting it in a locked position.
MATERIAL SCIENCE APPLIED. The leather used by Truxedo to make the Truxport is a leather-grained vinyl, designed to protect your precious cargo from whatever element nature throws at it.
Truxedo also offers different varieties of tonneau covers, like the LoPro, a low-profile cover that is ¾" thick, and the Pro X15 which offers an even lower-profile.
#4 Tonno Pro Soft Folding Tonneau Cover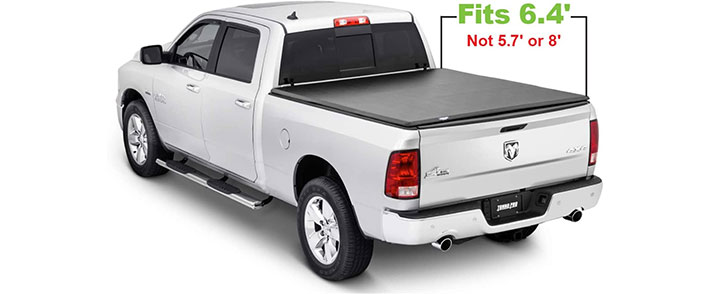 This brand of tonneau cover is becoming more and more popular due to its user-friendly attributes and high-tier security capabilities. Featuring the Tonno Pro Soft Folding Truck Bed Tonneau Cover.
This bed cover is divided into three sections: each is hinged together so you can easily fold it. Tonno Pro is proud to say that this tonneau cover can be installed on your Ram 2500 in just 10 minutes! Wow!
Tonno Pro Soft Folding Truck Bed Tonneau Cover? Why bother buying one?
SOFT TRI-FOLD DESIGN. The cover can be folded up to three times. You can use this feature to put oversized cargo on your trunk without removing the tonneau cover entirely. To fit in smaller cargo, just fold the cover completely and buckle it securely.
USER-FRIENDLY INSTALLATION. No drilling is needed. The truck bed cover includes sturdy side rail clamps so you can easily install the cover under 10-minutes. All it takes to install this cover is just a single person.

TIGHT FITTING. Even if you drive at high speed, the truck bed cover maintains a tight-fitting to avoid crumples and sags that can potentially make the truck bed cover look unpleasant.
Tonno Pro offers other variants like the Lo-Roll (soft roll-up) and the Hard Fold (hard tri-fold).
The Dodge Ram 2500 is a sturdy beast capable of carrying or towing heavy payload. It is only fitting that you install the best kind of truck bed cover for it. Not only does it enhances your Ram 2500's style, but it also keeps your belongings securely set on your truck bed.