The Dodge Ram 2500 is one strong beast of a truck. Just one look at this pickup truck and you'll see how domineering it is. When it comes to size and performance, the Ram 2500 is a heavy-duty workhorse, capable of towing up to 35,100lbs and carrying up to 7,680lbs of payload, including the passengers and the cargo on the back.
This truck may be an effective and competent machine, but did you know that you can upgrade it even further? A lot of modifications can be done on the Dodge Ram 2500, but one of the most functional ones you can use are the lift kits.
Lift kits are mods that lift your truck by significant inches. By doing so, it frees up more ground clearance, allowing you to install larger tires for more demanding off-road experiences.
If you're looking for some lift kits that you're planning to outfit in your truck, then you're lucky enough to stumble in the right place. This is a list of the best aftermarket lift kits for the Dodge Ram 2500, whatever model they are. Check them out to see what best fits your tastes.
#1 Supreme Suspensions – 3″X2.5" Lift Kit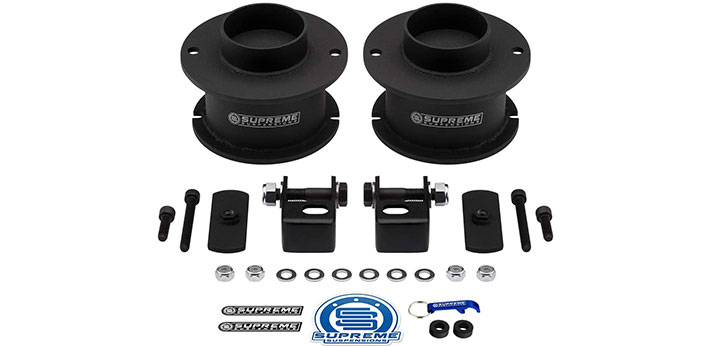 The Supreme Suspensions have a knack for creating one of the best lift kits in the market. For this reason, the first slot on this list goes to them and their 3"X2.5" lift kit. This kit is well-matched with trucks like Ram 2500 that are made from 2014 to 2020. Supreme Suspensions is a trusted brand.
What comes with the lift kit? It has components like spacers and relocation brackets that you can easily install within hours. Installing it may not be too beginner-friendly, but it does give your truck a nice output after you have it set up. It gives your truck a huge boost, both in the front and the rear of the truck. It also solves the factory rake problem that your truck has!
What people like most about this kit is how affordable yet effective this kit is. If you're a beginner when it comes to lifting kits, you may have difficulty in installing it, but it's not that impossible. If you're looking for a lift kit that is durable, reliable, and cheap, then this lift kit is perfect for you.

#2 Rough Country – 5″ Lift Kit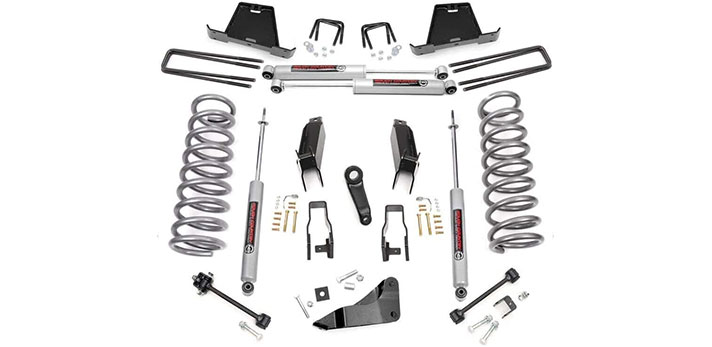 Just like the previous brand, the Rough Country is one of the pioneers when it comes to suspension lift kits. Folks love them! Rough Country introduces their 5" lift kit that fits perfectly fits 4WD Ram 2500 from 2003 to 2007. It comes with sweet components like coil springs to lift your truck to the heavens.
The Rough Country 5" Lift Kit is a choice for people who want to outfit their trucks with affordable but quality lift kits. It may be a bit more expensive compared to everything on this list, but you get what you pay for – every penny. This kit includes coil springs, drop brackets, sway bar links, lift blocks, and U-bolts. All of these components are necessary to boost your truck by a few significant inches.
What people like the most about this lift kit is how a piece of cake the installation is. If you're not willing to invest one grand or more for some premium lift kit, then choose this one. For a fairly reasonable price, you get the value of your money. Increased ground clearance for bigger tires, a leveled stance, and a big grin on your face, knowing that you got the best deal for your truck.

#3 MotoFab – 3"X 2" Lift Kit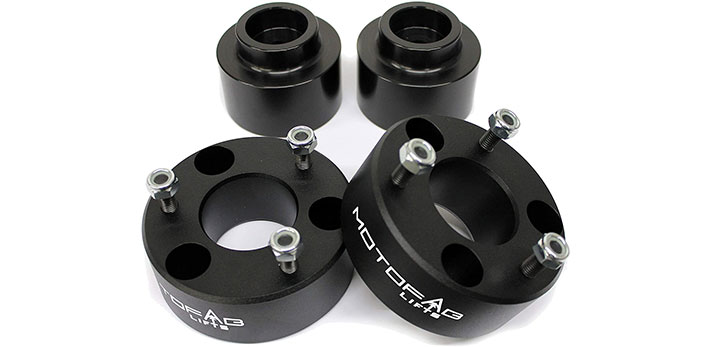 The third slot is reserved for MotoFab and their 3" front and 2" rear lift kits. Fit for the 2500s produced from 1994 to 2018, this kit features spacers as their means to lift your truck. Spacers are marvelous because of their easy-to-install nature that won't affect the OEM riding quality of your truck. 
It does a terrific job when it comes to leveling out the uneven stance that your truck has. This lift kit doesn't just level your truck's stance, but it also lifts your truck's front and rear by 3" and 2", respectively. And hey, don't worry about the spacers durability – they're built to be tough and corrosion-resistant. Something to keep your mind off, right?
Installing this on your Ram 2500 should be smooth and easy. Just remember to bring your truck to your trusty mechanic for an alignment check after you outfitted your truck with any type of lift kit. Once you've taken your ride to the vet, you'll now fully experience the best of both worlds.

#4 Tuff Country – 2" Lift Kit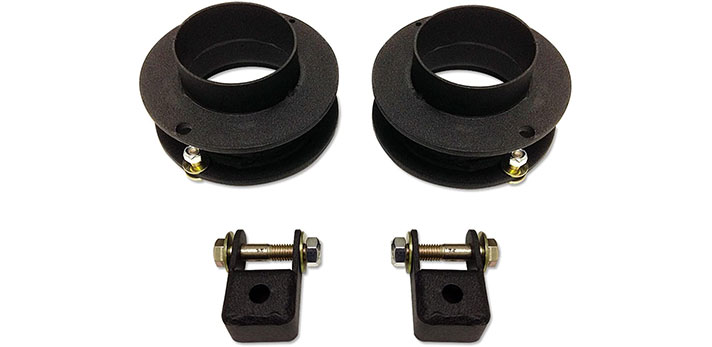 Now you may be a simple guy who just wants his truck lifted a few significant inches, we understand that. If you're not into 3" and above lifts, then you should check out Tuff Country and their 2" lift kit. They're simple, reliable, and most of all, cheap.
By installing it on your Ram 2500, you ensure that the OEM riding quality is still there. The installation process is reasonably easy too! With just some basic tools and your trusty jack to elevate your Dodge Ram, you can put it in easily. Beginner or not, with the help of some instructions, you'll have your car lifted in no time.
Previous customers are satisfied with their purchase. The praise Tuff Country's 2" lift kit for its quality, reliability, and how tough it is. If you're looking for a lift kit that is not overkilling it when it comes to lifting your truck, then this is a great choice for you. Just make sure to have it check for alignment and shock issues after you install it. The safer, the better.
Whatever its manufacturing year is, driving a Dodge Ram 2500 is one of the most pleasurable experiences a truck driving can feel. Its raw power, comfort, and reliability, added with a new lift kit will give you more benefits than you can imagine.