Everybody loved it when the Suzuki Hayabusa entered the market. It's has a sleek and aerodynamic design that looks like it's ready to go at a moment's notice. Have you seen how fast this thing can go?
It's tremendously fast! This 1,340cc monster entered the motorcycle again and ready to wow the motorcycle fans with its super-fast capabilities. It's big, it's heavy, and it's ready to go down.
The Suzuki Hayabusa is designed to go at high speed. This bird is used to drag race, reaching up to 194mph. But the fun doesn't stop there. All who bought the "peregrine falcon" loved it so much, they modified it to great extents. Longer custom body, paint jobs and guess what – exhausts.
Adding an aftermarket exhaust to your Suzuki Hayabusa will greatly affect its sound, power, and weight. And believe it or not, there's a lot of aftermarket exhausts available for the Suzuki Hayabusa.
A little addition to your already heavy customized Suzuki Hayabusa wouldn't hurt, right?
If you're looking for the exhaust to replace the stock exhaust that the Hayabusa has, whether it is for increased performance or you just want a louder sport tourer, then you've come to the right place.
We've created a list of the best exhaust system for the Suzuki Hayabusa, whether it is a full-system exhaust, a slip-on exhaust, or a shorty. Check it out!
#1 Yoshimura TRS Complete Exhaust System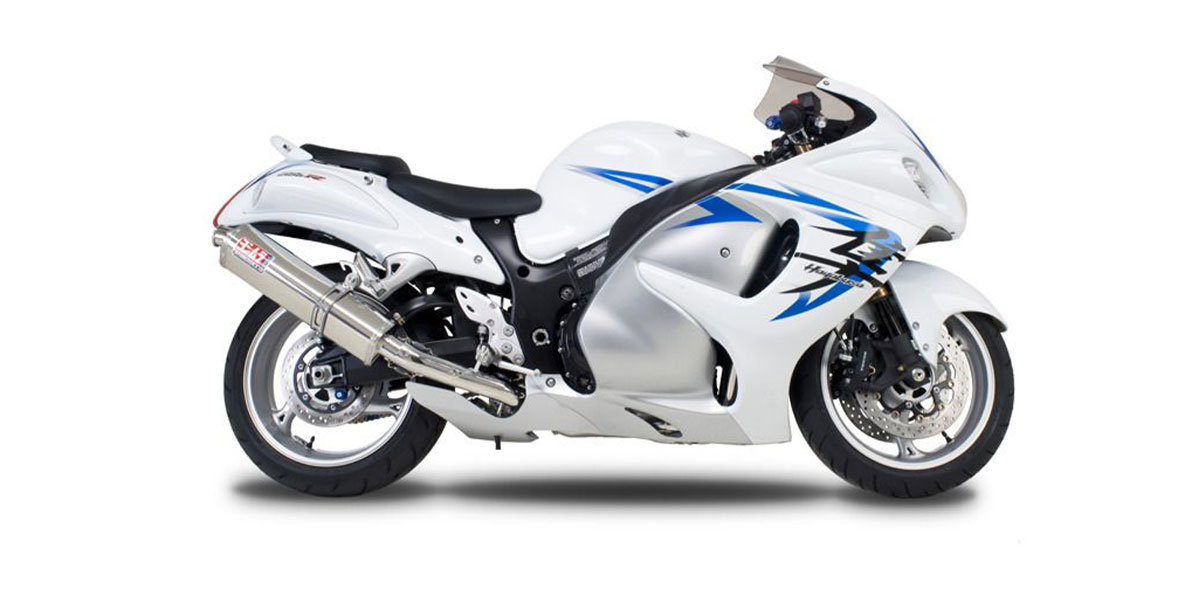 What goes best with a Japanese made hyper-speed motorcycle? A Japanese full exhaust system! Pops Yoshimura would be pleased to have his Yoshimura TRS Complete Exhaust System in a Suzuki Hayabusa.
It's made from carbon fiber for a lighter build and is available for Hayabusas under the years 2008 to 2009.
What will you get when you purchase a Yoshimura TRS Complete Exhaust System? Not much really.
Just a tri-oval muffler made out of carbon fiber, a MIG-welded R-77 front riveted with high-quality 304L stainless steel rivets and bands, and an end cap made from the material of your choice (stainless steel or carbon fiber/stainless steel).
It's the epitome of superbike technology and stylish design.
What's so unique about the Yoshimura TRS Complete Exhaust System is the sound that it emits and the significant performance improvement. You'll feel the ruthlessness of the peregrine falcon the moment you install this full system exhaust and take it for a ride. It's awesome!

#2 M4 Retro Drag Slip-On Exhaust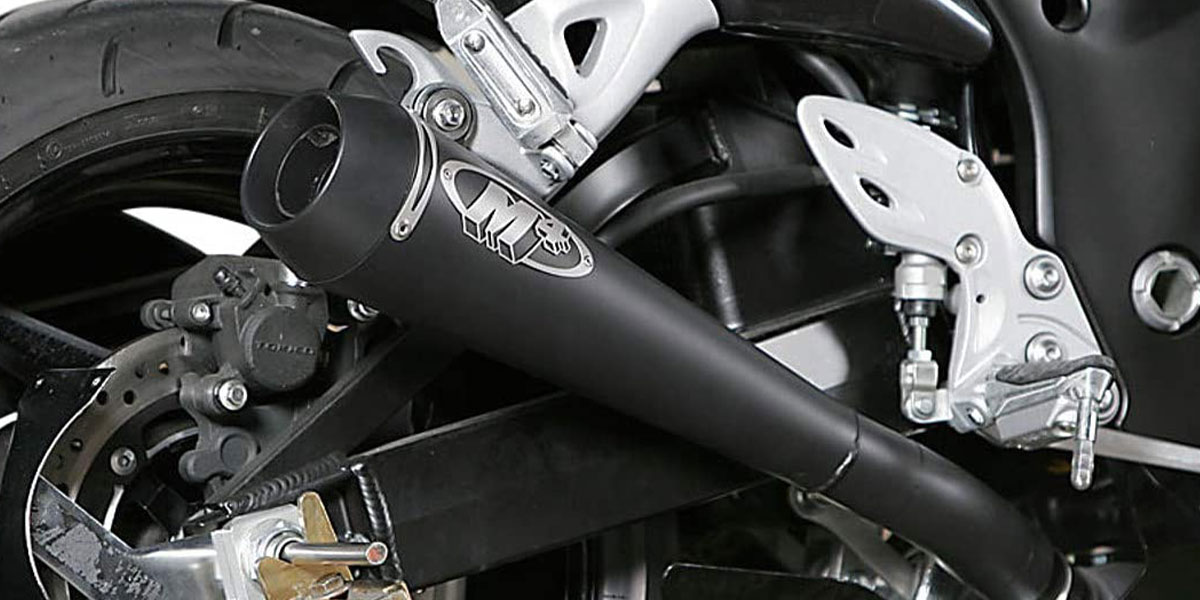 What do you get when you cross an M4 Retro Drag Slip-On Exhaust with a Suzuki Hayabusa? A 21lbs of weight reduction! Additionally, it ramps up your horses up to 6.2hp at 11,000rpm. That's like a supersport motorcycle on steroids.
But of course, there will always be people who would like a booming, loud exhaust sound partnered with a fast motorcycle. The M4 Retro Drag Slip-On Exhaust is available for Suzuki Hayabusa models made in the years 2008 to 2012.
This twin exhaust with a retro-drag design will give the 'Busa an astonishing look and a deafening sound. The package comes with a Q1 Quiet Inserts (Stage 1), but if you've decided that the sound it emits is still too much for you, you can buy a separate pair of Q3 Quiet Inserts (Stage 2).
When you purchase this, you'll get a twin exhaust and barrel clamps. Customers who previously purchased it are extremely happy about the decision they make. Anywhere they go, they get compliments on how awesome it looks and sound the sound it emits is pretty loud but not obnoxious. Pretty cool, right?

#3 Coffman's Twin Shorty Exhausts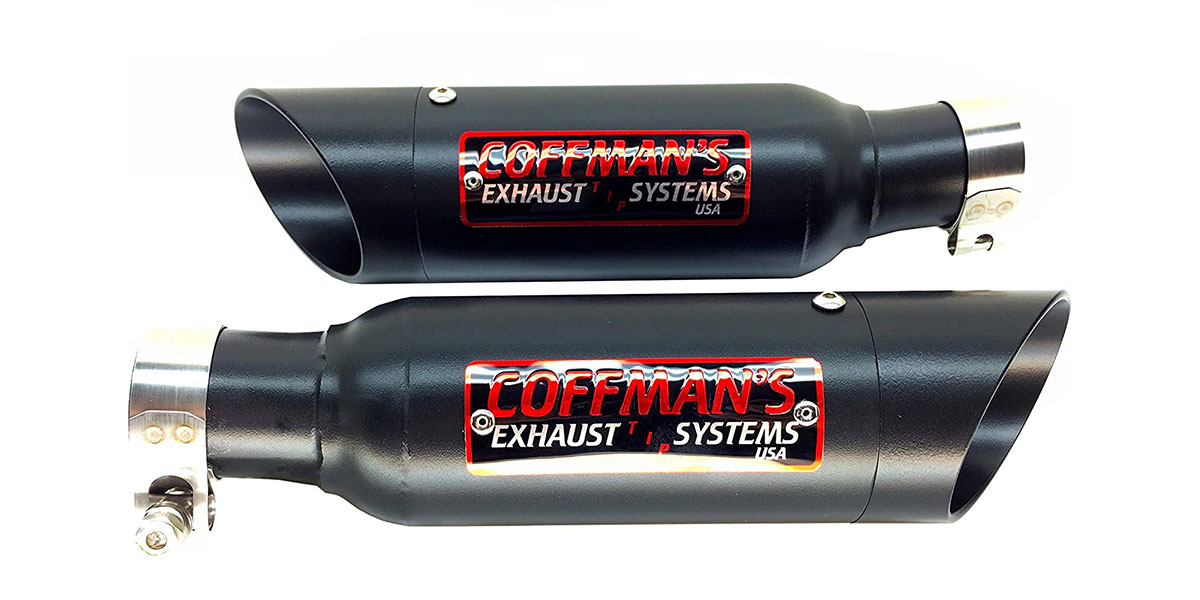 Another twin exhaust has joined the party. Introducing the Twin Shorty Exhaust from Coffman's Exhaust Systems. Available for 2008 to 2019 models, these dual exhausts feature a black tip end caps to fully utilize that nice, black, and neat muffler design.
This goes very well with the Suzuki Hayabusa since Coffman's exhausts are known to be loud and powerful.
The dual exhausts are made from 304 stainless steel. This steel undergoes CNC machining, mandrel bending, and at the end, TIG welding to create the finished product. When machines do it for you, maximum precision and minimal errors are expected.
Then they connect it with an aluminum tip, a baffle, and a two-way justifiable core system.
The Coffman's Twin Shorty Exhaust offers a stupendous amount of weight reduction when compared to the stock exhaust connected to the 'Busa. The peregrine falcon already has a cool sound, but when partnered with the Coffman's Twin Exhaust, you'll get an even cooler blast.
A lot of previous customers claimed that everything went even better than expected. The Coffman's really did avoid putting the nail in the coffin!

#4 VooDoo Industries 4-in-1 Exhaust Pipes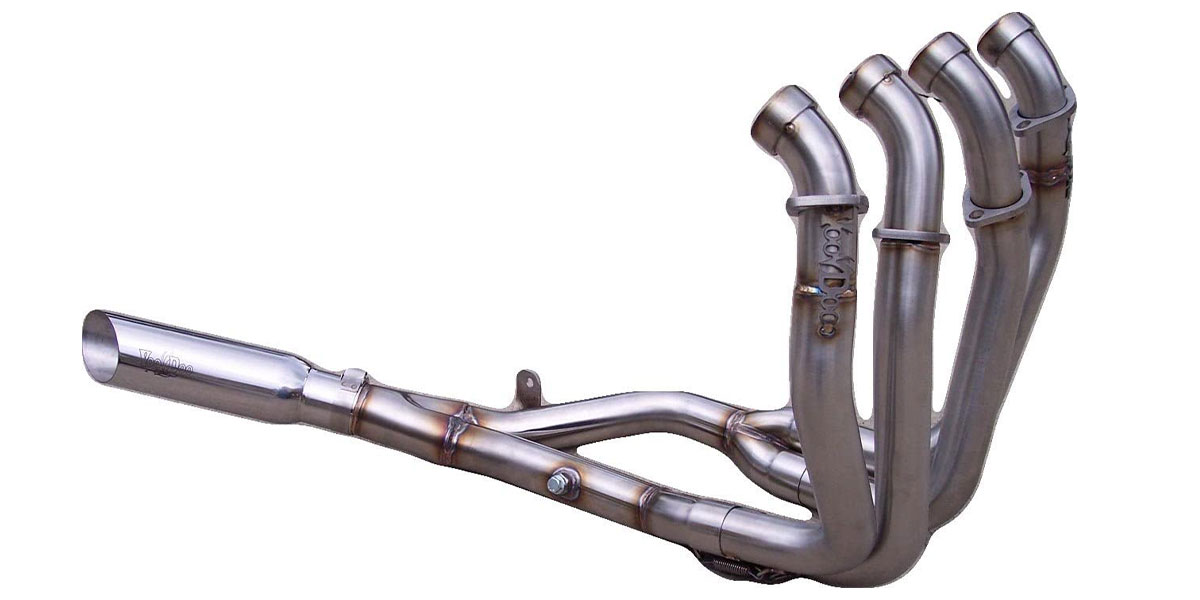 And last but not the least, we have a special one: a 4-in-1 exhaust pipes from VooDoo Industries. Available in two different finishes (polished and black). this is the ultimate exhaust replacement that you can give your Suzuki Hayabusa.
Getting an aftermarket full-exhaust system means that you get a lot more power, weight savings, and sound compared to a slip-on. Treat this as a gift for you lovely and breathtaking 'Busa.
So what's with the VooDoo? Stainless steel underwent a CNC mandrel bending to make the perfect angle for a 4-in-1 exhaust. This is also done to make sure that it will fit perfectly.
It makes use of the stock head pipe, so all you need to do is just remove the original muffler assembly. Along with the materials made, a removable and rebuildable baffle made by VooDoo themselves is included, laser-etched with the VooDoo logo.
Previous customers are very happy with the purchase. A lot of reviews say that the VooDoo Industries 4-in-1 Exhaust Pipes compliments the power and speed that a Suzuki Hayabusa can offer.
The box includes a full system header, so don't worry about the tip. The 4-in-1 exhaust is guaranteed to make your 'Busa dramatically lighter, louder, and even more powerful. If it's the sound you want, go for a VooDoo Industries 4-in-1 Exhaust.