If you want to level the stance of your Toyota 4Runner without selling your kidneys to get a huge sum of money, then consider purchasing a leveling kit. This is a good choice especially if you're sick and tired of that raked look that has been pestering your SUV for as long as you can remember.
Uneven suspensions are not just the problems of pickup trucks; SUVs experience them too! At first glance, it may be unnoticeable, for those who have an eye for small details, this is a problem worth looking at.
This nagging problem can be solved by installing a lift kit on your Toyota 4Runner. Not only that it will remove the rake problem that your SUV has, it will also give your vehicle a significantly better look.
More aggressive, confident, and assertive posture, Who doesn't want that in their 4Runner?
We've created a list of the best 4Runner leveling kits out there. You can use these as a guide to help you pick the right leveling kit for your ride.
#1 Dynofit 2" Front Leveling Lift Kit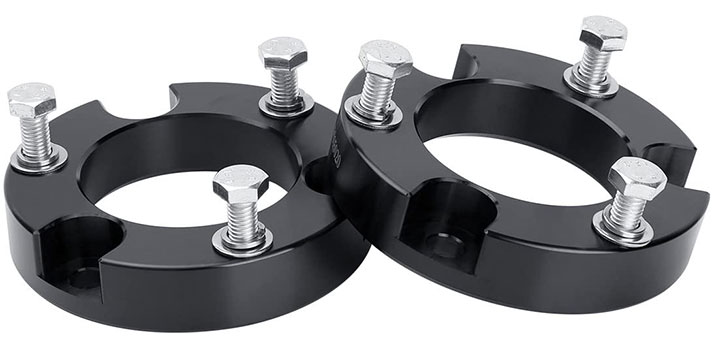 The first one to introduce itself is the Dynofit 2" Front Leveling Lift Kit, compatible 2WD, and 4WD 4Runners from the years 2003 to 2018. Dynofit's reputation for producing quality products like this is a testament to what they can bring in to your 4Runner.
Although of course, nothing is perfect, and they're still negative reviews about it.
What would you get if you purchase this leveling kit? Two pieces of strut spacers for the front, lug nuts, and instructions as to how you can install it. It is also easy to install, so no need to stress yourself out too much. And if all things goes south, you can talk to them and ask what they can do since you have a two-year warranty.
You have to keep in mind the negative reviews though. People are saying that it doesn't level the stance of the 4Runner, others say that no instructions were included in the package. But at the end of the day, the positive reviews outweighed the negative.
#2 Supreme Suspensions 2" Front Leveling Kit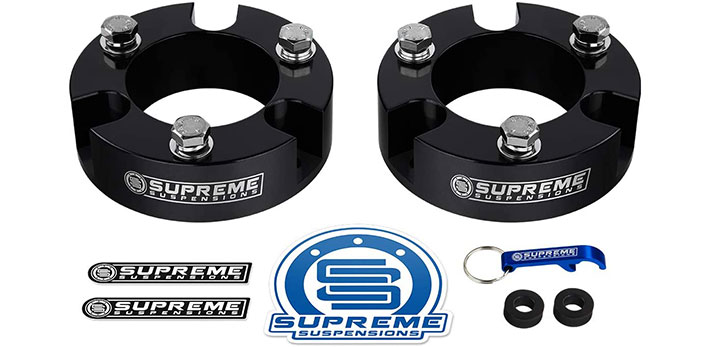 For the second one on our list is a pioneer when it comes to creating, well, supreme suspensions and leveling kits. Introducing the Supreme Suspensions 2" Front Leveling Kit, compatible with 2WD and 4WD 4Runners from 2003 to 2014.
If you want a trusted manufacturer to make an aftermarket leveling kit for your Toyota 4Runner, then you should consider trying this one.
The Supreme Suspension 2" Front Leveling Kit eliminates the 4Runner's rake and raises the level of the front part of the SUV by about 2 inches. Although in reality, this may be shorter or longer because the spacer thickness does not have a 1:1 ratio with the lift height.
The only thing that pissed off a very few numbers of people is the difference between the lift height and the spacer thickness. Shrugging that off, by far this can be considered as a highly recommended product for your Toyota 4Runner.
#3 KSP 2″ Leveling Lift Kits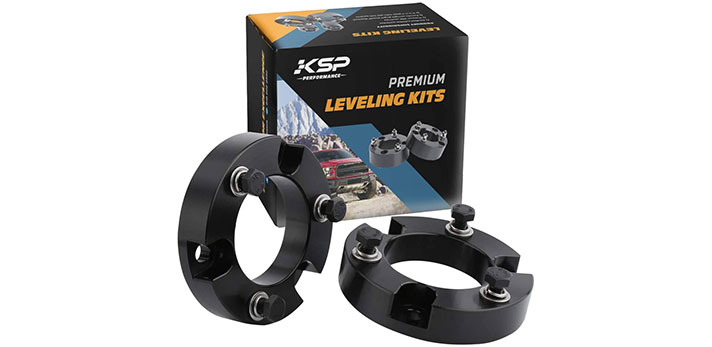 The KSP offers great value in terms of its effectivity and the looks it can give to your Toyota 4Runner by giving it a few nudges up, say 2 inches. Leveling kits like the KSP 2″ Leveling Lift Kits is such a simple method of solving the leveling problem without boring a hole in your wallet.
The material is durable, corrosive-resistant, and is worth every penny.
Grab the attention of many pedestrians just by having this kit on your SUV. The two-inch increase significantly raises the front of your vehicle, thus leveling it to the height of the rear and giving it a confident and sturdy appearance.
It's aggressive appearance aligns with the durability of the spacers itself.
The reviews about this kit are pleasant. The majority loves how easy it is to install and how a person with zero mechanical skills can install it on their Toyota 4Runner.
#4 Street Dirt Track 2″ Front Leveling Lift Kit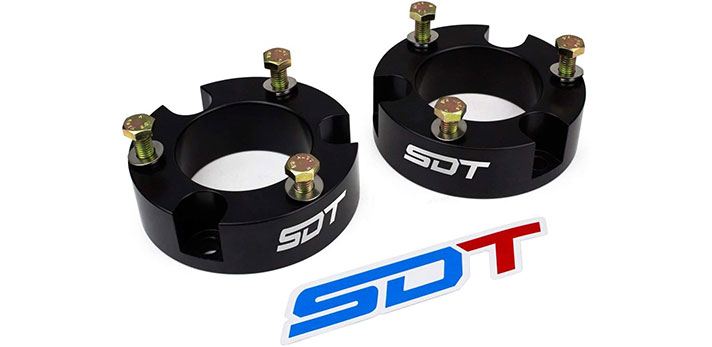 The fourth slot on the list goes the SDT and their leveling kit that can raise your vehicle's stance by up to two significant inches. That may not be a lot, but it is enough to highlight the aggressive and intimidating look of a Toyota 4Runner.
SDT stands for Street, Track, and Dirt. What does this mean for the leveling kit you ought to install on your SUV? Getting and SDT means spacers with heightened durability, strength, and effectiveness does its best to level your SUV's stance while giving you enough ground clearance.
More ground clearance means bigger tires. Bigger tires mean increased capabilities to go more extreme in the off-road trails. After all, the spacers in this leveling kit are made to meet the street, track, and dirt.
This is another highly recommended leveling kit, along with the Supreme Suspensions 2" Front Leveling Kit.
#5 Supreme Suspensions 3" Leveling Kit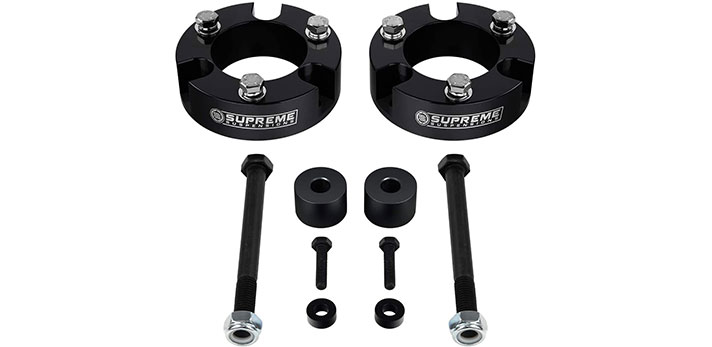 And for the final spot, the Supreme Suspensions are back at it again, and this time, with a bang. Introducing the Supreme Suspensions 3″ Leveling Kit, capable of raising the front part of the SUV by three impressive inches.
This leveling kit includes some strut spacers and a differential drop kit which helps increase the lifespan of your C.V axles.
This additional item has pleased many previous customers. This is included in the package so that the 4WD version of the Toyota 4Runner can have an improved axle alignment while eliminating potentially harmful vibrations along the driveline.
This is another highly recommended leveling kit for your Toyota 4Runner, especially if it's a 4WD. If you have the budget, go grab this quickly!
When buying a leveling kit, make sure that you choose the right one that will fit nicely in your vehicle while satisfying your riding quality standards. The leveling kits mentioned above are more than capable of fixing the posture of the Toyota 4Runner to make it look stronger and aggressive.