The Toyota Tundra is such a beast of a machine. It's powerful, capable, and durable – perfect for activities that require some real horsepower. If you own one, then you most likely know what feats this pickup truck can do.
One of the best things to do to your Toyota Tundra is to equip it with a truck bed cover. Why? A truck bed cover can do you a lot of good, including protection for your belongings, style, and improved fuel economy.
Luckily for you, we've created the list of the best truck bed covers out there that will be perfect for your Toyota Tundra. They vary from tri-fold covers to soft roll-up covers, so you'll have the freedom to choose whatever you like. Check them out!
#1 Tyger Auto T3 Soft Tri-Fold Tonneau Cover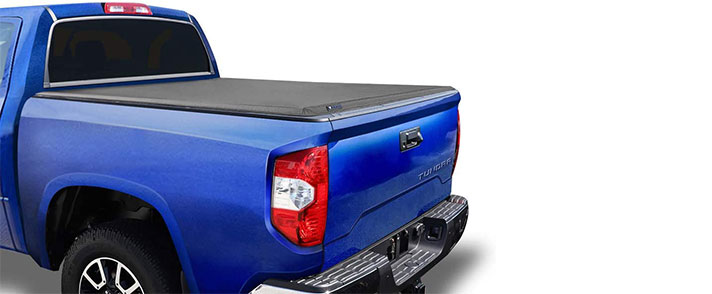 Do you want a truck cover made in the lands of the USA itself? Are you interested in equipping your Toyota Tundra with a high-quality soft roll-up cover? Introducing the T3 Soft Tri-Fold Truck Bed Tonneau Cover, made by Tyger Auto, a design patented in the USA.
The cover can be easily folded so you can access the cargo bed easily; it can even improve your gas savings by 13%!
What can the Tyger Auto T3 Soft Tri-Fold Tonneau Cover do for your truck?
WEATHER RESISTANCE. This tonneau cover is specifically designed to keep out harmful natural elements the world can throw at your truck, like rainwater, dust, snow, hail, and even sun rays.
HEIGHTENED SECURITY. Since this is a patented design from the USA, the security detail on this tonneau cover is impressive. Clamps attached with stainless steel rods work together to lock the belongings in your truck securely.
INSTALLATION MADE EASY. Keep your tools away, you won't be needing them. This tonneau cover is already preassembled and all you have to do is follow the instructions.
Tyger Auto also offers other variants, like the Tyger T1 (soft roll-up) and the Tyger T5 (hardtop tri-fold made of alloy).
#2 BAK BAKFlip G2 Hard Folding Tonneau Cover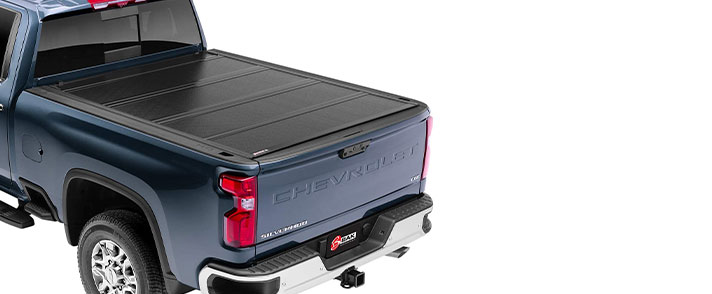 Have you been wanting to upgrade your cargo bed's protection while being concerned that you won't be able to access all those space anymore? No need to worry! Introducing the second one on the list, we have the BAKFlip G2 Hard Folding Tonneau Cover made by BAK.
You can drive with the covers fully open/close or partially open/closed without interfering with the 3rd brake light – you can thank the G2 for that!
What would you get if you BAKFlipped?
INCREASED SECURITY. The aluminum panels and the cover's unique automatic latching system work hand in hand to give your cargo bed the security it needs.
UPGRADED FUNCTIONALITY. This tonneau cover has prop rods that hold the panels up like a post while they're open and firmly take them away when the cover gets closed (partially or fully). You can also close the tailgate while the cover is open or close, thanks to the double-action tailgate seal.
The BAKFlip G2 Hard Folding Truck Bed Tonneau is also flushed down to the truck bed so it projects a classy, stealthy look.
#3 TruXedo Soft Roll Up Tonneau Cover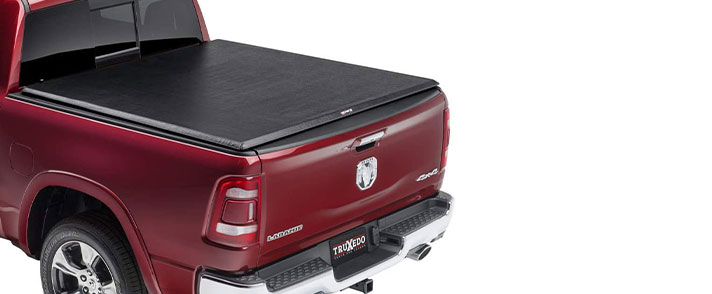 The TruXedo Roll Up Tonneau Cover is for you if you've been looking for a soft roll-up cover that is both waterproof and affordable. The leather grainy-black coating used for the cover makes it durable enough to withstand the harshest of conditions.
Aside from its top-of-the-line functionality, it also gives your truck a distinct good look.
Ready to outfit your truck with a TruXedo? Here's what you'll get.
WEATHER RESISTANCE. The soft roll-up is designed to keep out water out of the cargo bed, keeping your gear dry and safe. If you're not satisfied yet, you can manually adjust the cover's tension by using a tension control mechanism to pull the cover tighter.
TOP-TIER FUNCTIONALITY. The TruXedo is made for one purpose: to be easy to use. Use the unlockable tailgate latches and roll the cover-up or down. The frame is sturdy enough to receive as much punishment, so there's no point in worrying about your valuables – they're safe!
STYLISHLY GOOD LOOKING. The frame rests above the truck bed, making your Toyota Tundra even more good looking. The black leather used leaves a great impression and will last for a very long time.
TruXedo offers a hassle-free 5-year warranty, so need to worry if you get a damaged one.
#4 Tonno Pro Soft Folding Tonneau Cover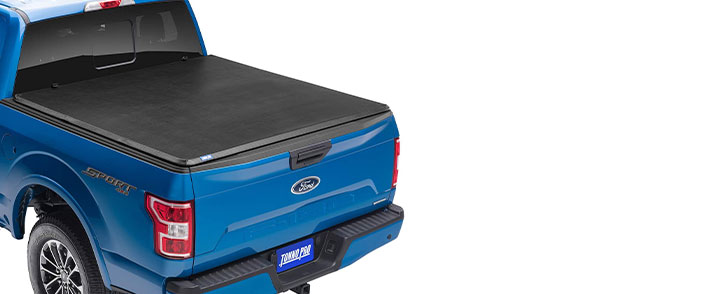 Before you proceed with the last of our list, please answer a question: would you get a Tonno tonneau cover for your truck? If the answer is yes, check out the Tonno Pro Soft Folding Tonneau Cover, the increasingly more popular truck cover for the Toyota Tundra – for a good reason.
They boast of 10-minutes or less installation, impressive security, compactness, and durability without piercing a hole in your wallet.
What does the Tonno Fold Soft Folding Tonneau Cover have to offer?
EFFICIENT CARGO CARRIER. Do you have an oversized cargo to put behind your truck? Keep the cover partially or fully opened! How about the smaller items? You can secure them on the bed by buckling them in place.
EASY INSTALLATION. Rail clamps on the side allow you the ability to install the tonneau cover in just 10 minutes or so. This truck cover is light enough to have a single person install it. Hide your tools away!
RESISTANT TOP. Aside from the protection, it gives on your cargo from elements like rain, UV rays, dust, and wind, the cover is also extra durable because the frame is aluminum powder coated with vinyl.
The Toyota Tundra is such a beast of a truck. Make sure to equip it with the right truck bed cover to keep your belongings safe and secured without sacrificing style and aesthetics!