The Nissan 350z is one of the most popular GT/Sports cars of the 2000s. It offers a great blend of performance, price, sound, and comfort. Thanks to depreciation, the 350z has become incredibly affordable and it's a very popular choice for automotive enthusiasts all over the world.
One of the most common complaints about the 350z (especially DE powered models) is lack of power.
The easiest to increase power output is to either get more air into the engine or to get the air out of the engine easier. Aside from forced induction, the best to get more air into your VQ35 is with a cold air intake.
To help you find the perfect intake for your Z we've put together this short guide.
#1 Volant 12635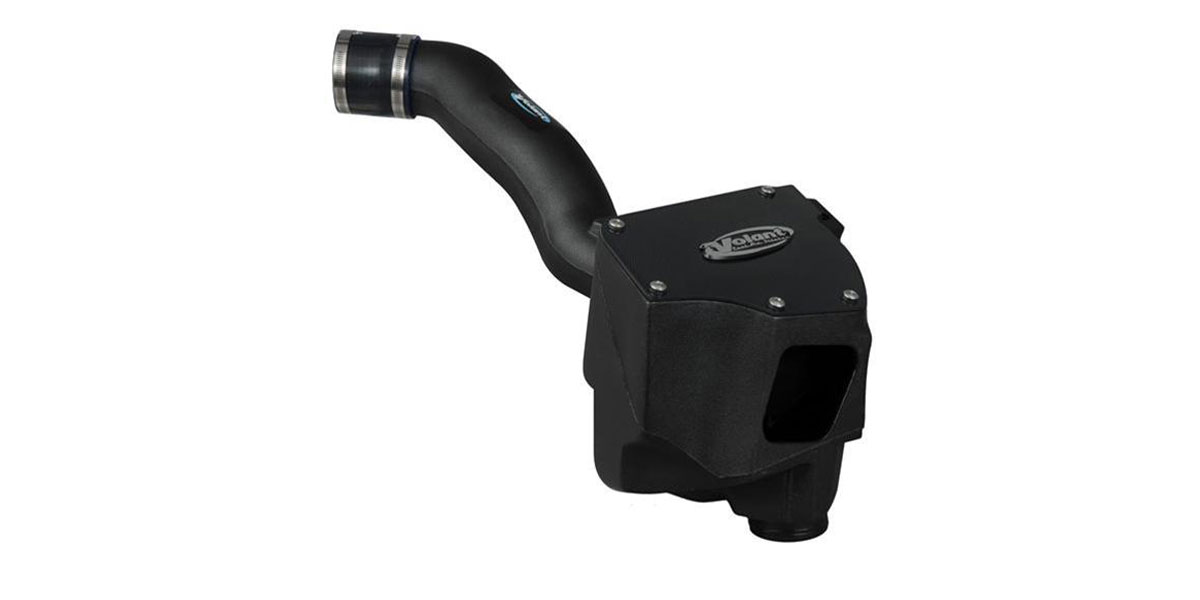 This first intake we're going to feature on this list is the Volant 12365 Closed Box Air Intake. What makes this intake unique from most air intakes on the market is the use of a full intake box.
Popular automotive marketing might make you think that intake boxes are bad, but they're the single best way to ensure your intake system is pulling in cold air rather than hot air.
The Pro-5 filter which is included with this intake is fully reusable and cleanable, which saves you money in the long term since you won't have to keep buying new filters.
The Volant airbox is significantly larger than the stock box with a larger opening to pull air in from the OEM intake duct.
The MAF sensor is kept in an OEM-like position with a smooth transition from the box to the tube, which provides a steady stream of air for the MAF sensor to read. This intake is a bit more expensive than other options on the list, but the full intake box makes it worth it.

#2 Mishimoto MMAI-350Z-03H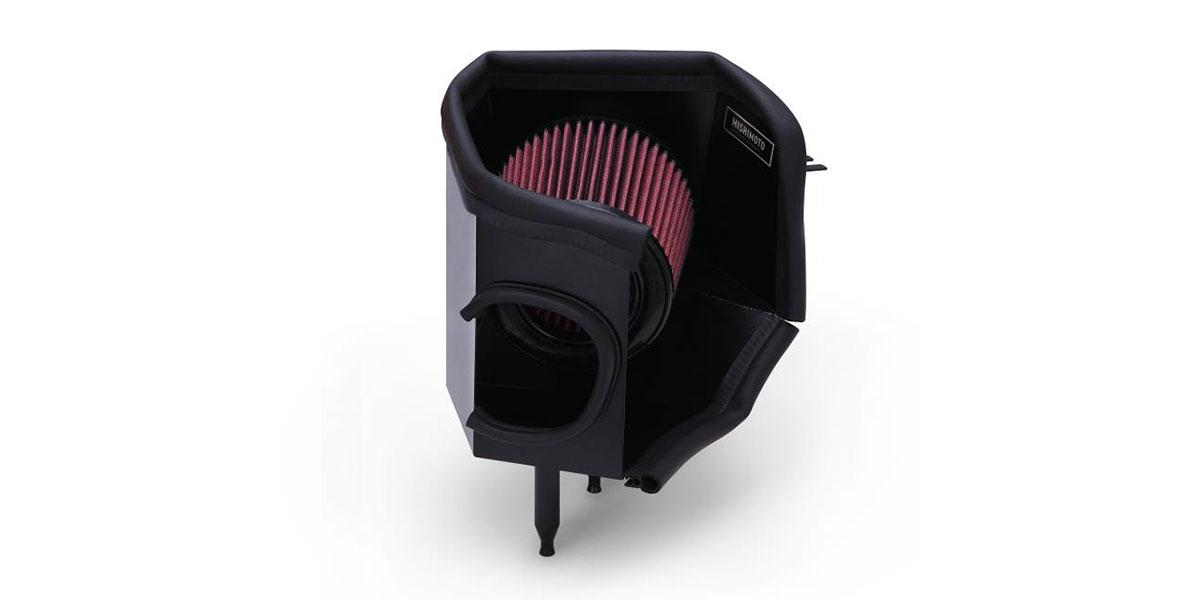 A great alternative to the VOlant kit is the Mishimoto MMAI-350Z-03H. This intake is significantly cheaper while still offering a high-quality airbox to surround the filter. What makes this intake system so much cheaper is the lack of an aftermarket intake tube.
With this kit, you leave the OEM intake tube in place. The OEM intake tube is theoretically an airflow restriction, but you can still experience pretty great power gains with it in place. The Mishimoto filter offers 271% more surface area than the OEM filter, which means improved filtration and improved flow.
As per Mishimoto's testing, you can expect up to 10whp and 13wtq with this intake installed on your Z. Best of all, this kit is super easy to install since the OEM tube stays in place, and it's all backed up with a Mishimoto Lifetime Warranty!

#3 HPS 827-520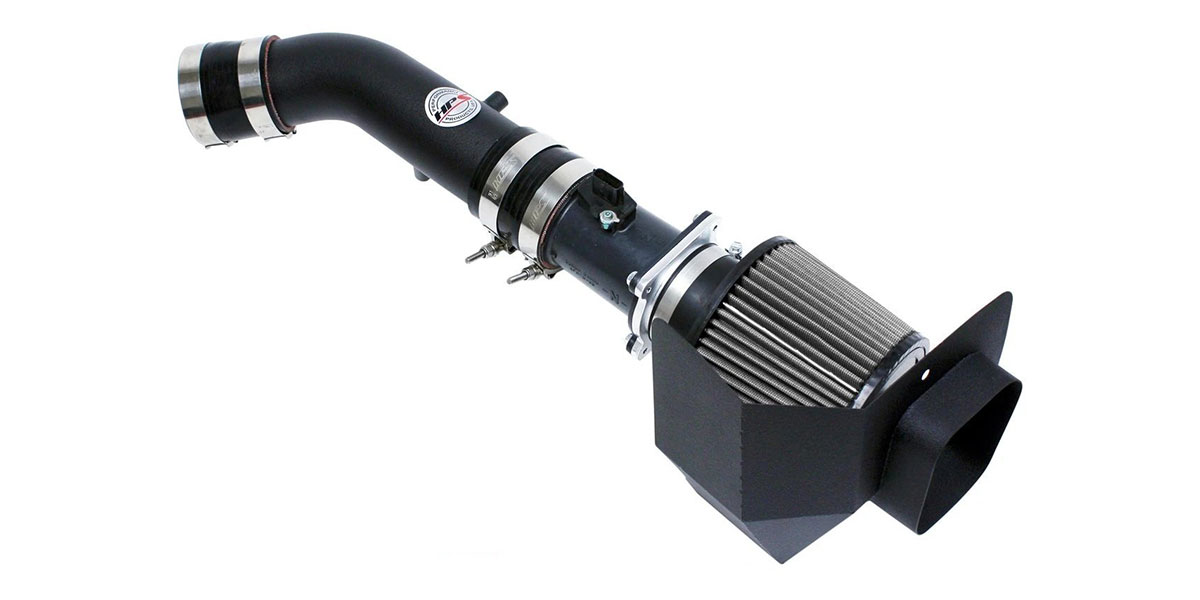 For those of you who want color options, the HPS 827 series is a great choice. This kit is available with a polished, blue, black, or red intake tube. It's also one of the more affordable kits on this list and one of the most popular amongst 350z owners.
The included 3-inch mandrel-bent aluminum intake tube eliminates any flow restrictions found in the OEM intake tube. Unfortunately, this kit doesn't include a full intake box, however, it does include a powder-coated steel head heat shield which helps block hot air from being sucked into the intake.
Also included with this kit are stainless t-bolt clamps which seal much better than traditional clamps. As per HPS's performance claims, you can expect up to +10whp and +9.8wtq with this intake kit installed on your Z. This kit is also backed up by HPS' 2-year warranty so you can drive worry-free.

#4 Injen SP1986P Mega Ram Intake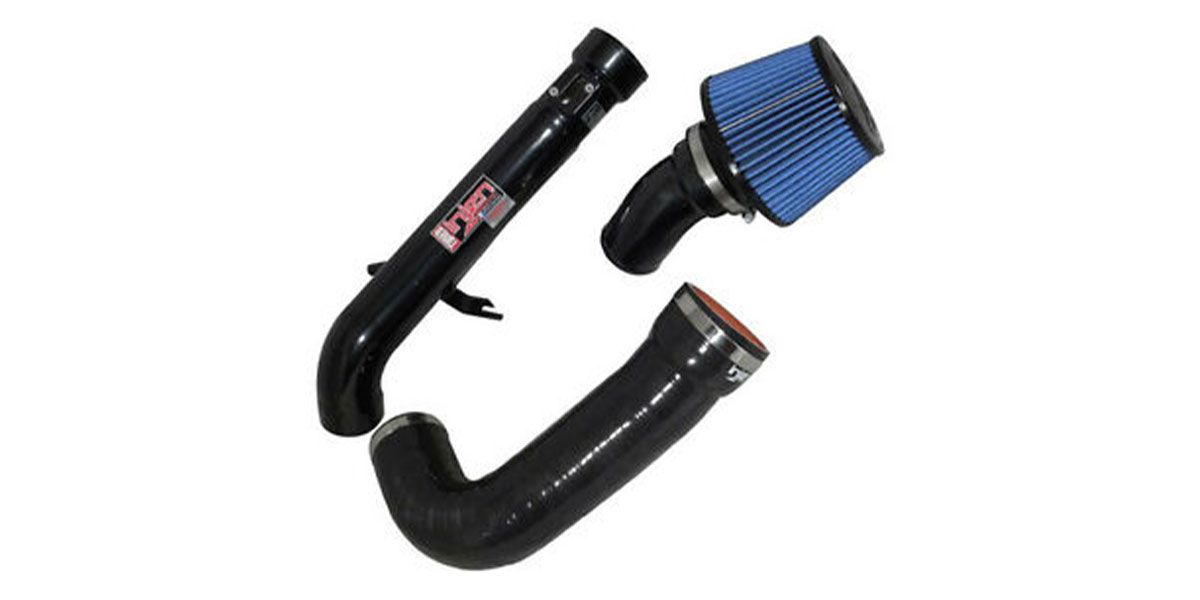 Injen, as you may know, has long been one of the most popular cold air intake manufacturers in the world. This particular intake is quite a bit different than any other intake on this list because of where Injen positions the filter.
Rather than place the filter in the OEM location, it's placed down inside the front bumper. This puts the filter further away from the engine and further away from hot engine-bay air.
Unfortunately, there is a downside to positioning your intake in the front bumper, which is water. If you were to drive through a big puddle, there is a possibility of water getting into your intake system.
This is an unlikely scenario since the 350z utilizes a skid plate up front, but it's something you should keep in mind before purchasing.
The filter is Injen's SuperNano-Web dry air filter which is fully serviceable. The intake tubing is constructed from 6061-T6 aluminum, and according to Injen, you can expect power gains up to 18hp and 14lb-ft with this intake installed.
I think it's also worth noting Injen typically inflates their power numbers, but regardless you can still expect great power gains.

#5 AEM 21-547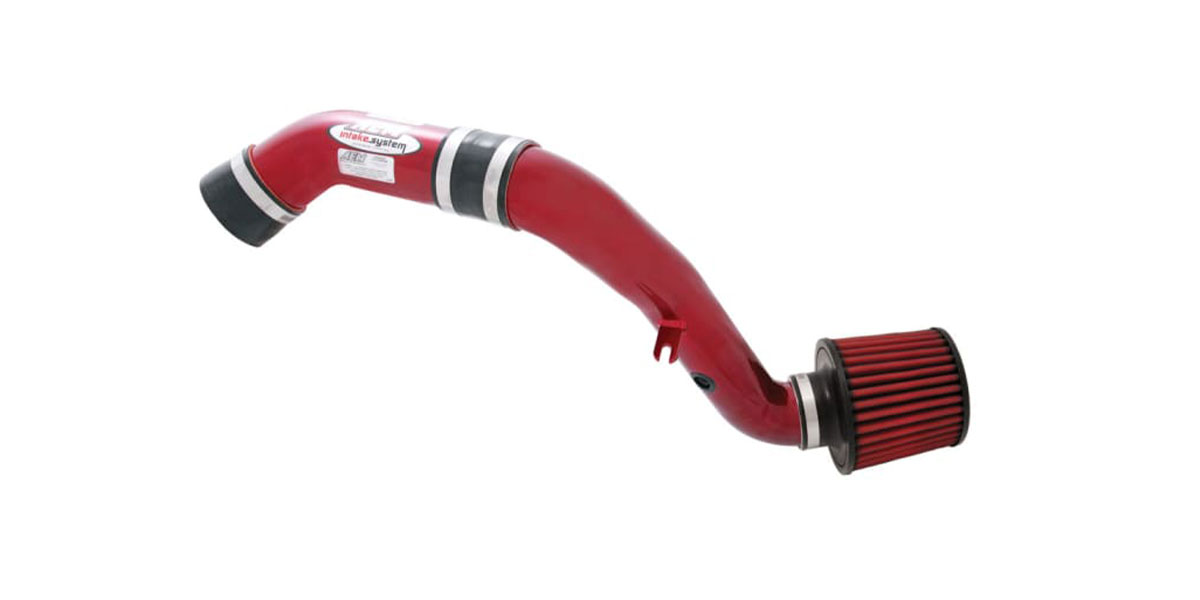 Another great option for a very affordable intake with multiple color options is the AEM 21-547. What's particularly interesting with this intake is that it moves the location of the filter like the Injen intake.
To put it simply, the AEM intake moves your filter a little bit lower and further away from the engine, but it's not as extreme as the Injen intake.
One of the best features of this intake system is the wide variety of available colors. You can purchase this intake with a blue, grey, red, or white! This is great for 350z owners who want something to make their car look unique when the hood is open.
Unfortunately, it doesn't look like AEM has published any public power figures, but you can expect power gains to be similar to the other intakes on the list.
AEM also offers a short ram style version of this intake for VQ35DE and a dual intake system for VQ35HR! Best of all, everything is covered by AEM's lifetime warranty.

#6 K&N Replacement Filter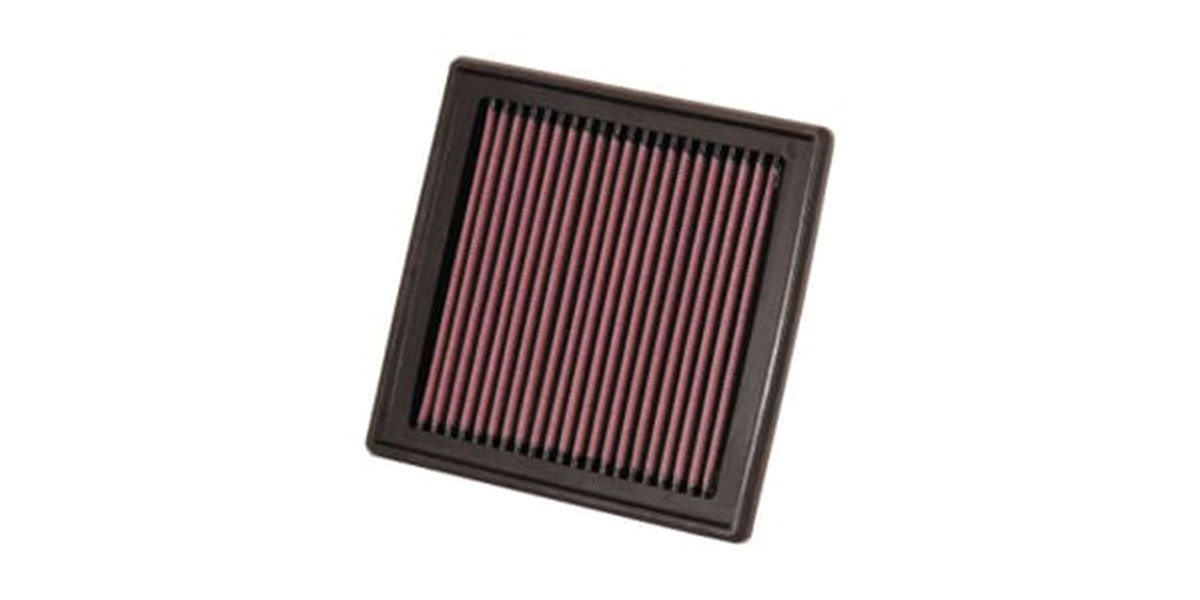 Last but certainly not least is the K&N replacement filter. It's worth noting that many OEM intake systems aren't as bad as aftermarket companies will lead you to believe. The OEM intake system utilizes a good box design and relatively unrestrictive intake tubing.
A cheap and super-easy way to give your Z a minor bump in power is with a better intake.
Not only is your old intake restrictive, it's probably very dirty which means your engine could be breathing in dirty air. Over time, dirty air can scratch your cylinder walls and slowly kill your engine.
Not interested in fully upgrading your intake? Just toss in a K&N replacement filter!

Bonus: Intake Duct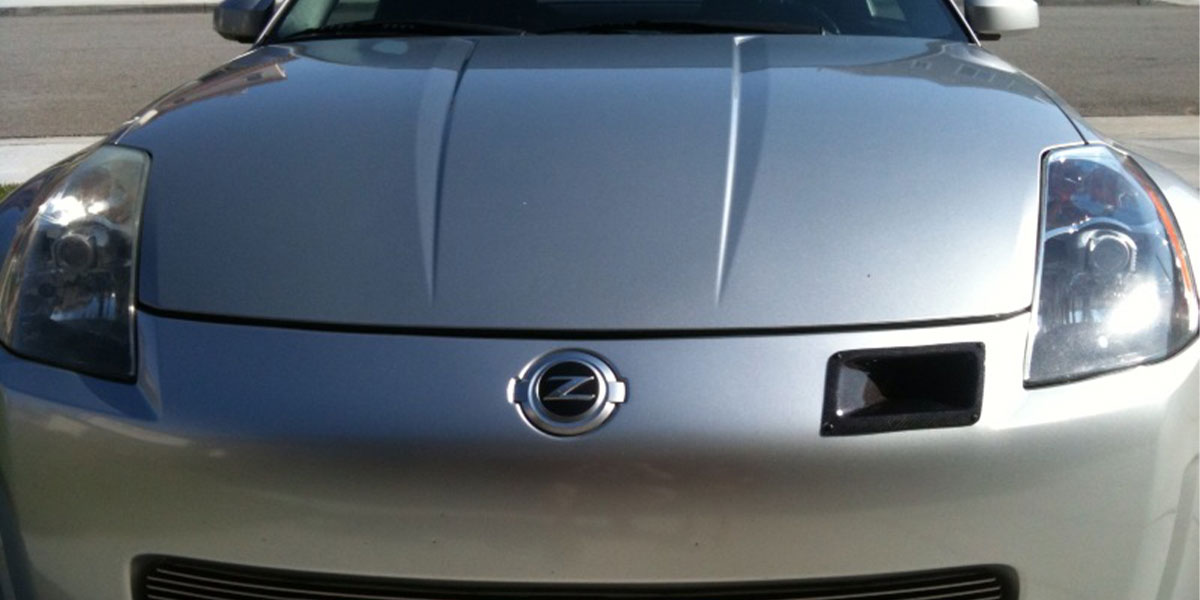 A great addition to any aftermarket cold air intake or even your stock intake system is an intake duct. From the factory, your Z has an intake duct (or two for HR models) which help feed cold air to the intake box, however, there is no direct path from outside to the intake duct.
By creating a more direct path to the intake box, you're going to get more cold air into the intake system.
The easiest way to do this is with an aftermarket intake duct. This involves cutting a hole in your front bumper and mounting up the aftermarket duct. This is a modification that can be to DE and HR 350z models, and it's a great way to get more cold air into your intake system.

Do I Need a Tune?
This is a question that comes up quite frequently and depending on who you ask, you'll get a different answer. Technically, you don't need a tune to install an aftermarket intake.
The MAF sensor should be able to detect any increase in airflow with an aftermarket intake and adjust fueling correctly. That being said, your OEM tuning isn't designed to take advantage of aftermarket parts.
Your Z will run and drive fine with an aftermarket intake on the stock tune, but you could be leaving power on the table. If you want to get the most power out of your aftermarket parts, a proper tune is something you should consider.
The more parts you add on to your Z, the more power could be added with an aftermarket tune.