Over the past five years, the Fox Body Mustang has exploded in popularity, especially with young hot rodders. The funny thing is, most youngsters don't even know what a Fox Body Mustang is, and you can't blame them.
The Fox Body is a hidden gem in the automotive world, so you better get one before they're all gone. Before we jump into why you need one, let's quickly cover what a Fox Body is.
What is a Fox Body Mustang?
A Fox Body Mustang is a Mustang produced anywhere from 1979 to 1993. It doesn't matter if it's a coupe, convertible, or hatch. It also doesn't matter what engine it has either or transmission. As long as it's between the production years of 1979 and 1993, it's a Fox Body.
Why is it called a Fox Body?
I know, it's a bizarre name to give to a car, but it's called a Fox Body because it's on the Ford Fox platform.
Ford designed the Fox platform as a unibody chassis and used it across a wide range of Ford/Lincoln/Mercury vehicles.
Ford's main objective with the Fox platform was to downsize the massive cars they made in the '70s.
Why is it called the "Fox" platform?
I cannot find a sure reason why Ford identified this chassis as "Fox." Some people say that it had something to do with VW's "Rabbit," but I can't confirm that.
I assume the Fox name has something to do with how Ford downsized their vehicles. Ford's vehicles went from being big as a cow to small and nimble like a Fox.
Now that you know what a Fox Body is let's talk about what makes them so awesome. Also, if you doubt my knowledge on the topic, check out the article I wrote about my own Foxbody: The Story of my 1991 Fox Body Mustang.
8. 1980s Goodness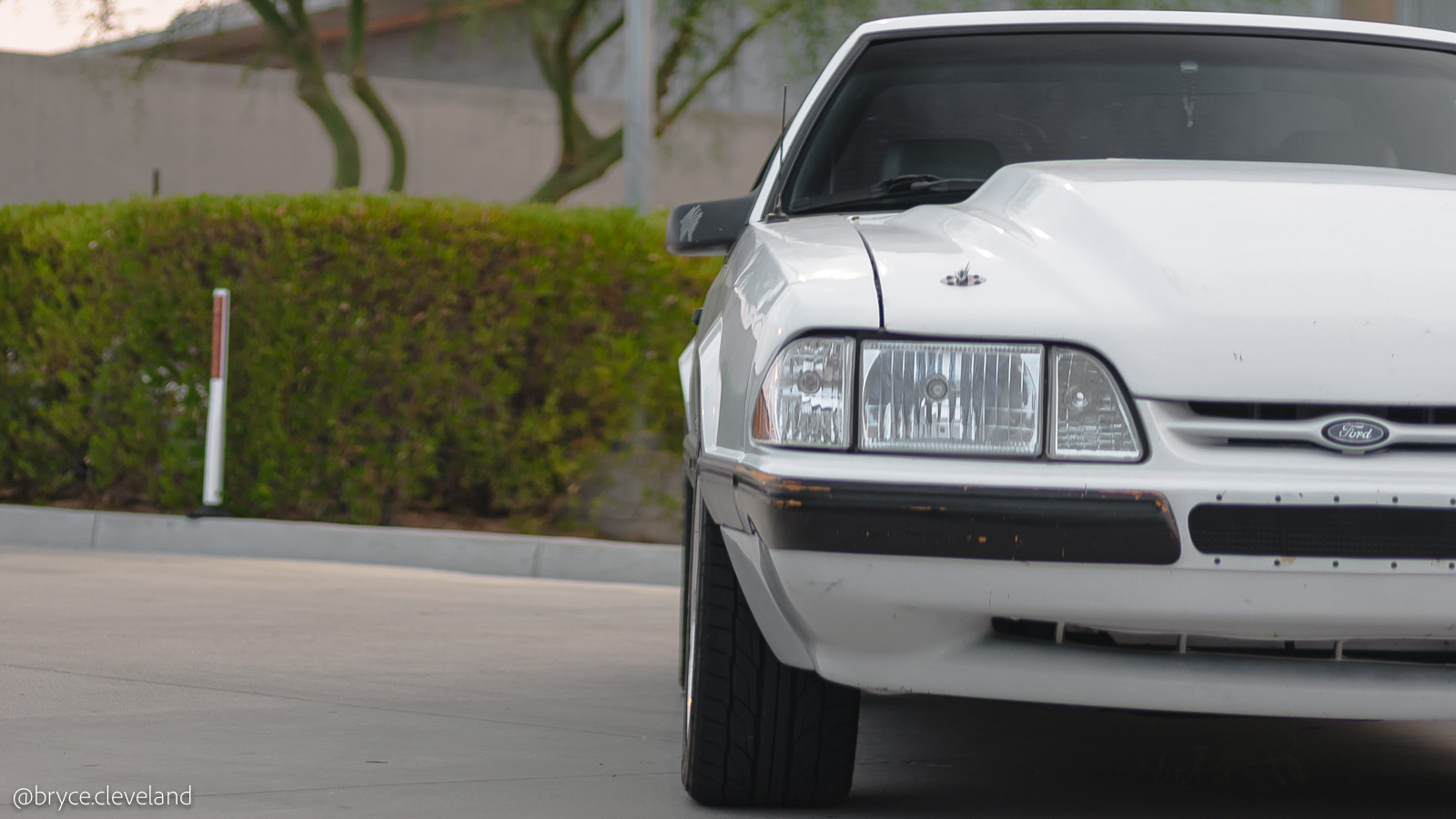 Ah, the '80s, something that the Fox Body represents strongly. Back in the day, you would see Fox Body Mustangs around every corner.
Even my mother had a Fox Body back in the day, although she ended up totaling it. The day I came home in my Fox Body, she was dying to take a ride in it. What other cars can bring people from completely different generations together?
The only vehicle I can think that brings people together as a Fox Body can is a Jeep.
Fox Body Mustangs also represent vehicle styling from the '80s and '90s. The long horizontal taillights, the factory GT body kit, the simple body lines.
Look at a BMW E30 and try to tell me it doesn't look similar to a Fox Body couple. Even the interior screams the '80s, which is awesome because interiors weren't cluttered with fancy junk back then.
All you have is a steering wheel, pedals, gear shifter, and a basic radio.
Another great thing about '80s cars is that you have to drive it yourself. What do I mean by this? Modern Mustangs come equipped with traction control, stability control, line lock for burnouts, and ABS.
The Fox Body Mustang has none of the above; your right foot is the traction control. If you throttle mid-corner, you better know how to control the drift, or you'll end up crashing.
If you want to survive driving a Fox Body you'd better learn how to drive really well.
7. Camaro Killer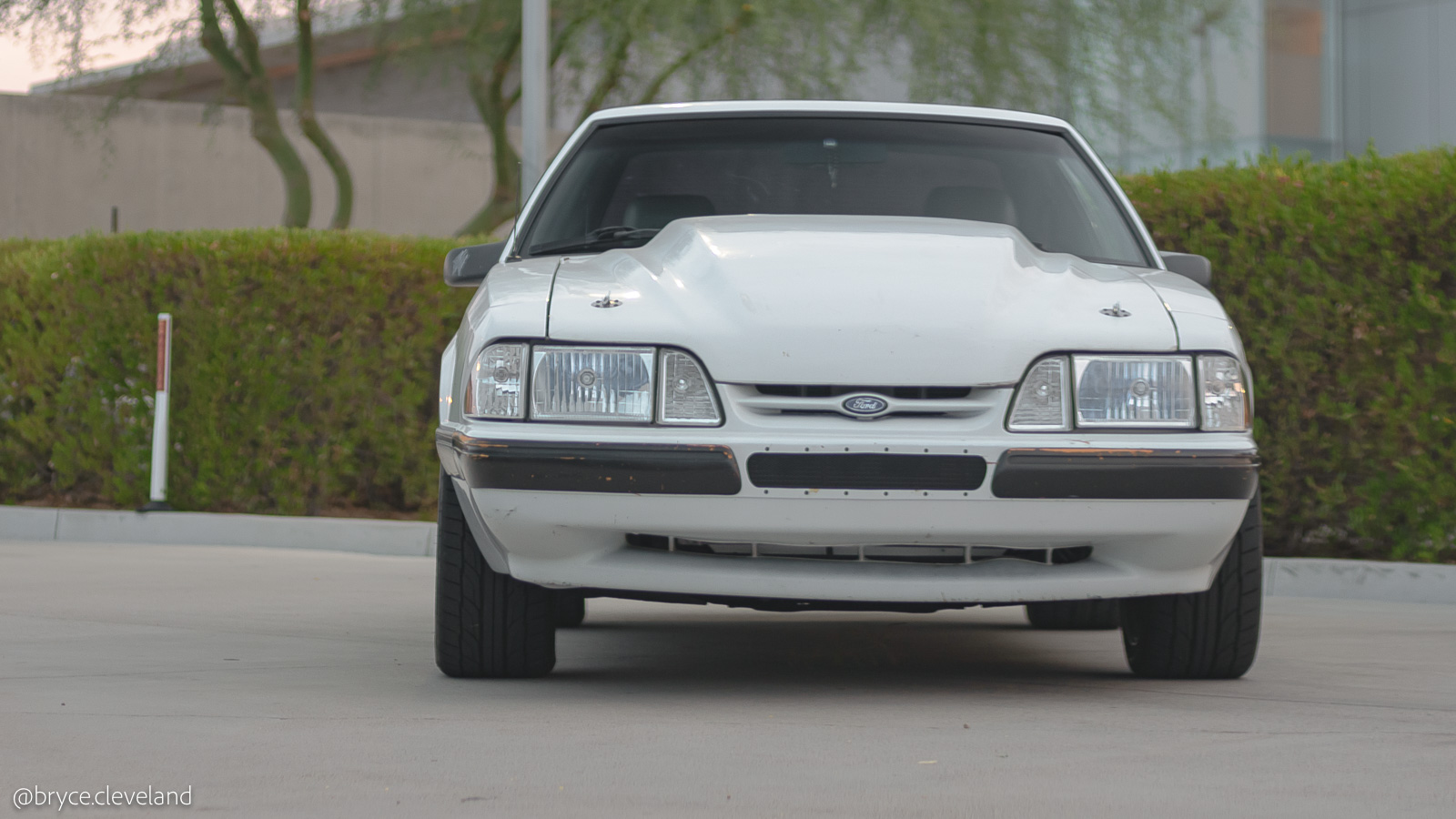 Back in the '80s and '90s, there was always stoplight racing between the Camaro and Mustang. However, the Fox Body was almost always faster in a straight line.
They both have similar power and torque, but the Fox Body's low weight give it an advantage on the Camaro. The Fox Body weighs in around 3,000-3,200 lbs, depending on the model and body.
The 3rd gen Camaro weighs in around 3,300-3,400 lbs. A few hundred pounds might not sound like a huge amount, but it's a huge advantage, especially when drag racing.
The Camaro had a more advanced rear suspension and braking system, which makes it stop and handle a little better.
But, these are American cars, and most people never take their cars on a road course or Autocross. The Fox Body's lack of rear pan hard bar holds it back when it comes to Autocross and circuit racing.
Simply adding a pan hard bar to the rear axle will greatly improve the Fox Body's handling.
RELATED: Ford Coyote vs. Chevy LS: Which One is Better?
The 3rd gen Camaro LT engine is based entirely off small-block Chevy engines before it. But, the TBI and TPI fuel injection systems aren't very popular with tuners.
For this reason, many 3rd gen Camaros are carb/aftermarket EFI swapped. When it comes to the aftermarket, I would definitely say the small block Chevy is more popular. But that's not to say the small block Ford isn't popular in the aftermarket.
Both the Fox Body Mustang and the 3rd gen Camaro are unbelievably fun to stoplight race.
Even in their stock condition, they're an absolute riot, but the Fox Body will almost always take the win. 3rd gen Camaros also have this weird stigma.
If you drive a 3rd gen, everyone thinks that either you're a hillbilly or have a mullet.
6. They're Sexy as Hell!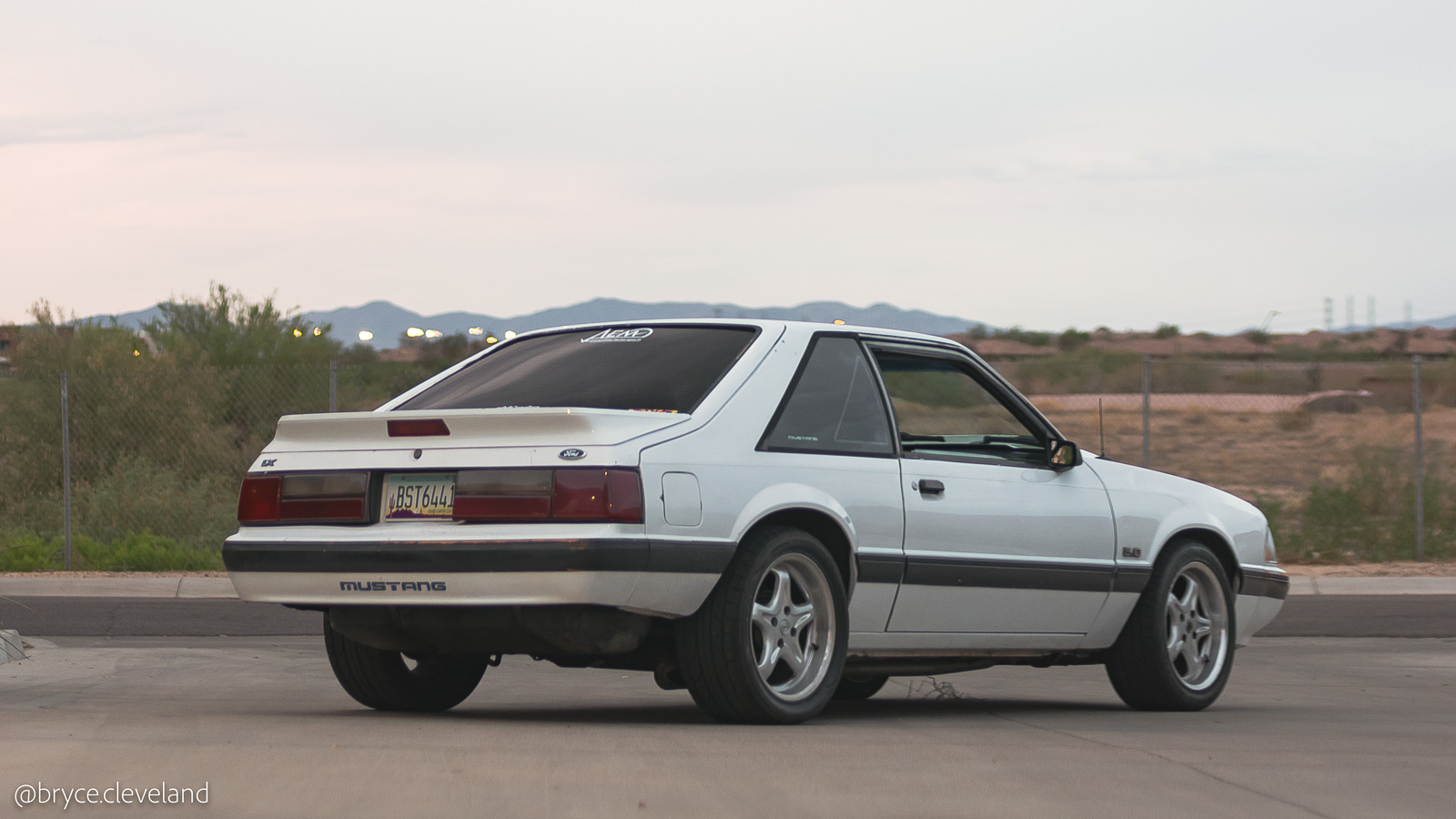 Whether you love or hate the style of the Fox Body, you'll probably agree that it's interesting. But it doesn't really resemble the Mustangs of the past.
The lack of "tri-bar" tail lamps and the wonky front end definitely set it apart from the typical Mustang. The Fox Body definitely has its design flaws. For example, the GT's rear bumper is hideous.
The GT's rear bumper is shaped like a giant square with a weird lip at the bottom. Also, the LX's rear bumper is too short.
The Fox Body represents the vehicle styling of '80s automobiles as I said earlier. Many enthusiasts considered cars like the BMW E30 to be one of the best-looking cars to ever be created, and the Fox Body shares much of the BMW's '80s styling.
I think that's partly why the Fox Body is becoming really popular with the younger generation. Just look at the Fox Body below and try to tell me it's not a good-looking car.
If you decide you need to buy a Fox Body, be sure to read our Fox Body buying guide.
The Fox Body Mustang came in a Fastback, Coupe, and a Convertible. This was the last generation Mustang that was available in a fastback before the 2015 Mustang.
In the eyes of the younger generation, the Fox is incredibly good-looking. Like I said above, this is probably due to its '80s styling and small size compared to new Mustangs.
Performance shops such as Saleen put their own twist on the body styling of the Fox Body. Arguably the best-looking body kit for the Fox Body is the Cobra style body kit.
Generally, the Notchback is more desired, mostly because of its rarity but also because it's the lightest.
The coupe is also about 100 lbs lighter, making it much more popular with drag racers. I've always personally liked the LX hatchback more, but that's probably just 17-year-old me remembering all the awesome times I had in my Fox Body.
5. 300 LB-FT of Torque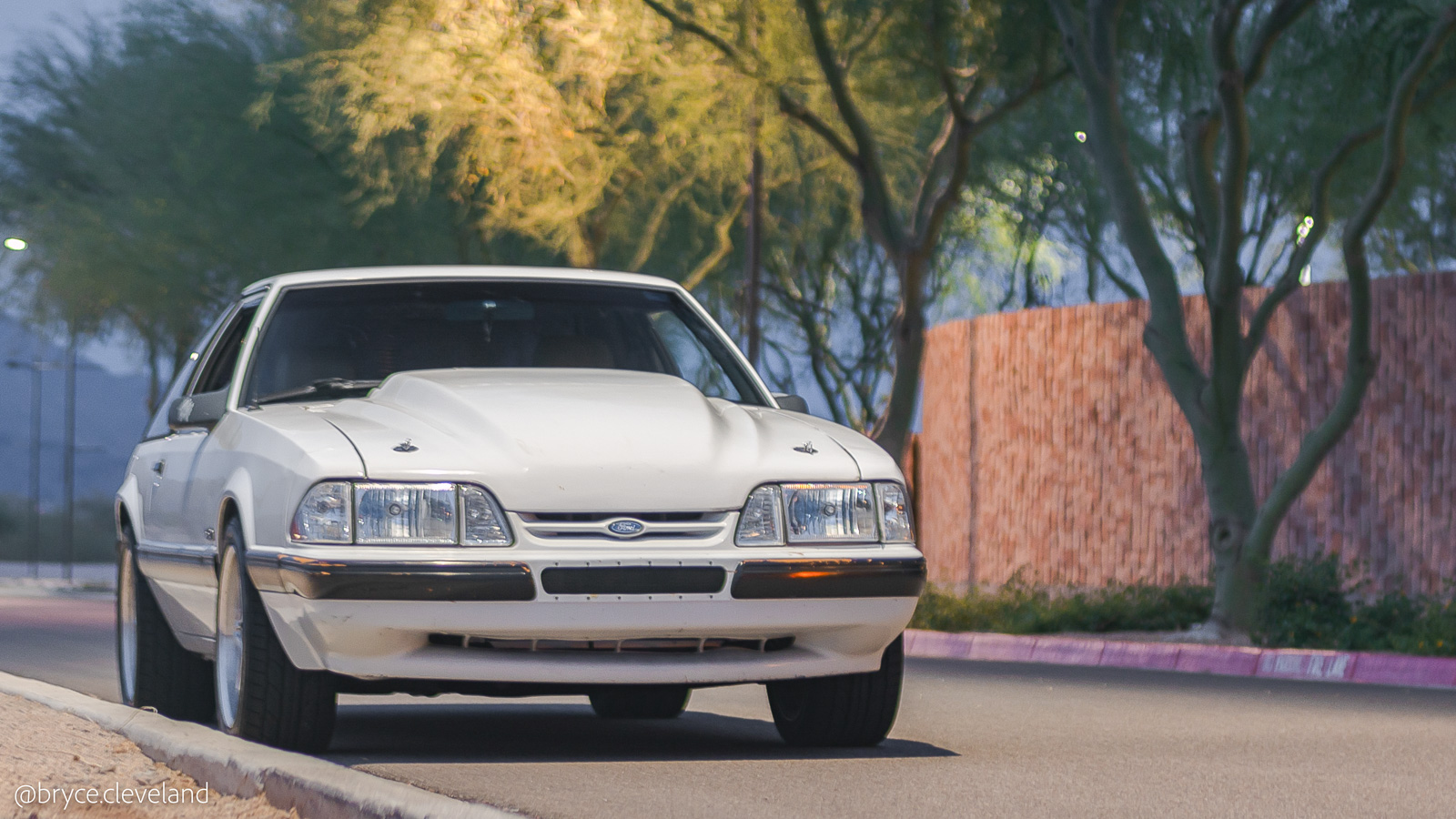 The Fox Body Mustang isn't exactly a sports car. In stock form, they're known for their boat-like handling and tail-happy rear end.
However, the Fox Body Mustang was the first car Motor Trend ever tested that pulled over 1G on a skidpad. The infamous 5.0L doesn't make large amounts of power by today's standards.
Back in the day, however, 225 horsepower and 300 ft-lbs of torque were pretty decent.
Although 225 horsepower is pretty lackluster in today's world, 300 lb-ft of torque isn't.
Torque is the same reason that everyone loves the Fiesta ST. All that torque means you don't have to rev the engine way out just to go fast.
The torque pushes you back into your seat even at 2k RPM, which is surprisingly fun.
Also Read: 7 Weird Things You Never Knew About the Ford Mustang
Luckily, 225 horses is actually a good amount considering the Fox Body weighs in at 3,100 lbs in stock form.
With a bit of weight reduction, a Fox Body can achieve a weight of under 2,900 lbs. My personal Fox Body Mustang had a pretty significant amount of weight reduction; gutted interior, A/C delete, aluminum heads, etc., and it could achieve 0-60 in about 5 seconds. That puts it on par with a 2015 Mustang. For specifics, visit: Fox Body Wikipedia
My personal 1991 Mustang LX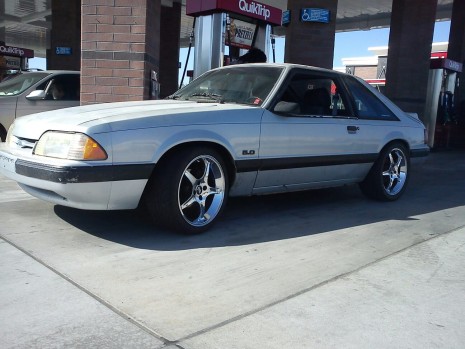 Check out: Top 5 Must-Have Mods For Your Fox Body
With such a light car, you can imagine how fun this car is to drive around. They're not a role model when it comes to handling, mostly thanks to their "live axle" rear end.
The handling characteristics aren't very fast, but they're definitely fun. Every time I drive a Fox Body, I just want to do donuts, and most of the time, I do.
4. Aftermarket Performance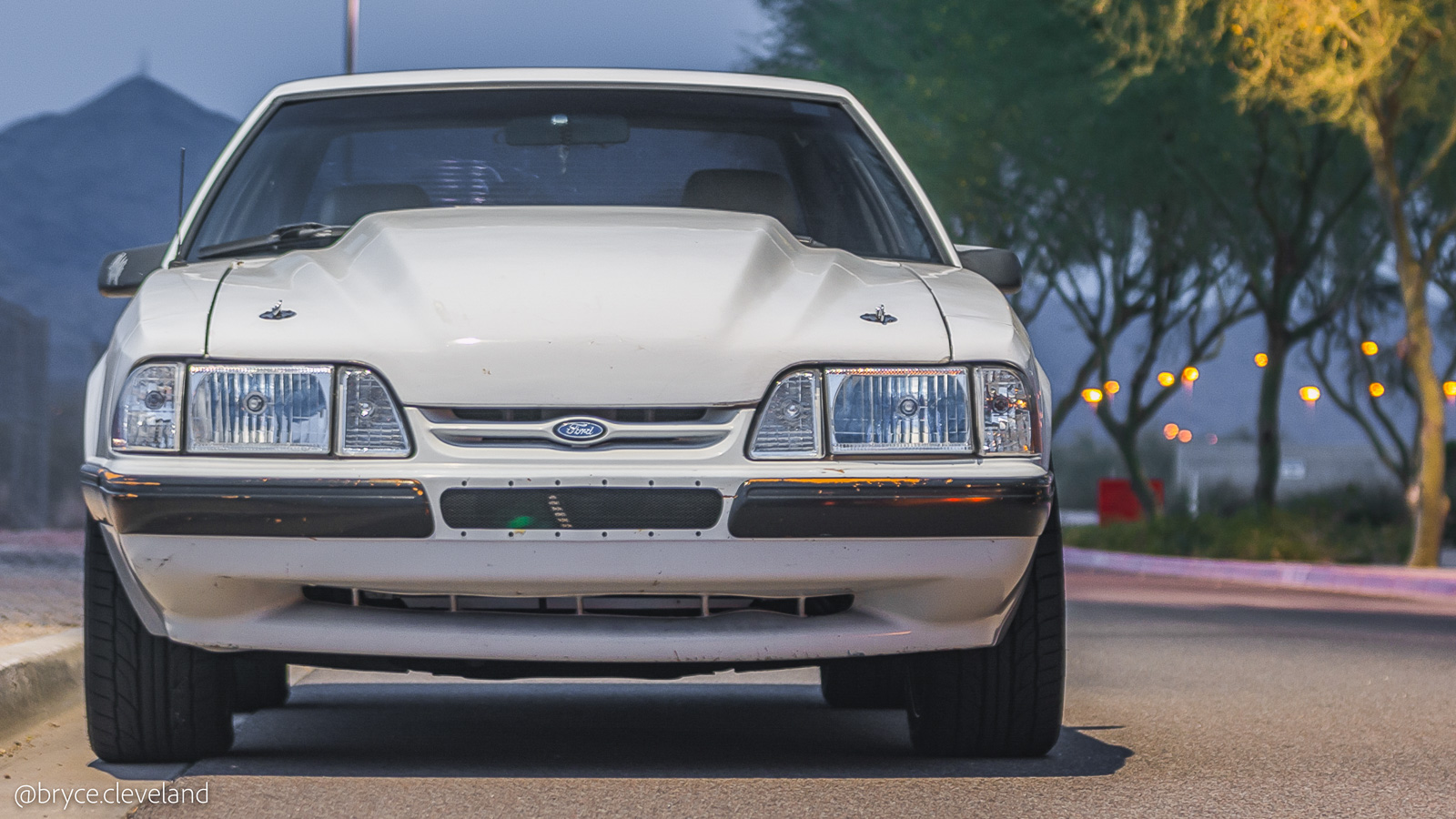 It's a Mustang, what do you expect? The aftermarket parts are nearly endless, from engine accessories to suspension components.
Factory performance parts are extremely abundant, too, since the Fox Body shares parts with newer Mustangs. This is because SN95 and New Edge Mustangs are on the same Fox platform as the Fox Body Mustang.
So, I'm sure you can imagine how many parts are available for the Fox Body.
Ford saw an opportunity to get its foot in the aftermarket, and they created Ford Racing Performance Parts.
Ford Racing makes some of the most popular parts for the Fox Body Mustang, including the E303 and B303 camshafts. They also make the GT40-X aluminum cylinder heads which are pretty decent.
I will say that the Ford Racing engine components aren't as good as aftermarket companies. The GT40 heads will never flow as well as a true aftermarket set of heads, and the Ford Racing cams are also heavily outdated.
However, the Ford Racing components are dirt cheap compared to the normal aftermarket prices for similar parts.
One of the interchangeable parts between the Fox Body and newer Mustangs is the Cobra independent rear suspension.
The Cobra IRS makes the Fox Body Mustang platform handle like a true sports car. The factory solid rear axle is known for wheel hop, which can make handling unpredictable.
Other Cobra parts like the steering rack are also easily interchangeable. Think about all the praise the 03-04 Cobra gets but in the 3,000 lb Fox Body chassis.
Also Read: Why are Jeeps so Ridiculously Expensive?
There are countless amounts of companies that produce engine components, suspension, and ascetic parts for your Fox Body.
One of the biggest and best sources for Fox Body parts is a company named American Muscle. They specialize in Mustang parts and really know what they're doing when it comes to building Mustangs.
3. They're like Legos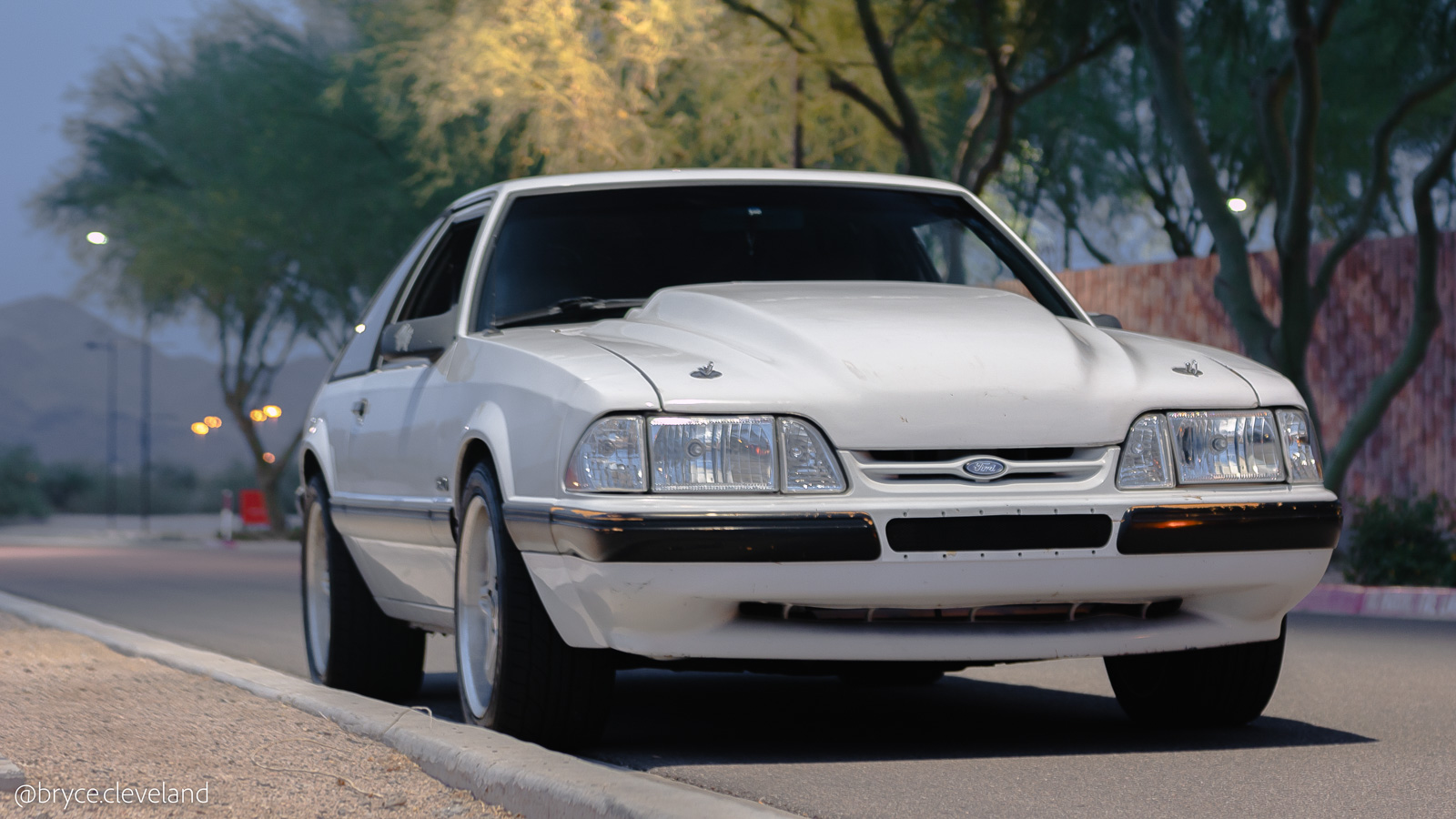 What's your dream build? Drag car? Drift car? Street cruiser? Well, you can literally do anything you want to a Fox Body since Mustangs from 1979 to 2004 are almost identical under the skin.
You can plop in a built 302ci or even a larger engines like a 351w and build a drag car. Installing a Cobra IRS with some steering changes, and you'll have an awesome drift car. A mild little 302ci would make the perfect street cruiser.
World famous drifter Vaughn Gittin Jr. uses a Fox Body for his "Drift Missile," and he says, "The Fox Body is the best-kept secret of drifting."
Maybe you want a canyon carver? You can build a Fox Body Mustang like Matt Farah from The Smoking Tire.
He built his Fox Body with the sole purpose of canyon carving and focused entirely on the chassis. He used fender flares to fit stupid wide tires at all 4 corners, a bunch of Cobra suspension parts, and lots of chassis stiffening.
His chassis first approach with a nearly stock 302 resulted in a relatively cheap car that shreds canyon roads.
Check Out: Ford Goes all Aluminum, When Will Chevy Follow?
No matter how you modify your Fox Body, there's information online to help you. Pretty much every modification has already been done and was well documented to help others.
Plus, you can keep the factory reliability with all the parts you can source from the Cobra.
2. Engine Swaps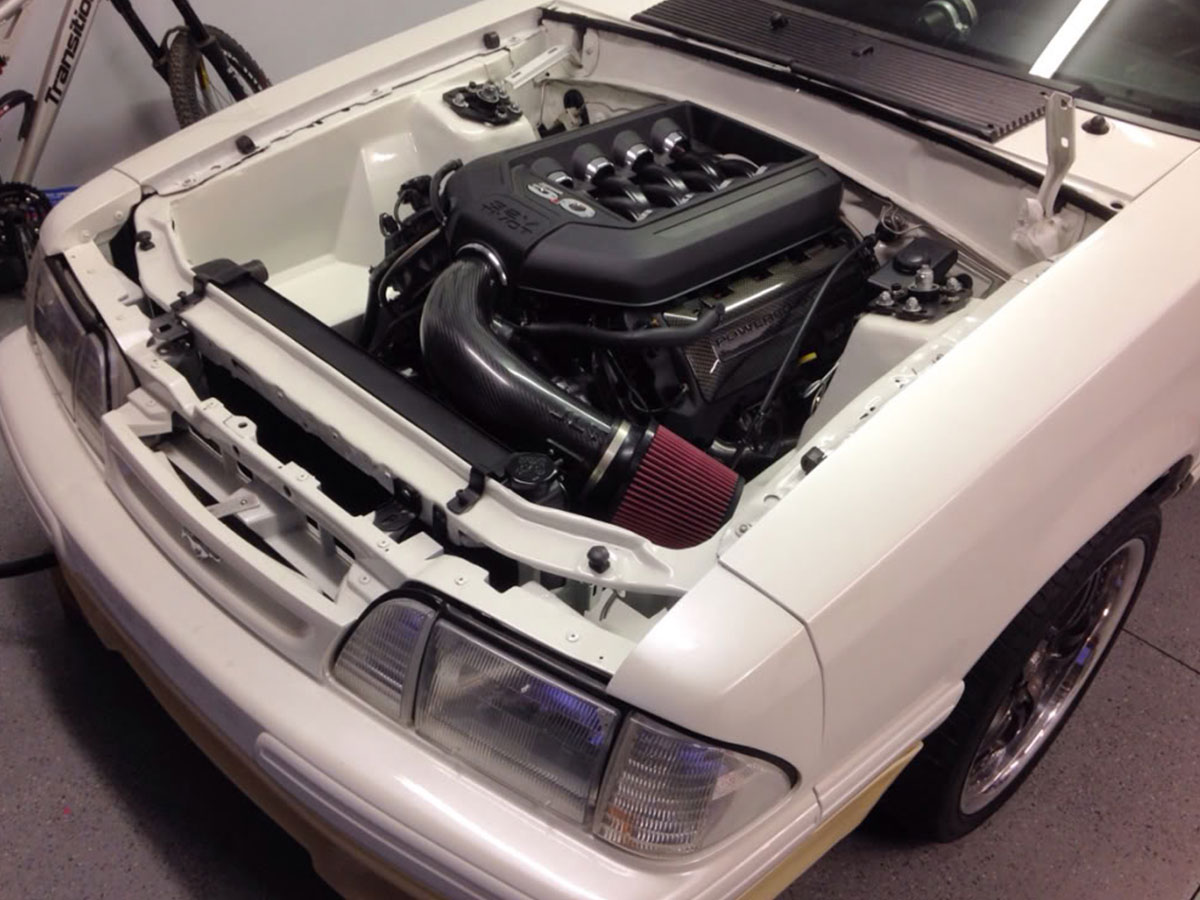 For some people, the 302ci small-block Ford isn't enough. Unfortunately, it just can't provide high horsepower and great reliability at the same time.
Some might consider it blasphemy, but many people are swapping Chevy LS engines into their Fox Body Mustangs. Sure, you could build a 302ci to make 350 horsepower naturally aspirated, but you could build a Chevy LS to make 500+ horsepower.
For those of you who hate the idea of a Chevy engine in a Ford, you could swap in a Coyote 5.0 engine.
It's significantly more expensive than an LS-powered Fox Body, but it's arguably cooler. Another common swap is the 4.6L Terminator engine which can make well over 500 horsepower with simple bolt-ons.
We've even seen things like a 4G63 Mitsubishi 4-cylinder swapped into Fox Body Mustangs.
1. It's a Classic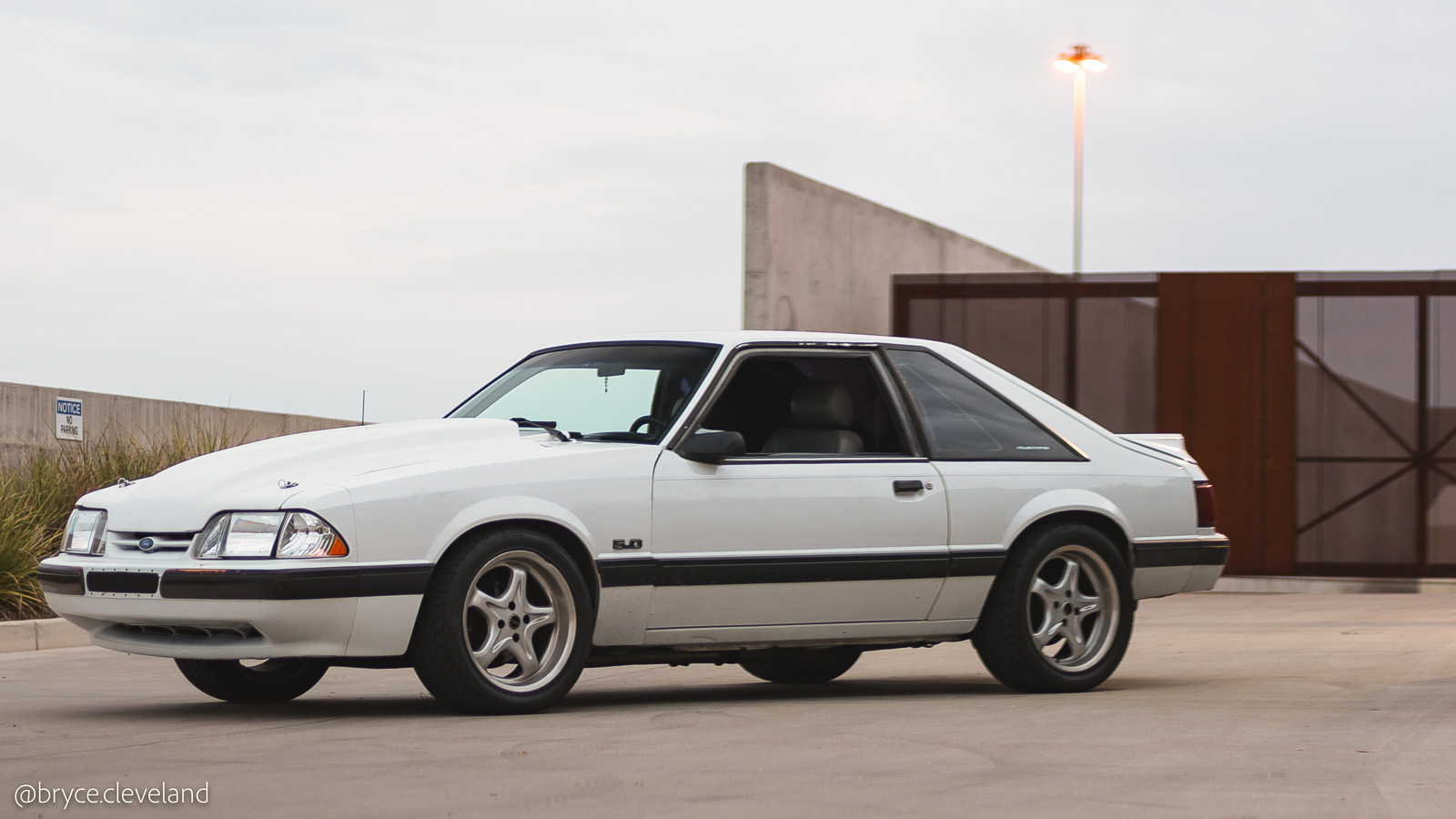 The Fox Body is now wandering into the 25+ year-old range, depending on what year you own. This means it's starting to become a "classic," and when that happens, prices go up.
CNN Money even mentioned the Fox Body Mustang in their "Top Ten Investment Cars under $5,000". On top of it becoming a classic, it's also facing a similar issue to the 240sx's "Drift Tax."
Young hot-rodders are scooping up Fox Body Mustangs left and right, causing the prices to go up even more.
Seriously, hop on Craigslist and try to find a nice Fox Body for less than $2,000. It's almost impossible to find a rust-free Fox Body that's been taken care of.
Young hot-rodders and collectors aren't the only ones driving up the price. Enthusiast drivers are also picking these up for their next project, and I don't blame them. Who wouldn't want a Fox Body as a project car? It's light, fast, and cheap (for now).
Think of the Fox Body like a stock market. If you invest in one today, it'll be worth way more than ten years from now. Unfortunately, the prices are already rising. Just five years ago, they could easily be had for a $2k – $3k, and now they're $5,000+.
Is a Fox Body Mustang For You?
Ask yourself, have you ever wanted to go do donuts and street racing just for the thrill? Have you ever been jealous of that one old guy in your neighborhood who owns a classic car?
Do you love the feeling of a cammed muscle car? If you answered yes to any of those questions, then you need to start looking for a Fox Body.
As a matter of fact, we love the Fox Body so much that we listed it in our "Top 4 Sports Cars for Under $4,000"
When I was 17, I LOVED tuner cars, but then I took a ride in my friend's Fox Body, and I fell in love with it so much that I traded my Jeep for a Fox Body a few days later.
So, even if you are a die-hard tuner, or maybe you just don't like Mustangs at all, I promise you from the bottom of my heart, the first time you drive a Fox Body Mustang, you'll fall in love with it.
What to Look For
If I've convinced you to go out and buy a Fox Body, you need to look for a few things before you make the sale official.
Make sure the frame isn't twisted or rusted out. High horsepower Fox Body Mustangs will likely have a slightly twisted frame if subframe connectors aren't added. This is somewhat unrepairable.
Generally, the 5.0L engine is bulletproof, but it does have some common issues. The rear main seal is a common oil leak. On your test drive, make sure it holds good oil pressure at really high RPMs. If it doesn't, it may need an upgraded oil pump.
Summary
Overall the Fox Body chassis is extremely good in almost every way. It has that '80s and '90s nostalgic feeling and that awesome '80s look.
With a plethora of ground effects to choose from, it will always look sexy. It hammered Camaros back in the day and still will today if it has enough modifications.
If you have the money to get a Fox Body, do it today, seriously. It will be the best car you have ever bought.
Plus, if you do not like it, you could always hold on to it for a few years and double your money. Let me know what you think of Fox Body Mustangs in the comments below!