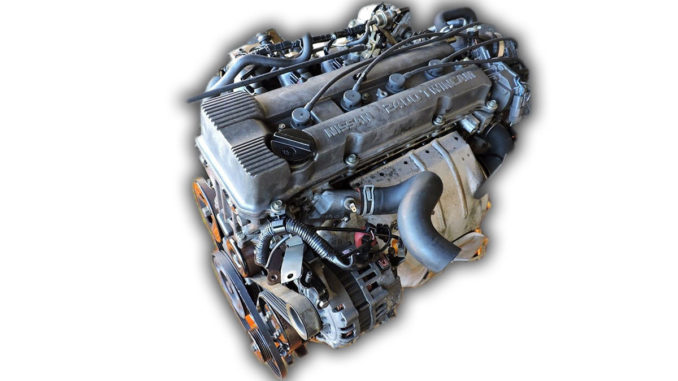 If you've been around the drifting scene you've probably heard of the KA24DE engine. It's the engine that all Nissan 240SXs in the U.S. used. You've probably heard that it came from the Nissan Hardbody truck. The KA24 was designed to replace the extremely outdated Nissan Z engine. Although this engine doesn't use any kind of innovative technology it does have a following. In this short article, we're going to cover everything you need to know about the KA24DE. You can find additional information on the KA24 Wikipedia page.
KA24DE: Engine Basics and Specs
The KA24DE is a 2.4L inline four-cylinder engine that uses an iron cylinder block with an aluminum cylinder head. Part of the reason Nissan used an iron cylinder block was to save money. The engine was intended for use in light trucks and SUVs so weight saving wasn't a large concern. Early versions of this engine used a SOHC design with three valves per cylinder. Even with its fairly large displacement, the KA24 did not implement balance shafts.
Later versions of this engine used a DOHC design with four valves per cylinder which increased power and efficiency. Oddly enough, Nissan decided to use a shim-over-bucket design for the valve train instead of rocker arms. The KA24 uses a Hitachi sequential electronic fuel injection system. Some versions of this engine were specifically configured for front wheel drive.
Production Run: 1988 – 2004
Displacement: 2389cc
Cylinder Block Material: Cast Iron
Cylinder Head Material: Cast Aluminum
Valvetrain: SOHC | Three Valves per Cylinder (1988 – 1997) – DOHC | Four Valves per Cylinder (1991 – 2004)
Stroke: 96mm
Bore: 89mm
Compression Ratio: 8.6:1 to 9.5:1
Horsepower: 134hp to 155hp
Torque: 152 lb-ft to 160 lb-ft
Cars That Came With the KA24DE
The KA24E and KA24DE were used in a variety of different Nissan products through their life cycles. Some engines we're destined for light duty pickup trucks and SUVs such as the Nissan Hardbody or Nissan Xterra. Some engines were destined for the 240SX which is what it's most known for. It makes sense to just adapt the engine for multiple platforms rather than creating an all new engine.
1989 – 1990: Nissan 240 (KA24E)
1990 – 1997: Nissan Hardbody (KA24E)
1990 – 1995: Nissan Pathfinder (KA24E)
1989 – 1995: Nissan Access / Nissan Prairie (KA24E)
1990 – 1992: Nissan Stanza (KA24E)
1989 – 1992: Nissan Pintara / Ford Corsair (KA24E)
1993 – 1996: Nissan Terrano II (KA24E)
2000 – 2004: Nissan Xterra (KA24DE)
1998 – 2008: Nissan Frontier (KA24DE)
1991 – 1998: Nissan 240SX (KA24DE)
1997 – 2000: Nissan R'nessa (KA24DE)
1998 – 2001: Nissan Presage (KA24DE)
1999 – 2001: Nissan Bassara (KA24DE)
1993 – 1997: Nissan Bluebird (KA24DE)
1993 – 2001: Nissan Altima (KA24DE-a)
KA24DE: Known Problems
Just like any other engine, the KA24DE has a couple of known issues that are common. The distributor is known for failing on earlier versions of the KA24. Another very common issue is a rattling timing chain. This occurs when the timing chain gets loose from age and begins to rub against the timing chain cover.
Supposedly the alternator fails more than many other vehicles, but we are not able to verify this problem. The last issue is the valve cover gasket which is known for leaking. This is mostly due to the bolt pattern and design of the valve cover. It's a pretty quick and easy fix but it is a common occurrence.
KA24DE: Tuning Potential
Thanks to the massive explosion of drifting, the 240SX has become the most popular tuner car in the world. Although many people upgrade to the SR20DET engine, many stay with the KA24DE because of its larger displacement. A naturally aspirated built can reach up to 200whp (230bhp), but it isn't cheap. This kind of build requires full bolt ons, ported and polished head, bigger cams, and possibly a higher compression ratio.
Many people prefer the turbocharged route as it's fairly cheap and makes pretty decent amounts of power. Although many people just use an eBay turbocharger or the SR20 turbo, the better option is run a quality turbo. Something like a Garrett GTX2867R would easily make 400whp or more. The only problem is the stock internals can only hold to up around 350whp, so big power builds will require a forged rotating assembly.