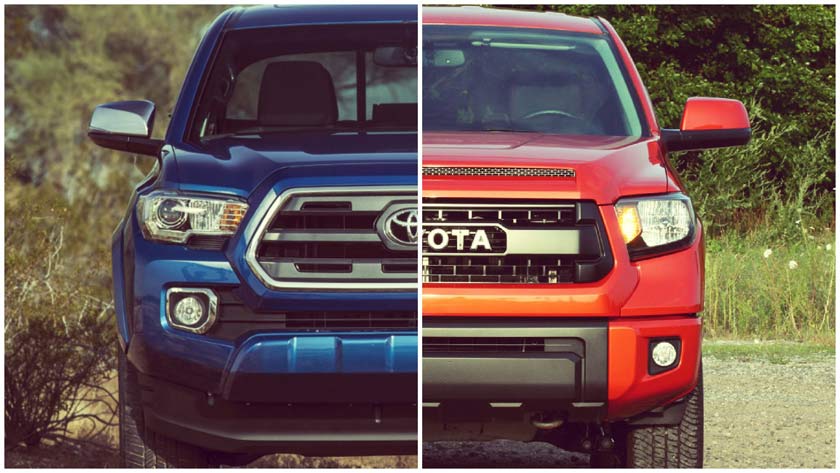 Assuming you don't live under a rock, then you would've noticed that there is a massive selection of pickup trucks in America. Most small pickups (Ranger, Tacoma, Colorado, etc.) have gone from being really small to practically being full sized pickup trucks.
Maybe you're in the market for a new truck, and really like Toyota's trucks. Toyota makes some really nice trucks, the Tacoma and the Tundra are amongst the best pickups in the US. But which one is better for your needs? Before we begin to compare Tacoma vs Tundra, lets quickly cover each truck individually.
Tacoma
The Tacoma has been around for a pretty long time. Technically its only been around since 1995, before that it was just called a Toyota Pick-Up. Over the years the Tacoma has evolved from a really small light duty pickup truck, to a medium duty, medium sized pickup. As with every thing else in America, its gotten significantly larger over time.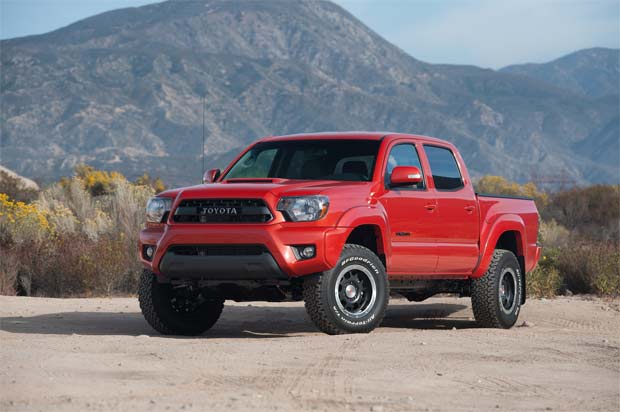 RELATED: Jeep vs Toyota: Which One is Actually Better?
The most drastic change came in 2005, when Toyota launched the 2nd generation Tacoma. The 2nd gen was significantly larger than the out-going model, but it was an pretty instant success. It seems like anywhere I go, a 4-door Tacoma will be near by, and many shops have them as their shop trucks.
The Tacoma really made its mark on the light duty and medium duty pickup truck market. It really created its own new little market. Chevy has actually taken notice of this and since launched the new Canyon, which is a direct competitor to the Tacoma.
Additional Tacoma info on Wikipedia
Tundra
To my knowledge the Toyota Tundra was the replacement for the Toyota T100, which at the time was Toyota's full-size pick up. The T100 was smaller than all of its competitors, and wasn't that large of a success. Tell me, how many T100's have you seen in the past month? I can tell you right now that I've only seen a handful of them thus far this year. Which is exactly why Toyota launched the Tundra.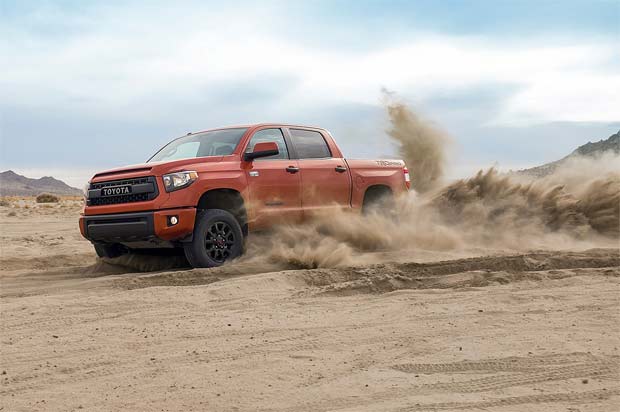 RELATED: Toyota Tacoma vs 4Runner: Which One is Best For You?
Want to know why its actually called the Tundra? When Toyota launched their new pickup truck it was initially known as the T150. It was supposed to be a slightly beefed up version of the T100. But, automotive journalists complained that it was to similar to the name of Ford's truck, the F150. Following a lawsuit from Ford, Toyota decided to rename the truck to the Tundra.
Today in 2016, the Tundra is one of America's most popular full sized pickup trucks. Which is surprising considering how competitive the full sized pick up truck market it. Ford and Chevrolet basically dominate it, but somehow Toyota how found a way to survive that market.
Additional Tundra info on Wikipedia
Tacoma vs Tundra: Drive Train
Drive train is one of the more important factors when comes to pick up trucks. Its part of what determines how well they can tow, how much they can tow, and how much pay load they can carry. If the engine doesn't make a lot of horsepower or torque, than it can only lug around so much extra weight before it becomes extremely slow. Same goes with the transmission, if its not built for heavy pay loads, than it will likely have cooling problems if you put to much stress on it.
RELATED: Toyota 2UZ-FE: Everything You Need to Know
In both generations of the Toyota Tundra, both a V6 and a V8 were available. Luckily most of them came with a V8, which means towing around heavy things is a breeze. Most Tundra's equipped with the V6 are going to be base model work trucks, that aren't going to do a lot of heavy work. Both the V6 and the V8 had an option for a factory super charger, which jumps horsepower and torque up a massive amount.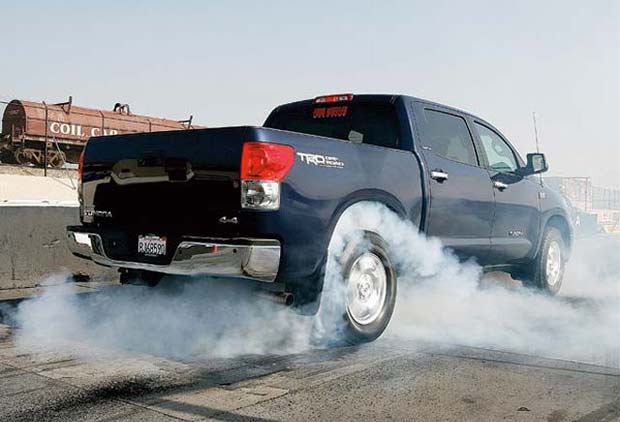 Both generations of the Toyota Tacoma came with either an inline-4, or a V6. The older models typically have an inline-4, where as most newer models are equipped with the V6. Why is this? Since the Tacoma grew in size, it become more usable for heavy work, which requires a larger, and and more powerful engine. The V6 upped the tow rating to 6,500 lbs, which is the weight of a one-ton pickup truck. So, most modern Tacoma's ended up with the V6.
RELATED: Will Toyota Kill the Ford Raptor?
Bottom line is this. Most modern Tacoma's have a V6, and most modern Tundra's have a V8. Obviously the V6 is less powerful than the V8, but its much more fuel efficient than the V8. So, if you do a lot of commuting, the Tacoma might be the better option for you.
Tacoma vs Tundra: Cost
Over the last year of writing articles like this one, I can tell you that prices vary a huge amount. Location, condition, milage, seller motivation, luck, and good bargaining skills will make the prices you find vary from the prices I find. Thats just how this works. Why am I bringing this up? Because when I quote numbers for both the Tacoma, and the Tundra, I want you to know that you may find way different numbers. So, before you pick one based off of price, hop on Craigslist and see what local prices are for you.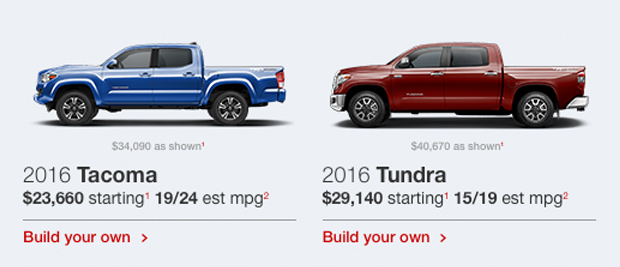 RELATED: Jeep vs Land Rover: Which One is Actually Better?
Prices for brand new Tacoma's and brand new Tundra's are somewhat consistent, so lets look at those. The 2016 Tacoma starts at $23,660 whereas the 2016 Tundra starts at $29,140. Understand that both of these trucks can pretty easily get into the $40k range with just some options added on. But, those numbers show you that the Tacoma is about $5,500 cheaper than the Tundra for a base model. Thats a pretty significant difference.
Tacoma vs Tundra: Interior
Oddly enough, it seems as though pickup's interiors are overlooked when comparing trucks. This seems a little odd to me, as you will spend over 99% of your time with the truck in there. The new generation Tacoma got a massive upgrade in the interior department, so how does it stack up to the Tundra?
2016 Tundra Interior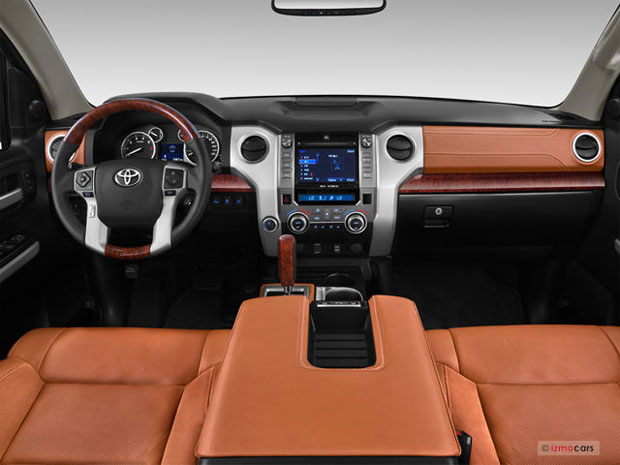 As you might expect, the Tundra's interior is much larger. The seats are spaced farther apart, and they have a ton of leg room. This is because the Tundra is rather obviously really large in size. The large interior size definitely helps the Tundra feel much more luxurious than it really is.
2016 Tacoma Interior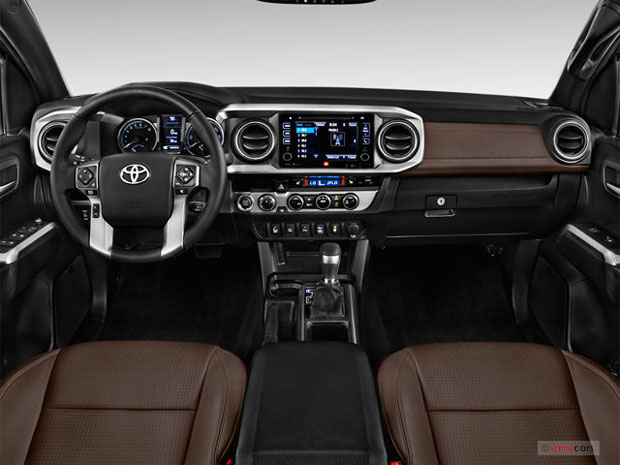 The Tacoma's interior is significantly smaller than the Tundra's interior, however it's just as nice. Although space may limited, the 2016 Tacoma received a massive update compared to Tacomas of old. Before the update the interior was a little bland and cheap feeling. The interior update has made the Tacoma feel thousands of dollars more expensive on the inside.
Tacoma vs Tundra: What They're Best For
Ask yourself, what do you need out of a pick up truck? Do you do a lot of manual labor and need to carry tools or equipment around? Do you tow a lot? Do you take dirt bikes or ATV's out to the desert? More than likely, you don't actually need a pickup truck at all, but this is America and even 90 year old ladies drive pickups. But, if you  do any of the things i've listed than you probably need a pick up.
When it comes to towing, how much are you towing? If you're towing less than 4,000 lbs you can get away with just a Tacoma. But, if you're ever towing 4,000 lbs or more you'll want a Tundra. Why? The Tundra has a much larger, much more powerful V8 engine, and a weighs more. The Tundra is also designed with more towing in mind, and as such tows heaver loads much easier than the Tacoma.
RELATED: Everything You Need to Know About Toyota's 1UZ-FE V8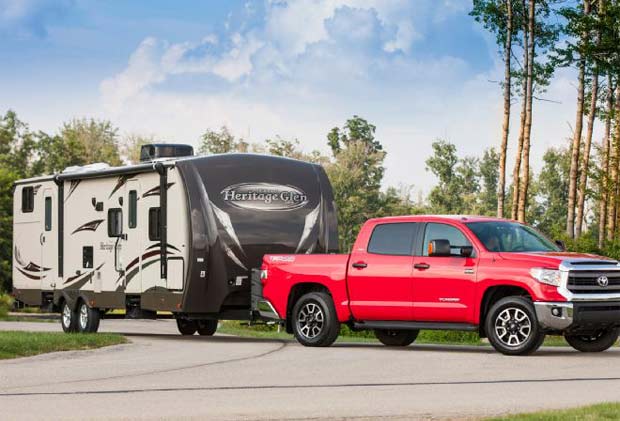 If you're into off-roading or taking your dirt bikes/ATV's out to the desert, than you'll probably want a Tacoma. Tacoma's are much smaller and can get farther into a trail before it becomes to difficult for the vehicle. Also, the Tacoma is much more fuel efficient, meaning more fuel for your dirt bikes!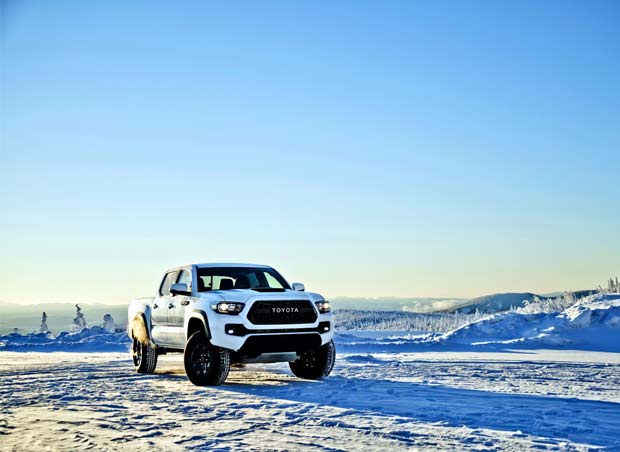 Lastly, if you don't actually need a pick up, and just want to commute with one, get a Tacoma. They're much more fuel efficient and you really don't need a full-size pick up truck to commute to work every single day.
Which Suits You Best?
Like I mentioned before, chances are that you don't even need a pick up truck. But, if you do, than Toyota's may be perfect for you. If you do a lot of commuting and little towing, get a Tacoma. If you do more towing and heavy hauling of any kind kind a Tundra.