A lowered suspension can be one of the greatest upgrades you can get for your car, especially if you own a sports car like the Toyota GR Supra A90. Just by doing so, you can enjoy a lot of benefits; the most obvious one is how awesome your car is going to look.
Only a few people can resist a lowered car's charm and magnetism like the latest Toyota GR Supra. That fact alone cements Toyota's reputation for creating not just reliable vehicles but fun to drive ones too.
If you're looking for some modifications that can lower your car, then we've got something special for you. What you'll see below is a complete guide for Toyota GR Supra A90 lowering mods.
It'll show you the best lowering mods to get, and as well as some valuable facts that you can practically use to help you choose what's the suitable lowering mod that'll satisfy your gear head tastes buds the best. Check them out!
Lowering Springs
A set of lowering springs are among the best lowering mods you can get for your vehicle. It's cheap, it's easy to find, and installing them wouldn't take so much of your time (as long as you know how to!).
Lowering springs are for car enthusiasts who primarily want to see their car's ride height reduced and don't care that much about improving it's handling. To put it simply, a set of lowering springs is good enough to improve a car's stance.
#1 H&R Sport Springs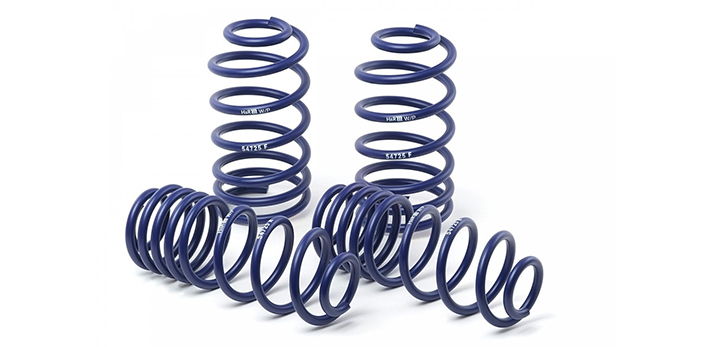 Manufacturer: H&R Springs
Spring Type: Progressive
Height Reduction (Front/Rear): 1.0" | 0.75"
Compatibility: Toyota GR Supra A90 (2020-2021)
If you're looking for some lowering springs that'll reduce your car's ride height by just an inch, then you should check out the first springs on our list: the H&R Sport Springs.
H&R is almost synonymous with the term "lowering springs" because they've got a pretty good reputation for producing some of the best lowering springs for various cars. For the fifth generation of the Toyota Supra, they've got the Sport Springs, designed to slightly lower your sports car and enhance its looks.
Sport Spring kits are H&R's best-selling product so far. Car enthusiasts love these lowering springs for the modest drop in height they provide, unlike other springs that lower the MK5 Supra by roughly 1.2″ or more.
Clearly, the H&R Sport Springs are for those who want to keep things casual and want to drive their Toyota GR Supras on the streets with improved style and aerodynamic capabilities.
H&R Sport Springs Features:
Superb ride quality
Modest drop in ride height
Made in Germany

#2 HKS Height Adjustable Spring Kit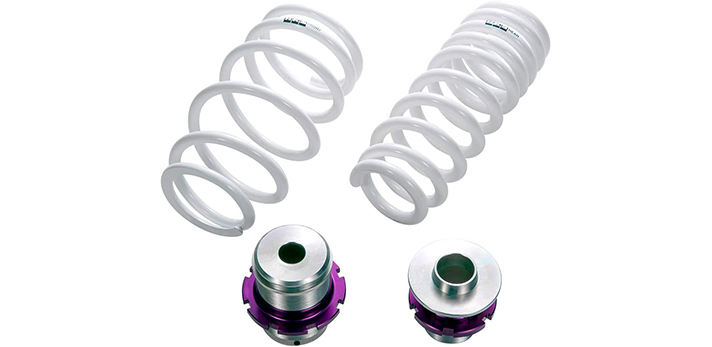 Manufacturer: HKS
Spring Type: Progressive
Height Reduction (Front/Rear): 1.0"-1.8" | 2.0"
Compatibility: Toyota GR Supra A90 (2020-2021)
Lowering springs are notorious for being, well, constant. Other lowering mods such as coilovers are preferred over springs simply because you can adjust the ride height with the former while you can't with the latter.
This may be somewhat of an issue for those who prefer cheap suspension lowering mods instead of a more expensive one, but HKS found a solution: a lowering spring kit that's capable of height adjustment.
The HKS Height Adjustable Spring Kit allows you to adjust your car's stance to whatever height you prefer, from 1.0″ down to 1.8″.
Not only that, the height-adjustable spring kit comes with a ride height adjuster, some dust boots to keep dirt away from the springs, and some rear bump rubbers to limit the suspension travel more effectively.
HKS Height Adjustable Spring Kit Features:
Ride height can be adjusted from 1.0″ down to 1.8″
Comes with other essential components like ride height adjust, dust boots, and rear bump rubbers
Tested for ride quality on Gunsai Touge, Japan
Great for aggressive riding

#3 Eibach Pro-Kit Performance Springs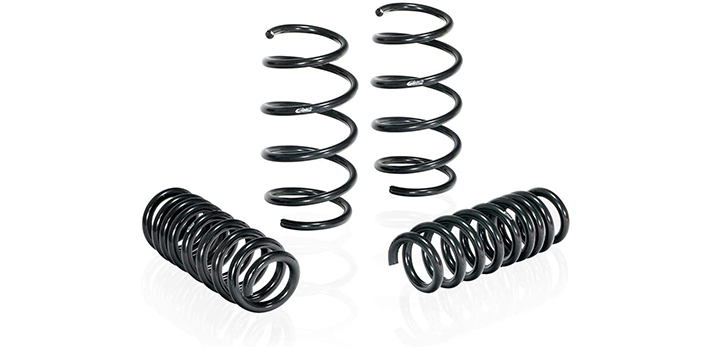 Manufacturer: Eibach
Spring Type: Progressive
Height Reduction (Front/Rear): 1.7" | 1.2"
Compatibility: Toyota GR Supra A90 (2020-2021)
The last Toyota GR Supra lowering springs on this list would be Eibach's Pro-Kit Performance Springs. Eibach, just like H&R Springs and HKS, has proven itself to be a titan when it comes to car modification.
They specialize in all things suspension, so it's not surprising that they have a set of high-quality lowering springs for the Toyota GR Supra A90. Eibach has its own unique way of making cars look better and improve their performance on the streets.
The Eibach Pro-Kit Performance was perfected by Eibach engineers and tested by professional drivers, so you'll be sure that your Toyota GR Supra can handle aggressive street driving with these lowering springs on.
Aside from that, you'll enjoy cruising around with your excellent-looking car with just a minor fender gap, thanks to the aggressive ride height drop that the Eibach Pro-Kit delivers.
Eibach Pro-Kit Performance Springs Features:
Works with OEM dampers
Progressive springs design for better ride quality
Backed with Eibach Million-Mile Warranty

Coilovers
Now, if you don't like lowering springs and you'd rather have something that can be adjusted, then coilovers are for you. Coilovers do everything that lowering springs can do but on steroids.
The primary function of coilovers is to allow the driver to pick whatever ride height they prefer, along with the damper settings that the driver thinks would suit best for their driving style. Check out the coilovers below so you can know what to pick for your Toyota GR Supra A90.
#1 Megan Racing EZ Series Coilover Kit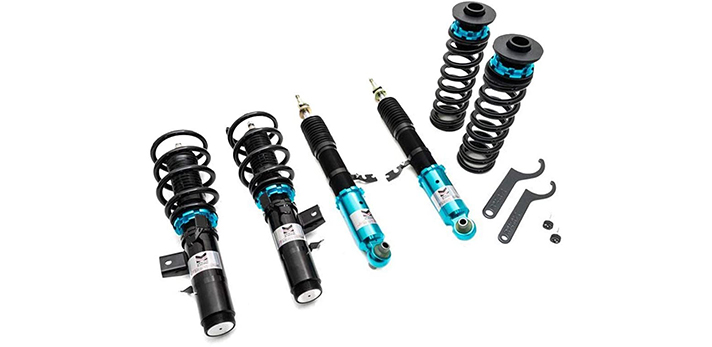 Manufacturer: Megan Racing
Type of Construction: Monotube
Spring Rate (F/R, lb/in): 280 | 616
Compatibility: Toyota GR Supra A90 (2019-2021)
Megan Racing is among the most popular brands of coilovers you can get for your Toyota GR Supra A90 today.
They have been one of the favorites of most car enthusiasts that are working on their project cars because their coilovers allowed them free-spirited driving and even track racing at an affordable price. For the fifth generation of the legendary Supra, they've got the EZ Series coilover kit.
Megan Racing and the word quality are almost synonymous in the car tuner scene. The EZ Series coilover kit is well-loved because of its full-length height adjustability, allowing users to adjust whatever height they prefer.
What really sets the bar high for Megan Racing coilovers like this is even if it's cheap, you can see how well the Megan guys have put together every component and how great they perform both on track and the streets.
Megan Racing EZ Series Coilover Kit Features:
15 levels of damper settings adjustment
Full-length height adjustability
Reuses OEM top mounts
3rd party electronic damper delete required
Backed with Megan Racing 1-year Warranty

#2 HKS Hipermax IV SP Drag Coilover Kit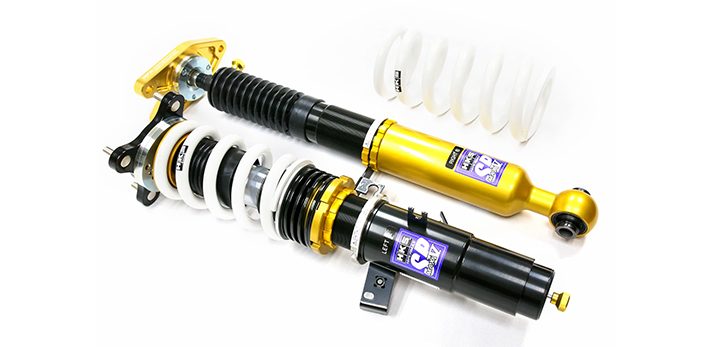 Manufacturer: HKS
Type of Construction: Monotube
Spring Rate (F/R, lb/in): 336 | 560
Compatibility: Toyota GR Supra A90 (2020-2021)
Are you obsessed with drag racing? Are you willing to spend tons of money to get your hands on some of the premium coilovers for the Toyota GR Supra? If so, the HKS Hipermax IV SP Drag coilover kit is definitely the mod for you.
HKS aren't just pioneers when it comes to lowering springs; they've got some sick top-of-the-line coilovers for your Supra too. This coilover kit is a surefire way to allow your vehicle to have a shorter drag time.
The HKS Hipermax IV SP Drag coilover kit uses the latest technology to allow competitive drag racers like you an edge in the modern drag scene. It's designed to provide more traction to your Supra's rear tires and will enable them to maintain traction.
Along with the lowered vehicle posture that increases the car's aerodynamic characteristics, the Hipermax IV SP Drag coilover kit can increase your GR Supra's negative camber to decrease its understeer.
HKS HIPERMAX MAX IV SP Drag Coilover Kit Features:
30 levels of damper setting adjustment
Can increase negative camber to decrease understeer
Full-length height adjustability
Inverted type design
Specially designed HKS outer cover

Lightweight upper plates made from billet aluminum

#3 BC Racing BR Series Coilovers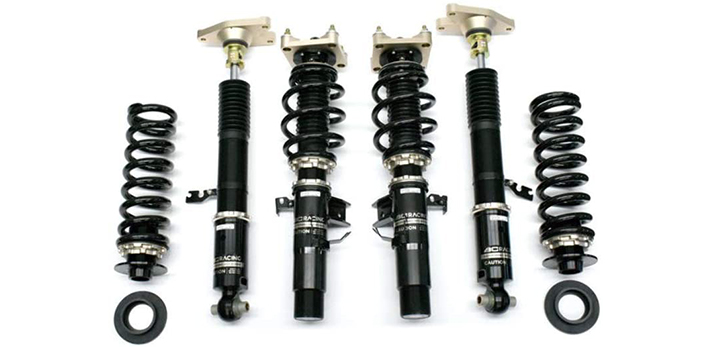 Manufacturer: BC Racing
Type of Construction: Monotube
Spring Rate (F/R, lb/in): 280 | 616
Compatibility: Toyota GR Supra A90 (2019-2020)
The BR Series coilovers is perhaps one of the best Toyota Supra coilovers you can get your hands on. They may not have been around for very long, but BR Racing has proven themselves competent enough to improve countless cars.
This feat allowed them to favor many car enthusiasts who are looking forward to lowering their suspension without burning large holes in their pockets.
The BC Racing BR Series coilovers are an entry-level coilover kit capable of lowering your vehicle down to 2.0″ minimum, along with the 30 levels of damping adjustments that give you the freedom to control your compression rebound.
The height adjustment can also be done through the shock body and not by the springs, giving you a more convenient method of adjusting your car's ride height without going through any difficulty whatsoever.
BC Racing BR Series Coilovers Features:
30 levels of damping adjustment
Linear piston and damping curve
Height can be adjusted through the shock body
Components are fully rebuildable
Backed with BC Racing Limited Warranty

#4 KW Suspensions V3 Inox-Line Coilover Kit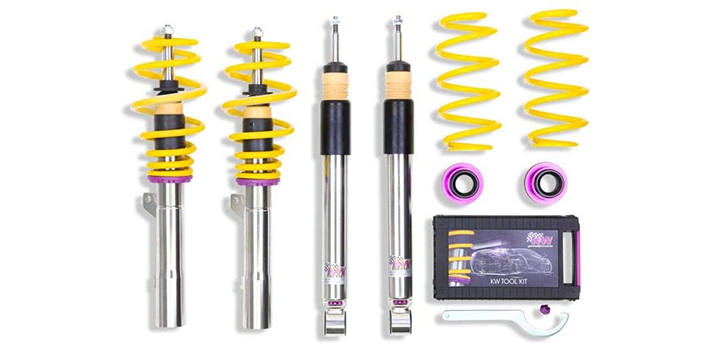 Manufacturer: KW Suspensions
Type of Construction: Monotube
Spring Rate (F/R, lb/in): N/A
Compatibility: Toyota GR Supra A90 (2020-2021)
If you're a veteran of the car tuner scene, then there's a high probability that you've heard about KW Suspensions. Their name is synonymous with "premium coilovers" because their creations are arguably one of the best.
Such a premium coil-over comes at a specific price though. Needless to say, the KW Suspensions V3 Inox-Line coilover kit is undoubtedly a bang for buck purchase if you want the best suspension upgrade for your Toyota GR Supra.
The KW Suspensions V3 Inox-Line coilover kit is not your average run-of-the-mill coilovers. It's jam-packed with top-tier components made from KW Suspensions' very own inox-line stainless steel.
This material is capable of heavy loads, and it is very resistant to corrosion, as shown in their salt spray test. On top of that, the damping adjustments come on a total of 32 levels: 16 clicks for rebound damping and 12 clicks for compression damping.
KW Suspensions V3 Inox-Line Coilover Kit Features:
32 levels of damper settings adjustment
"Inox-line" stainless steel technology
Long-lasting components
Coilovers are independent of each other's damping force adjustment
Comes with a manual for easy installation
Backed with KW Suspensions 5-year warranty

Lowering Springs vs. Coilovers: What's The Difference?
Being confused with choosing lowering springs or coilovers is normal, especially for those who want to reduce their cars while trying to improve their handling at the same time.
Both lowering springs and coilovers have their own advantages and disadvantages, so let's explore these two mods to help you determine what's the best mod you should get for your Toyota GR Supra.
What Are Lowering Springs?
When a car aficionado wants to lower their car, and they couldn't care less about changing its ride quality, often they choose lowering springs. These mods are great because they're pretty straightforward.
As the name suggests, these springs "lower" a vehicle. It reduces the ride height of a car at a specific limit, usually up to 1.5″ or even more. If you're lucky, then there will be a slight change in the car's ride quality too.
Aside from the height reduction, lowering mods are pretty affordable too. It's easy to get, and they aren't as large and bulky as coilovers or even air suspensions. This mod offers other benefits, like better aerodynamic characteristics, improved traction, and reduced rollover risks.
Overall, lowering springs are a go-to mod for car enthusiasts looking forward to reducing their vehicle's ride height without breaking the bank.
Advantages of Lowering Springs
Improved aerodynamic characteristics for your vehicle
Have you ever wondered why sports cars have low ground clearance? It's because when the vehicle is lowered, there's less air hitting the wheels, thus reducing air drag.
A car with a low air drag often translates to a vehicle with an improved fuel economy, but do take note that lowering a vehicle too much will ironically increase the air drag.
Improved traction and handling
Installing a good set of lowering springs in your car will make its center of gravity lower, allowing the vehicle to increase its tire grip and improve its handling. Another effect of a lowered center of gravity is stability.
Because of the stiffer springs, the car's weight transfer is more effective, especially if you hit the gas or brake hard.
Reduced Rollover Risks
Here's a rule of thumb regarding cars: the higher the vehicle sits, the more prone it is to rollovers. That's because when an object's center of gravity is high, it's easier to tip over.
That's also the reason why SUVs and pickup trucks are more prone to rollovers than other types of cars like sedans and other similar passenger vehicles. So when you put lowering springs in your vehicle, you reduce its rollover risks.
Greater driving comfort
A lowered suspension does help a driver be more in tune with how their cars act whenever driven by varying road conditions.
When a car's lowering springs are stiff enough, it improves the vehicle response, which helps the driver know-how driving on specific pavements feels like: as if the driver and the vehicle are one.
This feeling gives some drivers comfort because they now know how to respond accordingly to different road conditions.
Disadvantages of Lowering Springs
Increased risks of bottoming out
We all know how it feels whenever a lowered car goes through a speed bump and scratches its underside. You could even ruin the front of your vehicle wherever you go through the lip of your parking garage!
Contacts like these are dangerous to the parts on the belly of your car, and when the worst-case scenario comes, it can ruin the region underneath your vehicle, like the exhaust system and oil pan.
Can cause uneven tire wear
Improper installation of lowering springs can cause your car to have an alignment problem, resulting in uneven or extreme tire wear patterns. Whenever you reduce your car's height, you're also changing its wheel-to-tire fitment.
So whenever you introduce some lowering mods to your vehicle, make sure to get the help of an expert and realign your suspension.
May cause some conflict with other car parts
Another danger of getting lowering springs is that the suspensions may get caught up with the other systems present in your vehicle, like the anti-lock brake apparatus, tire sidewalls, sway bars, etc.
And as mentioned earlier, an incorrectly set up suspension may cause more damage to your tires and can put you into some grave situation.
Difficulty in lifting and towing the car
A lowered car means that it's more challenging to tow or lift. That may be a huge problem whenever you have to do your routine maintenance because doing a simple job like using manual jacks to raise your vehicle can be more problematic.
Before you lower your car, consider first if you can cope with this kind of difficulty before allowing your car to kiss the ground.
What Are Coilovers?
Lowering springs are great, but it doesn't offer many benefits to improve a vehicle's handling. Because of this problem, many car enthusiasts opt for coilovers instead.
Coilovers, coined from the phrase "coil over struts," is basically a combination of spring coils and shock absorbers. It combines what lowering springs can and cannot do: lower a car's ride height and offers adjustability.
Most coilovers offer ride height and damper settings adjustability. It's often the choice for car enthusiasts who want to tune their suspensions to adjust how their suspensions respond to different driving scenarios like aggressive street driving, track racing, off-road, and many more.
Coilovers are great because you can change how soft or stiff you want your suspensions to be according to the road conditions you're going to face.
Advantages of Coilovers
Improved handling
One guaranteed thing that coilovers can do is that lowering springs couldn't significantly change a vehicle's handling. Installing coilovers in your car is a sure way to get a sportier car that's more capable of aggressive driving, on streets or even on tracks.
Coilovers are often the choice of car enthusiasts who want to feel like a professional race car driver, or like the protagonists in the The Fast and The Furious movies.
Decreased ground clearance
Just like lowering springs, coilovers can reduce a car's ground clearance too. Popular coilovers even offer full-length ride height adjustability for people who change their minds way too often.
This decrease in ride height introduces some benefits, like better mileage because of better aerodynamics, a lowered center of gravity, etc. And also, it gives your Toyota GR Supra A90 a pretty sick aesthetic appeal too.
Adjustability
Freedom is such a blissful thing. This very freedom is what most coilover offers those who want more control over their car's ride height and damper settings. Most coilovers these days have damper setting adjustments from 15 to 32 levels.
Some coilovers even offer full-length adjustable coilovers so you can lower your vehicle without affecting the spring preload settings. Coilovers are one of the ideal mods a hardcore car guy should get simply because it significantly affect a car's ride quality.
Prestige
Letting your gear head friends see your newly lowered car is fantastic. However, telling them that you've got high-quality coilovers installed and seeing their reaction is even better.C
oilovers are among the most esteemed mods you can get for a car, and it often signifies that you're a real car guy and not just somebody that's pretending to be one. Just wait and see what your friends' reaction will be once they discovered that you've got new coilovers!
Disadvantages of Coilovers
Stiffer ride
A stiffer ride is arguably one of the most common complaints given by coilover users, even the ones who are using coilovers for 2020 Supra. Some drivers claim that coilovers make their riding experience uncomfortable because it's too stiff.
Coilovers are meant to be stiff so the vehicle can handle turns and corners effectively, but luckily for drivers like you, some coilovers are made to maintain an OEM ride quality.
Possibility of failure
Cheap coilovers can be more of a liability instead of an investment due to some concerning reasons. A low-quality coilover may give up on you sooner than you expect and may result in failure whenever you drive into specific types of roads.
Before you purchase a coilover kit, make sure you do your homework first and read up info about your particular choice of coilovers. Some great sources of information would be forums and customer reviews.
May eat up more space.
Some coilovers tend to eat up more space than they're intended to. Whenever this happens, the coilovers may get tangled up and make contact with parts like sway bars, wires, anti-lock brakes, and even damage the tires, as mentioned above.
This is a serious issue, and overlooking this may put your car into some severe damage.
Lowering Springs Vs. Coilovers: Which Should I Choose?
For every problem, there are always multiple available solutions. This same principle applies to your suspension lowering needs too. The answer to what lowering mod is the best for a Toyota GR Supra is not a one-size-fits-all solution.
Everything will eventually go down to three main criteria: how you will use your car, how many dollar bills you are willing to spend, and your expectations.
Suppose you're budget-oriented, and you're just looking forward to having a relaxed, lowered stance that'll be the center of attention (you have a Toyota GR Supra: you're already the center of attention!).
You don't care much about handling improvements. In that case, you should get your hands on some good quality lowering springs.
However, if you have attention to detail and want your car to be more responsive, have improved handling, and dominate both the track and streets with aggressive driving, then coilovers are for you.
Summary
This complete guide for Toyota GR Supra A90 lowering mods has given you a glimpse of the best lowering springs and coilovers for the fifth-generation Supra. We've also discussed what lowering springs and coilovers are, their advantages and disadvantages, and the critical differences between them.
Lastly, we've arrived at a conclusion that the
the choice between lowering springs and coilovers will ultimately fall down to the questions of application, budget, and expectations.
The Toyota GR Supra A90 is an excellent platform for upgrades like lowering mods. By installing either a good set of lowering springs or a high-quality Coilover kit, you're bound to experience benefits like improved handling, better MPGs, and even attention and praise from your peers.
Whatever your choice is, we're sure that your driving experience with a lowered Toyota GR Supra A90 will be unforgettable and even more exciting.