Alright, so I'm sure you are well aware that there are many different generations of Jeep Wrangler. CJ, YJ, TJ/LJ, JK are all chassis codes for different generations of the Wrangler. But with how expensive ridiculously expensive Wranglers are brand new, a lot of people have to get a used one. Thats where the TJ vs JK debate starts.
TJ
As I'm sure you might have figured out by now, the TJ Wrangler came before the JK Wrangler. The TJ replaced the YJ, and it was the first coil spring Wrangler ever. This attracted a lot more potential buyers as it handled better on the road, had a smoother ride, and had more articulation than ever.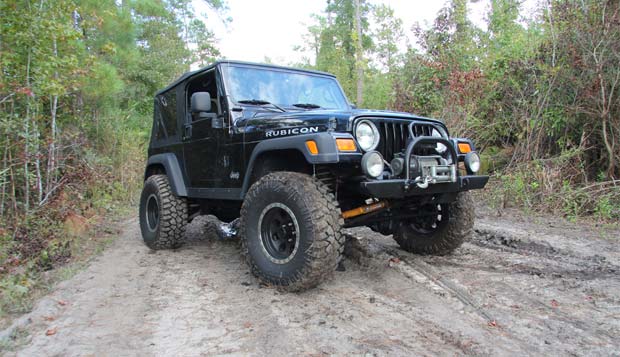 The TJ came standard with Jeep's 2.5L 4 cylinder, but had the legendary 4.0L as an option. The TJ also shared its suspension design with the ZJ Grand Cherokee.
Although it came with narrow Dana 30/35's, the optional Rubicon model came loaded up with narrow Dana 44's, factory air lockers, and a 4:1 transfer case, which made it the most capable Jeep ever at the time.
JK
The JK Wrangler was a huge change for the Jeep family. All previous Wranglers (CJ,YJ, and TJ), weren't considered full size rigs, as the weren't "half-ton". But, the JK Wrangler is considered a full size depending on who you talk to.
Older off-roaders will consider it full-size, while newer off-roaders might not. I personally think its full-size, I mean, the thing is massive compared to my XJ Cherokee.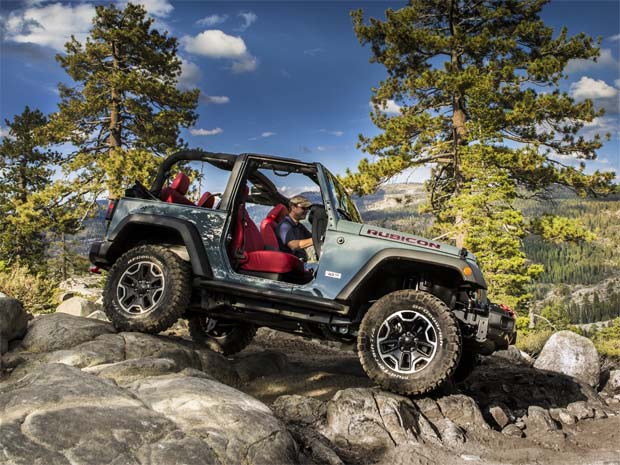 With the size increase of the JK Wrangler, the axles also increased in size. Although base model JK axles are still Dana 30/35, they are 4-5″ wider than the narrow width axles that come on TJ's, which are even wider than the axles that came on the CJ Wrangler's.
Another big change was the move from a standard 4 cylinder, and optional inline 6 cylinder, to a standard V6. This was the first time in history that the Wrangler was ever offered with a V6. The XJ was offered with an optional V6 for a few years but thats something else entirely. The new V6 engines offered more power than ever, and more efficiency than ever.
TJ vs JK: Body Options
Another obvious change with the JK Wrangler is that it was the first Wrangler to ever be offered as a 4-door model. The 4-door versions of the JK are identified as the JKU (JK Unlimited). Although the JK is wider than the TJ, the actually length of the standard JK is 2.5″ shorter than the TJ.
This gives it much better approach and departure angles.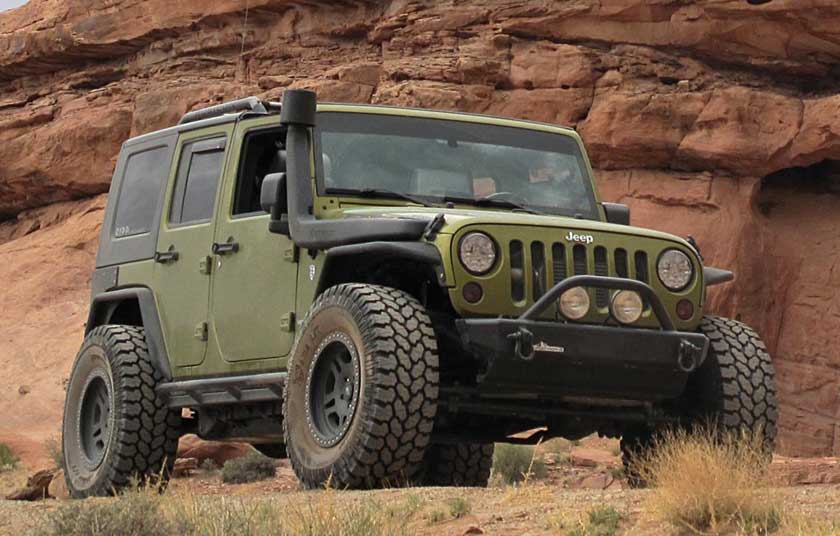 The TJ was offered in an extended wheel base model, dubbed the LJ, which isn't an official name by the way. The LJ came with a 10″ longer wheelbase than the standard TJ, and standard Dana 44 rear axle. That longer wheelbase also increased its towing capacity from 2,000 lbs to 3,500 lbs.
TJ vs JK: Price
The biggest topic of debate when incomes to TJ vs JK is the price. We're all trying to save a buck and no body wants to blow money that they don't really need to. A good condition TJ Wrangler will run you about $8-12K, the more expensive ones generally have some work done to them, whether that be a suspension lift or lockers. A built TJ Rubicon can cost as much as $20k, and sometimes even more.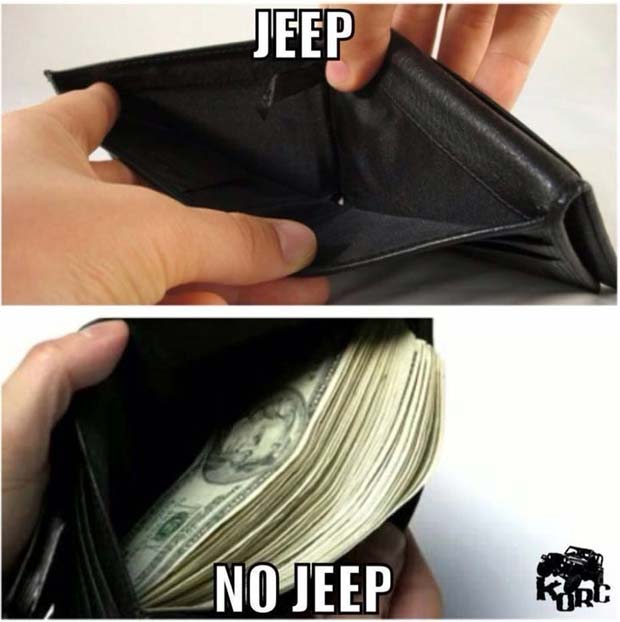 A good condition used JK Wrangler will cost about about $15-16k for a 2-door model, and a 4-door model will cost you about $20k. Keep in mind these figures are from local craigslist postings, so prices my highly differ in your area. A built JK Wrangler Rubicon can fetch as much as $100k if its brand new, but fairly used built JK Rubicons go for about $35-40k.
Thats a huge difference in price, and JK's are holding their value ridiculously high for some reason. To be quite honest the JK Wranglers in my area are a "status" vehicle. Meaning that wealthy people are buying them and driving them around just because its a symbol of having money.
TJ vs JK: Suspension
The suspension design between the TJ and JK are for the most part the same. There are no changes between the designs worth noting, and no changes that make any significant change what so ever. But, the wider axles of the JK do allow provide more articulation.
When it comes to articulation, the JKU (4-door) has a definite advantage. This is because its way larger wheel-base when compared to the TJ. As I'm sure to you know longer wheel base allows you to articulate on larger obstacles. But, the standard JK has a slight advantage due to its wider axles.
TJ vs JK: Axles
As I've mentioned quite a few times by now, the JK has much wider axles than the TJ, or any other Jeep of the past for that matter. But, thats not all good. The earlier model JK's had major problems with axle tube strength, and JK owners were bending their axles on simple obstacles.
The current model JK's no longer have the axle tube strength issue, but they have a slight axle C issue. The C of the axle (Where the knuckle is attached to the axle) is fairly weak, if you plan on running tires larger than 37's they must be gusseted to avoid bending them.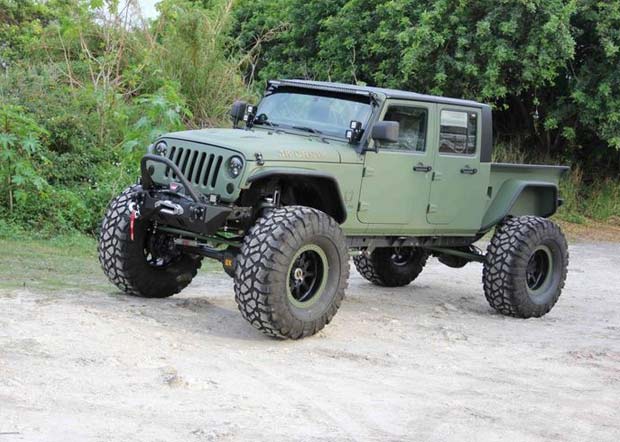 The TJ Wrangler's axles are pretty weak quite honestly. The Dana 35 rear and Dana 30 front that comes on base TJ's is barely strong enough to hold up to 35″ tires. The tubes are plenty strong, but the shafts are pretty weak.
The LJ has a good advantage with its rear Dana 44. I say the Dana 30/35 is weak, but if you off-road carefully they'll be just fine. I know people who have rocked 35″ tires on their Dana 30/35 for years and have only broken an axle shaft or two. Its all about your driving technique.
Both the TJ and JK Rubicon's come with Dana 44 axles front and rear. The only notable difference is the obvious change in width. The axles under the TJ Wrangler are 61″ wide flange to flange. Where as the axles under a JK wrangler are about 65″ wide flange to flange.
One other difference between the two is that the TJ D44's have air lockers, and the JK D44's have E-lockers.
Summary
So, the TJ Wrangler and the JK Wrangler actually have a decent amount in common. But the JK is more efficient, larger inside and out, and much more comfortable over all. But its at a price tag nearly twice that of a TJ Wrangler.
If I didn't have a family I would choose the TJ Wrangler, its much cheaper which allows a way larger budget for modifications. But, if I had a family, I would much rather have a JK Wrangler, and more specifically a JKU (4-door). It might be ridiculously over priced, but at least you can take your family on weekend adventures.