Tweeters, despite their descriptive name, are not social media specialists. They are, instead, miniature speakers designed to reproduce high-frequency parts of your music, such as a flute trill in a classical piece or the repetitive high-hat cymbal in a pop song.
While these little speakers are available in many modern vehicles, they are frequently only available as part of enhanced sound system packages in lower and mid-priced models. Tweeters are more likely to come as standard equipment in expensive vehicles.
Whether you want to add tweeters to a basic sound system or replace worn-out units in a high-end stereo, you've probably noticed that there's a plethora of options to choose from. We've limited things down to a short selection of options in this post.
#1 Polk Audio DB1001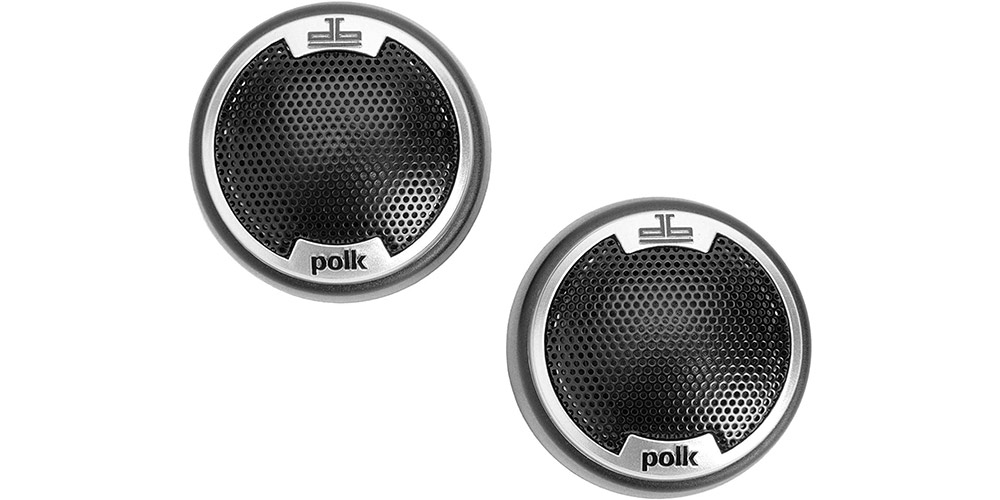 Brand: Polk
The DB1001 is rated for 6 to 60 watts nominal/RMS power and can tolerate peaks of up to 180 watts. One-inch silk/polymer domes and neodymium magnets produce frequencies ranging from 4 to 23 kHz, and an in-line crossover filters out lower-frequency sounds that should be left to your sound system's drivers and subwoofers. Overload safety circuitry is also included by Polk Audio.
Each pair includes stainless steel mounting gear for surface and flush mounting, 38-inch speaker leads, and two 6-foot lengths of speaker wire, each with an in-line crossover.

#2 JBL GTO 9 Series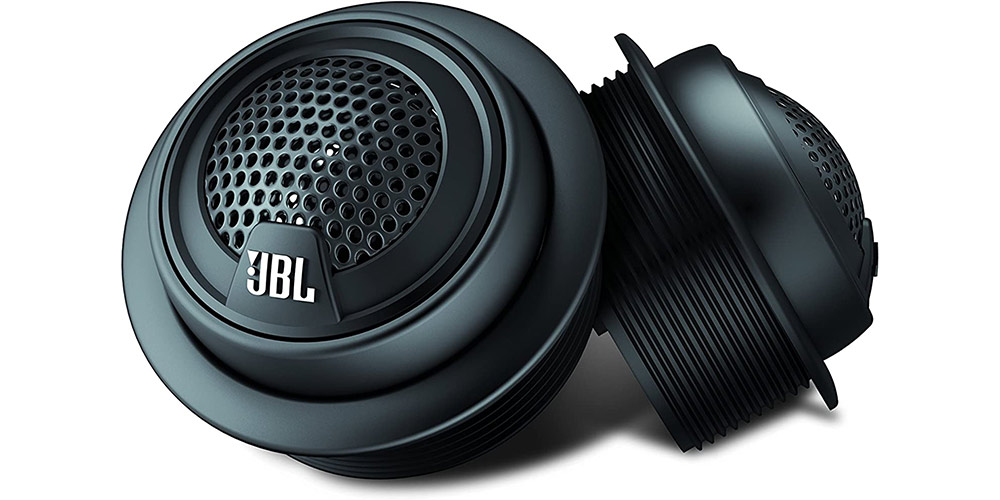 Brand: JBL
With a three-quarter-inch diameter, the JBL GTO 9 Series tweeter is the smallest on our list. The 9 Series, being a member of the GTO speaker family, features the fiberglass thick plastic frames, cloth diaphragms, and rubber surrounds found in larger variations.
With a minimum power handling range of 5 to 75 watts, these tweeters are suited for many factory sound systems as well as lower-end aftermarket setups. The maximum power handling capacity is 135 watts. According to JBL, the GTO 9 Series tweeter's comparatively low 3-ohm impedance makes it well-suited to sound systems with light-gauge cabling.

#3 Alpine SPR-10TW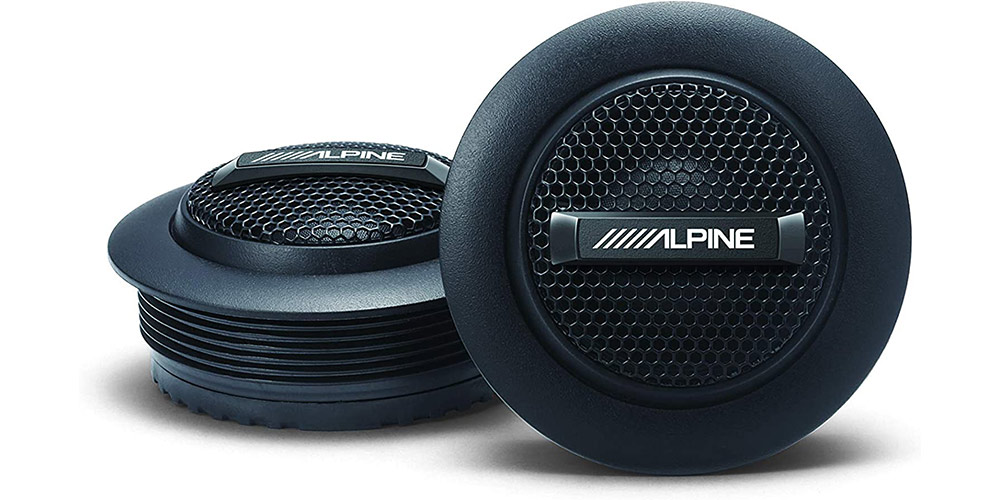 Brand:  Alpine 
The Alpine SPR-10TW is a 1-inch tweeter as well, but it was created for higher-end sound systems and more attentive listeners. Alpine states that if your sound system has an external amplifier, this gadget will function effectively. The SPR-10TW is particularly suited to high-powered sound systems because silk speaker domes can withstand nominal power of 5 to 150 watts and peak power of 450 watts.

#4 Rockville RT6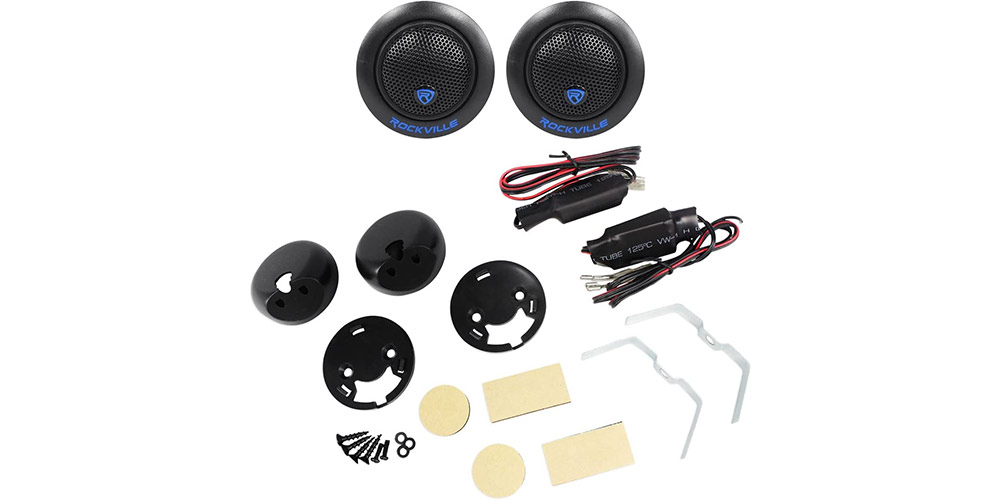 Brand: Rockville
Rockville prioritized sound quality over enormous power and volume, so while the 60-watt continuous power rating is small, these tweeters will sound better than their low price suggests.
This 1-inch speaker contains a silk dome, ferrofluid-cooled voice coil, and neodymium magnet and can handle 240 watts of power. The frequency response is 1.3 to 24 kHz, and the impedance is 4 ohms.

#5 Pyle-Pro PDBT28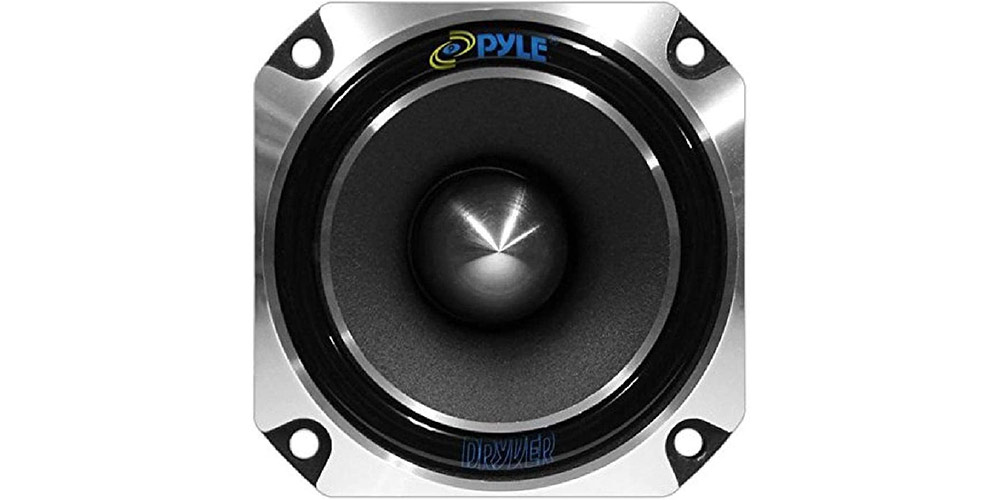 Brand:  Pyle
With a 150-watt RMS power rating and 300-watt peak power capabilities, the Pyle-Pro PDBT28 tweeter is one of the most powerful speakers on this list. Its 104 dB sensitivity rating is among the greatest in this category, so you'll receive plenty of volume from the PDBT28 no matter how powerful your sound system is. The frequency response of the tweeters shown here is average, spanning from 2 to 20 kHz. 4 to 8 ohms is the impedance range.

#6 Kenwood KFC-ST01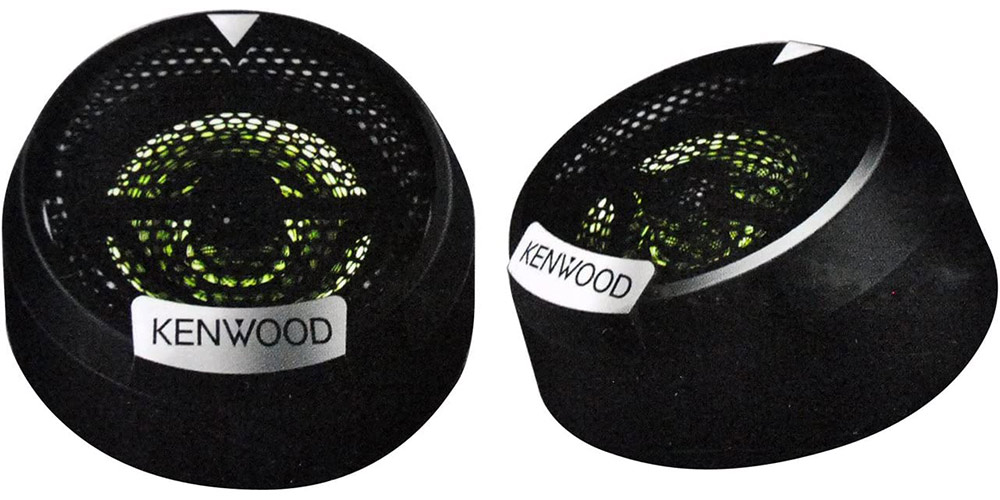 Brand: Kenwood
These 1-inch tweeters have a continuous power rating of 2 to 40 watts and a peak power rating of 160 watts at 4 ohms. The frequency response begins at a rather high 5 kHz, and the top end is among the highest on this list at 25 kHz. Sensitivity is in the middle of the pack at 90 dB, although some consumers desired the increased volume that comes with sensitivity ratings close to or above 100.

#7  Rockford Fosgate Prime R1T-S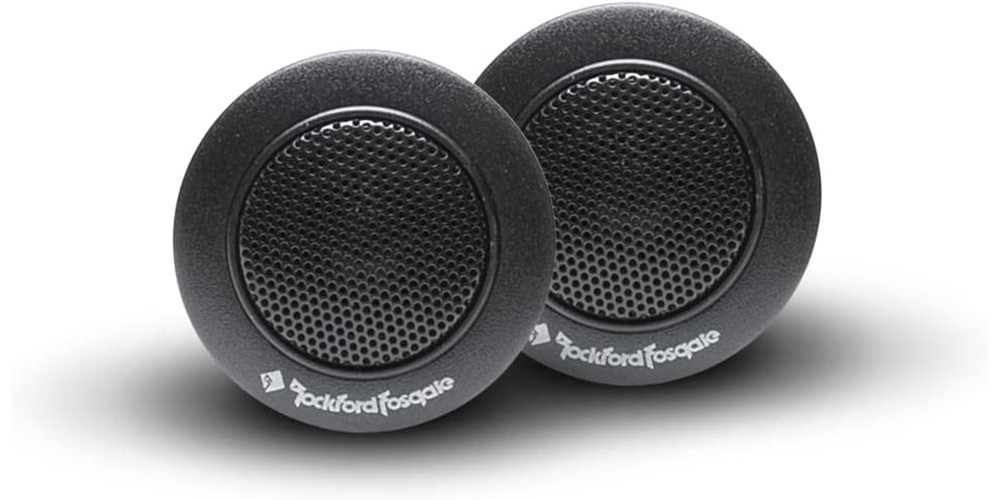 Brand: Rockford
According to Rockford Fosgate, the mylar dome of its R1T-S tweeter was developed to prevent distortion while diffusing your music's high notes so that everyone in your car may enjoy the clean sound. They can withstand between 2 and 40 watts of RMS power and up to 80 watts of peak power.
The sensitivity is 72.5 dB lower than typical, and the frequency response range is slightly narrower, ranging from 2.5 kHz to 22 kHz. The kit's impedance is rated at 4 ohms, and it includes built-in high-pass crossovers, so you need not worry about finding room for them.

#8 DS18 PRO-TW220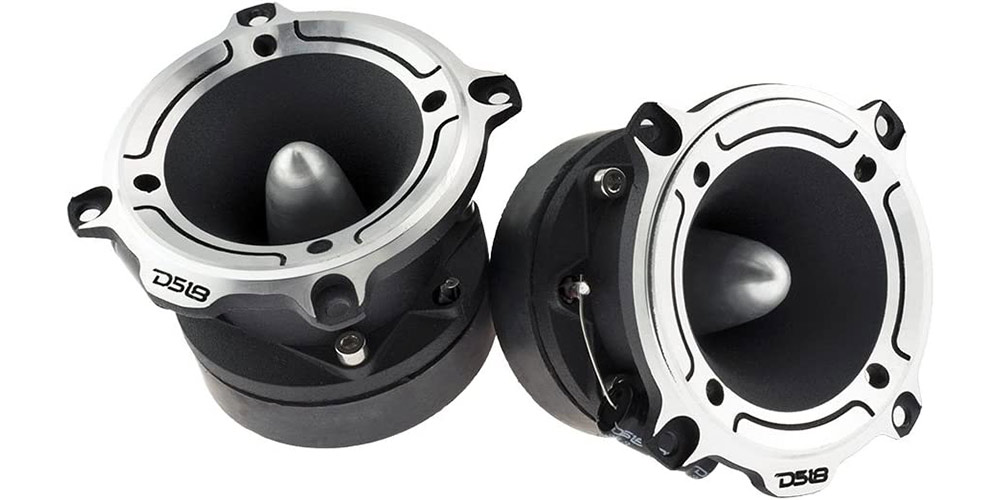 Brand: DS18
The PRO-TW220 has a frequency response range of 2.2 kHz to 19 kHz. That's a lower range than many of the other tweeters we've tested, meaning that the DS18 sacrificed some high-end sound reproduction capability in exchange for massive volume.
The PRO-TW220 is a 1-inch tweeter. Its aluminum chassis and diaphragm add a significant amount of weight. For flush mounting, you'll need a 2.75-inch cutout and roughly 2.3 inches of room behind the mounting surface, according to the DS18 specifications. There are no surface or angle mounting options. Conversely, the PRO-crossovers TW220s are incorporated into the tweeters themselves, eliminating the need to locate a spot to attach external devices.

#9 Kicker KST250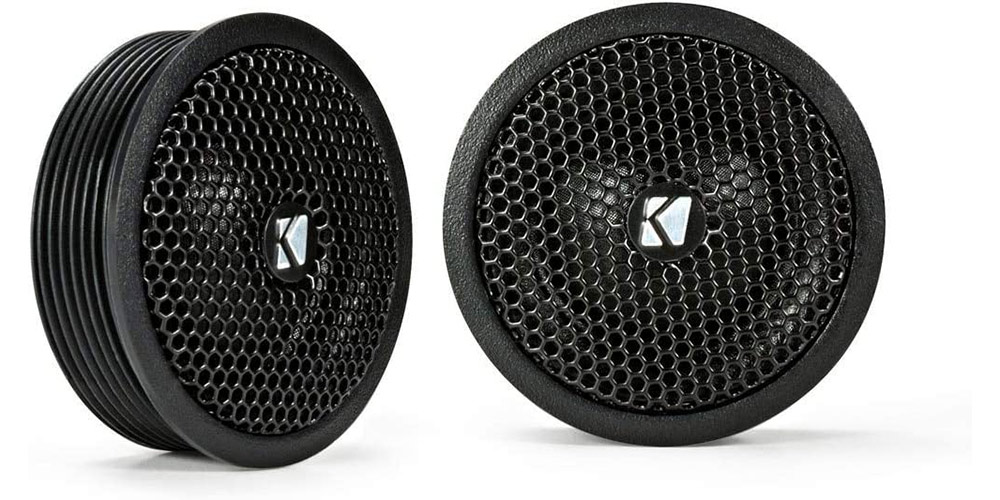 Brand: Kicker
The nominal power rating of the KST250 is 75 watts, although it can withstand peaks of up to 150 watts. The frequency response begins a little higher than some of the other tweeters on this list, at 3.5 kHz, and maxes out at 21 kHz, which is about typical. The sensitivity is rated at 94 dB.
The 4-ohm impedance of this Kicker tweeter is compatible with regular car radio wiring. Each speaker includes 6 inches of speaker wire as well as a five-foot length of speaker wire with a built-in 12 dB crossover.

#10 Rockford Fosgate Punch P1T-S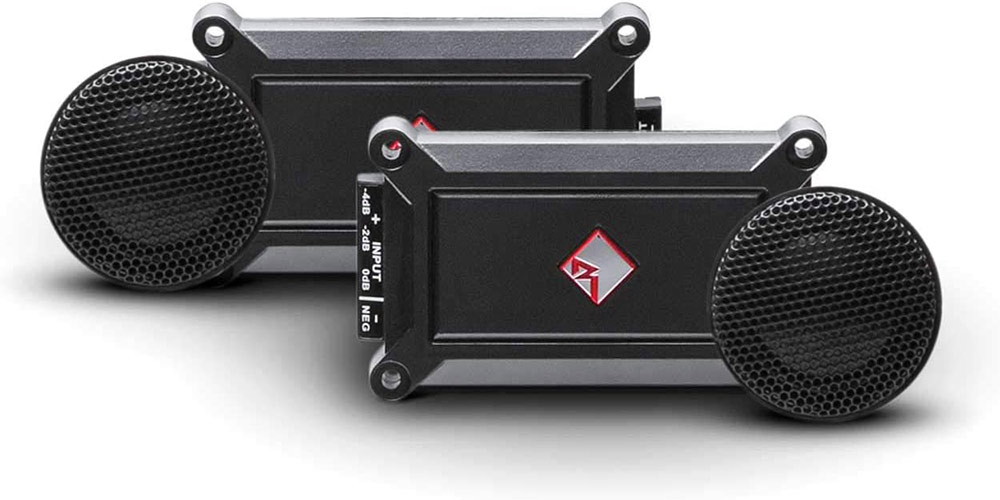 Brand: Rockford
The Punch P1T-S is the second device from Rockford Fosgate to join our list of aftermarket tweeters. These 1-inch units have a continuous power rating of 60 watts and a maximum power rating of 120 watts. The frequency response is mid-pack here, extending from 3.5 kHz to 22 kHz, and the sensitivity rating is 90 dB. The speaker domes are constructed of polyetherimide, a polymer that, according to Rockford Fosgate, produces exceptional audio imaging.