Most vehicles these days will struggle to accommodate a bike without an aftermarket accessory.
Fortunately, there are now a variety of bike racks available at a range of prices, allowing you to transport your bike with your vehicle. But first, it's important to understand the three primary categories of bike racks that are available on the market: trunk-mounted racks, Roof racks, and Hitch-mounted racks.
Check out our picks for the top 10 best bike racks currently available on the market, broken down into three categories.
#1 Allen Sports Deluxe Hitch-Mounted Bike Rack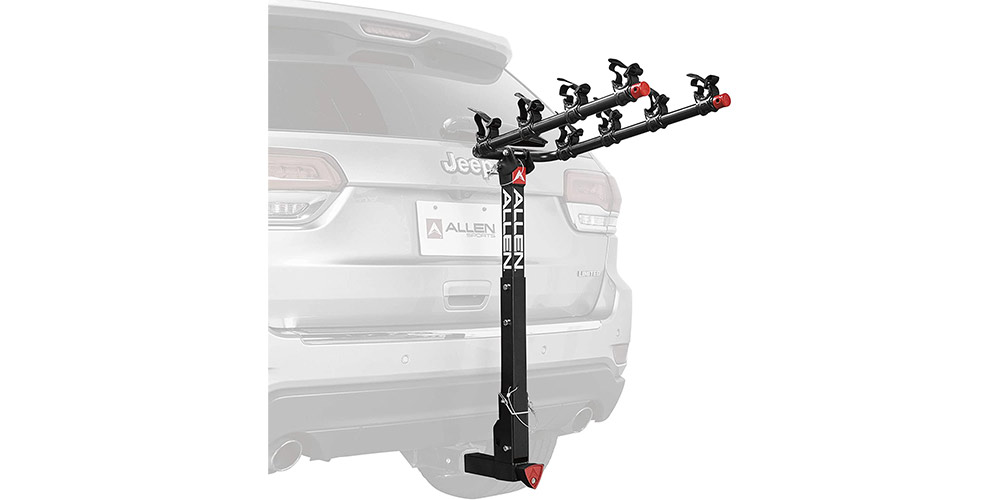 Brand: Allen Sports
This bike rack is reasonably priced and has a large selection to fit up to 5 bikes and different sized hitches. This rack is compatible with 1.25′′ and two ′′ hitches for 2- and 3-bike choices, but only with two ′′ hitches for 4- and 5-bike options.
It includes two keys and a quick install hitch that secures and tightens the rack within the receiver hitch. When not in use, the arms fold out of the way, and the rack itself may be tilted back when necessary. 
#2 Allen Sports Deluxe Trunk-Mounted Bike Rack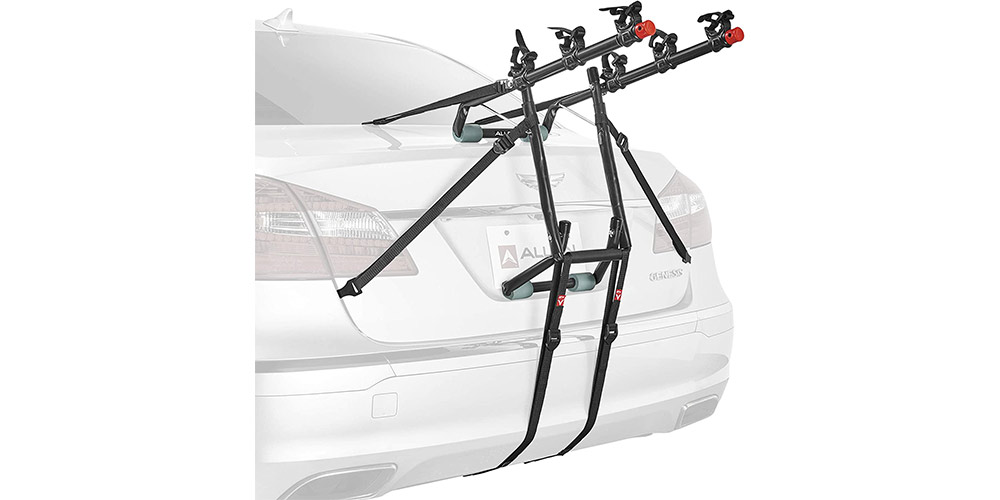 Brand:  Allen Sports
This rack is extremely affordable and can accommodate two, three, or four bikes. This bike rack has a patented design and is made to fit sedans, hatchbacks, minivans, and SUVs.
This rack has side straps for greater lateral stability and uses individual tie-downs to secure and protect bicycles. The lower frame is padded to keep your bicycle safe from moving vehicles. It has a narrow set of carrying arms that may fit a variety of bike sizes and types.
#3 Yakima Frontloader Rooftop Bike Rack
Brand: Yakima
The company's FrontLoader Rooftop Bike Rack is a simple yet elegant alternative for getting a bike on your car's roof. This gear is pre-assembled for quick and simple installation.
It is designed to accommodate a single bike and has zero touches on the bike frame. It accommodates 20′′ to 29′′ wheels, mountain and road bike wheels.
#4 Saris Bones 3-Bike Trunk Mount Rack (801)
Brand: Saris
This product is available in a wide range of colors. This mount has an arc-based design that enables it to fit over most spoilers. It can hold three bikes that weigh up to 35 pounds each. Also, this design helps the bikes to be spaced apart from one another by allowing them to be positioned on various levels.
This product is one of the strongest on the market due to its injection-molded arms and legs. Vinyl-coated hooks and flexible rubber feet help protect the paint on your vehicle, while spring buckle straps and ratcheting anti-sway straps keep everything nice and secure. This is also one of the lightest trunk-mounted bike racks you can get, at only 11 lbs.  
#5 Hollywood Racks HR1400 Sport Rider SE4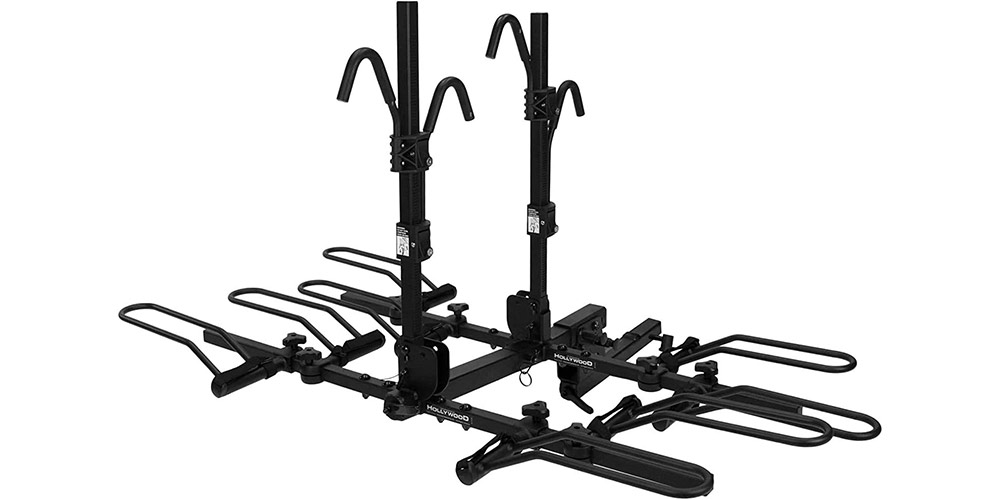 Brand: Hollywood Racks
It is a heavy-duty platform-style hitch rack that can hold up to four bikes, each weighing up to 50 pounds. This rack comes with a patented "No Wobble/No Tools" hitch-tightening system. It will fit most bikes, including mountain bikes, road, cruisers, ladies' frames, and children's bikes.
This rack can transport bikes with tires up to 5 inches wide if a fat tire kit is used. This rack can also use a cargo basket that connects to the base rack for more versatility, enabling users to transport two bikes and up to 100 lbs. of gear.
#6 CyclingDeal Bike Car Roof Carrier Rack with Lock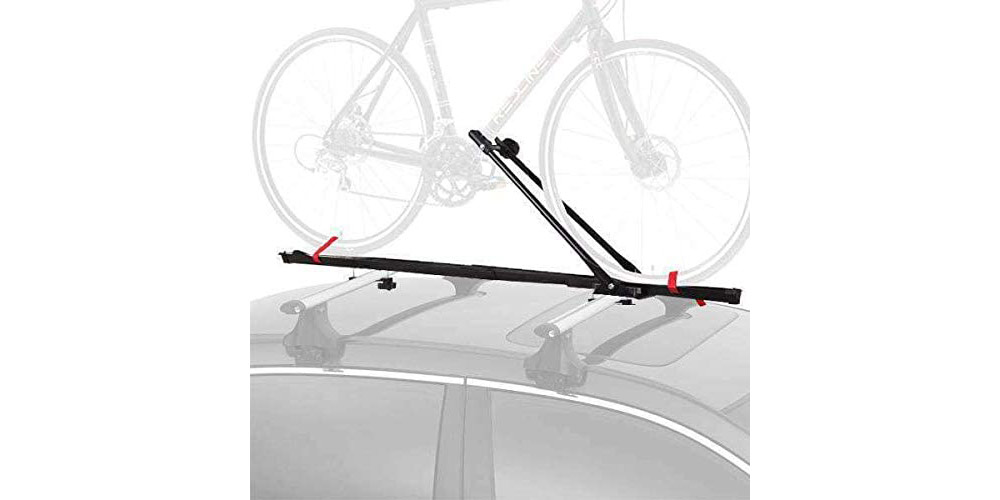 Brand: CyclingDeal
It's a simple, straightforward roof rack that can hold one bike and comes with a lock to keep it safe and secure. This rack, made of excellent steel with a powder coat finish, will accommodate a bike without removing the front wheel and includes tie-down straps to attach the bike to the rack.
They are designed to accommodate the majority of bicycles. Still, it's a very low-cost option for people searching for a simple-to-install and uses bike rack.
#7 Yakima Products Hold-Up Tray-Style Bike Rack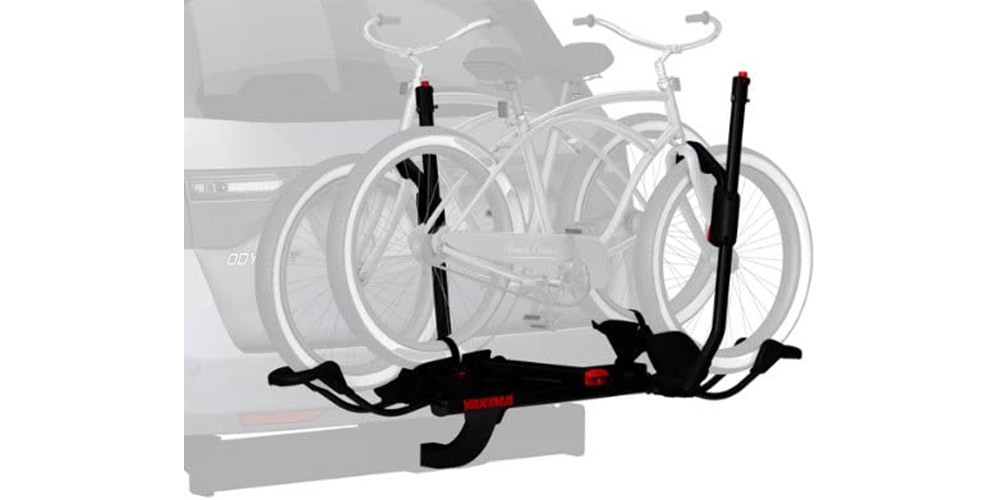 Brand: YAKIMA
They are designed to be a quick and simple way to load your bikes. This device has no contact with the bike frame and is compatible with full suspension, disc brakes, carbon road bikes, and thru axles.
If you have a two-inch hitch, the Hold Up can be expanded to transport four bikes in addition to its usual capacity of 2 bikes. It has an SKS Cable Lock System. The product has a maximum load capacity of 60 pounds per bike and weighs 49 lbs.
#8  Critical Cycles / Retrospec Lenox Hitch Mount Bike Rack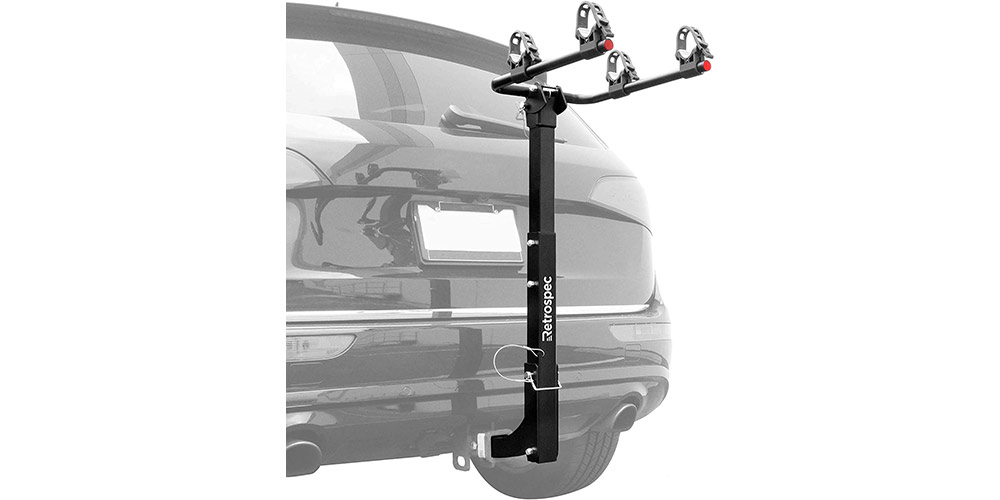 Brand: Retrospec
The Critical Cycles / Retrospec Lenox Hitch Mount is a low-cost bike rack that can hold two, three, or four bicycles. This rack's carrying arm spacing is intended to support a wide range of frame designs and sizes.
This rack folds conveniently for storage when not in use and has a compact overall design. The Lenox also has a main mast that tilts, making it simple to access the liftgate without taking out the entire rack. This device has a weight limit of up to 140 lbs (for four bikes) and requires minor assembly.
#9 Tyger Auto Deluxe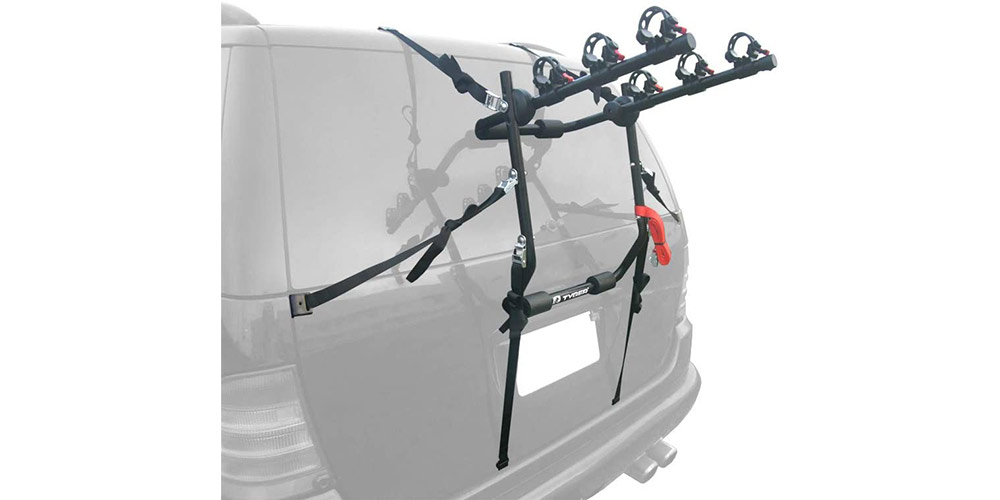 Brand: Tyger Auto
The Tyger Auto Deluxe is a trunk-mount accessory that can hold two or three bikes. This rack comes completely constructed and is suitable for most sedans, hatchbacks, minivans, and SUVs; however, it is not suitable for vehicles with spoilers. The arms of the rack can be folded when not in use, and a safety strap is also provided.
The Tyger Auto Deluxe rack includes an OE standard black e-coating to help protect against the elements and rust.
#10 Thule T2 Pro XT 2 Bike Rack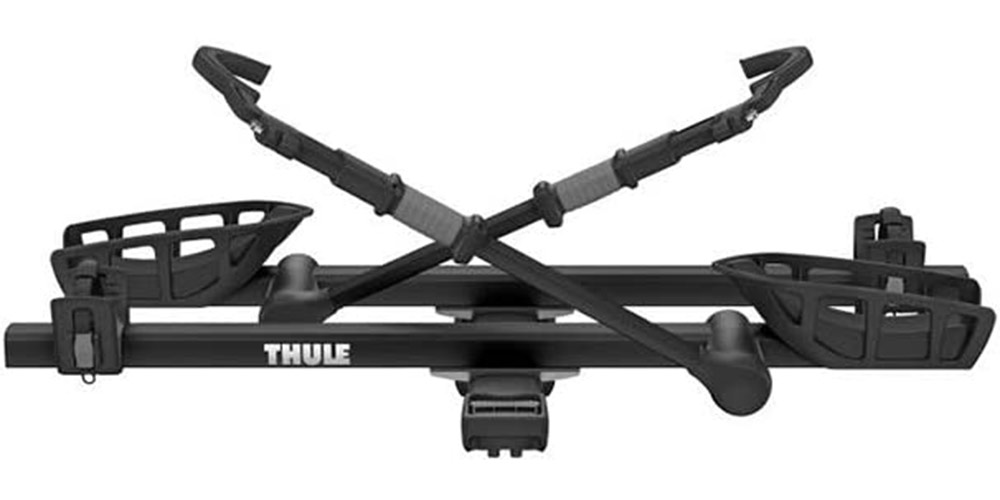 Brand: Thule
The Thule T2 Pro XT is a premium platform hitch bike rack with maximum strength, security, and friendliness. It supports up to two motorcycles and fits 1-1/4″ and 2″ receivers. Receiver locks and bike locks come with each set.
The incorporated 24′′ cable lock attaches the bike to the rack, and this rack can be moved from side to side to lessen interference. You can expand the capacity of this rack to hold up to 4 bikes by purchasing the Thule T2 Pro XT add-on, which is offered separately and is only appropriate for two ′′ receivers.
Essential Information About Bike Racks
A bike rack, also called a bike carrier, is a great accessory for those who frequently transport their bike to different places. It can be mounted on various sizes of vehicles. As mentioned earlier, the three types of bike racks are the roof, hitch mounted, and trunk mounted.
Picking the Best Bike Rack
There are multiple factors to consider before purchasing a bike rack because not all bikes are alike. It would be of great help if you also considered how often you will be using the bike rack. You can go for a more affordable option if you would need to use it once a week. However, if you plan on using the rack multiple times in a span of a week, we highly suggest that you invest in one that offers a stronger construction design.
You should also consider the number of bikes that you need to use the bike rack on. Generally, if you have to transport more than two bikes, you should go for the hitch-mounted type. The roof-type rack is usually for a single bike accommodation, while the trunk-mounted ones can handle 2 or 3. A hitch-mounted rack is the ideal option if you need 4 to 5 bikes transported.
Another essential consideration is your parking option. Will you be parking inside a garage? You have to verify that the overall length of your car, plus your bike rack, will fit the garage space. If you park outside, your rack might be in danger of theft, though you can consider using a safety lock for added security measures.
One obvious consideration that should never be taken for granted is whether your vehicle comes with a rear-mounted spare tire or not. If yes, you should be aware that a hitch-mounted bike rack won't be a great fit, and you should look for other types of bike racks.
Another factor to consider is the weight of the bike rack that you will be adding. If your rack is heavier, it would be harder to remove. In addition, if you plan on transporting multiple bikes, you would need a sturdy bike rack that can handle all of these bikes. The weight of the bike rack is a huge factor when assembling and installing it.
Height clearance is also another consideration that you should look into, especially if you are opting for the roof-mounted type of bike rack.
There are so many factors that you need to consider but choosing the best bike rack depends on your specific needs. The great thing about it is you have a lot of options available. Our list above offers a variety of choices. Good luck with your purchase!