You'll need to do more than give your vehicle a regular wash if you want to keep the finish flawless and bright. A thorough detailing session once every few months will go a long way toward protecting and maintaining your car's finish. You've found the ideal place if you're seeking the best car detailing products.
Here, we've compiled all our top product picks from multiple categories, so you don't have to search everywhere for what you want. If you have these products, you can make your vehicle appear brand new and maintain it for years to come.
#1 Chemical Guys Mr. Pink Super Suds Car Wash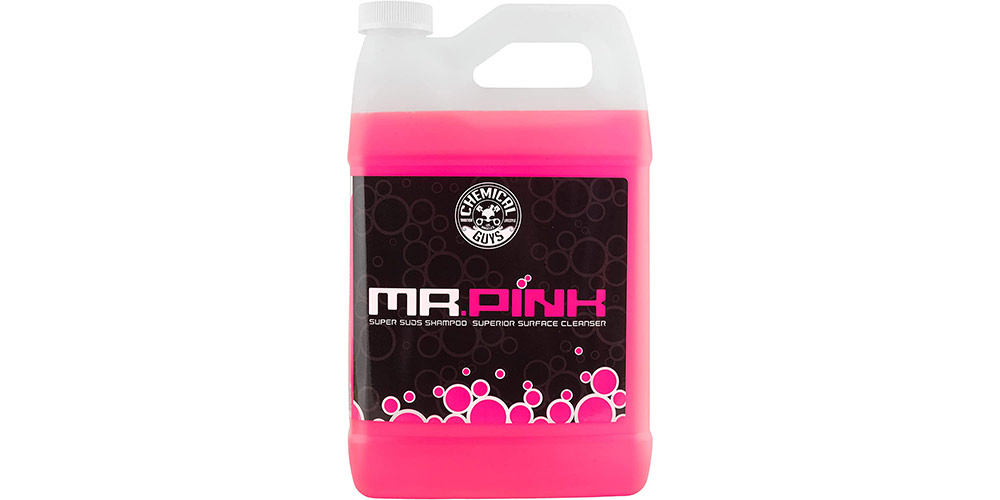 Brand: Chemical Guys
There are many car wash soaps available, and to be honest, any of the more reputable brands will do. Chemical Guys Mr. Pink Super suds shampoo is made to be gentle on sealant and wax coatings and is best used once a week. Also, it has a pH balance that prevents it from harming other components of your car's exterior, including glass, vinyl, rubber, and plastic trim.
It has a smooth formula that simply glides off your car, preventing swirl and scratch marks from developing as you wash. It also rinses thoroughly, leaving no traces of water or residue behind.
#2 Meguiar's ScratchX 2.0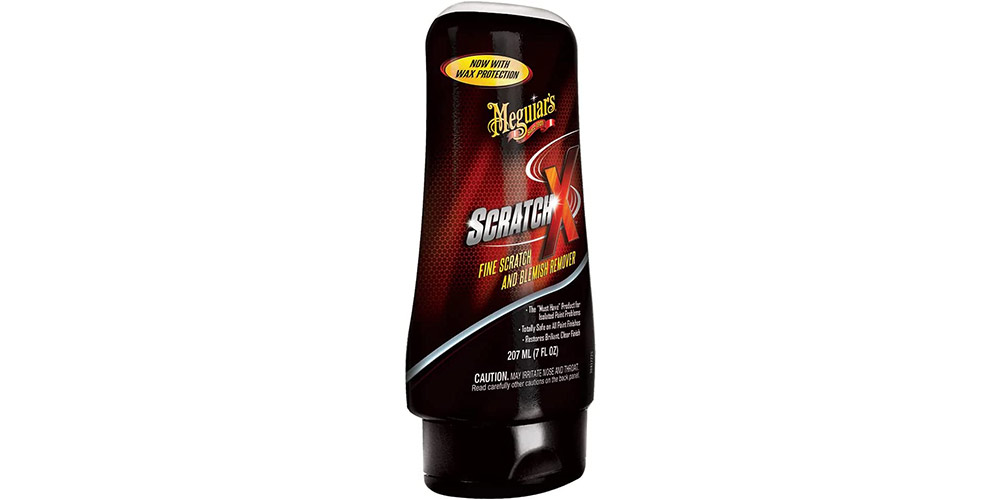 Brand:  Meguiar's
Meguiar's ScratchX 2.0 is made specifically to be a fine scratch and blemish remover. Its unique micro-abrasive formulation safely removes swirls, blemishes, and scratches from all paint finishes, allowing you to restore the finish clarity of your car. Don't expect it to work on deep scratches, but it does erase such flaws permanently rather than just covering them up.
Both a dual-action polisher and a hand tool can be used to apply this scratch remover, which is safe for clear coats.
#3 Sun Joe SPX3001 Pressure Washer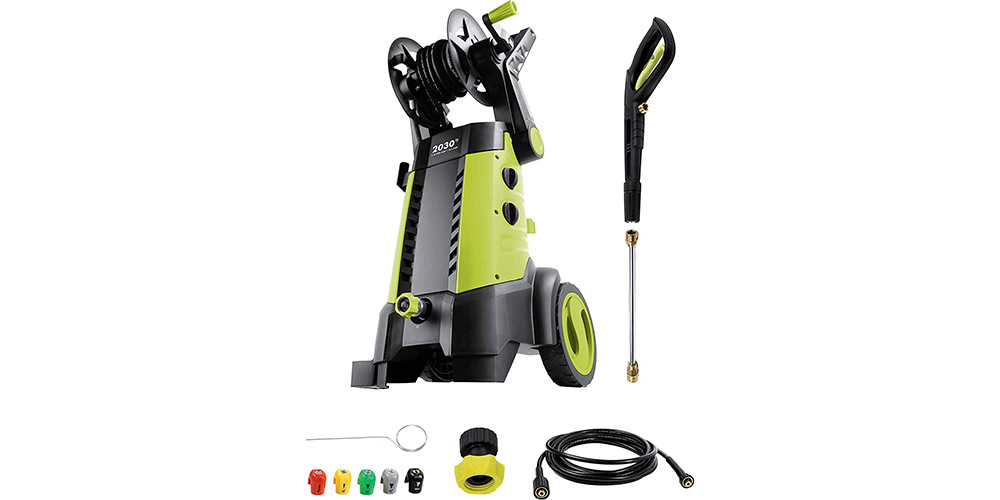 Brand: Sun Joe
The Sun Joe SPX3001 is our best selection if you regularly wash your own car. It is driven by a 14.5-amp/1800-watt motor that produces 2,030 PSI of pressure and 1.76-GPM of water flow. There are five quick connect nozzles included with the pressure washer, giving you access to a range of pressures.
Unless you have a large SUV or pickup truck, the pressure washer's 20-foot hose and 35-foot power cord are enough to easily wash your car from bumper to bumper.
#4 DUSICHIN Adjustable Foam Cannon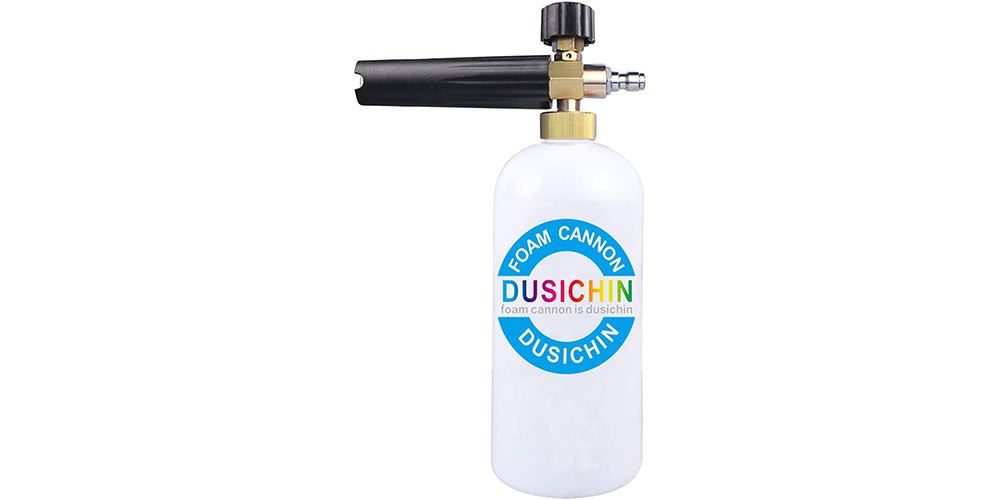 Brand: DUSICHIN
The DUSICHIN Adjustable Foam Cannon comes with a 1-liter bottle and a 1/4′′ quick disconnect fitting. This specific foam cannon, DUSICHIN, answers the call with brass connectors.
Your pressure washer must flow at least 1.2 GPM and have a pressure of above 1,000 PSI in order to operate this foam cannon. Also, you can adjust it to change how much foam is produced and how the mixing is done.
#5 Meguiar's Ultimate Liquid Wax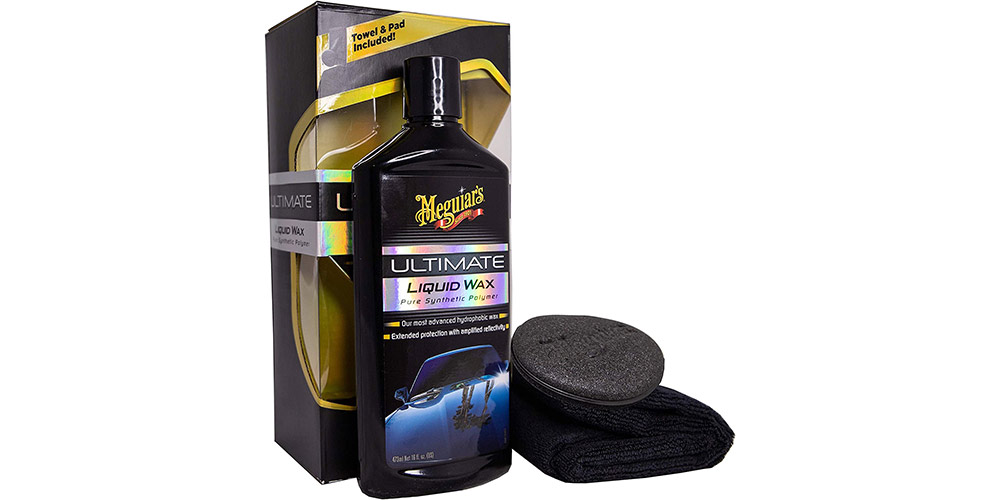 Brand: Meguiar's
If you truly want your car's finish to look new, you'll need to invest in a clay bar and put aside some time. It is very advised to go over your car's surface with a clay bar before applying wax because clay bars are made to remove contaminants from your car's surface.
Meguiar's Ultimate Liquid Wax is cost-effective, durable, and easy to apply and remove. The long-lasting synthetic hydrophobic polymer used in the formulation of The Ultimate Liquid Wax gives your car a rich, mirror-like shine for months. It includes a unique foam applicator and a microfiber towel for buffing, saving you money on those extras.
#6 Chemical Guys Medium Clay Bar and Luber Kit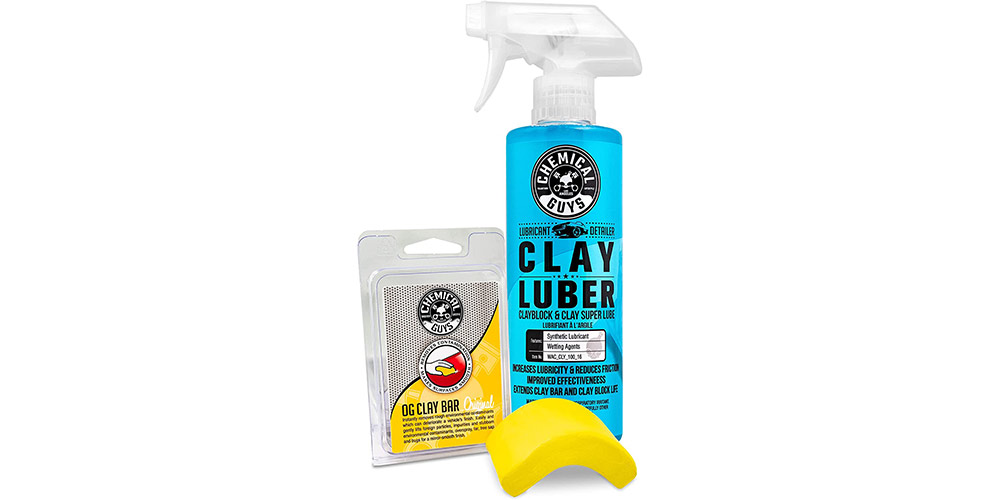 Brand: Chemical Guys
The four clay bars available are original, light, medium, and heavy. Before purchasing one of the professional-grade medium or heavy clay bars, it is advised that you have prior experience using a clay bar. They are generally difficult to form and tend to be fairly rigid, which is not ideal for a beginner.
As these clay bars are non-abrasive, you can use them on any finish or material, including paint, fiberglass, chrome, or aluminum.
#7 CarGuys Hybrid Wax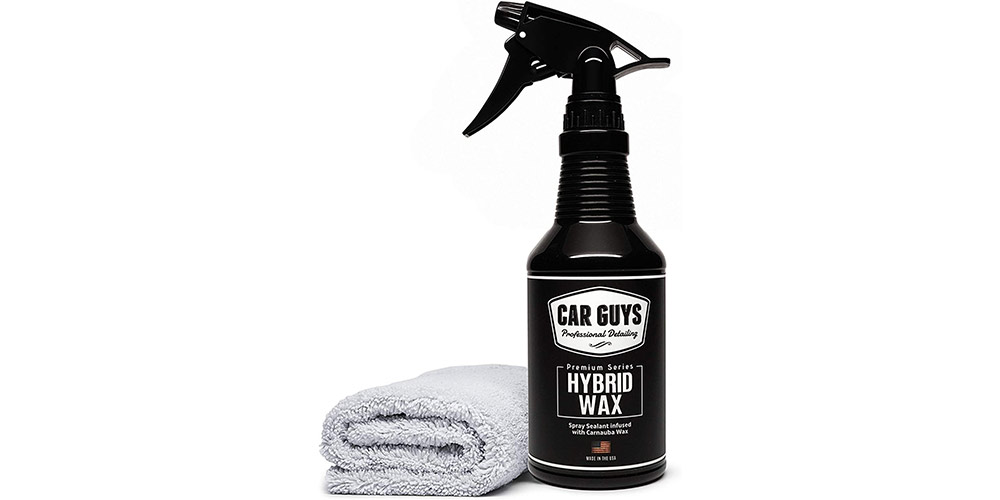 Brand: CarGuys
This spray sealant is made for safe application on all of your vehicle's surfaces and contains classic carnauba wax.
When applied correctly, it will leave behind a hydrophobic barrier to prevent water from beading on your car's exterior and long-lasting UV protection. It is packaged in a bottle with a fully adjustable sprayer of professional grade. Hybrid Wax from CarGuys can also be used on rubber, plastic, and glass.
#8 Meguiar's Hybrid Ceramic Wax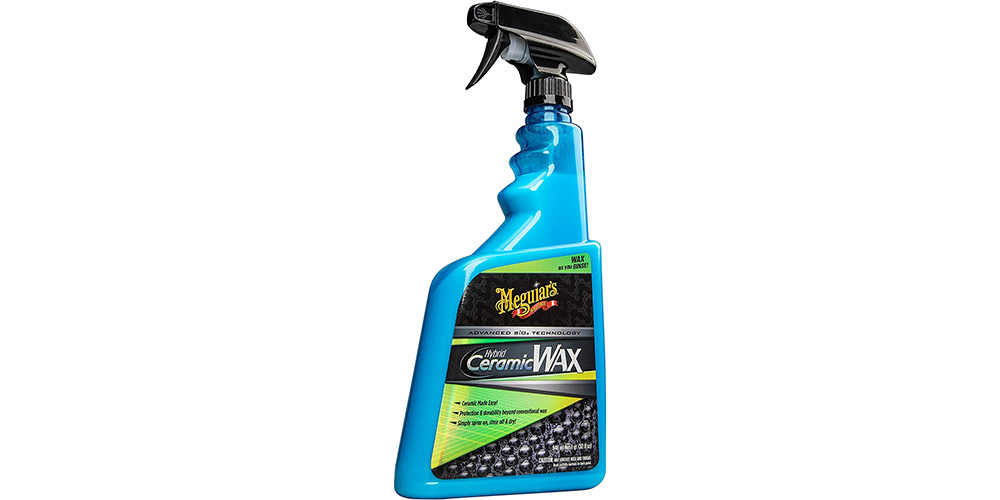 Brand: Meguiar's
Meguiar's offers a hybrid ceramic coating solution that you may use with its Hybrid Ceramix Wax detailing spray to apply at home.
It has cutting-edge SiO2 to give ceramic wax protection, and it's really simple to use. After washing your car, spray it on, rinse it off, and then pat it dry with a towel. Be careful not to massage or buff unless you really want to.
#9 Meguiar's Endurance Tire Gel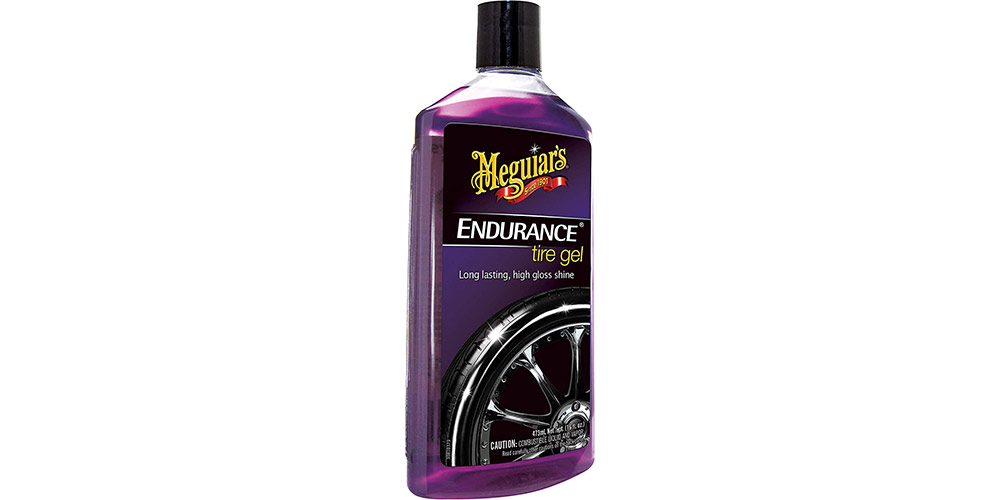 Brand: Meguiar's
Meguiar's Endurance Tire Gel is the best option if you want a product that is both effective and simple to use. This product is made to last weeks, even through rain and car washes, and has an advanced formula with specific macro polymers and copolymers that leaves your tire with a bright, high gloss shine. Also, it will shield your tires from UV deterioration.
Instead of foam or spray, a gel allows you to manage exactly how much shine you give your tire by varying the amount you apply.
#10 Viking Microfiber Car Detailing Applicator Pads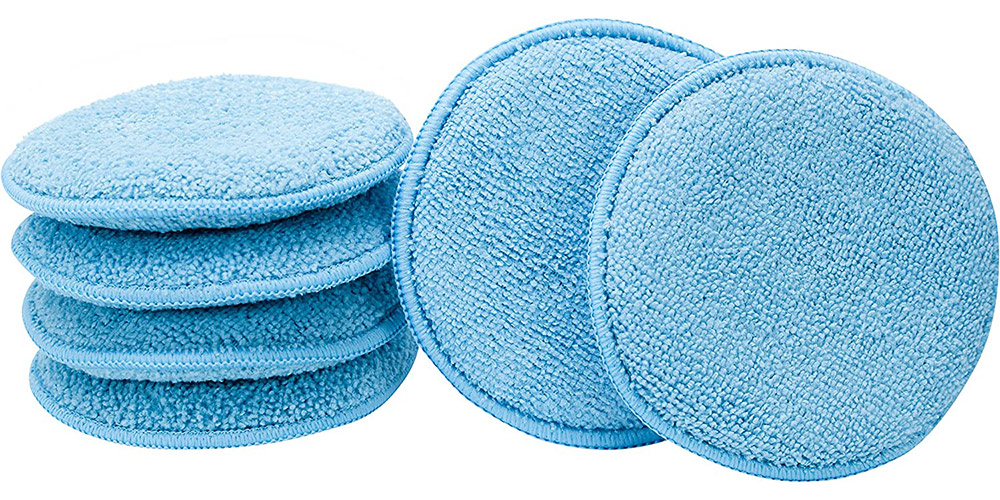 Brand: Viking
Viking Car Care offers four types of microfiber applicator pads: standard, cotton terry, rectangular, and pads with a finger pocket. You can get a four or six-pack in one of three different colors. Three different colors of blue, to be precise.
These buffing pads are safe for clear coats and feature soft microfiber or cotton terry. They are made for applying waxes, polishes, and other protectants. A little goes a long way because they are machine washable and reusable after use.
Essential Information About Car Detailing
Now that you have read about our top 10 best car detailing products, it's time we provide you with more information about car detailing. Why is car detailing essential? Let us take a look at the benefits it could provide for your vehicle.
Extends your car's lifespan – Car detailing helps remove contaminants that can potentially affect different parts of your car, such as leather, chrome, paint, and vinyl. With car detailing, you prevent your car from depreciating faster. Extra car care helps extend your vehicle's life.
Enhances your car's looks – If you miss the old look of your car when it was still brand new, car detailing can help you restore that. Taking your vehicle to the car wash won't be enough. Car detailing will help check all the boxes and handle scratches, dust, dirt, etc.
Maintains paint condition – Your car's paint plays a huge role in its overall condition. It can be affected by dirt, dust, debris, etc. With regular car detailing, you can ensure that wax is applied to help reduce scratches on your paint. Wax can also provide that restored look of a newly-shined car, plus add a barrier of protection.
Improve Resale Value – Car detailing can help give your vehicle an enhanced look that would be ideal before you sell it. Your car's resale value will get a very helpful boost from car detailing.
Car detailing does not only benefit the vehicle but the car owner as well. It provides a better sense of satisfaction. Would you rather drive a dirty car over a clean and shiny one? A clean vehicle can provide a more satisfying feeling and also reflect how you care about your car. It adds confidence and pride to ride a car that you can flaunt on the road. In addition, if your vehicle is used for business, it can show how neat and responsible you are as a person.
Regular car detailing can also help you save money when you look at it long-term. When you take better care of your car, you help prolong its life, and the chances of repairs are minimized. You get to reduce maintenance costs because you have better insight into the condition of the different parts of your car, such as paint, headlights, etc.
If you have the time and budget, it would be smart to give your car some extra care. Car detailing offers so many benefits if you regularly perform it. With factors such as longevity, savings, and resale value affected, you may want to reassess how valuable your car is right now and if you are properly taking care of it. With the top 10 best car detailing products mentioned above, you now know the different options available. We highly recommend you take advantage of car detailing and give your car an enhanced look and feel today because it can provide you with a good return in the long run.