Majority of wear and tear is usually caused by shifting while you drive, not just getting in and out and bringing everything with you. Installing a set of the best floor mats can also maintain the resale value of your vehicle.
Carpets could serve as a mold breeding area. Even if you have factory car mats, they might be difficult to remove and clean. For your car, you can choose from a variety of floor mat styles, such as deep solid rubber ones that provide better mud and winter protection than your factory floor mats, carpeted options with a waterproof backing that you can pressure wash, and clear ones that protect your carpet from dirt and your shoes.
Here are our recommendations for the top car floor mats currently on the market, along with information on how they stand out from the competition.
#1 WeatherTech FloorLiner HP Floor Mats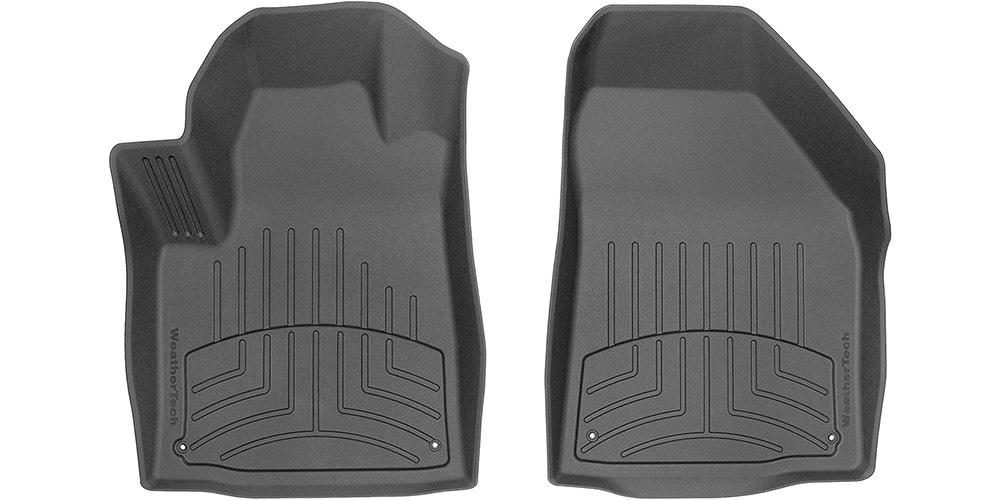 Brand: WeatherTech
WeatherTech dominates the market for custom-fit car mats. These mats are strong and flexible as they are made of TPE (thermoplastic elastomer). Harsh weather won't cause these mats to crack, curl, or degrade. These mats also have non-slip nibs. The walls are prevented from sliding inward by the beveled edge. The high-wall construction keeps spills inside the liner and off your car's carpet. Make sure you get the mats made for your vehicle from the many options available.
#2 Kagu All-Weather Custom Fit Floor Liner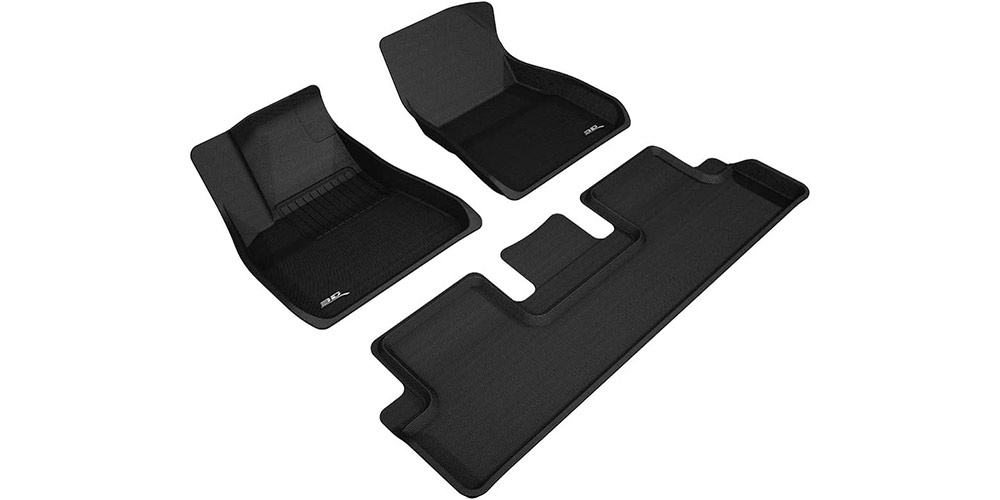 Brand: 3D MAXspider
The 3D MAXpider Kagu Floor Mats are specially constructed from thermoplastic for your vehicle's floorboards, carefully cut with higher edges to establish a debris containment zone. This ensures that anything you track inside your cars, such as dirt or sand, won't spread throughout the vehicle.
There are a few color options to match the design of your interior, whether you want something that contrasts or complements the other items in your cabin. The Kagu series includes an anti-slip MAXspider backing that works like velcro to keep it in place as opposed to nibs that dig into the carpet.
#3 WeatherTech All-Weather Floor Mats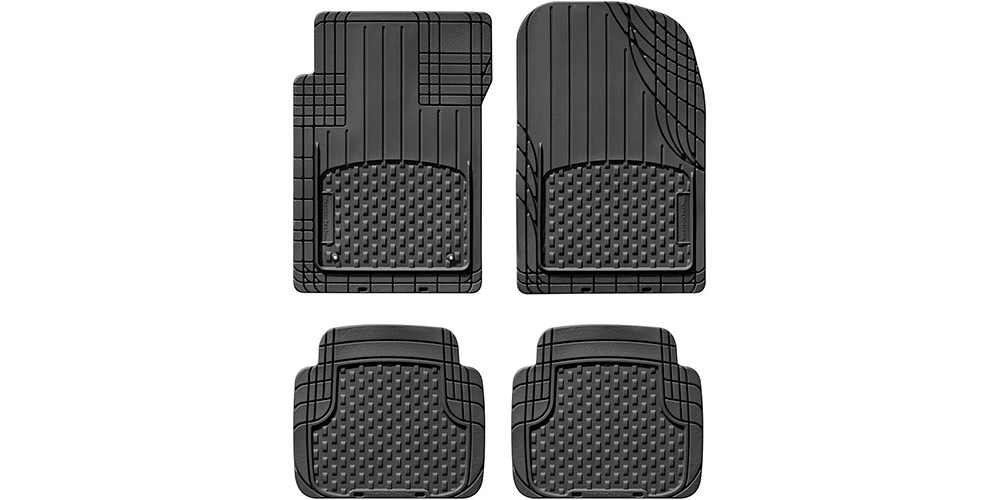 Brand: All-weather
All-Weather Floor Mats are available in black, gray, and tan tones to match the rest of your interior's color scheme. The front mats are designed to fit all car flooring due to their unique shaping and Trim-to-Fit capabilities.
The front mats are 19 by 27 inches, .625 inches thick, and can be cut to 16 by 24 inches. Rear two-piece mats have the same thickness and measure 18.5 by 17 inches; they can be cut to 16.5 by 15 inches.
The floor mats have been carefully molded to keep dirt out. They are also designed to maintain flexibility in high heat or cold, and cleanup is simple.
#4 Rugged Ridge All Terrain Floor Liners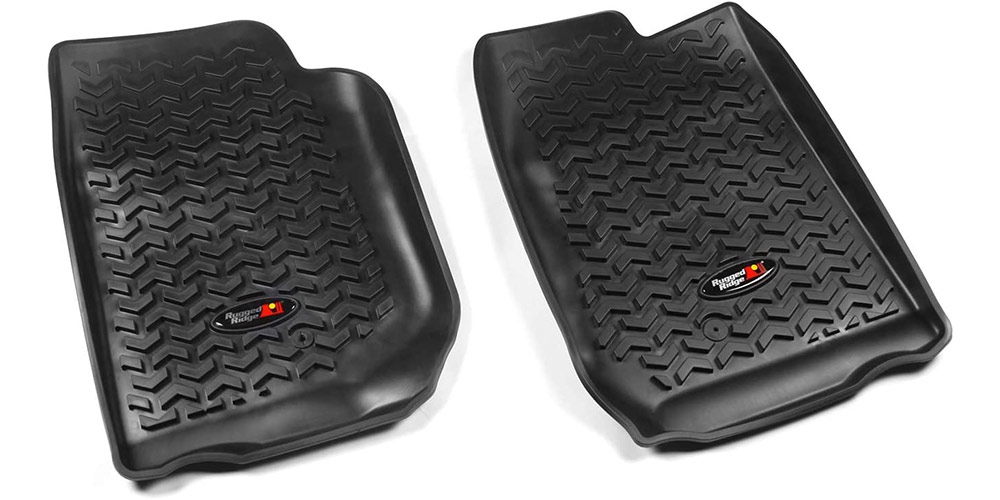 Brand: Rugged Ridge
The floor mats from Rugged Ridge are thick and deep. In comparison to a standard floor mat, these have a tread that is .375 inches deep and twice as tall. High perimeter walls provide an expanded footprint for superior spill containment and interior protection, and the auto-sealing floor hook attachment helps prevent debris and dirt from getting through.
Also, there are rolled and reinforced lips, which give the product extra durability and a finished look. These mats are easy to clean with a simple hose-off and have a nibbed underside that helps restrict movement.
#5 BDK Universal Fit Clear Rubber Floor Mats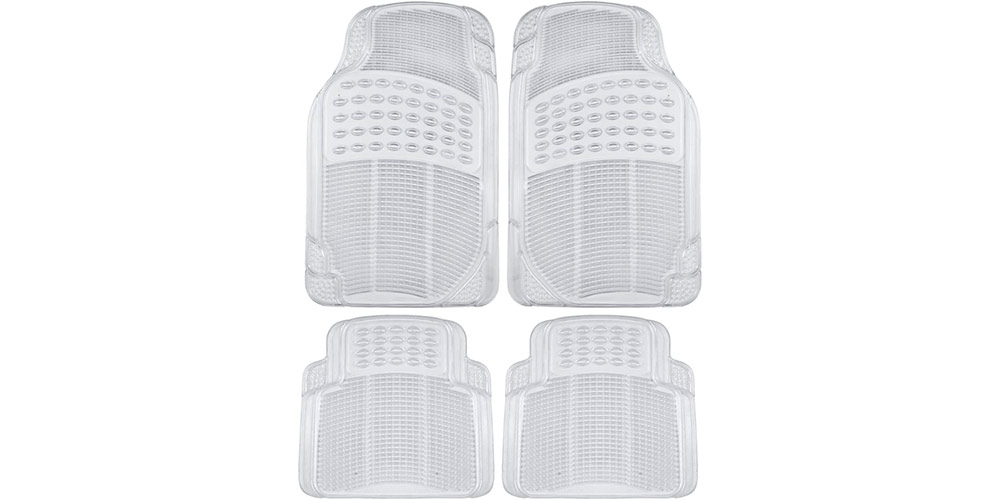 Brand: BDK
Universal Rubber Floor Mats measure about 27 x 18 inches in the front and 18 by 16.5 inches in the back, and they have the traditional sharp nibs on the bottom to prevent slipping. As for the potential for slipperiness, vinyl mats have both rounded dimples to prevent foot slippage and grooves from collecting dirt until they are cleaned.
Getting a good fit is crucial since any floor mat with nibs on the bottom has the potential to tear up carpeting if it moves around. After using them for a week or two, you should check to ensure nothing has been harmed.
#6 FH Group Trimmable ClimaProof Metallic Floor Mats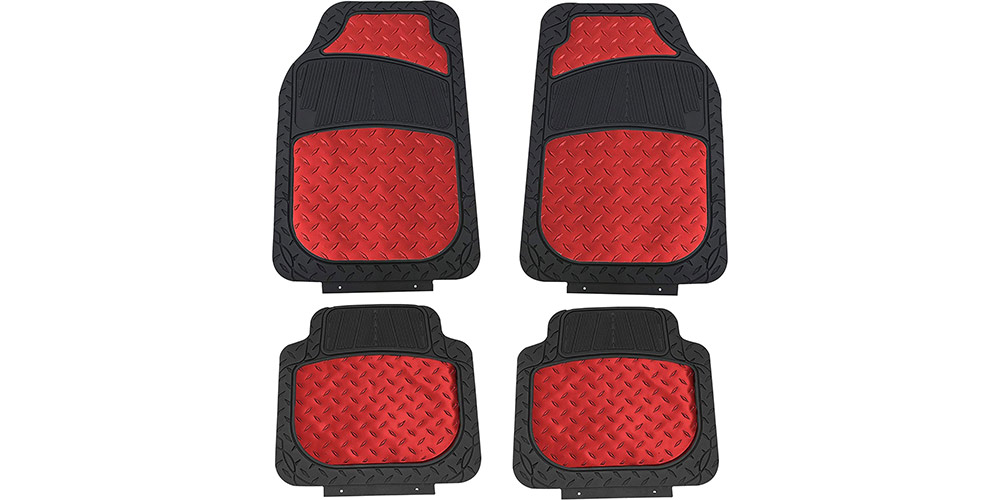 Brand: FH Group
If your footwells are filthy, dress them up with F.H. Group's ClimaProof Metallic Floor Mats. They have anti-slip black heel sections and inserts in black, red, gray, blue, and silver. They also include a metallic diamond plate pattern insert. They have trim lines to make it simpler to cut with scissors because they are a semi-custom universal fit.
The front set is 28 by 18 inches and narrows to 14.5 inches at the end. The rear set is 18 by 18 inches and has a 12.5-inch section to fit under the back of the front seat.
#7 Intro-Tech Hexomat Floor Mats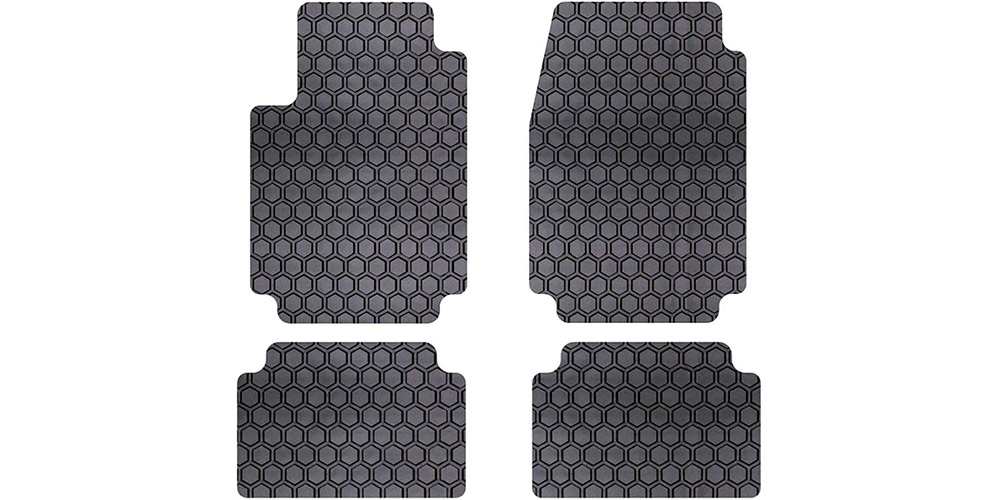 Brand: Intro-Tech Automotive
Hexomat floor mats by Intro-Tech are intended to catch spills. These floor mats are flexible and resistant to cracking, fading, and deterioration since they are made of a space-age rubber composite. The thick and flexible material makes it easier to lay flat and maintain its position.
They are available for a 1996 Mercedes S-Class, a 1966–1967 Chevy Chevelle, or a 2021 Ram Promaster 3500 EXT, but not a Toyota Highlander. 
#8 SMARTLINER All-Weather Floor Mats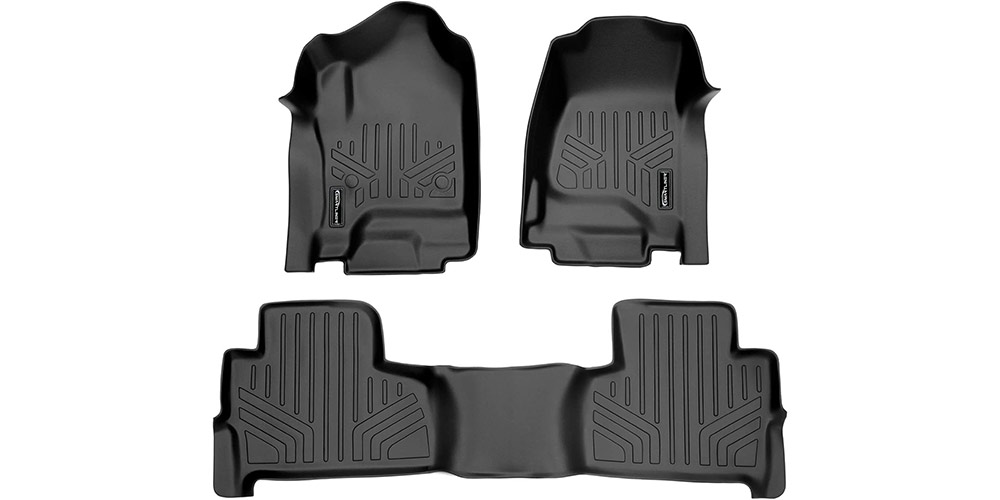 Brand: SMARTLINER-USA
These floor mats provide excellent protection against spills, stains, and mud and are made to fit many different cars.
The SMARTLINER mats are made of an odorless, recyclable plastic rubber and polyethylene combination that is strong and long-lasting. They also include a raised lip to prevent spills from damaging the carpet in your car. Also, there are tall outer sidewalls that hold fluids before it spreads.
The rigidity provided by reinforced edges helps the mat maintain its original shape over time. Cleaning the textured, non-slip surface only requires a quick hose-off.
#9 Armor All Rubber Floor Mats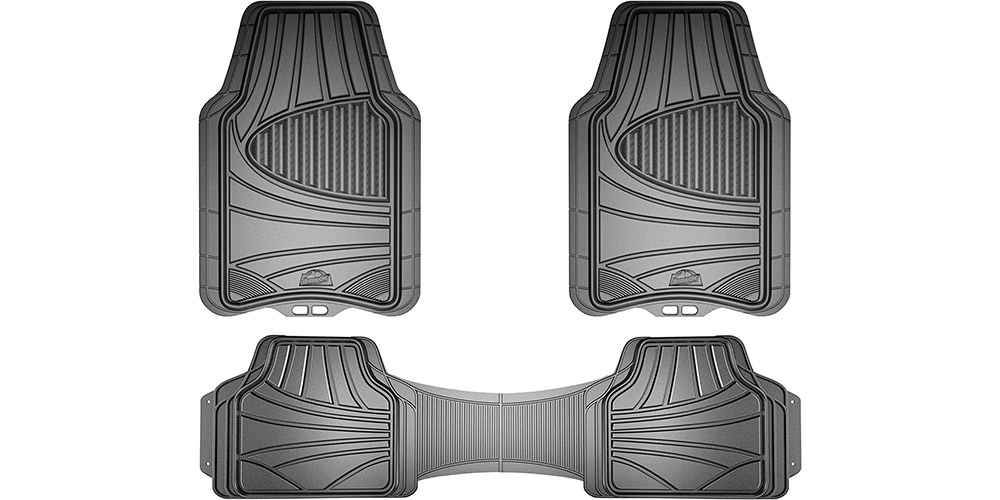 Brand: Armor All 
Armor All Rubber floor mats are available in six various sizes and configurations, including two-piece, four-piece, cargo liner only, and in black, gray, and tan.
Their mats are equipped with both the typical hard rubber nubs and a hard plastic claw in the form of a star. This gives an additional layer of safety but puts your car in danger of more harm. They are more challenging to wash out since they include a variety of deep treads that are sculpted to collect mud and debris.
#10 C.P.R. Carpet Car Floor Mats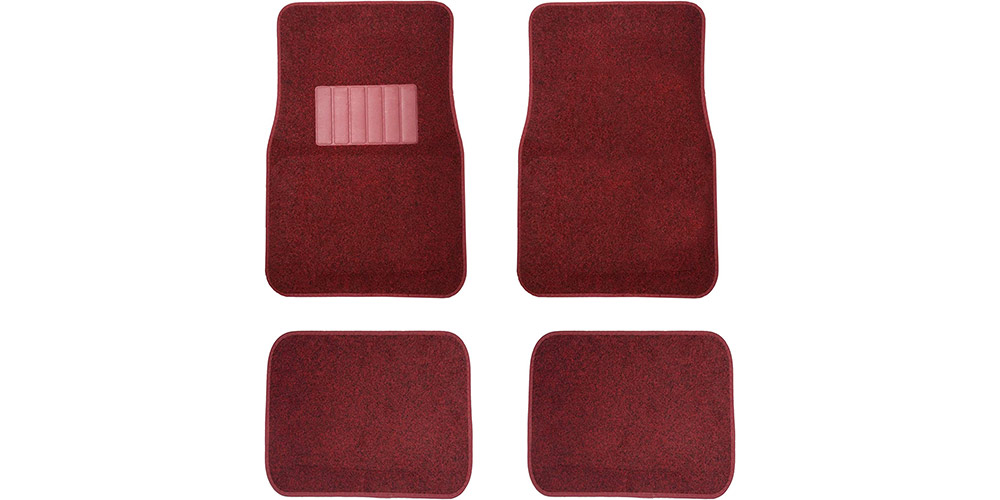 Brand: C.P.R.
The C.P.R. carpeted floor mats meet every need and are also among the most affordable floor mats available. You receive two sets of four, one measuring 25 x 16.5 inches for the front and 16.5 x 11.5 inches for the rear. They are similar to any piece of pretty industrial carpet, with a stitched edge and a rubberized backing with little nibs to help keep it from sliding, save from a hastily made vinyl heel cushion in the front. Ten colors are available.